The BEST Southern Oxtail Recipe
Being from the South oxtails are a luxury and a staple! This oxtail recipe comes from my mom, she made southern smothered oxtails on Sundays so I thought this would be the perfect recipe to share..a little piece of home! I'm very passionate about sharing my favorite Southern comfort food recipes, and this Southern Oxtail Recipe is no exception.
Oxtails, with their rich, hearty flavor and tender meat, are a beloved classic in Southern cuisine. I have perfected my mom's recipe to create a mouthwatering dish that will transport you straight to the heart of the South. Get ready to indulge in a bowl of soul-warming goodness!
If you love this southern oxtail recipe, you will truly enjoy this Easy Jambalaya Recipe and these Southern Smothered Pork Chops !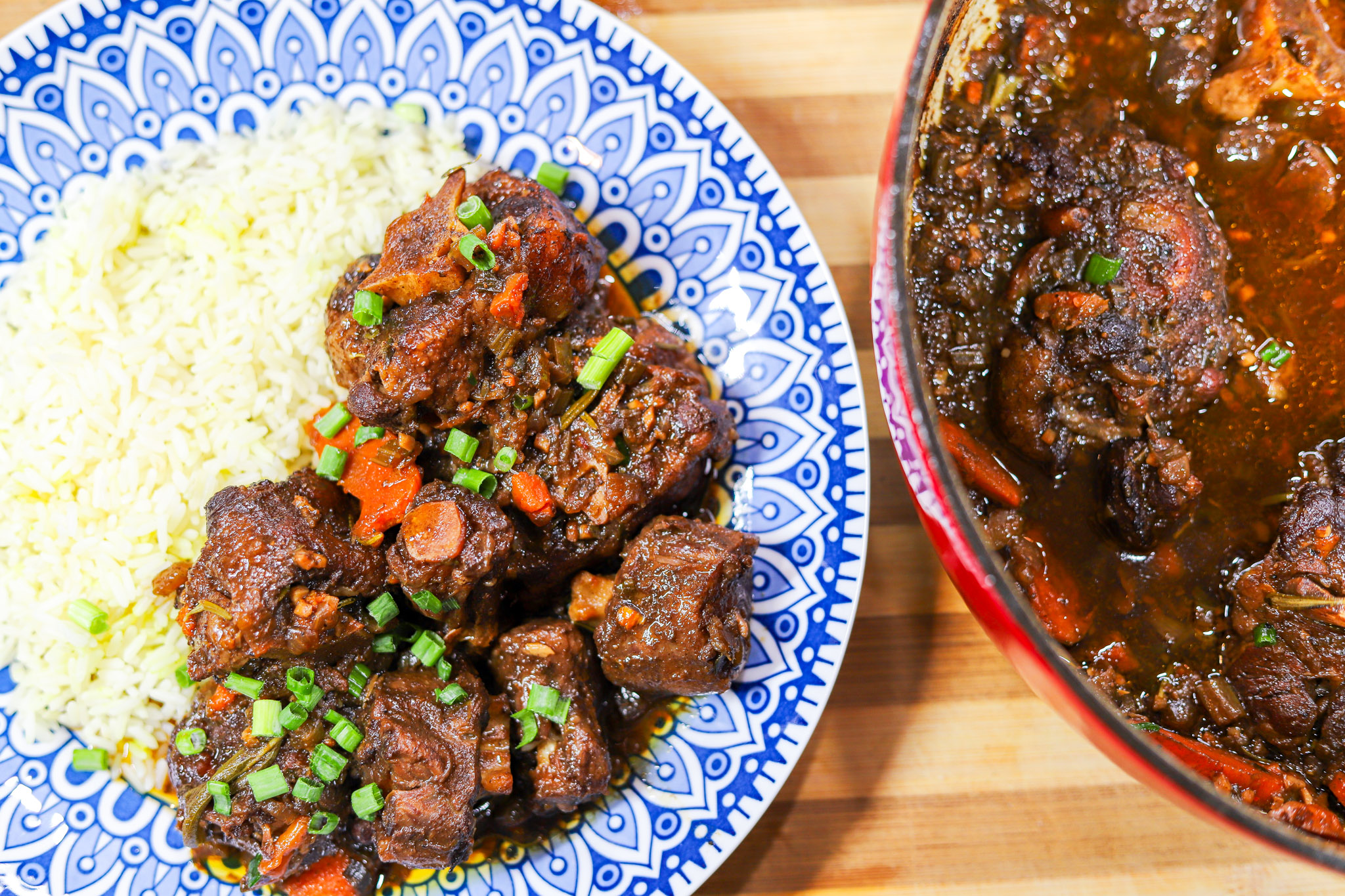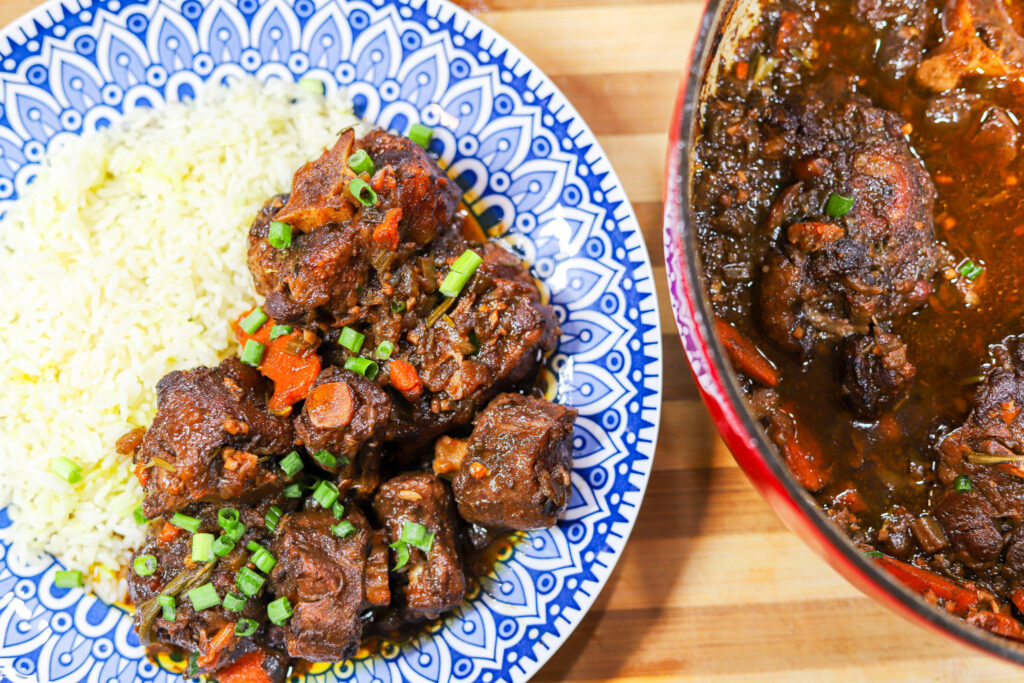 There's something magical about slow-cooked meals, like these oxtails, that warm the heart and tantalize the taste buds. This oxtail recipe has succulent oxtails, mingling with aromatic veggies and a splash of red wine, all slow-cooked to tender perfection. It's the kind of dish that warms your heart and fills your home with an aroma that will make your mouth water. I like to make my southern oxtail recipe in the oven so it is as easy as possible and the results are super tender!
Ingredients You Need for the best Oxtails
Before we get into this oxtail recipe, let's take a look at the star-studded cast of ingredients that make this oxtail recipe a culinary masterpiece:
Oxtails: The star of this oxtail recipe! Oxtails bring their unique, beefy richness and become fall-off-the-bone tender when cooked slowly.
Onion, carrot, celery, and Garlic: These aromatic ingredients form the flavor base, infusing this oxtail recipe with savory goodness.
Beef Broth: Provides the essential liquid for braising and infuses the oxtails with even more meaty flavor. Making this oxtail recipe succulent and delicious.
Red Wine: is used to deglaze the pan as well as adds a robust flavor to the overall dish.
Seasonings and spices: you have to use some Bayou City Garlic Pepper for this oxtail recipe! In addition you will need browning, salt, pepper, onion powder, and a touch of paprika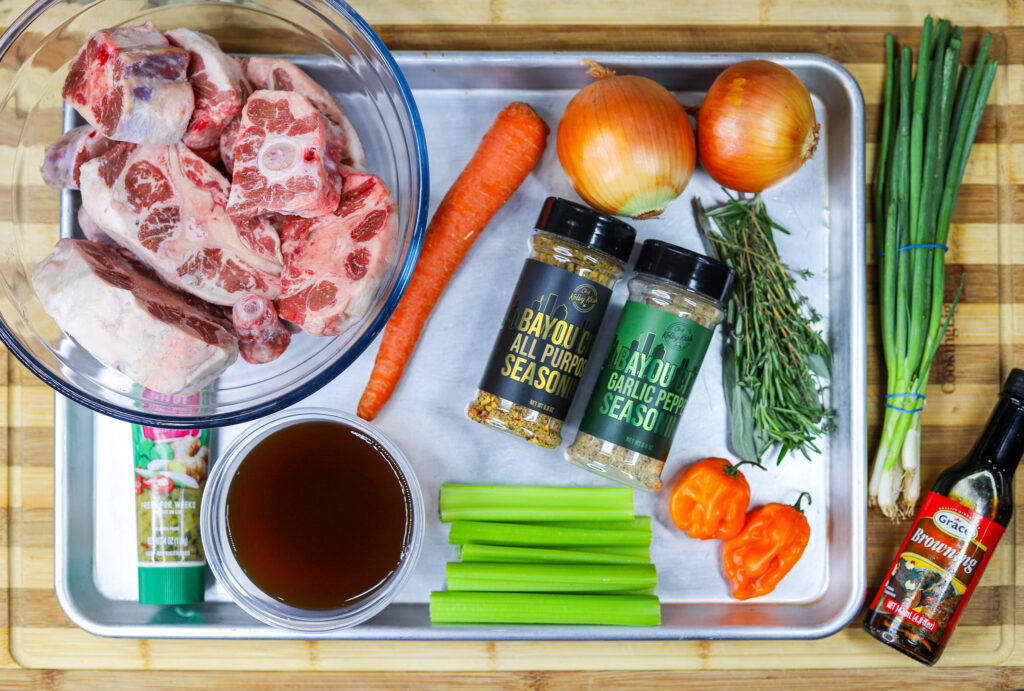 Quick Guide to the Perfect oxtails
Follow this quick guide oxtail recipe and you will get perfect oxtails everytime
First, Sear the oxtails: Heat a drizzle of oil in your Dutch oven and sear the oxtails on all sides until it forms a beautiful crust. Set the oxtails aside.
Aromatics in Action: In the same pot, sauté the onions, celery, carrots and garlic until fragrant. .
Next, Deglaze and Add Layers: Pour in the red wine to deglaze, scraping up those flavorful brown bits. Nestle the oxtails back into the pot.
Liquids and Seasonings: Pour in the beef broth until it partially covers the oxtails. Season with salt, pepper, and paprika for a symphony of flavors.
Lastly, Slow Cooking Magic: Cover the Dutch oven and place it in a preheated oven. Let the oxtails bask in its slow-cooked glory for hours, allowing the flavors to meld and the meat to become melt-in-your-mouth tender. The perfect oxtail recipe!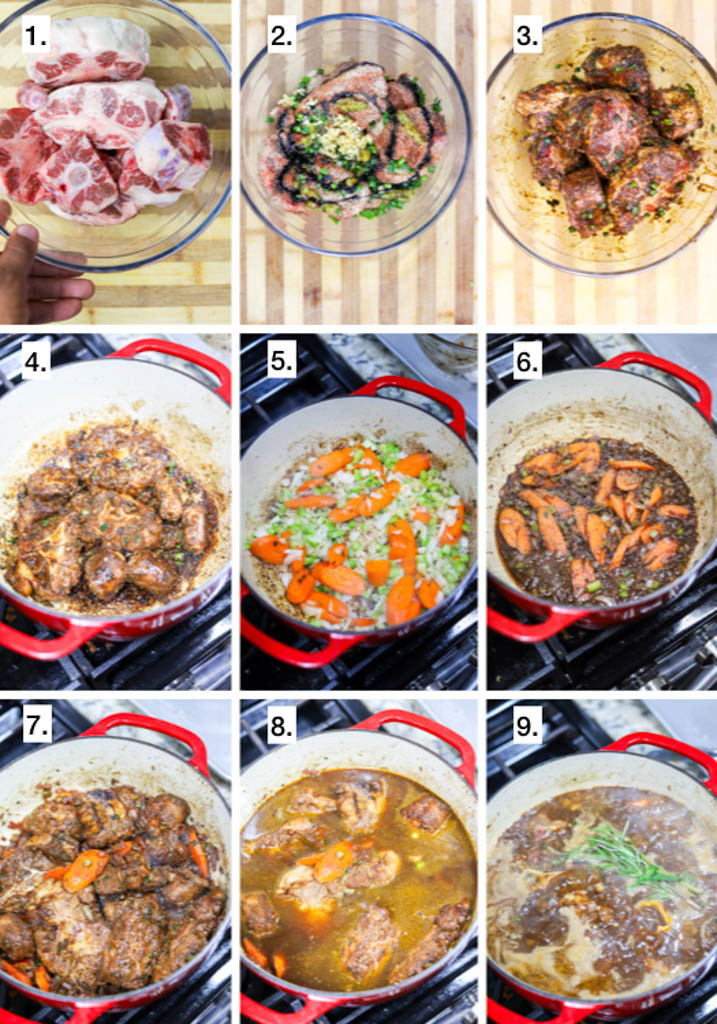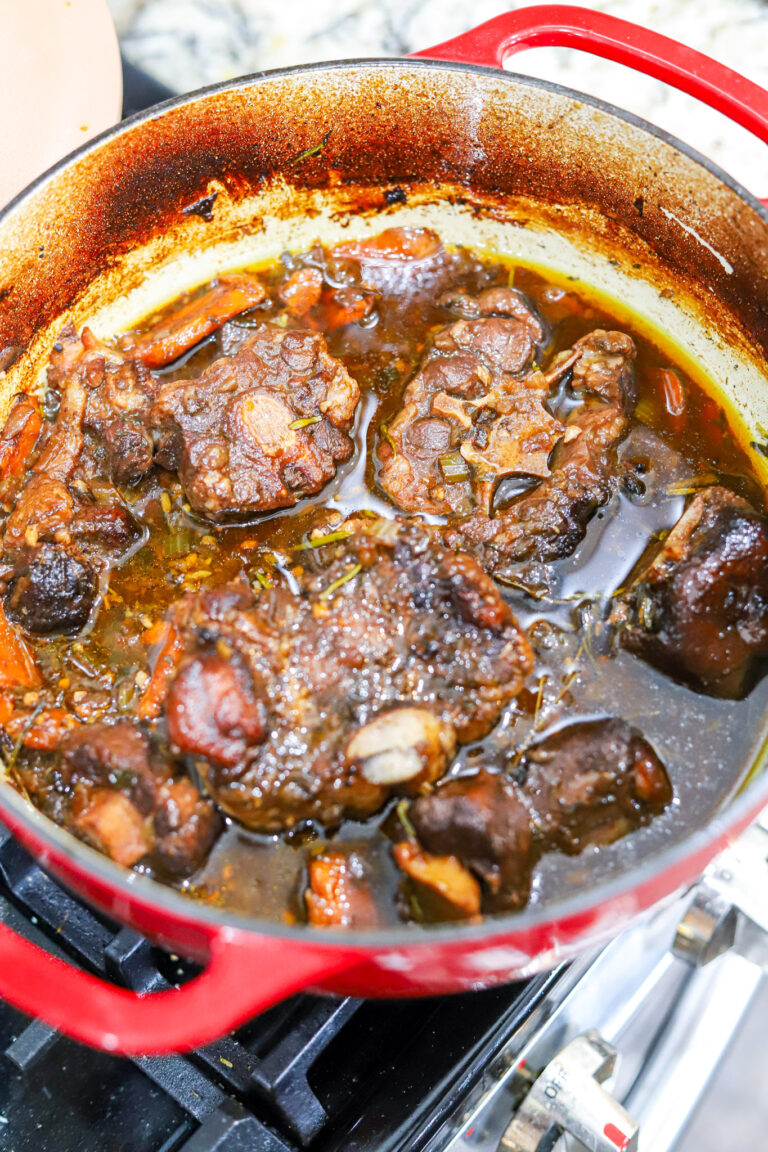 Tips for Success: Making the perfect oxtails
To ensure this Oxtail recipe comes out perfectly tender, keep these tips in mind:
Choose oxtails that around the same size and have lots of meat on them.
Opt for high-quality oxtails and fresh seasonings for the best flavor.
Patience is key. Slow-cook your oxtails to achieve the perfect tenderness.
Properly sear the oxtails for rich, caramelized flavor.
Allow the flavors to meld by letting the dish sit for a while before serving.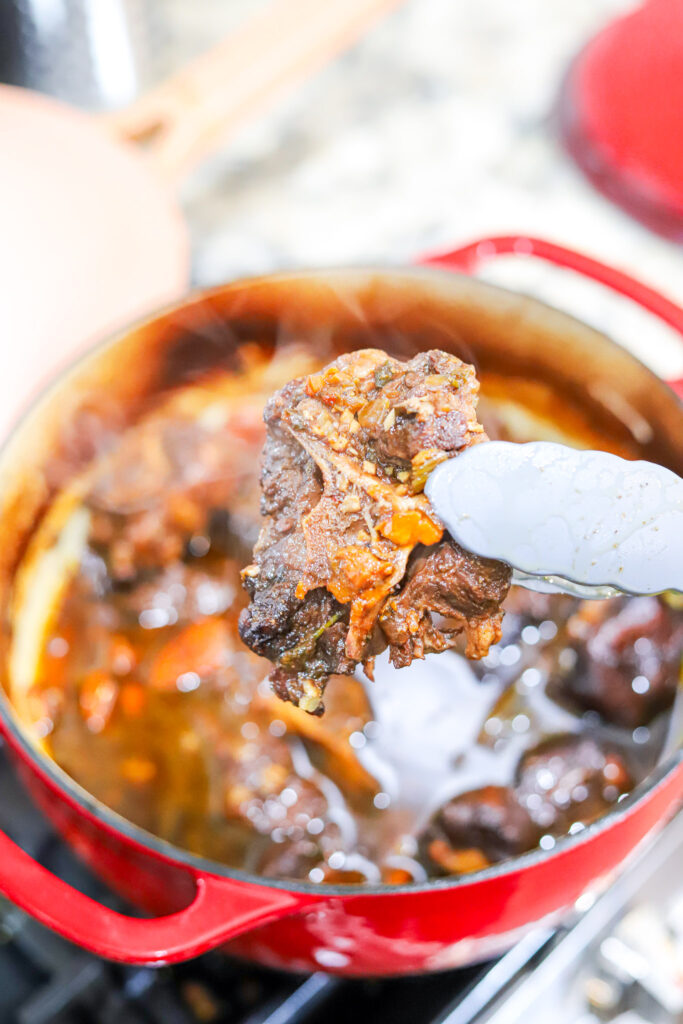 Perfect Pairings and Additions for this oxtail recipe:
Wondering what to serve with this luscious oxtail recipe?
Creamy Mashed Potatoes or Rice: The perfect side to soak up the flavorful oxtail gravy.
Southern Collard Greens: A classic pairing for a complete Southern meal.
Cornbread: A slice of warm, buttery cornbread complements oxtails beautifully.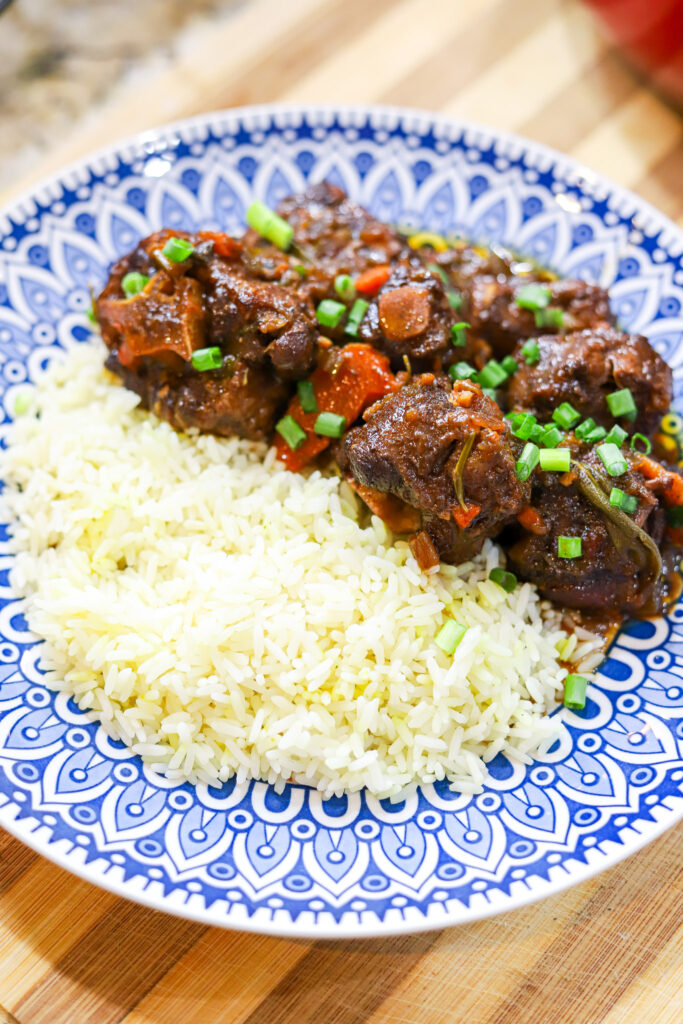 How to Thicken Oxtail gravy
Method 1: Using Flour
In a small bowl, mix 2 tablespoons of all-purpose flour with an equal amount of water to create a smooth slurry. Pour the mixture back into the oxtail stew, stirring constantly. Allow the stew to simmer for a few more minutes, and the gravy will gradually thicken as it cooks.
Method 2: Using Cornstarch (Cornflour)
In a small bowl, mix 2 tablespoons of cornstarch with an equal amount of cold water to create a slurry. Stir well until smooth. While your oxtail stew is simmering, remove a ladleful of the hot liquid (gravy) from the pot. Slowly whisk the cornstarch slurry into the ladleful of hot liquid until well combined. Pour the mixture back into the oxtail stew, stirring constantly. Allow the stew to simmer for a few more minutes, and the gravy will thicken as it cooks.
Method 3: Using a Roux
In a separate saucepan, melt 2 tablespoons of butter over medium heat. Add 2 tablespoons of all-purpose flour to the melted butter and stir constantly. Cook the roux for a few minutes until it turns a light golden color. Be careful not to burn it. While your oxtail stew is simmering, add a ladleful of the hot liquid (gravy) from the pot to the roux. Stir the roux and hot liquid until well combined and smooth. Pour the roux mixture back into the oxtail stew, stirring constantly. Allow the stew to simmer for a few more minutes, and the gravy will thicken as it cooks.
Choose the thickening method that suits your preference and dietary needs. Keep in mind that the amount of flour or cornstarch needed may vary based on the quantity of liquid in your oxtail stew and your desired gravy thickness, so adjust as necessary.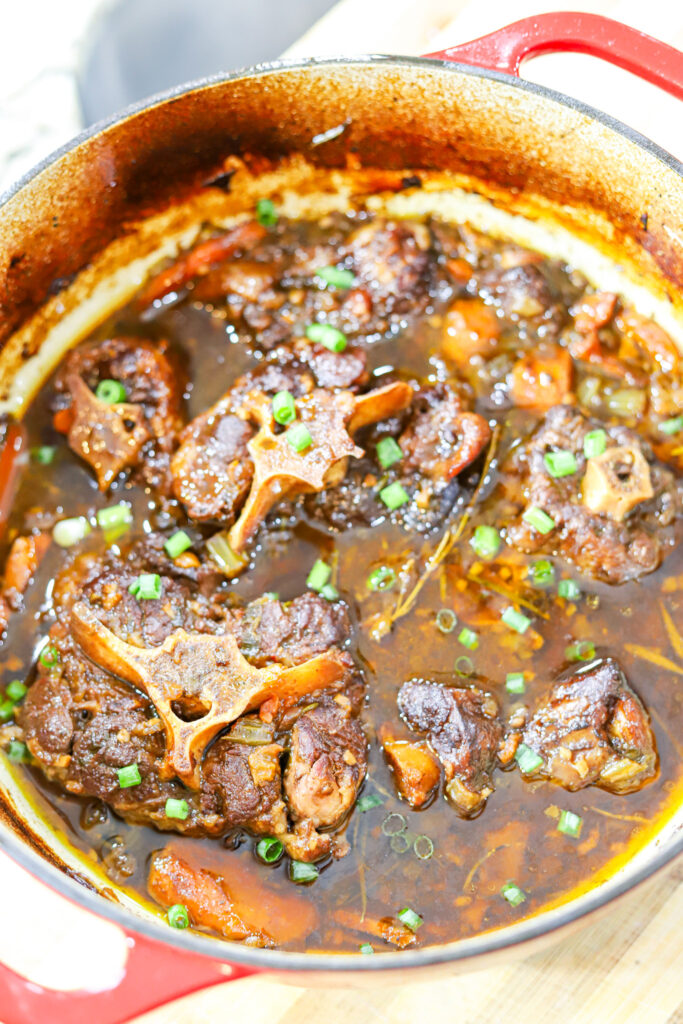 Frequently Asked Questions
Can I use a slow cooker instead of stovetop for this oxtail recipe?
A: Yes! Follow the instructions below, but cook on low for 8 hours .
Q: Can I make this on the stovetop?
A: Absolutely, these oxtails can be made stove top, in the oven, or crockpot! Keep the heat low and add more liquid if needed to prevent burning or over-reducing.
Q: What do I do with the leftovers?
A: Leftover oxtails makes fantastic sandwiches, tacos, ramen or can be repurposed into egg rolls! Or you can simply warm it up in the microwave and serve it over rice.
What is a good side dish with oxtails?
Of course a side of rice, or rice and peas is typical, but you can also serve oxtails for more savory sides! These are a few of my favorites:
More POPULAR CHEF KOLBY RECIPES TO TRY!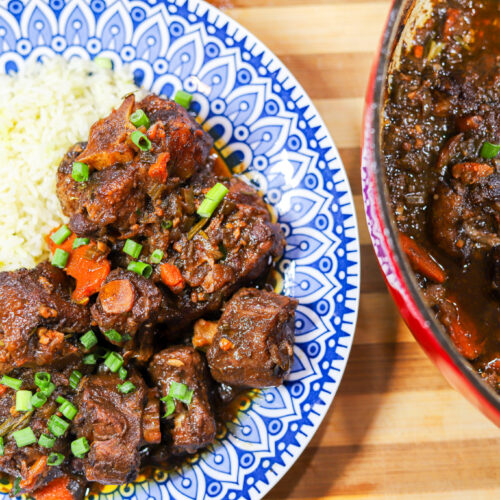 The BEST Southern Oxtail Recipe
Celebrate Southern comfort with the best oxtail recipe. Fall-off-the-bone tender oxtails, slow-cooked to perfection in a savory, soulful gravy. A taste of the South in every bite!
Ingredients
3

lbs

oxtails

trim excess fat

2

tbs

Bayou City All Purpose Seasoning

1

tbs

Bayou City Garlic Pepper

1

tbsp

browning

2

tbsp

garlic paste

1

tsp

onion powder

1

tsp

paprika

1

tsp

salt

4

green onion stalks

chopped

2

tbsp

grape-seed oil

1

yellow onion

2

carrots

sliced

2

celery

chopped

2

tbs

garlic

minced

1

cup

red wine

4

cups

beef broth

2

sprigs

thyme

2

sprigs

rosemary

1

scotch bonnet

or habanero

1

tbsp

cornstarch

green onion

garnish
Instructions
Rinse oxtails with water and vinegar and pat dry. Cover oxtails with browning, Bayou city seasonings (or seasonings of your choice), onion powder, salt, paprika, garlic paste and green onion and rub into oxtails.

Heat a dutch oven, or oven safe pot, over medium high and add grape-seed oil. Next, add oxtails and sear on each side. Once browned remove oxtails and set aside.

Add in onion, celery, and carrots. Lower heat to medium and cook vegetables for about 4 minutes. As the vegetables cook they will begin to release liquid, use this to deglaze the pan, making sure to get all the brown bits at the bottom.

Pour in the red wine and let reduce fro 4-5 minutes ,

place the oxtails back in the pot, cover with beef stock, and bring to a simmer.

Add in thyme, rosemary, and scotch bonnet. Cover and place in the oven for 2 hours and 30 minutes

Remove from oven and check for tenderness by pulling the meat off of one. if the meat comes off easy they are ready! if not place back in the oven for 30 more minutes.

for a thicker sauce: mix together cornstarch with 1/4 cup water or beef stock to make a slurry and add to the pot.

Taste and adjust the seasoning with salt and pepper as needed.

Remove the thyme and rosemary, and serve the oxtails hot, garnished with chopped fresh parsley or green onion.