My Grandma, we called her tutu, was born and raised in Breaux Bridge, La where she couldn't help but learn all about creole food. All of my creole recipes come from her influence. So I'm excited to share with you my recipe for easy Jambalaya, trust me it's top tier!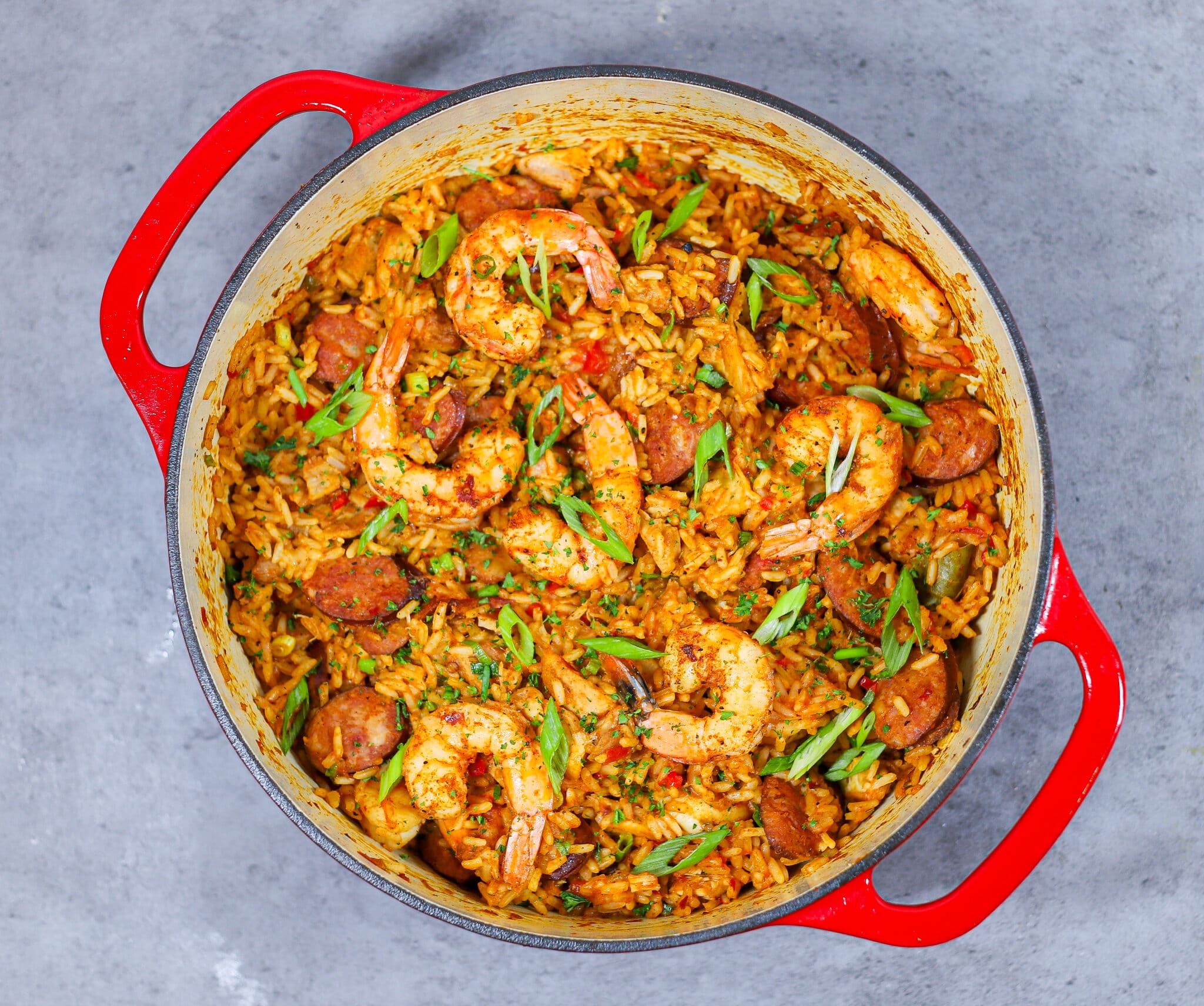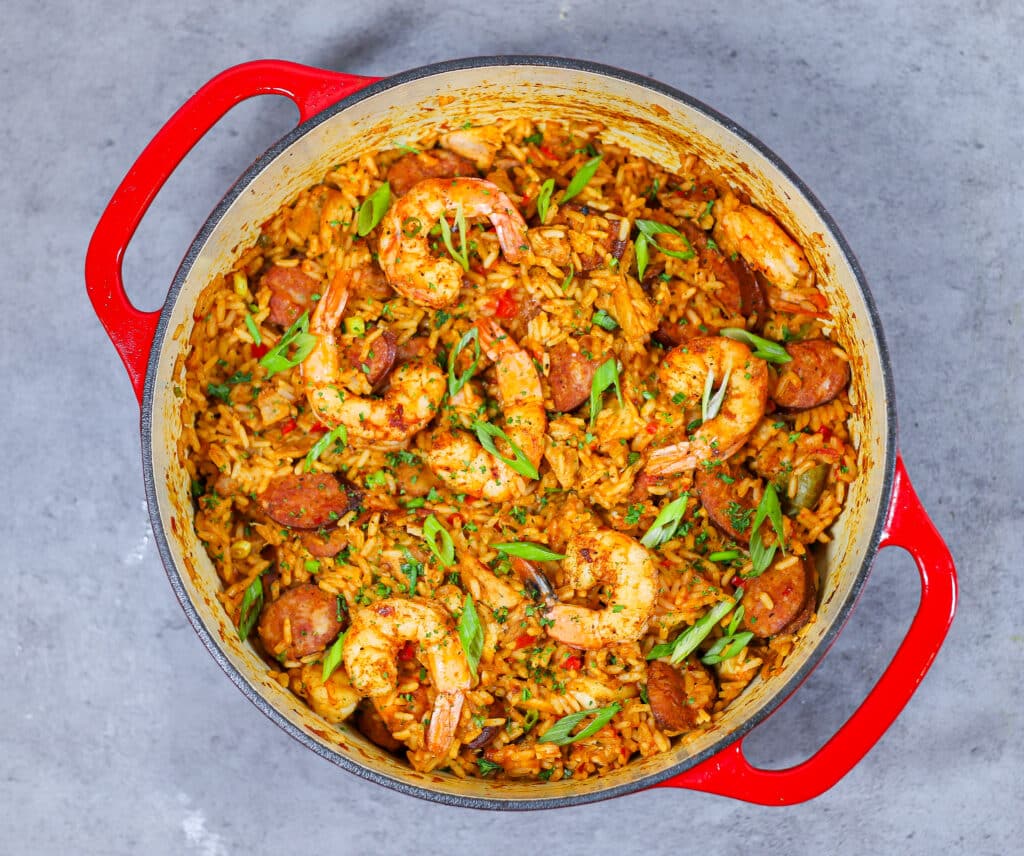 This jambalaya is a flavorful one-pot dish that combines the best of Creole and Cajun cuisine. Bursting with a blend of spices, tender meats, and aromatic vegetables, this dish will for sure please your taste buds and impress anyone who tries it. Whether you're new to jambalaya or a seasoned cook, this recipe will make it a breeze to create a memorable dining experience right in your own kitchen.
Since you love my creole recipes, you will truly enjoy this Creole Crawfish Boudin Balls and this The Most Delicious Creole Salmon and Grits !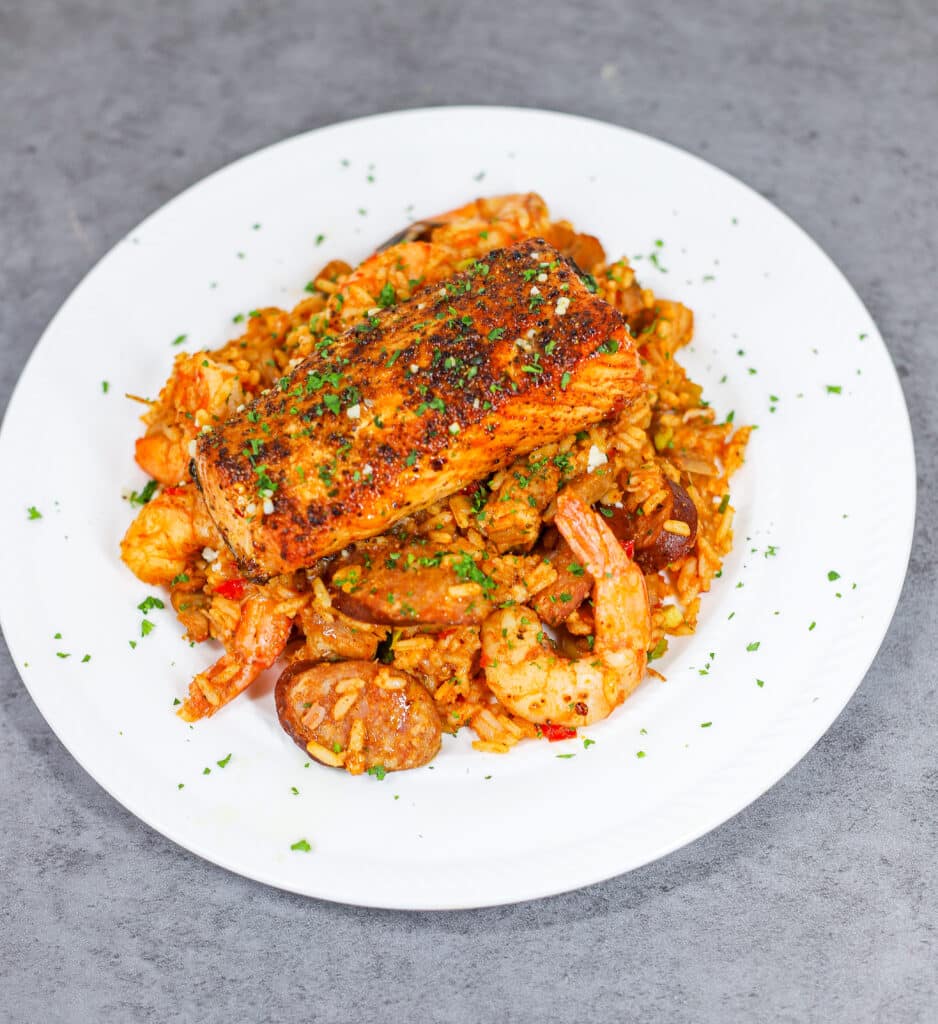 You will LOVE this creole classic
Unlike its counterpart, Cajun Jambalaya, which is more rustic and typically uses a brown roux as a base, Creole Jambalaya features a tomato-based sauce. The use of tomatoes gives this dish a reddish color and adds a tangy sweetness to the overall flavor profile. This tomato-based version of jambalaya is often referred to as "red jambalaya." It is superior
Key characteristics of Jambalaya lies in the tomato base. For this recipe we are using crushed tomato which infuses the rice with a delicious blend of zesty sweet flavors and warm colors.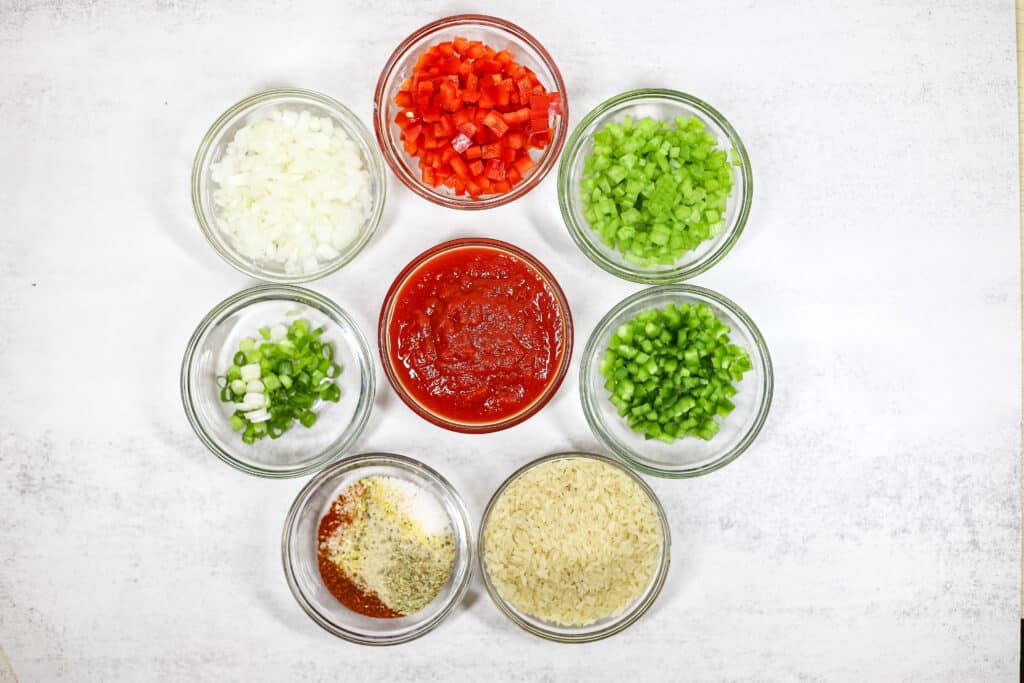 Ingredients
most importantly, to create this delectable dish, gather the following ingredients:
Andouille Sausage (12 oz): This smoked sausage adds a robust and smoky flavor to the dish. Its spiciness perfectly complements the other ingredients.
Chicken Thighs (1 lb): Boneless and skinless chicken thighs contribute moist and tender bites.
Shrimp (1 lb): Whether fresh or frozen, shrimp brings a delightful seafood element to the jambalaya. Opt for medium-sized shrimp, deveined and peeled for convenience.
The Trinity: equal parts onion, celery, and bell pepper..garlic is honorable mention
Crushed Tomatoes (1 can, 14 oz): Canned crushed tomatoes form the flavorful foundation of this dish, lending a tangy and slightly sweet taste.
Chicken Broth (3 cups): Chicken broth serves as the cooking liquid, enhancing the taste and moisture of the dish.
Cajun Seasoning (2 tablespoons): A signature blend of spices, typically including paprika, cayenne pepper, garlic powder, and onion powder, imparts the iconic kick and depth of flavor. Try my Bayou City Seasonings to really turn the flavor up anotch.
Long-Grain Rice (1 1/2 cup): The ideal choice for its ability to absorb the rich flavors of the jambalaya while maintaining a light and fluffy texture.
Green Onions (for garnish): Chopped green onions add a fresh burst of color and a mild onion flavor, perfect for garnishing.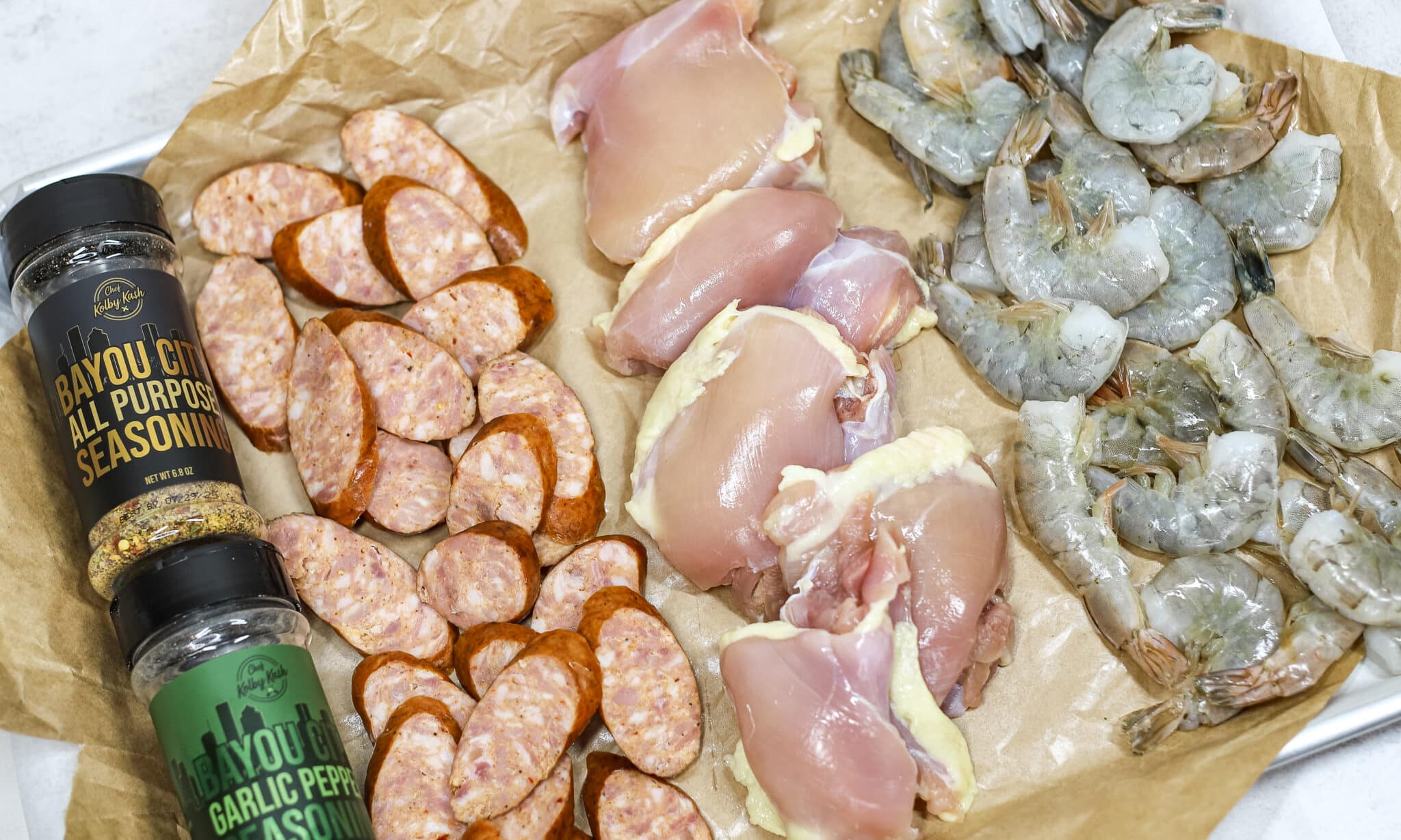 Prepare the jambalaya
First, sear the meats: Before adding the vegetables and rice, sear the chicken thighs and andouille sausage. This step enhances their flavors and creates a delicious flavor.
Next, Layer the flavors: Allow the onions, bell pepper, celery, and garlic to sauté until they become tender and aromatic. This process releases their natural flavors, adding depth and complexity.
Adjust the spice level: Tailor the spiciness by adjusting the amount of Cajun seasoning or incorporating hot sauce according to your preference.
Tomato base: combine your tomato base and rice. Let this cook down to help infuse the flavor into the rice.
Chicken stock and bay leaves: Simmer, covered, for about 25-30 minutes, or until the rice has absorbed all of the liquid.
Cook shrimp: The last 5 minutes, add shrimp. Shrimp cook very quickly and to not over cook we add these last.
Lastly, add green onion: Fold in green onion for a fresh element.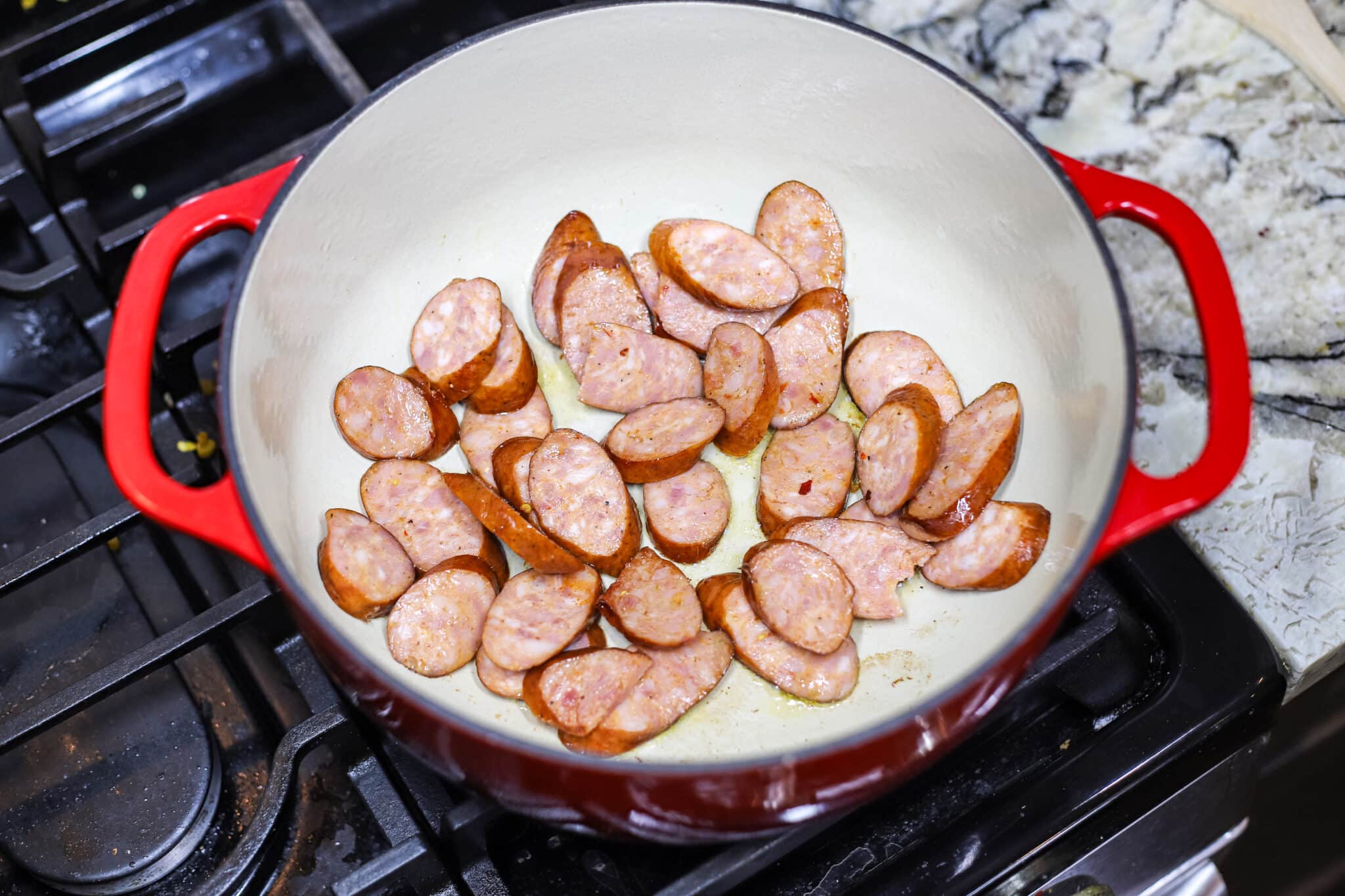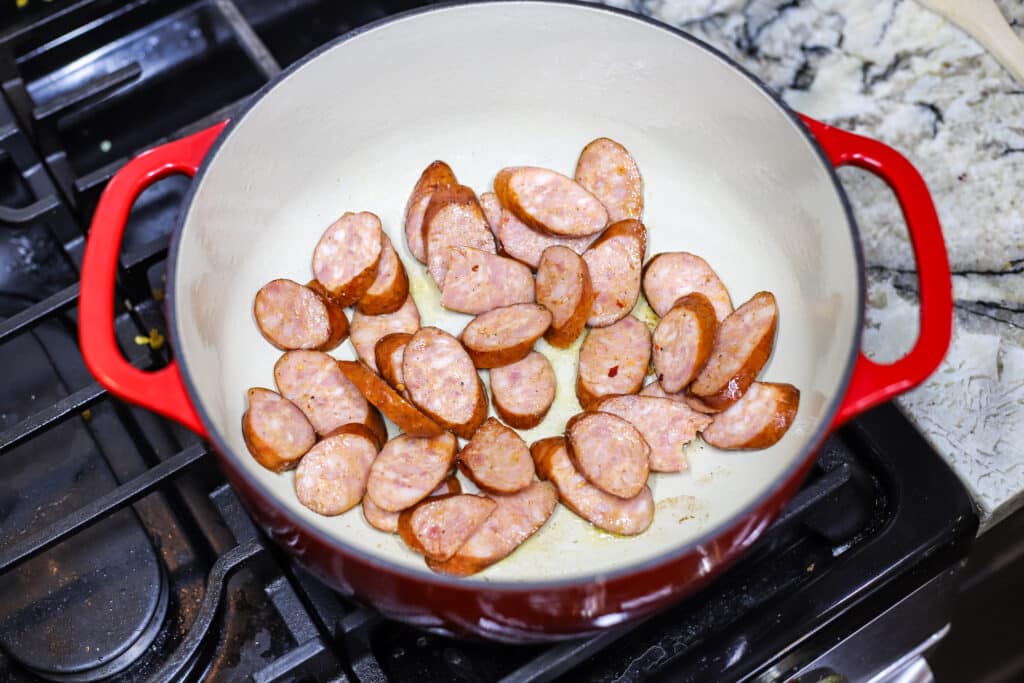 Gumbo vs. Jambalaya
Both iconic Louisiana dishes, each with its own distinct characteristics. For example, gumbo is a thick stew served over rice, while jambalaya is a one-pot rice dish featuring a drier texture. In jambalaya, the rice is cooked alongside the meats and vegetables, infusing it with flavors. On the other hand, gumbo typically involves a roux-based sauce with various proteins and vegetables.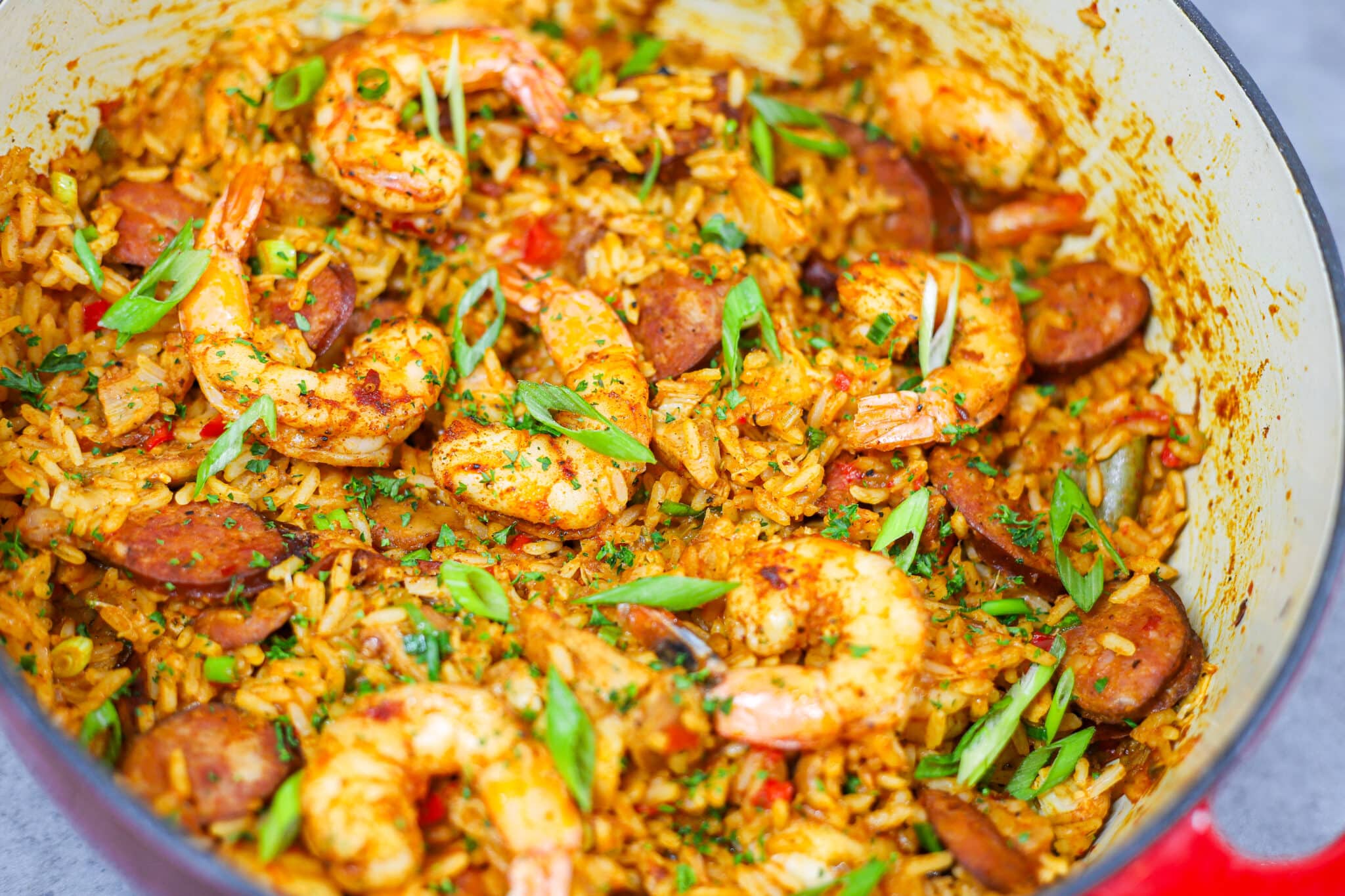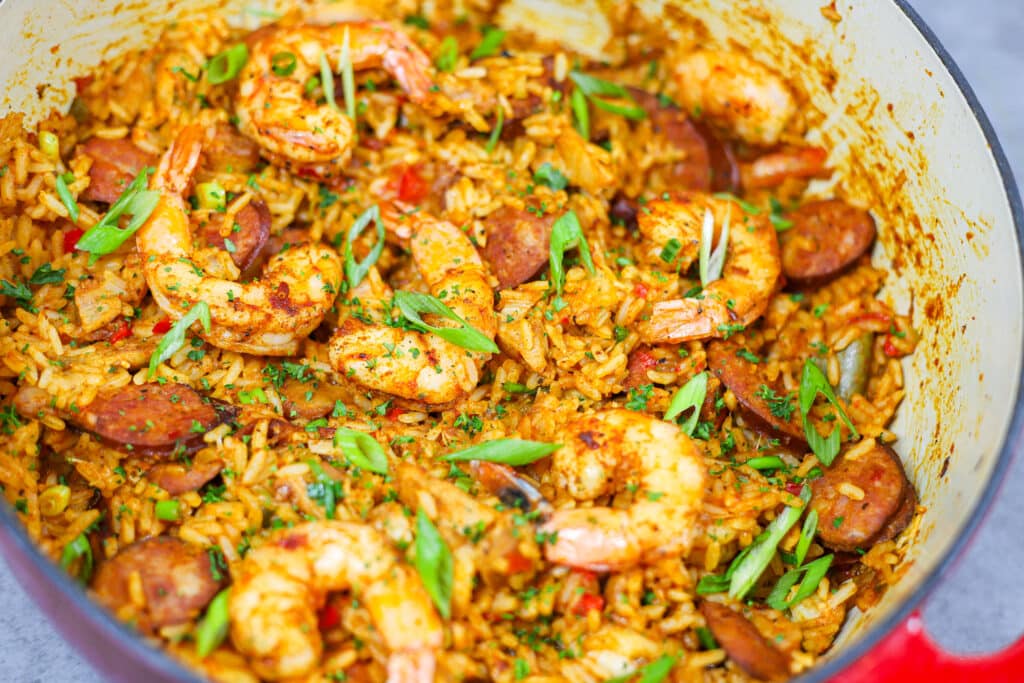 Best sides to serve with Jambalaya
to complete your dinner, consider pairing it with these four delectable sides:
Cornbread: Enjoy a slice of warm and buttery cornbread, perfect for sopping up the flavorful juices of this creole classic.
Collard Greens: These tender greens provide a slightly bitter and earthy contrast to the rich and spicy flavors of the jambalaya.
Buttermilk Biscuits: Soft and flaky biscuits serve as a delightful vessel.
Alternatively, Salmon: Not necessarily a side but salmon is a great addition turning your jambalaya into the side.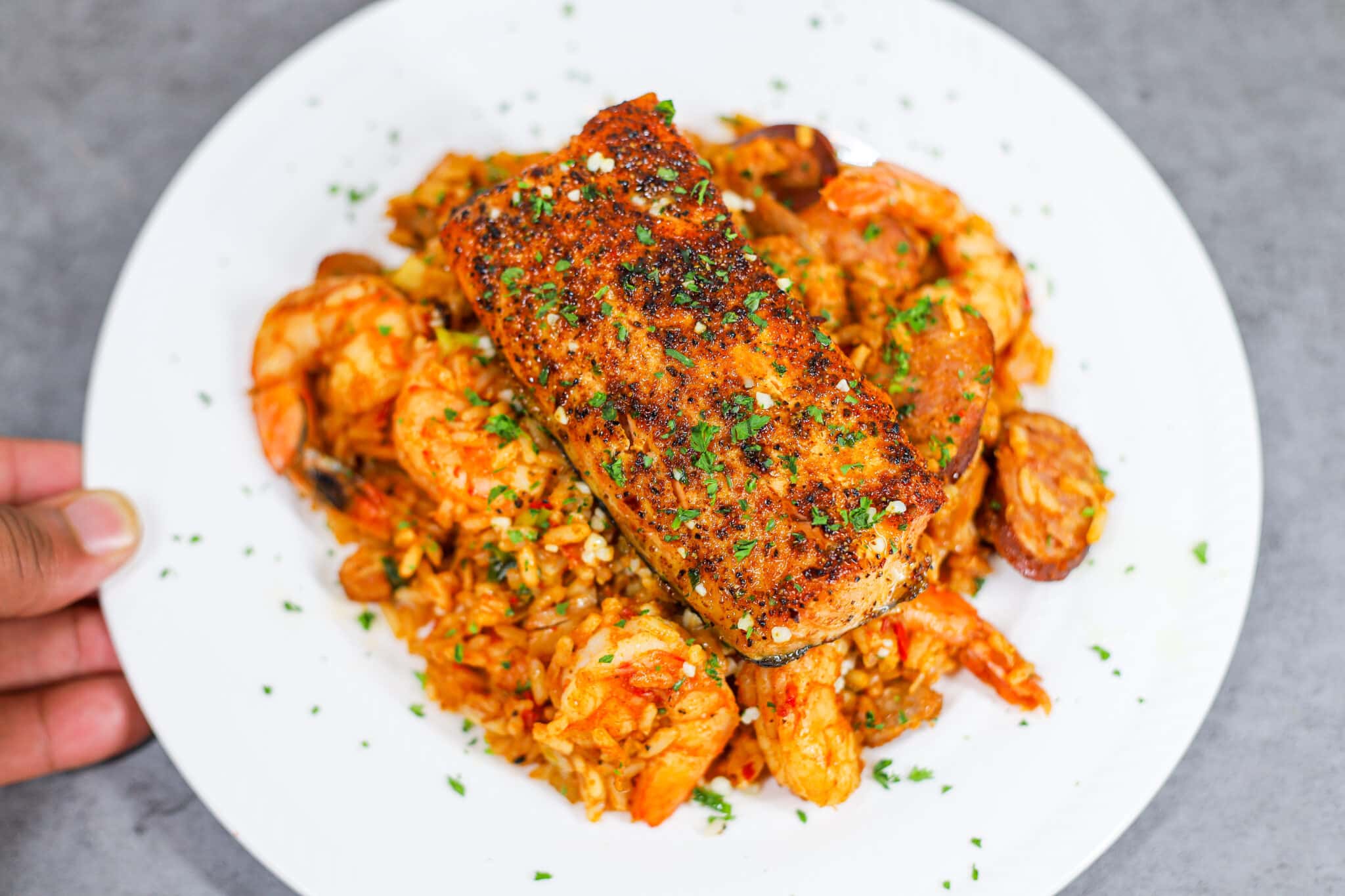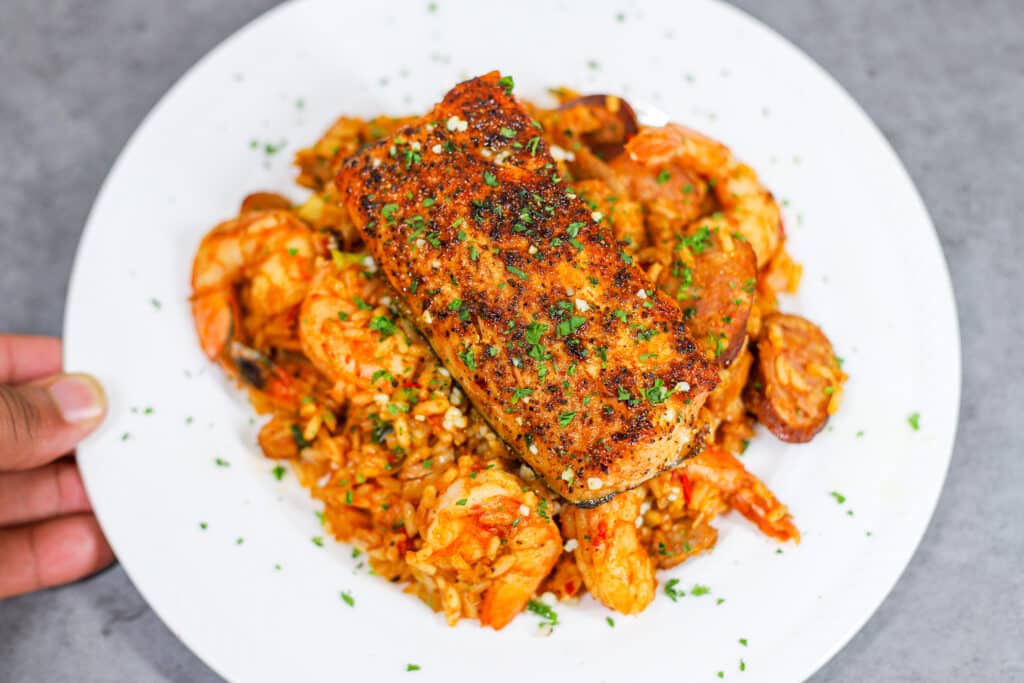 How to Store Leftovers:
If you find yourself with leftovers , store it in an airtight container in the refrigerator for up to three days. To reheat, gently warm it in a skillet or microwave, adding a splash of chicken broth or water to restore moisture.
Make sure to tag me on Instagram, TikTok, or Facebook when you make this recipe! I want to see your creation and give you a shoutout!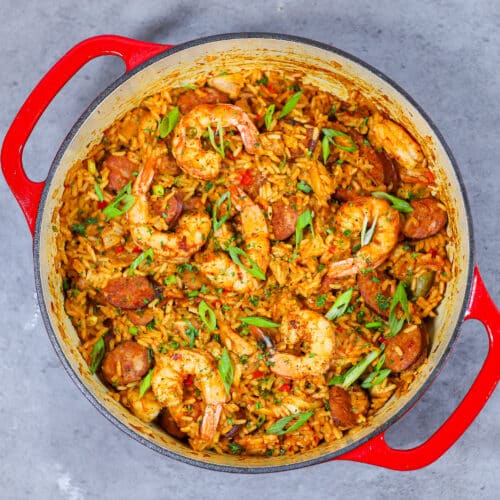 Easy Creole Jambalaya
This Creole jambalaya is a one-pot wonder that will transport your taste buds to the heart of Louisiana.
Ingredients
3

tbs

grapeseed oil

12

oz

andouille sausage

sliced

1

lb

chicken thighs

cubed

1

lb

shrimp

peeled and deveined

1/2

onion

diced

1

bell pepper

diced

2

celery stalks

diced

1

jalapeno

diced

4

garlic cloves

minced

1

can

crushed tomatoes

14-15oz

1 1/2

cup

rice

3

cups

chicken stock

1

tsp

dried thyme

1

tsp

dried oregano

1/2

tsp

cayenne

2

tsp

chili powder

2

tsp

Bayou City All Purpose Seasoning

2

tsp

Bayou City Garlic Pepper Seasoning

1/2

tsp

hot sauce

optional

1

tsp

worcestershire

2

bay leaves

2

green onion

scallions

parsley

garnish

salt and pepper

to taste
Instructions
Heat 1 tablespoon of oil in a large pot or Dutch oven over medium heat. Brown sausage in the hot oil; remove with slotted spoon and set aside.

Season the chicken pieces with half of you r all purpose, garlic pepper, chili powder, and salt . Add remaining oil to the pot and sauté chicken until lightly browned. Remove with slotted spoon; set aside.

In the same pot, toss in the trinity (onion, celery, and bell pepper) and cook until soft and translucent. Add garlic and cook until fragrant. 

Stir in the tomatoes; season with thyme, oregano, cayenne powder (optional), hot sauce, worcestershire sauce, smoked paprik, chili powder and the remaining bayou city seasonings.

Stir in the rice, chicken, and sausage. Cook for 5 minutes, while stirring.

Add chicken broth and bay leaves, bring to a boil, reduce the heat to medium low. Cover and let simmer for 25 minutes. You want the liquid to be completely absorbed into the rice.

Remove cover and fold shrimp gently into jambalaya. Cover with lid and let simmer , stirring occasionally , until shrimp are cooked. (around 5. minutes)

Fold in fresh green onion and remove bay leaves. Adjust taste too desired flavor by adding more Bayou City Seasonings, Cayenne, and/or salt. 

Serve hot, topped with green onion and parsley.