The Most Delicious Creole Salmon and Grits 
Take your taste buds on a journey with our Creole salmon and grits recipe! Perfectly seasoned salmon, paired with buttery, creamy grits, and topped with a creole shrimp gravy. The perfect dish for your next brunch or quick weeknight meal.
While your here be sure to check out this Southern Shrimp and Grits and Fish and Grits with Gravy!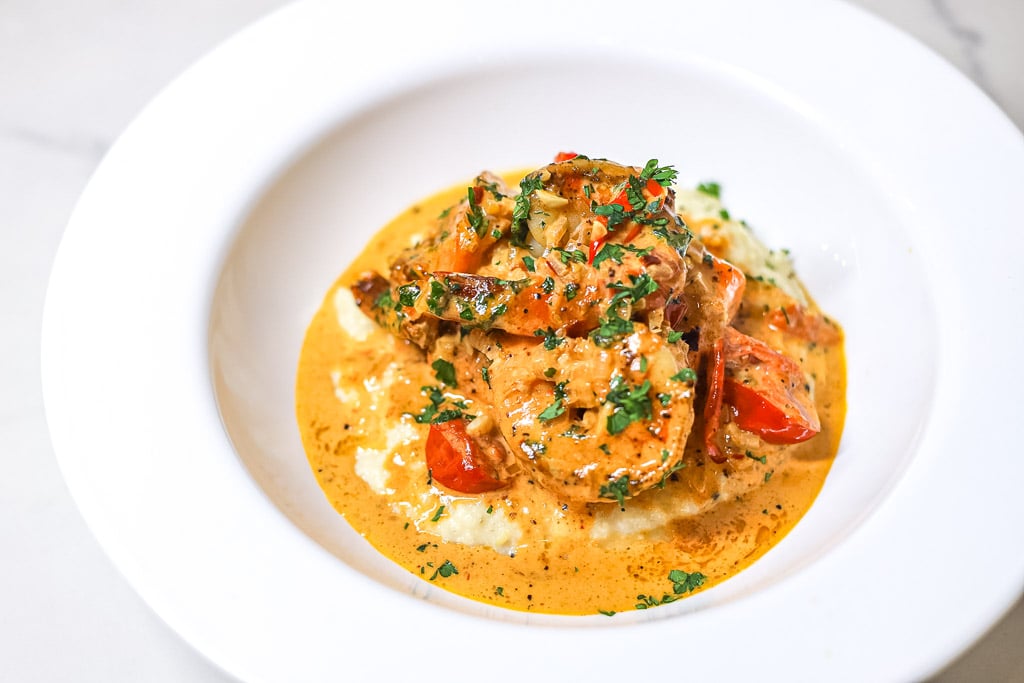 Why you will love this salmon and grits recipe
Quick and Easy: Since you will be using instant grits, the recipe is done in no time!
Comforting: A hot bed of cheesy grits with salmon over the top is one of the most comforting dishes of all time! Add some of that creole gravy with shrimp, and it is a hit.
Everyday ingredients: This recipe calls for ingredients that you probably already have in your pantry! Quick-cooking grits, or even stone ground grits, chicken stock, and cajun seasonings make up the base of the dish.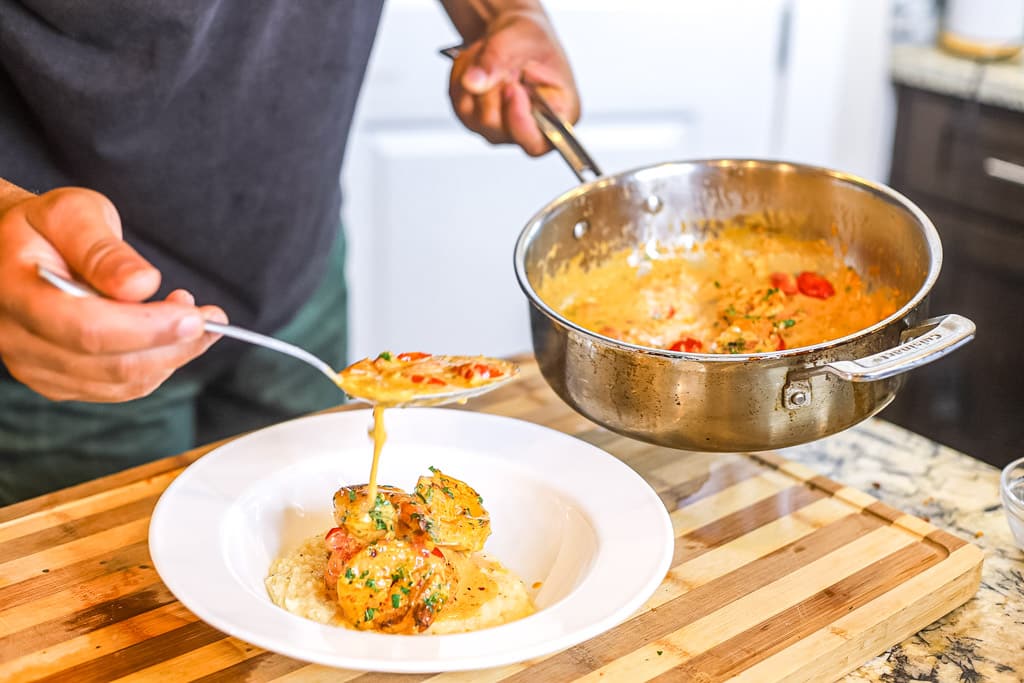 Ingredients you will need
To complete the dish, you will need:
Salmon: you can use either fresh or frozen salmon for this recipe. If you're using frozen salmon, be sure to thaw it out completely before you cook it. It is such a versatile and delicious tasting fish, which is perfect for this recipe.
Butter: unsalted butter is going to be best because you will be adding cajun seasoning which has a high salt content.
Grits: Instant grits, or quick grits are the best to achieve the creamy grits you'll know and love! You can substitute stone ground grits if that is what you have on hand.
Seasoning: you will definitely need salt, and/or cajun seasoning to help create this delicious meal. Black pepper and cayenne pepper are great to add a kick too!
Heavy cream: to get the most creamy grits ever, you will want to add some heavy cream instead of milk.
Cheese: cheddar cheese is a delicious addition to your grits. We added some parmesan cheese to our sauce to pour over the quick grits.
Once you have all your ingredients ready, you can start cooking!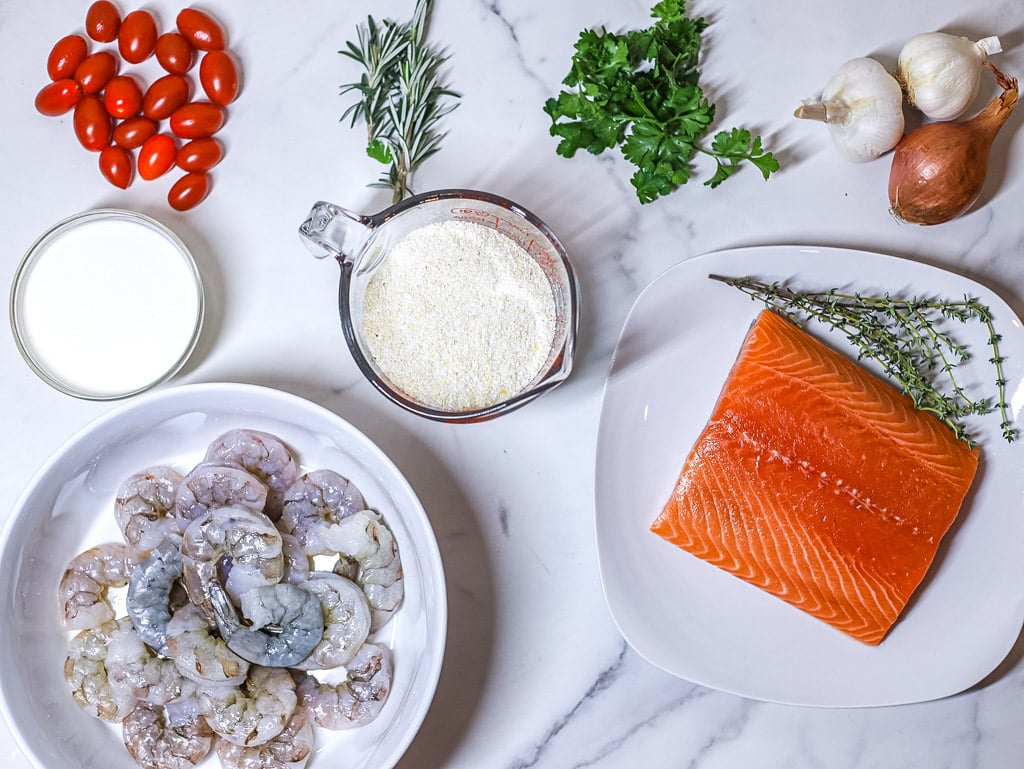 How To Make The Perfect Creamy Grits
To begin, bring a pot of salted water to a boil over medium heat. Once boiling, add the grits and reduce to a simmer over low heat. Be sure to whisk as you're adding the grits to prevent them from clumping.
Cook the grits for about 20 minutes, stirring occasionally. Once the grits are cooked, add the heavy cream and butter, Bayou City cajun seasoning, and additional salt and pepper to taste.
Stir the grits until the butter is melted and all ingredients are fully incorporated. Your grits are now ready to serve.
Cooking the salmon
To cook the salmon, heat a skillet over medium-high heat. Once the skillet is hot, add a tablespoon of olive oil and swirl to coat the pan. Place the salmon fillets in the skillet and season with salt and pepper.
Cook the salmon for 4-5 minutes per side, or until the salmon is cooked through and flakes easily with a fork. Once cooked, remove the salmon from the skillet and set it aside to serve with the over the grits.
Making the gravy for the creole grits
The gravy is what helps tie this whole recipe together! To make it a true creole dish, we added some shrimp with our gravy for a nice spin on shrimp and grits. You can definitely omit the shrimp if you'd like, and just make the gravy by itself too.
To make the gravy you are going to add some butter into the same skillet you cooked your salmon and shrimp in. Then add your tomatoes until they burst open, for about 3 minutes.
Then add in your shallot and garlic and cook down for about 1 minute. Pour in your white wine and let it reduce by half while cooking over medium heat.
Once you have the right consistency, nestle the shrimp back into the skillet and cook for about 3 minutes. Remove the sauce from the heat and taste for seasoning.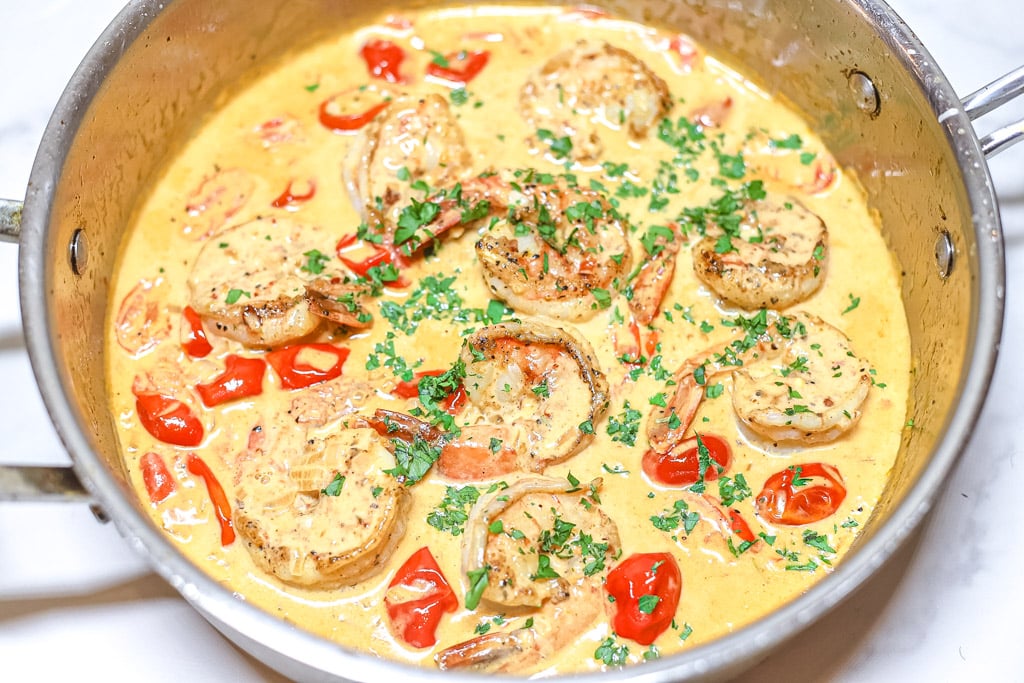 FAQ
Would this recipe work with salmon cakes?
Yes it would be absolutely delicious with salmon cakes! Serve it over the cheesy grits, and even top it with the gravy and a sprinkle of green onion for extra flavor! Canned salmon is great for making salmon cakes too!
How do I make cheese grits?
You can cook the grits exactly as the recipe suggests, just add a handful of your favorite cheese (cheddar cheese is great), after the grits are done cooking.
How long does salmon and grits take to cook?
You can have this meal done from start to finish in around 15 minutes, maybe 20 minutes at the most! Using instant grits really helps speed up the cooking process.
Even more, salmon and shrimp both cook really fast, which makes for a quick and easy delicious meal.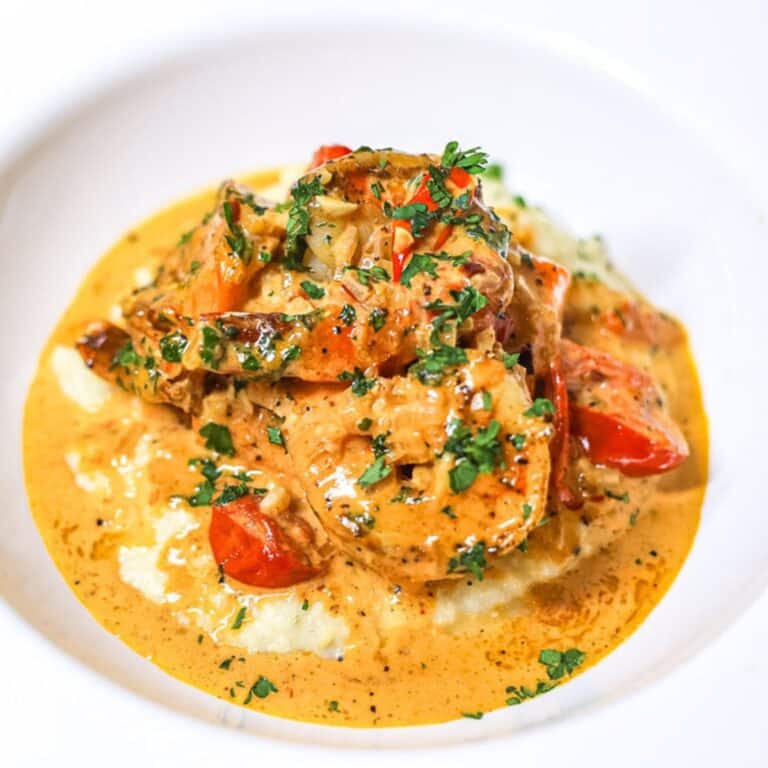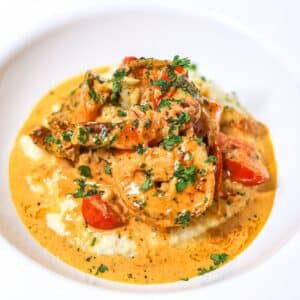 The Most Delicious Creole Salmon and Grits
Enjoy delicious creole salmon and grits for breakfast or brunch! This popular dish is full of flavor and easy to make!
Ingredients
Salmon & Shrimp
4

6 oz

Salmon Filets

1/2

lb

Shrimp, peeled and deveined

3

tbsp

Grapeseed oil

4

tbsp

Bayou City All Purpose

4

tbsp

Bayou City Garlic Pepper
Sauce
1

tbsp

Butter

1/2

cup

Cherry Tomatoes (5oz) sliced in half vertically

2

Garlic Cloves

1

Shallot

1/2

cup

White wine

1/2

cup

Heavy Cream

1/4

cup

Parmesan cheese, grated.

1

tbsp

Bayou City Garlic Pepper

1

tbsp

Bayou City All Purpose
Grits
4

cups

Chicken stock

1

cup

Instant grits

1/2

cup

Heavy cream

1

tbsp

Bayou City All Purpose

1

tbsp

Bayou City Garlic Pepper
Instructions
Cook the Salmon & Shrimp
Place Salmon and shrimp in two separate bowls. Drizzle both salmon and shrimp with 1 tbsp grape seed oil each and season with evenly divided Bayou City seasonings (2 tbsp each)

Heat remaining 1 tbsp of grapeseed oil in a med-high heat skillet. Place salmon skin side down (if you leave the skin on) into the skillet and cook for 3 minutes. Flip salmon and cook for another 3 minutes. lower heat to medium and flip salmon one more time and cook for the last 3 minutes or until internal temp reads at least 130 F. Remove salmon and let rest on a resting rack.

In the same skillet over medium heat add the shrimp and sear for about 2 minutes on each side then set aside with the salmon (they will finish cooking in the sauce).
Make the Sauce
Add butter to the same skillet. Once melted, add cherry tomatoes, and let cook until the tomatoes start to release moisture, about 3 minutes. Add in shallot and garlic and cook until fragrant, 1 minute.

Pour in white wine and continuously stir to deglaze the pan, making sure to get the little bits from the bottom of the pan. We call that flavor! Let the wine reduce by half on medium heat.

Slowly add cream to the skillet, making sure to fully incorporate into the white wine. Bring to a simmer, add parmesan cheese, and continue to cook until sauce thickens.

Once your sauce has reached the right consistency return the shrimp to the skillet and nestle into the sauce simmering until the shrimp are fully cooked, about 3 minutes.   

Remove from heat and add chopped parsley and season with Bayou city all-purpose to taste.
Make the Grits
Bring the chicken stock to a boil and then stir in grits with a heavy pinch of salt. 

Lower heat the med-low and cover. Cook for 5-7 minutes, until thickened but still a bit loose making sure to stir occasionally. Season with Bayou City All Purpose

Remove from heat and add heavy cream, season with bayou City Seasonings to taste.

Serve the sauce and salmon over grits!