Lemon Pepper Shrimp : Sweet Heat Lemon Pepper
What could be better than a lemon pepper, sweet heat, shrimp combo? Most known for one of the best chicken wing flavors, I knew it would be top tier on crispy fried shrimp. This Lemon pepper shrimp recipe is a perfect appetizer for football season, kickbacks, or just to have as an elevated snack. You won't be disappointed when you try this one out.
For more seafood recipes, check out my Shrimp Creole and Easy Authentic Jambalaya recipe next.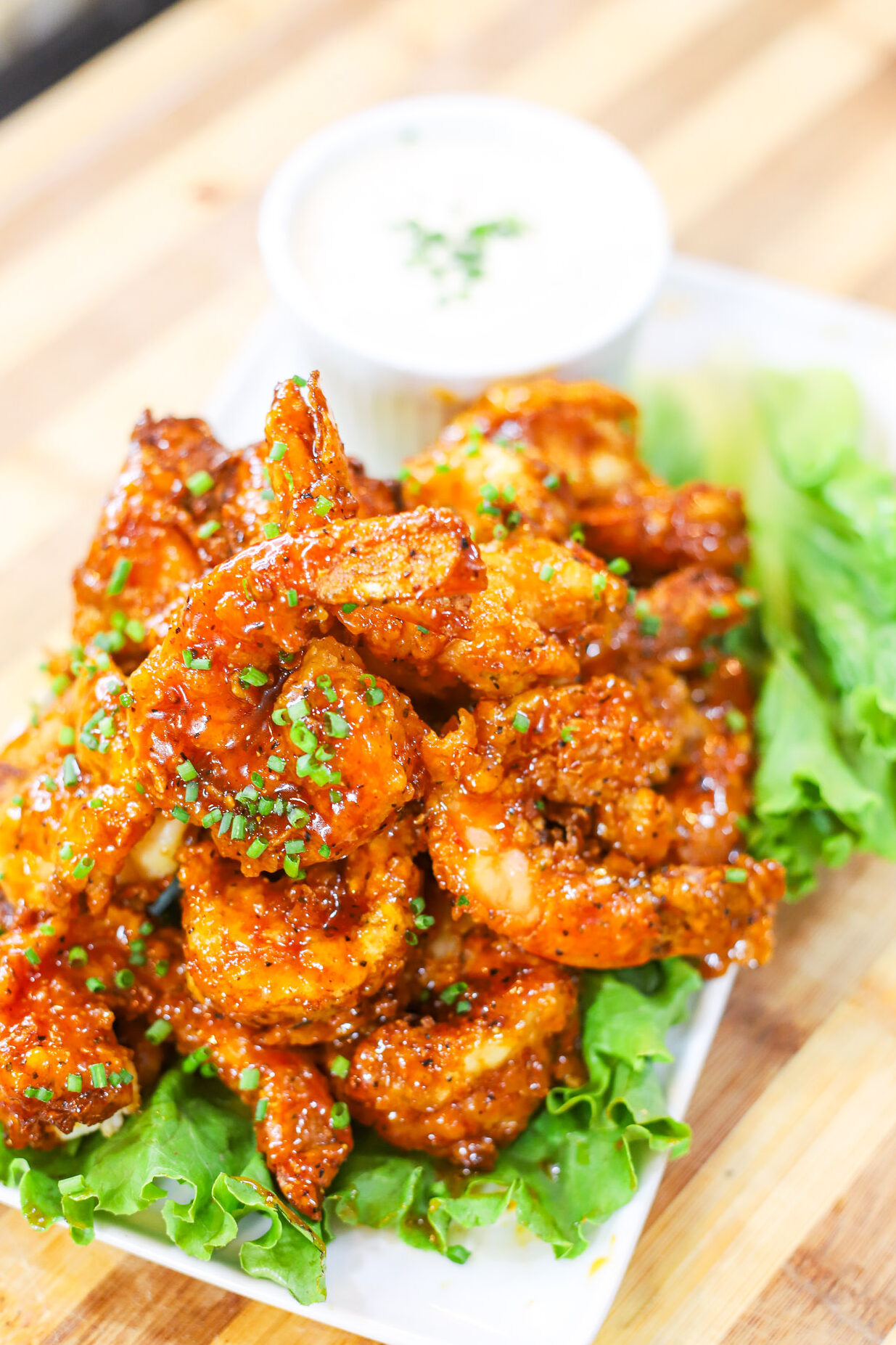 Lemon pepper's popularity can be attributed to its well-balanced, versatile, and universally appealing flavor profile. Now add little sweet heat and you have all the flavor profiles in one dish. Whether used as a seasoning for grilling, roasting, or even as a table condiment, lemon pepper will always make your taste buds hit a little jig.
Since you love my shrimp recipes, you will enjoy this Garlic Butter Shrimp and this Southern Shrimp and Grits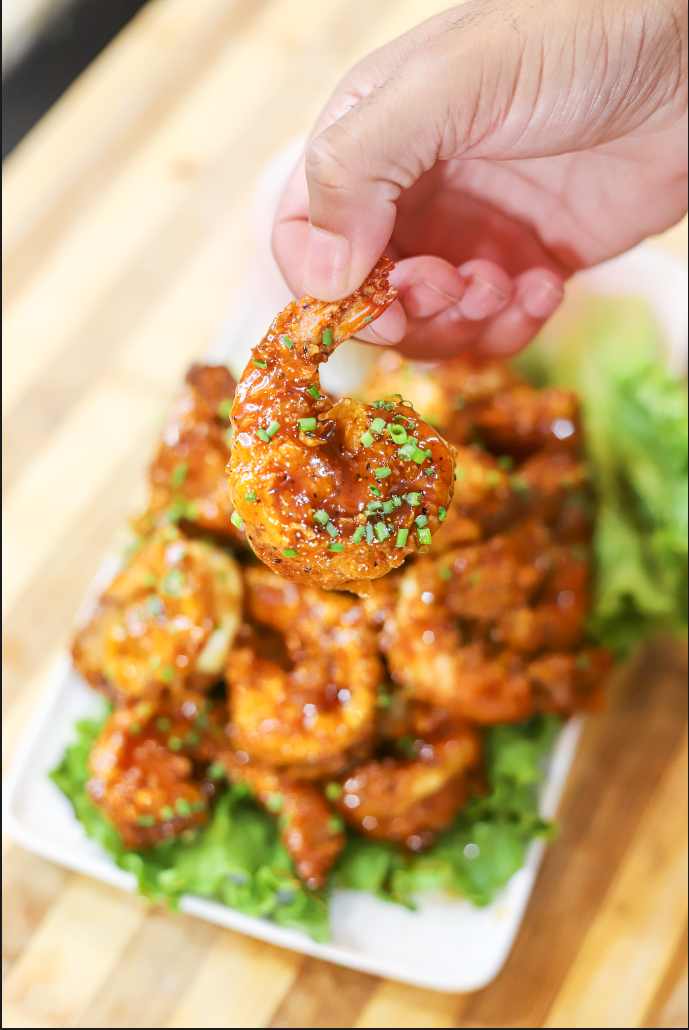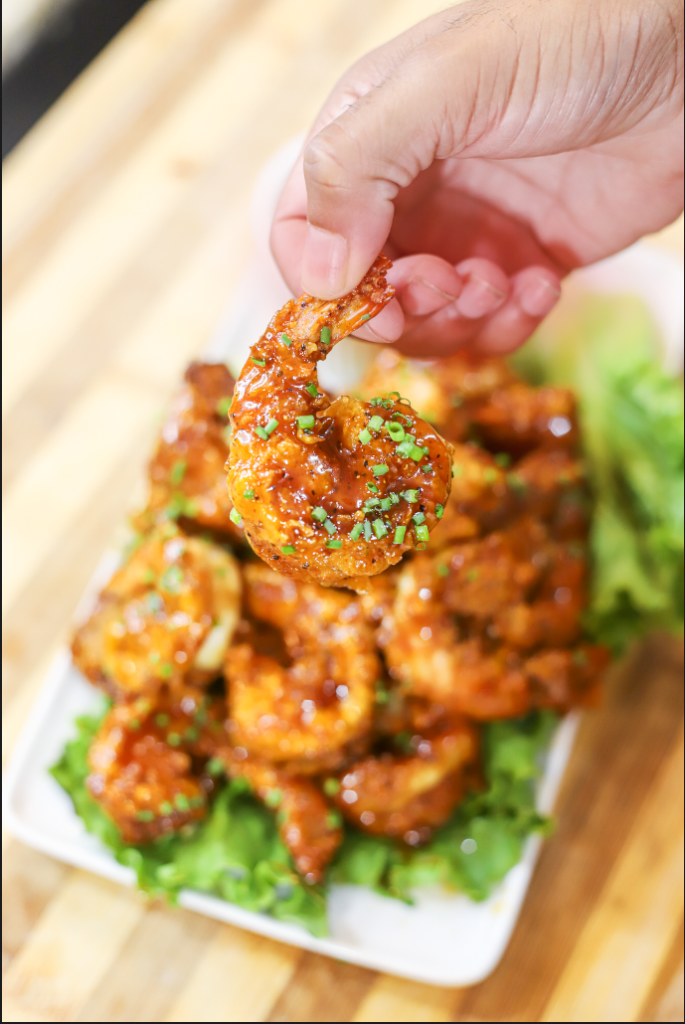 You will LOVE this Lemon Pepper recipe
Plump, juicy shrimp fried to perfection, infused with the harmonious blend of lemon pepper seasoning, honey ,and spice. The bright, tangy notes from the lemon complement the spicy, earthy tones of pepper, creating a well-rounded taste that's both refreshing and invigorating. Every bite bursts with complexity, leaving your taste buds craving more. My Lemon pepper Shrimp is not just a recipe; it's an experience.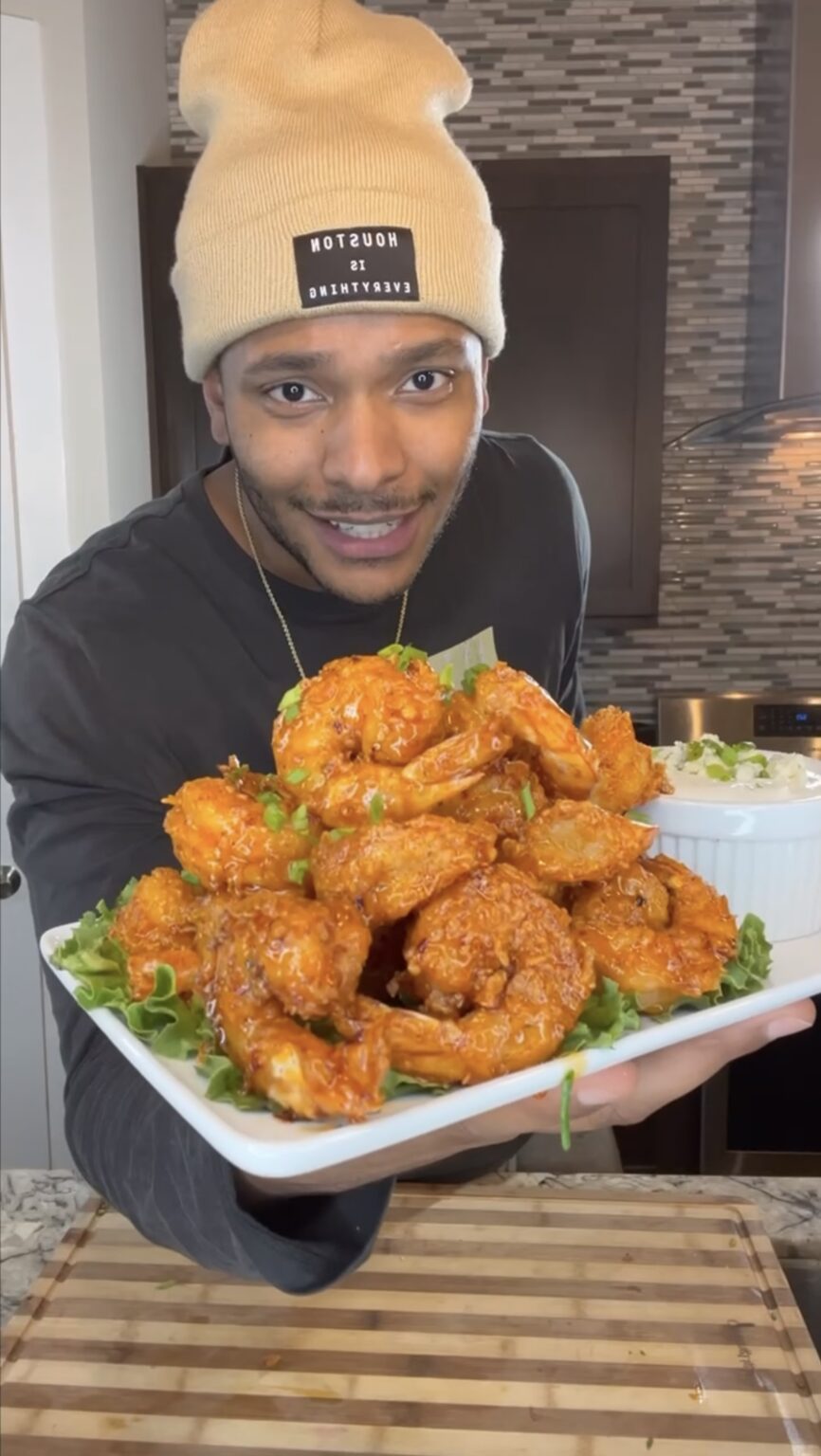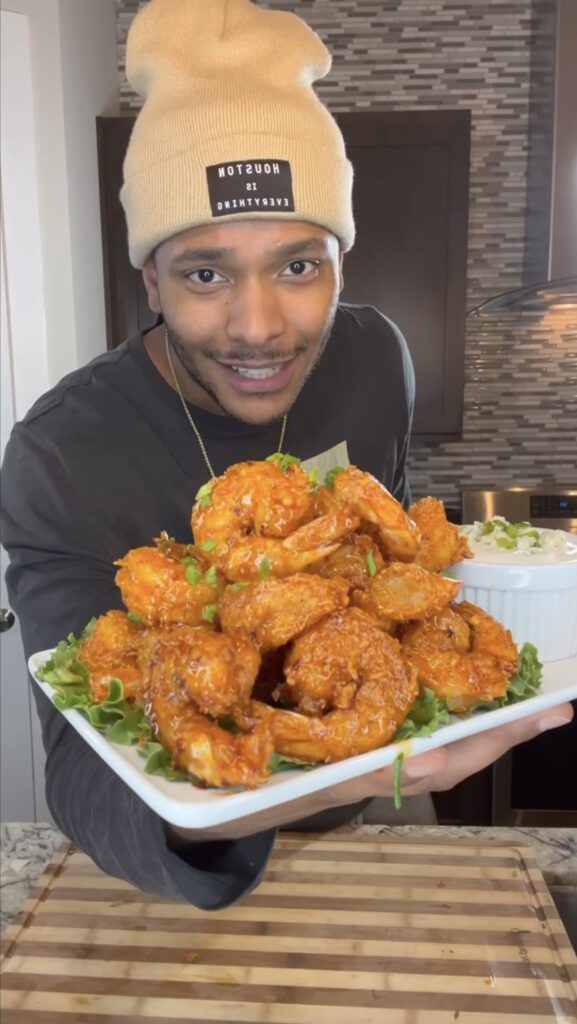 Ingredients
most importantly, to create this delectable dish, gather the following ingredients:
Fresh large shrimp (peeled and deveined): Provides the succulent seafood element that's the star of the show.
Flour: adds a crispy coating to the shrimp
Lemon Zest and Juice: Adds a refreshing citrusy kick that complements the heat and sweetness.
Honey: Provides the sweet element and balances out the spicy kick.
Red Pepper Flakes: Brings the heat! Adjust to your preferred spice level. you can also use hot honey instead of regular honey
Lemon Pepper: Enhances the peppery-lemony aspect and adds depth to the flavor. I use Bayou City Lemon Pepper
Hot sauce: Adds a touch of heat and complexity.
Garlic: Infuses a rich, savory undertone to the sauce.
Butter: Adds creaminess and richness to the sauce.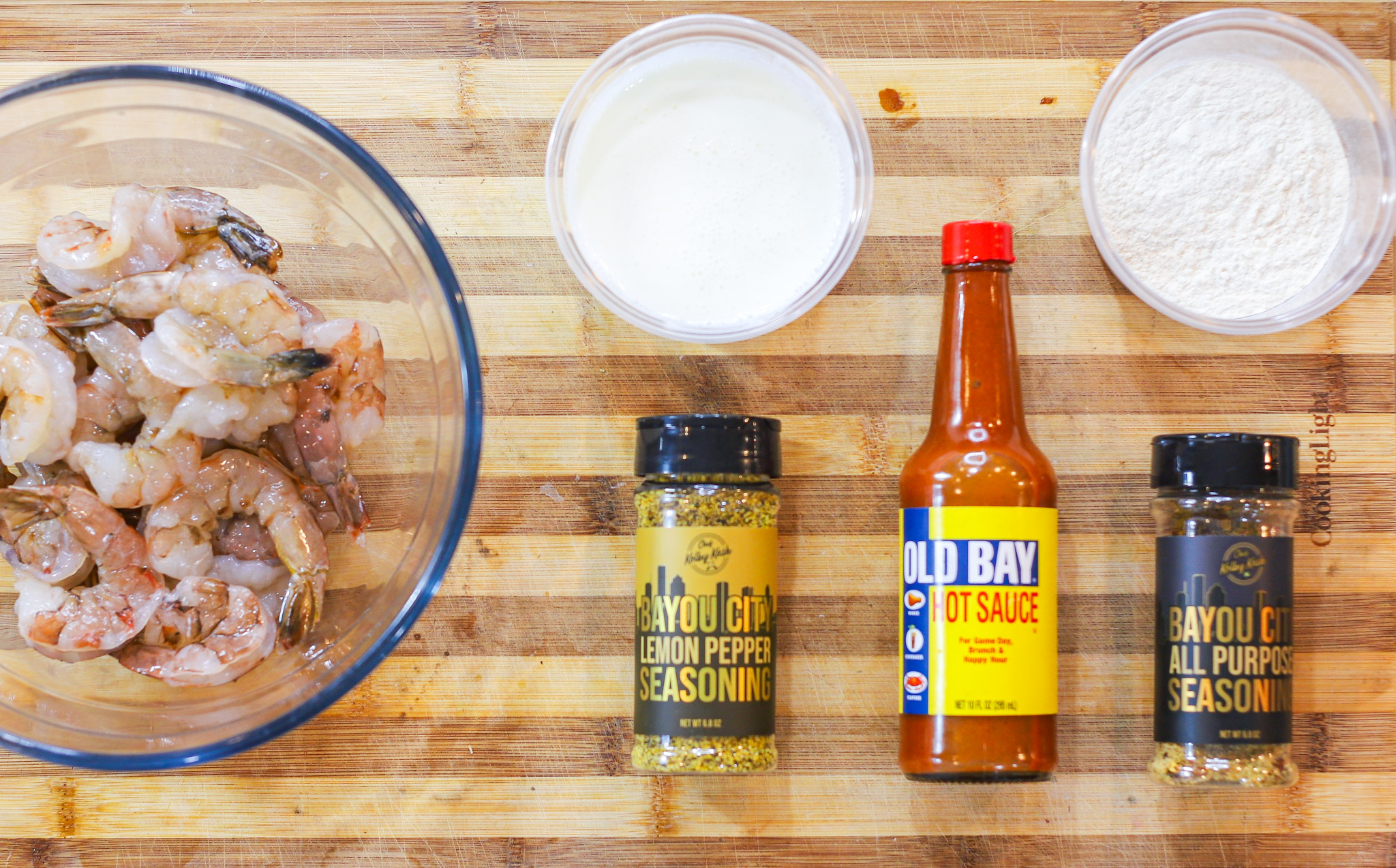 Getting Crispy Fried Shrimp:
Pat the shrimp dry with paper towels to ensure they fry up crispy and not soggy.
Dredge the shrimp in flour before frying. This creates a light, crispy coating.
Heat your oil to the right temperature (around 350°F or 180°C) and fry the shrimp until they turn golden brown, about 2-3 minutes per side.
Tips for the Perfect Lemon Pepper Sweet Heat Sauce:
Start by melting the butter in a pan over medium heat.
Sauté the minced garlic until fragrant, but be careful not to burn it.
Add the lemon zest and juice for that tangy punch.
Drizzle in the honey to balance out the flavors.
Finally, toss in the red pepper flakes (or use hot honey) and lemon pepper seasoning to bring the heat and pepperiness.
Adjust the spice and sweetness to your liking by fine-tuning the honey and red pepper flakes ratios.
Let reduce until it coats the back of a spoon…we like it THICK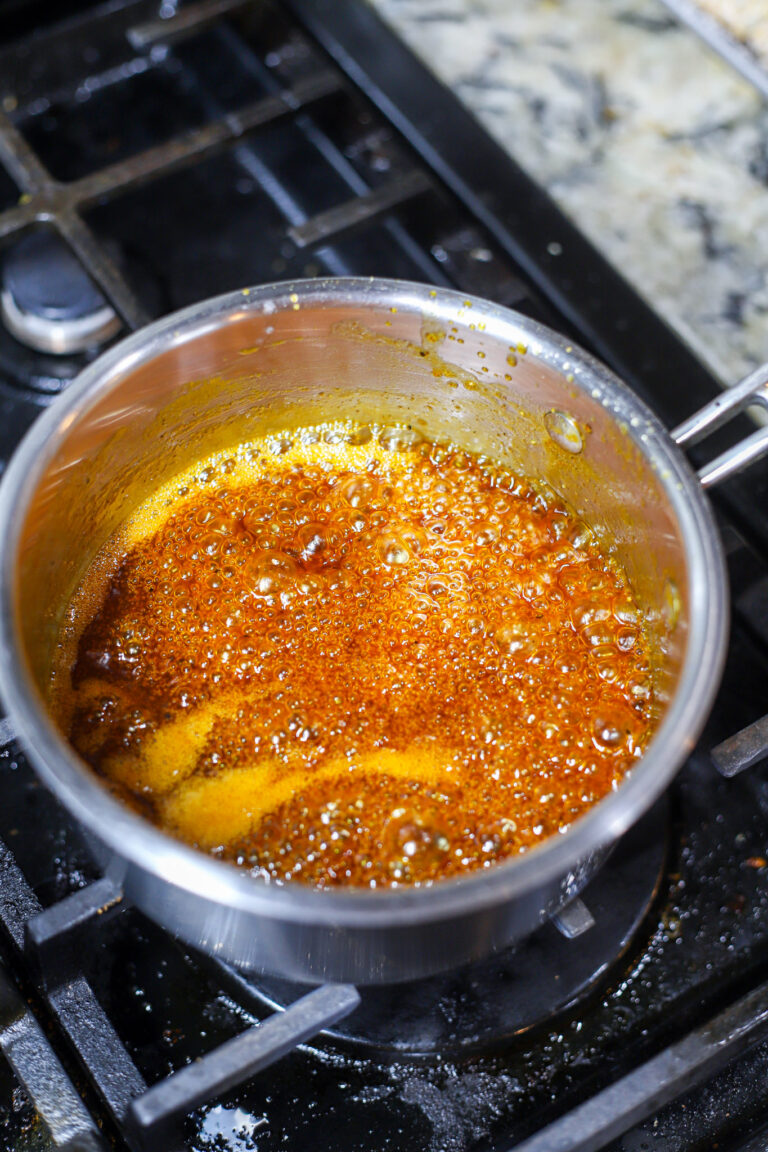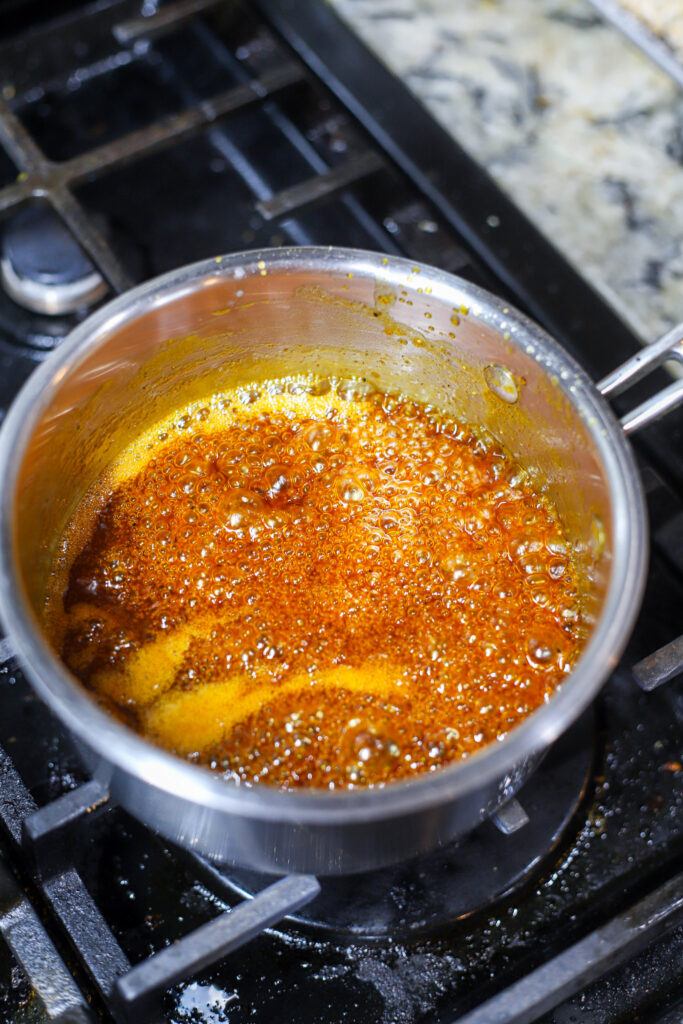 Blue Cheese vs. Ranch Dip:
The age-old debate! While both are excellent choices, it ultimately comes down to personal preference. Blue cheese dip offers a tangy, creamy counterpoint to the spicy sweetness of the shrimp. On the other hand, ranch dip provides a milder, herbaceous flavor that complements the dish without overwhelming it. Try both and see which one steals your heart!
FAQ:
Q: Can I use frozen shrimp? A: Yes, you can. Ensure they are properly thawed and drained before cooking.
Q: What can I serve with Lemon Pepper Shrimp? A: This dish pairs wonderfully with a side of French fries or keep it simple with carrots and celery.
Q: How can I reduce the spiciness of the sauce? A: To tone down the heat, simply use fewer red pepper flakes/ use regular honey or omit them altogether. Adjust the honey accordingly for sweetness.
Make sure to tag me on Instagram, TikTok, or Facebook when you make this recipe! I want to see your creation and give you a shoutout!
Check out a few of my favorite recipes: Carnitas Tacos, Lobster corn dogs, and Creole Boudin Balls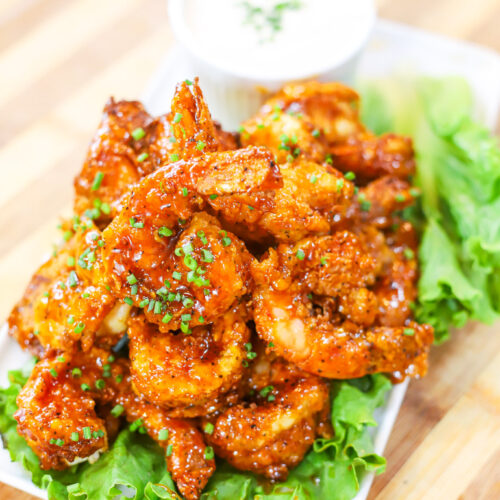 Lemon Pepper Shrimp: Sweet heat lemon pepper
Crispy Lemon Pepper Shrimp recipe coated in a luscious Lemon Pepper Sweet Heat Sauce, the perfect blend of sweet, spicy, and citrusy flavors.
Ingredients
Shrimp
1

lb

shrimp

peeled and deveined

1

cup

buttermilk

2

tbsp

hot sauce

2

tsp

all purpose seasoning

2

tsp

lemon pepper seasoning

1

cup

all purpose flour

vegetable oil

for frying
Lemon Pepper Sweet Heat Sauce:
2

tbsp

butter

1

tbsp

lemon pepper seasoning

1

tsp

red pepper flakes

or substitute honey for hot honey

2/3

cup

honey

1/3

cup

hot sauce

2

tbs

lemon juice
Instructions
In a mixing bowl, combine the buttermilk, hot sauce, and Creole seasoning. Add the peeled and deveined shrimp to the mixture, ensuring they are well coated. Cover and refrigerate for at least 30 minutes, or up to 2 hours if time allows. This step helps tenderize the shrimp and infuse them with flavor.

In a small saucepan over low heat, melt the butter. Once melted, stir in the honey, lemon pepper seasoning, red pepper flakes (optional), hot sauce, and fresh lemon juice. Simmer the sauce for about 2-3 minutes, or until it thickens slightly. Remove from heat and set it aside.

In a shallow bowl, place the all-purpose flour. Remove the marinated shrimp from the buttermilk mixture, allowing any excess liquid to drip off. Dredge each shrimp in the flour, making sure they are evenly coated. Shake off any excess flour.

In a deep skillet or frying pan, add enough vegetable oil to reach a depth of about 1 inch. Heat the oil over medium-high heat until it reaches 350°F (180°C).

Carefully add the coated shrimp to the hot oil in batches, making sure not to overcrowd the pan. Fry the shrimp for about 2-3 minutes per side or until they turn golden brown and crispy. Use a slotted spoon to transfer the fried shrimp to a plate lined with paper towels to drain any excess oil.

In a large mixing bowl, place the fried shrimp. Pour the prepared Lemon Pepper Sweet Heat Sauce over the shrimp while they are still hot. Gently toss to coat the shrimp evenly with the flavorful sauce.

Arrange the crispy Lemon Pepper Shrimp on a serving platter. Garnish with lemon wedges and chopped parsley if desired. These shrimp are best enjoyed immediately while they're hot and crispy.
Notes
Shrimp Selection: Opt for large shrimp, preferably 16/20 count per pound. They are meatier and result in plumper, more satisfying bites.
Marinating Time: Marinating the shrimp in the buttermilk mixture not only infuses flavor but also helps tenderize the shrimp. If you have the time, marinate them for the full 2 hours for the best results.
Draining Excess Oil: After frying, place the shrimp on a plate lined with paper towels to drain any excess oil. This step ensures your shrimp remain crispy.