Fried Lobster Tail Corn Dog
Succulent Fried Lobster Tails made into corn dogs for a fun and easy serving experience. Hand battered and fried until golden brown and crispy. Make these delicious fried lobster tail corn dogs at your next party or everyday meal!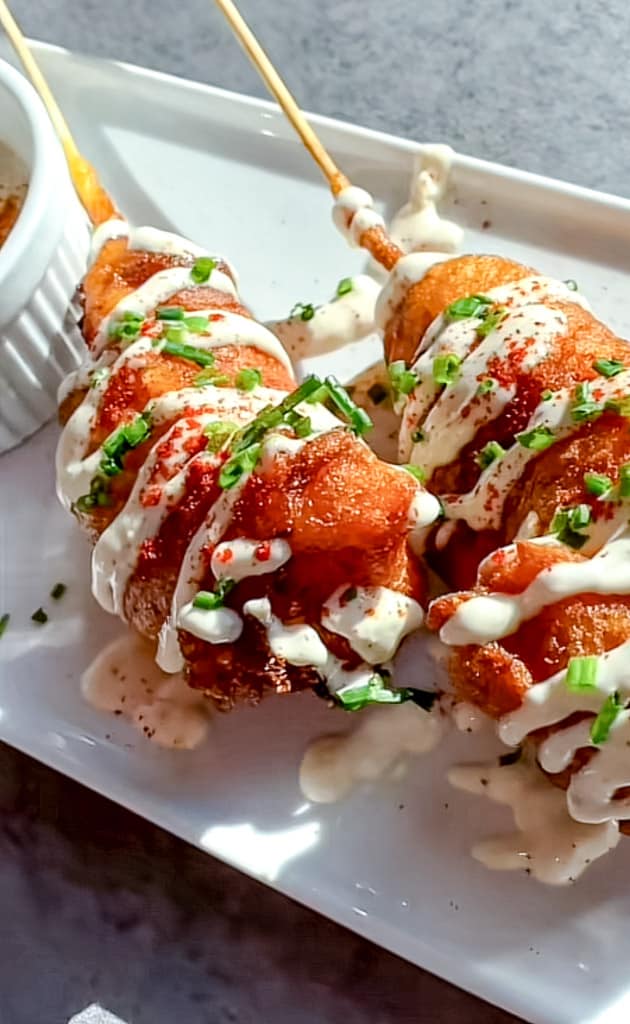 We love all things seafood in our household. Crawfish boils, crab boils, and shrimp boils are a delicious way to network with friends and family.
So these fried lobster tail corn dog were made out of our true love for seafood. One of the best parts is that they are done in less than 10 minutes.
Why You'll Love This Recipe
Easy serving! Lobster meat is a delicious delicacy. Serving it on a stick makes for a fun presentation, and easy serving.
A true delicacy! Fried lobster tails can be a super fancy way to serve lobster meat. Make them for a date night, or any other special occasion.
Full of flavor! lobster tails are amazing cooked all kinds of ways, but frying them makes them even more flavorful and tender.
They make the perfect "sophisticated" appetizer for game day or other parties. Or they are a delicious way to switch up your everyday weeknight meal routine
Ingredients For Lobster Lollipops
You should be able to find all of these ingredients at your local grocery store. Here is what you will need:
Lobster tail meat: head to the seafood department and ask for at least 4 lobster tails. Sometimes they are in the frozen seafood section.
Seasonings: for this recipe we seasoned our flour mixture with all purpose flour, cornmeal, Old Bay seasoning, paprika, and salt and pepper. You can also sprinkle in some garlic powder and onion powder for more flavor.
Wet mixture: you will need a base of buttermilk, minced garlic, grated onion, one can of cream style corn, and lemon juice.
Vegetable oil: you can use canola oil or peanut oil for this recipe as well. You will need enough to deep fry the tails.
How To Make Lobster Tail Corn Dogs
You want to start by blanching your lobster tails. Which means that you will submerge them in boiling water for a few minutes, and immediately remove them and place them in an ice bath.
Then you need to get the lobster meat out of the shells. Once you get the meat out, place a skewer directly through each tail.
Prepare your batter by combining all of the dry ingredients including the: all-purpose flour, the cornmeal, the pepper, garlic powder, onion powder, and Old Bay Seasoning.
In a separate bowl you will need to combine all of your wet ingredients, which include: the buttermilk, minced garlic, minced onion, cream style corn, and a touch of honey. Stir this up until it is combined well.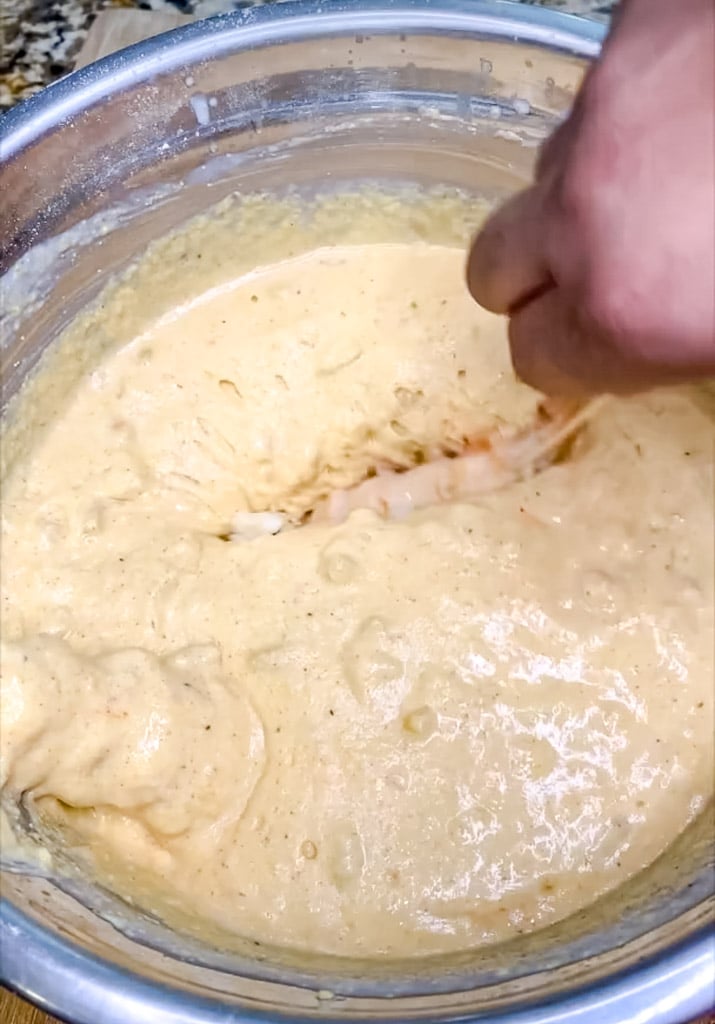 Pour the wet mixture into the dry mixture and stir it until combined well. Heat oil: heat your vegetable oil to 350°F.
Now it is time to dip the lobster skewer into the batter until it is fully coated, then immediately place it into the hot oil.
Fry the skewer for about 4 minutes, or until it is golden brown. Remove it from the oil and set it on a cooling rack to drain the excess oil.
Refer to the recipe card for step-by-step details.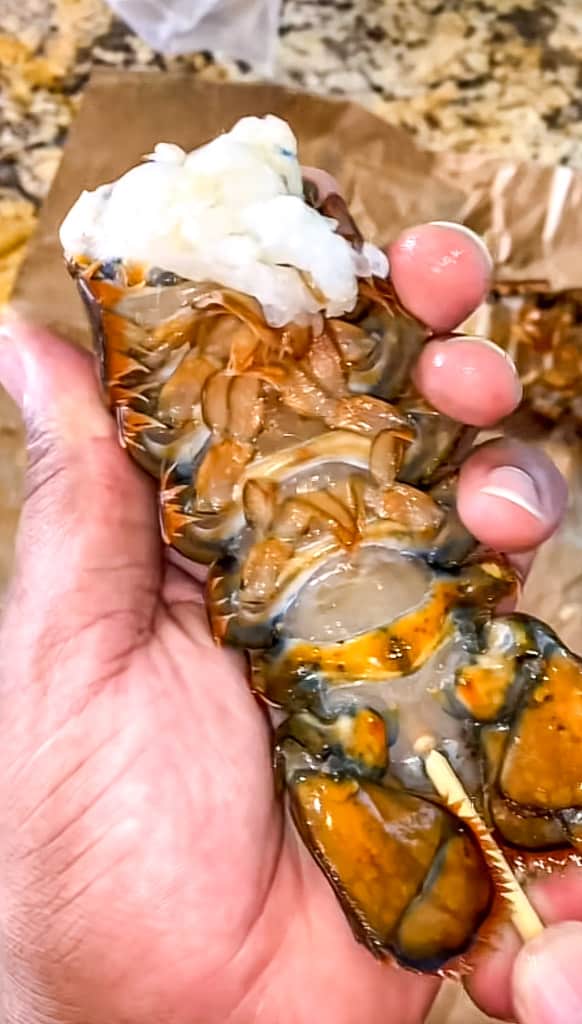 Steps to Deshell Lobster Tails
One of the easiest ways to remove the shell from a lobster tail is to use a pair of kitchen shears. Twist the flippers off the tail (use a fork to get out any lobster meat that may be in there).
Then you simply cut a slit down the middle of the bottom piece of the tail, from the flipper to the top. You should now be able to peel the shell away from the meat, and pull the lobster meat right out.
Difference Cold Water Lobster and Warm Water Lobster
Cold water lobster tends to have a sweeter taste than warm water lobster tails. Evenmore, cold water yields a more tender meat than warm.
You can tell the difference between the two by looking at the markings and characteristics as well. Warm water lobster have antennas and no claws; whereas cold lobster's have a pincer and crusher claw.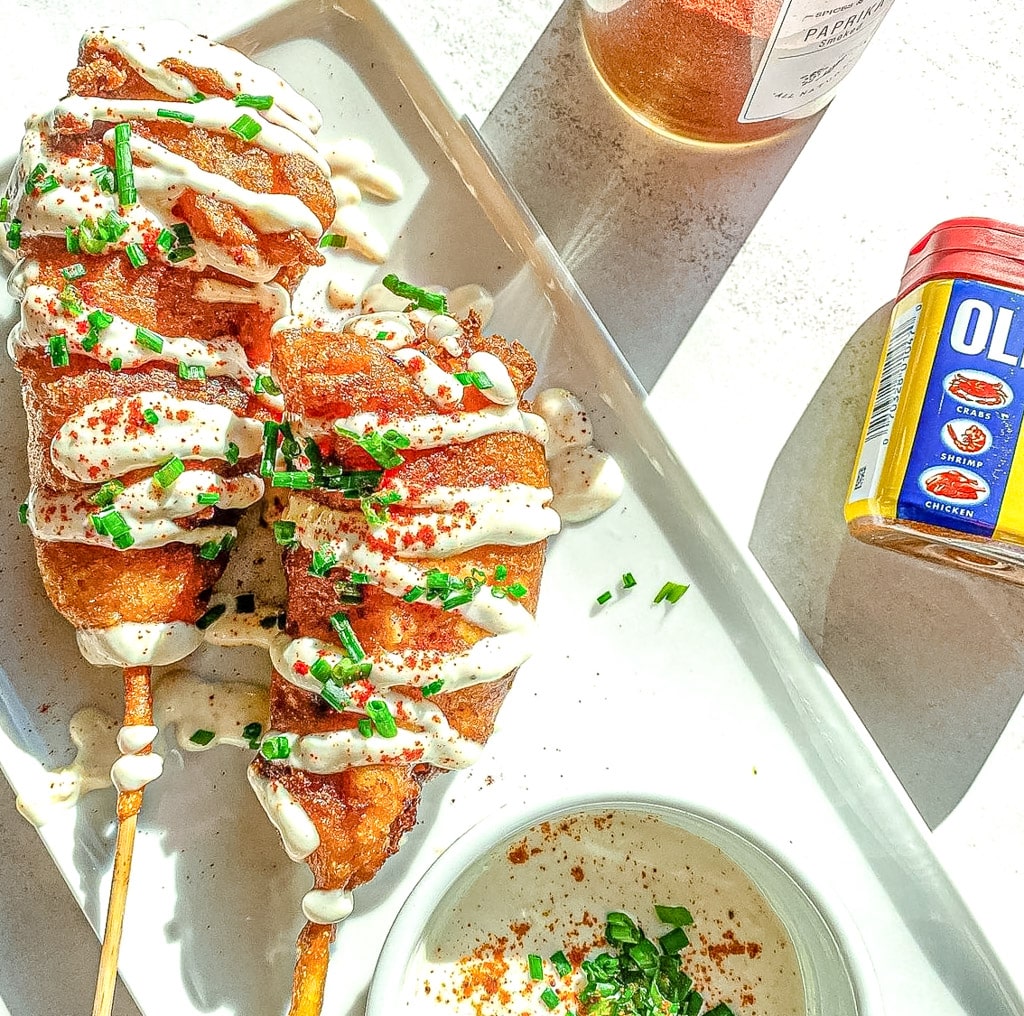 Storing and reheating instructions
It is unlikely that you will have any of these lobster corn dogs left. They will taste way better when they're eaten fresh out of the hot oil.
If you do happen to have leftovers though, you can place them in an airtight container and store them in the refrigerator for up to three days.
When you're ready to reheat them, take them out of the fridge and place them in the air fryer on the reheat setting. Alternatively, you can warm them up in the microwave for about 30 seconds, (microwaving will make them more soft than crispy though).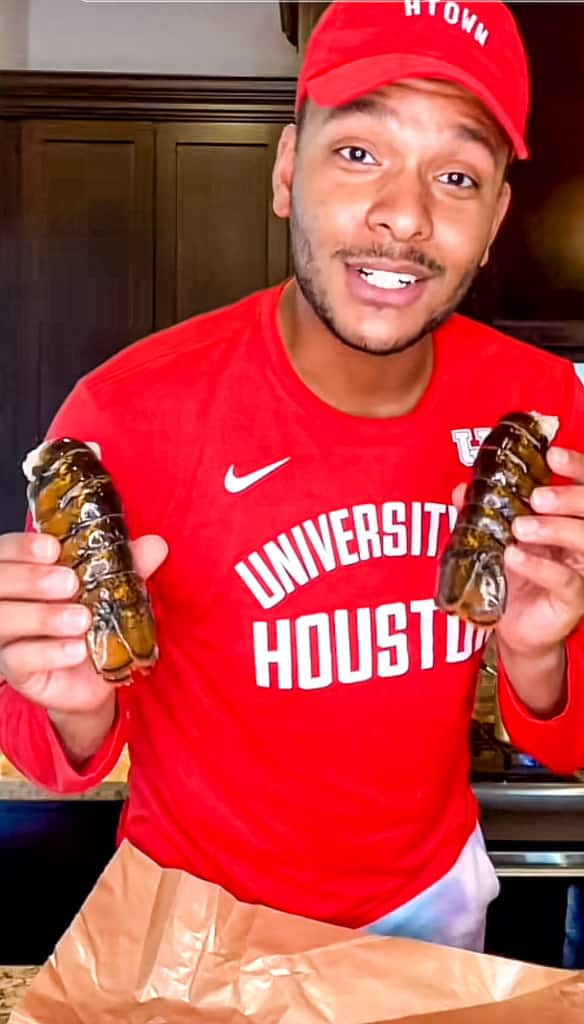 Frequently Asked Questions about Fried Lobster Tail
Do I have to Fry the Lobster Shell?
For these fried lobster tails we took the meat out of the shell. You can take the meat partially out, and fry the whole thing instead.
What do you serve fried lobster with?
You can serve fried lobster with garlic butter. Make a garlic butter sauce by melting butter, and adding some minced garlic directly into the melted butter.
Fried lobster tail would also be delicious with a homemade ranch or tartar sauce. A garlic aioli is another great condiment to serve with them
Is lobster tail meat good for you?
Lobster is good for you. This crustacean is full of omega-3 fatty acids which are linked to a slew of health benefits. Omega-3s are known to help with heart health, inflammation, and even helps increase mental health.
If you loved this Garlic Butter Shrimp recipe, let me know in the comments. For more delicious recipes, follow me on TikTok and Instagram!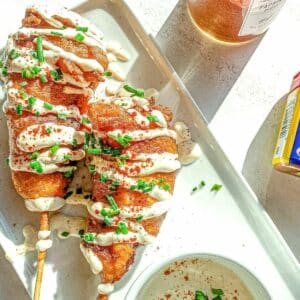 Fried Lobster Tail Corn Dog
Succulent Fried Lobster Tails made into corn dogs for a fun and easy serving experience. Hand battered and fried until golden brown and crispy. Make these delicious fried lobster tail corn dogs at your next party or everyday meal!
Ingredients
4

whole

Lobster tails

2

cups

All purpose flour

2

cups

Yellow Cornmeal

1

teaspoon

Baking soda

1

teaspoon

Cayenne pepper

1

teaspoon

Smoked paprika

1

teaspoon

Old bay seasoning

plus more for boiling water

3

cups

Buttermilk

1

can

Cream style corn

4

cloves

Garlic

grated

1/2

cup

Onion

grated

Salt

to taste

Vegetable oil

for frying
Instructions
Add water to a large pot, enough water to submerge the lobster tails. Season the water with about 1 tablespoon of Old Bay seasoning, and bring the water to a rapid boil.

Pierce a skewer directly through the bottom of the lobster tail, all the way to the top. This is to keep the tails from curling up.

Gently place the lobster tails into the boiling water and allow them to cook for 4-5 minutes. Remove them right away and place them in an ice bath to stop the cooking process.

Allow the lobster tails to rest for about 2 minutes, then remove the skewer from them. Deshell the lobster by pressing the inner part with your thumbs and peeling the shell away from the meat.

Alternatively, you can use kitchen shears to gently cut the shell away from the lobster meat. Be careful not to cut into the meat.

Once the meat is separated from the shell, just set it to the side while you prepare the batter.

In a large bowl, combine the flour, cornmeal, baking soda, baking powder, cayenne pepper, old bay, and smoked paprika.

Now in a separate bowl combine the buttermilk, corn, grated garlic, grated onions, and honey. Stir this mixture up until everything is combined.

Pour the dry ingredients into the wet ingredients and stir until everything is mixed well. Lumps are okay.

Preheat the oil in a deep fryer or cast iron skillet to 350°F. While the oil is heating up, pierce the lobster meat with a skewer, from the bottom to the top.

Dip one skewer at a time, into the batter and make sure they are fully coated. Lower the lobster into the hot oil and fry for 5 minutes, or until it is golden brown. Remove the lobster from the oil and set it on a cooling rack or bed of paper towels to drain the excess grease.

Repeat the batter and frying process until all of the lobster corn dogs are made. Sprinkle a little bit of salt on the lobster once it comes out of the oil.