Roasted Butternut Squash Soup
This vibrant and nourishing Roasted Butternut Squash Soup brings together a harmonious blend of flavors and textures, and celebrates the goodness of plant-based ingredients! Whether you follow a vegan lifestyle or simply appreciate delicious plant-based creations, this recipe is sure to become a staple on your menu. Let's dive in and discover how to create this vegan delight!
Since you love comfort soups, try my Rainy Day Chicken Noodle Soup next!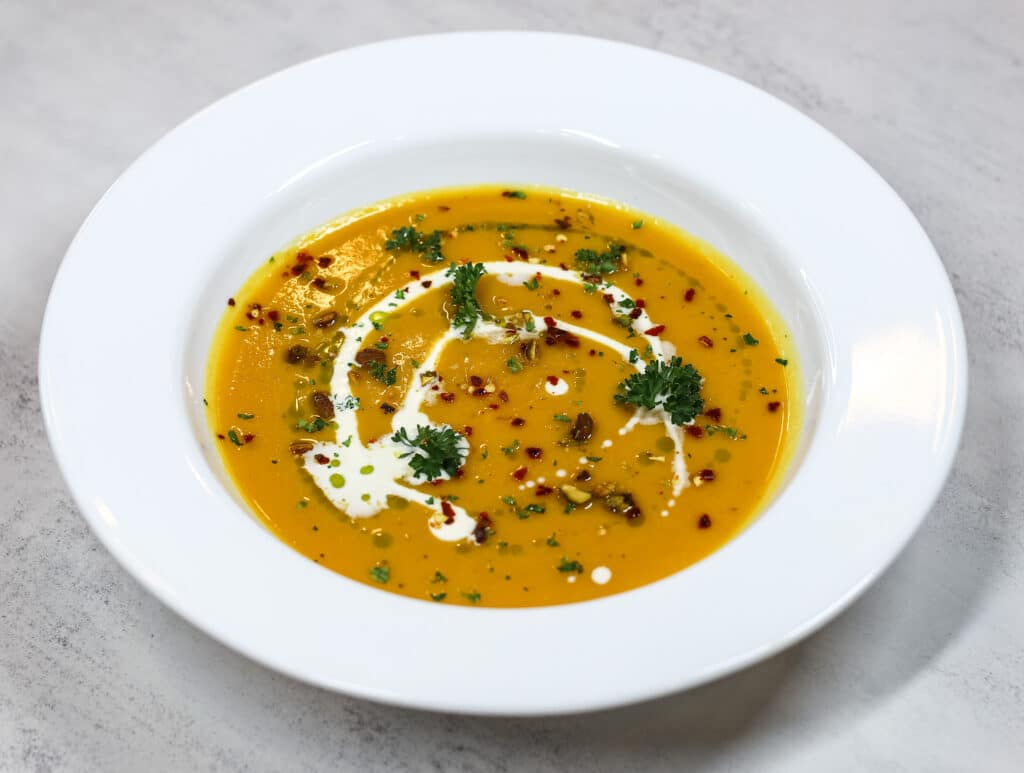 Roasting Butternut Squash and Preparing the Puree:
To begin, let's prepare the star ingredient of our soup: the roasted butternut squash puree.
Preheat your oven to 400°F (200°C).
Cut a medium-sized butternut squash in half lengthwise and scoop out the seeds.
Place the squash halves on a baking sheet, drizzle with olive oil, and season with salt and pepper.
Roast the squash for about 45-50 minutes or until tender and caramelized.
Remove the squash from the oven and let it cool slightly.
Scoop out the flesh and transfer it to a blender or food processor.
Blend until smooth, adding vegetable broth or water as needed to achieve your desired consistency.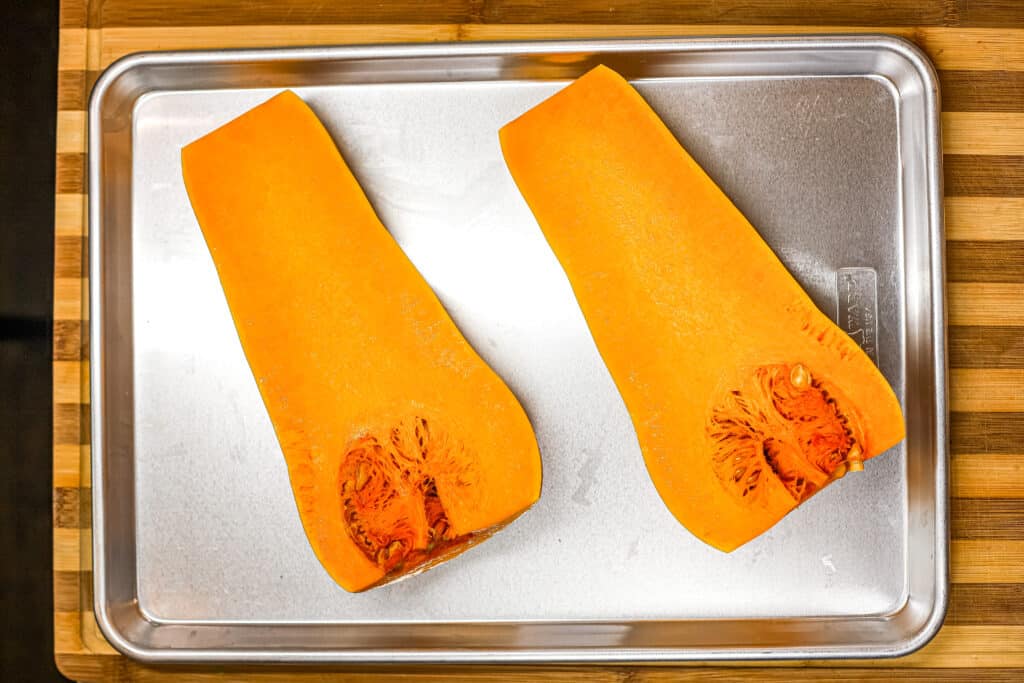 Ingredients You'll Need
These ingredients work together to create a harmonious blend of flavors, resulting in a creamy and delicious roasted butternut squash soup.
Butternut Squash: The star ingredient of the recipe, butternut squash, brings natural sweetness, a creamy texture, and a rich flavor to the dish. It serves as the base for the soup and provides a comforting and hearty element.
Carrots: Carrots add a slightly sweet and earthy flavor to the soup. They contribute a vibrant orange color and provide additional nutrients, including beta-carotene, vitamin A, and fiber.
Onion: Onions add depth and savory notes to the soup. They lend a robust flavor that balances the sweetness of the butternut squash and other vegetables.
Garlic: Garlic brings a pungent and aromatic taste to the recipe. It adds a subtle hint of spiciness and enhances the overall flavor profile of the soup.
Celery: Celery adds a refreshing and crisp element to the soup. It provides a subtle herbal taste and contributes to the overall savory profile. Additionally, celery adds texture and a slight hint of bitterness.
Leeks: Leeks offer a milder and sweeter flavor compared to onions. They contribute a delicate onion-like taste and add complexity to the soup's flavor profile.
Olive Oil: Olive oil is used for roasting the butternut squash and sautéing the vegetables. It adds richness and a touch of healthy fat to the dish.
Smoked Paprika: Smoked paprika brings a subtle smokiness and depth of flavor to the soup. It adds a touch of complexity and enhances the overall taste of the dish.
Dried Thyme: Dried thyme provides an earthy and herbaceous flavor to the soup. It complements the other ingredients and adds a gentle aromatic note.
Salt and Pepper: Salt and pepper are essential for seasoning the soup and bringing out the flavors of the other ingredients. They help balance the sweetness and enhance the overall taste.
Options for Garnish:
To elevate the presentation and add a burst of flavor, consider the following garnish options for your Roasted Butternut Squash Soup
Freshly chopped herbs like parsley, thyme, or chives.
Toasted pumpkin seeds or croutons for a satisfying crunch.
A drizzle of balsamic reduction or truffle oil for a touch of elegance.
A dollop of vegan yogurt or coconut milk for a creamy finish.
Achieving a Smooth and Creamy Texture:
After blending the soup, pass it through a fine mesh strainer to remove any fibrous bits and ensure a silky consistency.
Use the back of a ladle or a spoon to gently press the soup through the strainer, discarding any solids that remain.
Repeat this process until the desired consistency is achieved, ensuring a luxurious and silky-smooth soup.
Tips for a Vegan Alternative:
Replace the olive oil with melted coconut oil or your preferred plant-based oil for a slightly different flavor profile.
To add a creamy touch to your roasted vegetables, consider tossing them with a drizzle of cashew cream or coconut milk before roasting.
Experiment with different herbs and spices to customize the flavor. Smoked paprika, cumin, or rosemary can provide a unique twist.
If you prefer a sweeter taste, sprinkle a little maple syrup or agave nectar over the vegetables before roasting.
Feel free to add other seasonal vegetables like bell peppers, Brussels sprouts, or sweet potatoes for additional color and variety.
This versatile roasted butternut squash dish can be enjoyed as a standalone side, tossed into salads, mixed with grains for a hearty bowl, or even used as a filling for wraps and sandwiches. Let your creativity guide you!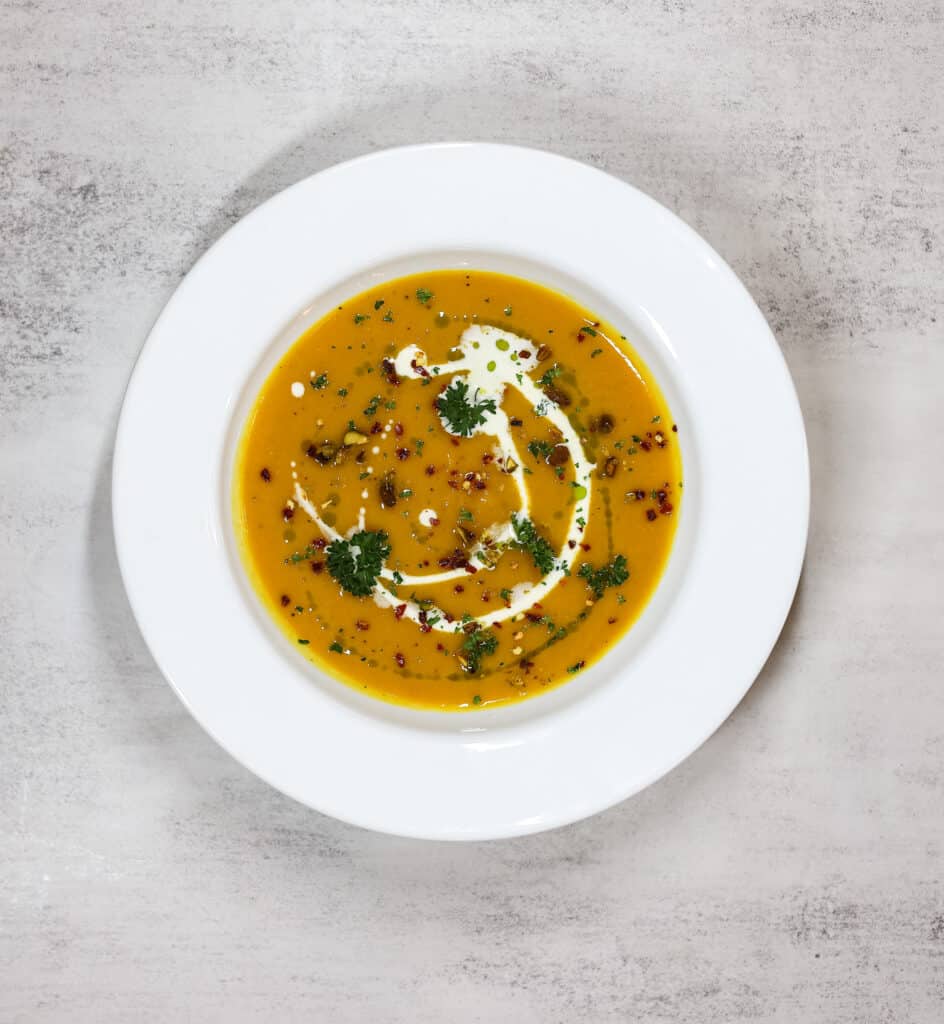 Once you try out this Butternut Squash Soup Recipe, let me know in the comments. For more delicious recipes, follow me on TikTok and Instagram!
More comfort food recipes: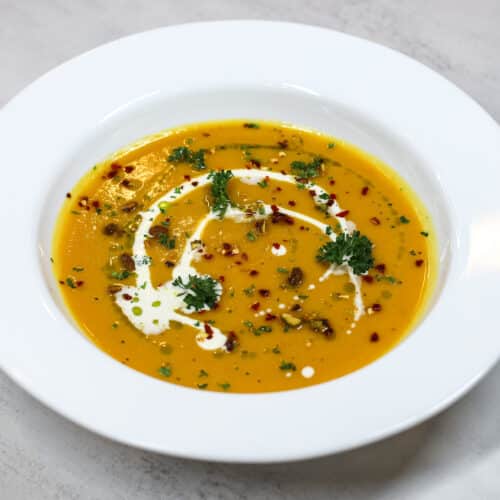 Butternut Squash Soup
This vibrant and nourishing Butternut Squash Soup brings together a harmonious blend of flavors and textures. It's perfect if you follow vegan lifestyle or simply appreciate delicious plant-based creations!
Ingredients
1

medium

Butternut Squash

halved and seeded

1

teaspoon

Bayou City Garlic Pepper

1

whole

Garlic bulb

halved

2

sprigs

Sage

2

sprigs

Thyme

2

Carrots

peeled and diced

1

Onion

diced

2

Celery stalks

diced

1

Leek

twinkly sliced

2

tablespoons

Grapeseed oil

1

teaspoon

Smoked Paprika

1

teaspoon

Bayou City All Purpose

Salt & Pepper

to taste

Vegetable Broth (or water)

as needed
Garnish
Fresh herbs

Red pepper

Coconut cream

Toasted pumpkin seed

Lemon basil oil
Instructions
Preheat your oven to 400°F (200°C).

Place the halved butternut squash, cut side up, on a baking sheet. Drizzle with olive oil and sprinkle with Bayou City GP and salt. Place sage, thyme, and garlic in the pitted part of each squash, where the seeds were. Flip Skin side up.

Roast the butternut squash in the preheated oven for approximately 45-50 minutes, or until the flesh is tender and caramelized. Set aside to cool.

Once cooled, scoop out the roasted butternut squash flesh and set aside.

Heat a Dutch oven or large pot over medium heat. Add the grapeseed oil, followed by the carrots, onion, roasted garlic (from roasting the butternut squash), celery, and leeks. Sauté the vegetables for about 5-7 minutes, or until they become fragrant and slightly softened.

Add the roasted butternut squash puree to the pot, along with the smoked paprika, Bayou City, salt, and pepper. Stir well to combine all the flavors.

Pour enough vegetable broth or water into the pot to cover the vegetables. Bring the mixture to a boil, then reduce the heat to low. Cover and simmer for approximately 20-25 minutes, allowing the flavors to meld together.

Remove the pot from heat and let the mixture cool slightly.

Transfer the cooked vegetable mixture to a blender or food processor and blend until smooth. If needed, add more vegetable broth or water to achieve your desired consistency.

To achieve a silky-smooth texture, pass the blended soup through a fine mesh strainer, discarding any remaining solids. This step ensures a creamy and luxurious final result.

Return the strained soup to the pot and gently reheat over low heat, if necessary.

Serve the Creamy Roasted Butternut Squash soup hot, garnished with fresh herbs, toasted pumpkin seeds, and a drizzle of Lemon Basil oil. Enjoy!
Notes
This recipe can easily be doubled or halved to accommodate your desired serving size.
Conclusion: Roasted Butternut Squash is a marvelous vegan recipe that showcases the natural beauty and flavors of plant-based ingredients. Its simplicity and versatility make it a fantastic addition to your culinary repertoire, providing a colorful and nourishing option for any occasion. So gather your vegetables, unleash your creativity, and indulge in this delightful vegan delight that will surely impress your taste buds and satisfy your hunger. Enjoy the vibrant flavors and the goodness of plant-based eating!