Southern Smothered Pork Chops
Smothered pork chops are a classic Southern dish that is both flavorful and comforting. The
pork chops are slow cooked in a rich and savory gravy, resulting in a tender and juicy meat that
is bursting with flavor. These Southern Smothered Pork Chops are sure to impress your family and friends.
For the perfect southern sides, check out these Mac & Cheese and Mashed Potato recipes!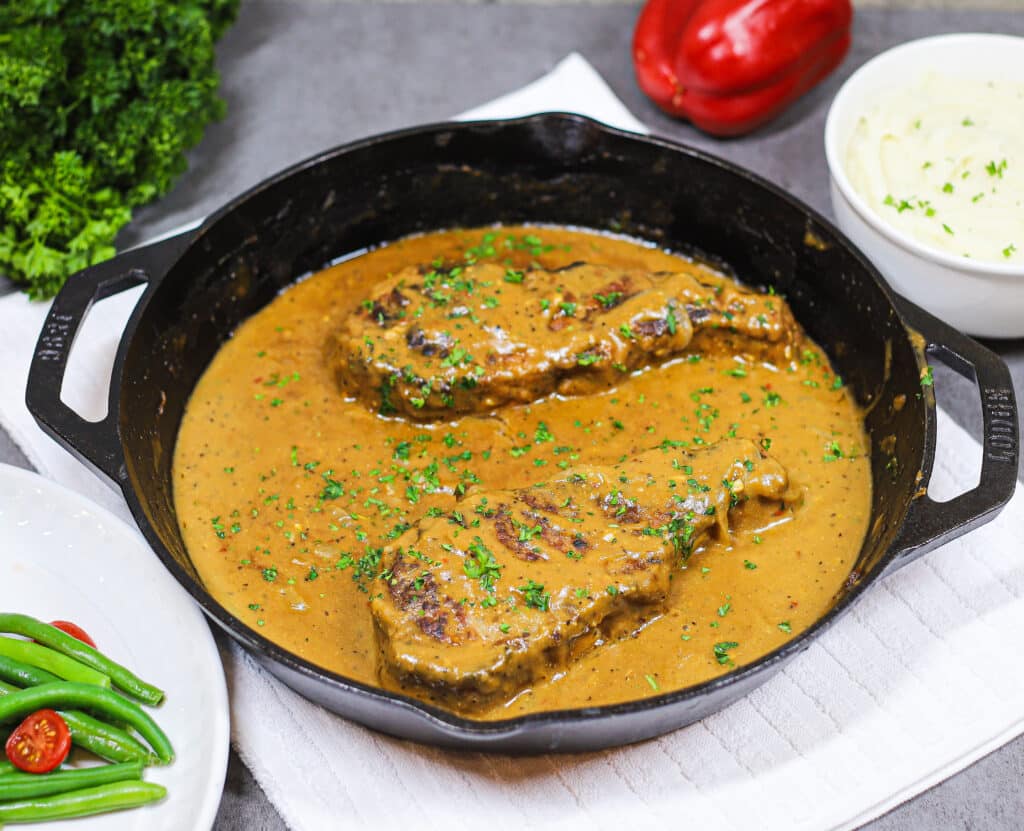 Why you'll love this Smothered Pork Chop recipe
These smothered pork chops are the perfect comfort food, with tender and juicy pork chops covered in a rich and flavorful gravy. This dish is perfect for any time of year and can be served with a variety of sides. It's a great recipe for those who love Southern cuisine, and it's easy enough for every cook to master.
What Does "Smothered" Mean in Southern Cooking?
In Southern cooking, "smothered" means that the meat is cooked low and slow in a flavorful
gravy until it is tender and falling off the bone. The gravy is made with a combination of onions,
garlic, flour, and broth, which creates a rich and velvety sauce that is perfect for smothering the
pork chops. The results are a tender and flavorful meat that is perfect for spooning over rice or
mashed potatoes.
Ingredients:
Pork Chops: The main ingredient in this dish. Bone-in pork chops are ideal as they add
more flavor to the dish.
Flour: Used for dredging the pork chops before frying, it also helps thicken the gravy.
Garlic Powder, Onion Powder, Paprika, Cayenne Pepper, Salt, and Black Pepper: These
spices are used to season the pork chops and add depth of flavor to the dish.
Vegetable Oil: Used for frying the pork chops until they are golden brown and crispy.
Onion, Garlic, Bell Pepper: The base of the gravy, they add flavor and aroma to the dish.
Chicken Broth: Used to make the gravy, it provides a savory and rich flavor to the dish.
Heavy Cream: Used to add a creamy texture to your gravy.
Worcestershire Sauce: Adds a depth of umami flavor to the dish.
Tips on How to Make the Perfect Gravy for Smothered Pork Chops:
Use the same pan you used to fry the pork chops. This will help incorporate the flavors
from the meat into the gravy.
Add the flour slowly and whisk continuously to avoid lumps.
Cook the gravy over low heat to allow it to thicken and develop a rich flavor.
Adjust the seasoning according to your taste.
Boneless vs. Bone-In Pork Chops:
Bone-in pork chops are ideal for this recipe as they tend to be more flavorful and juicier.
However, if you prefer boneless pork chops, you can still use. Boneless chops cook faster and
can be easier to eat… so be sure to adjust the cooking time as needed.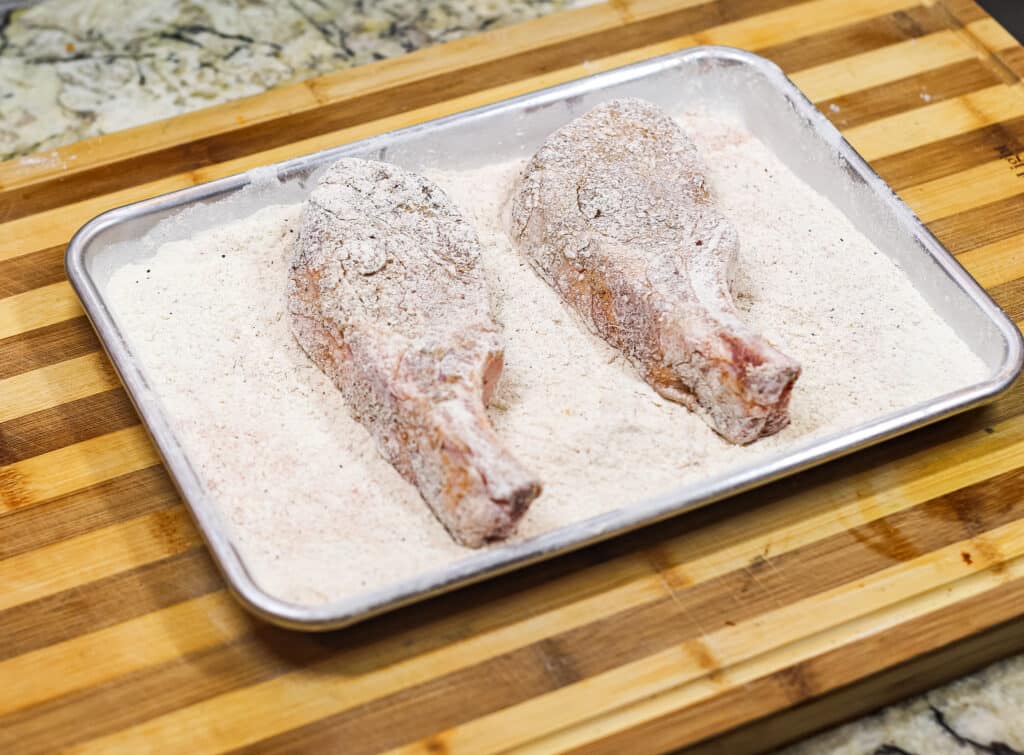 Tips on Frying
Use a heavy-bottomed pan to ensure even heat distribution.
Heat the oil until it reaches 350°F. This will ensure that the pork chops are cooked
evenly and become golden brown and crispy.
Do not overcrowd the pan. This will lower the temperature of the oil and result in soggy
pork chops.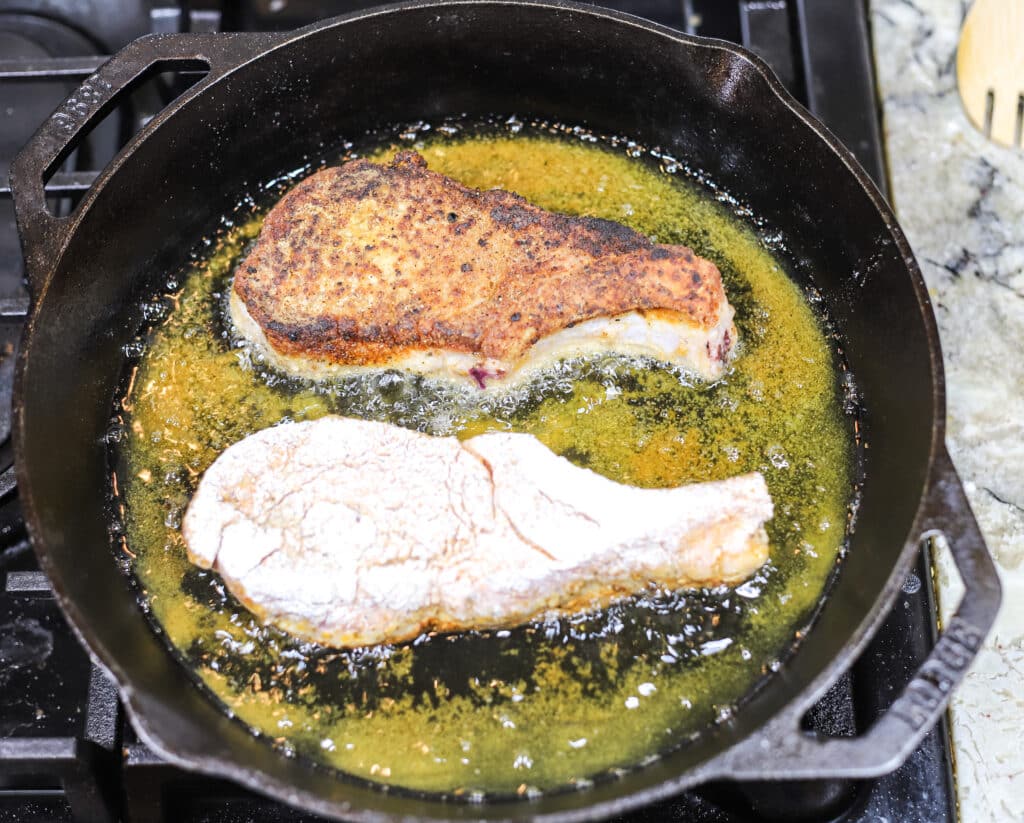 Southern Sides to Serve with Smothered Pork Chops
Mashed Potatoes: The ultimate comfort food that pairs perfectly with smothered pork
chops.
Mac and Cheese: Creamy, cheesy, and oh-so-delicious, it's hard to resist a serving of this
Southern favorite.
Collard Greens: A traditional Southern side that is packed with flavor and nutrients.
Cornbread: A classic Southern staple that is the perfect side for any meal.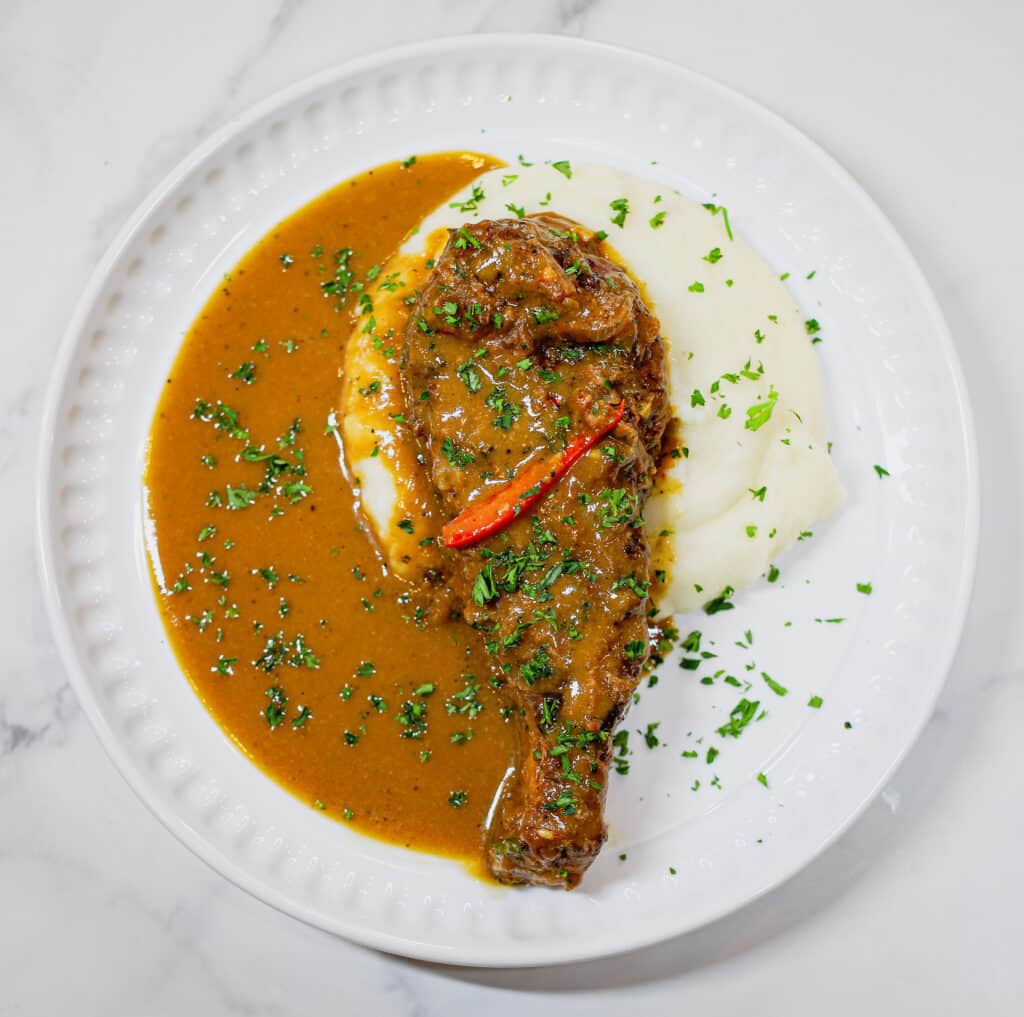 If you loved this Smothered Southern Pork Chop recipe, let me know in the comments. Check out my Instagram and TikTok for other southern comfort food recipes!
Southern Smothered Pork Chops
Ingredients
2

bone-in pork chops

about 1 inch thick

1/2

cup

all purpose flour

1

tsp

bayou city garlic pepper

1

tsp

bayou city all purpose

1

tsp

paprika

1/2

tsp

cayenne

1/2

tsp

chili powder

1/4

cup

vegetable oil

1

small onion

thinly sliced

1

small bell pepper

thinly sliced

1

cups

chicken broth

1/4

cup

heavy cream

1

tbs

worcestershire sauce

1/2

tsp

thyme

1/2

tsp

oregano

salt and pepper

to taste

chopped parsley

for garnish
Instructions
In a shallow dish, mix together the flour, Bayou City Seasonings, paprika, cayenne, and chili powder.

In a large skillet or Dutch oven, heat the vegetable oil over medium-high heat until hot.

Pat your pork chops dry and season with salt and pepper liberally.

Lightly dredge each pork chop in the seasoned flour mixture, shaking off any excess.

Add the pork chops to the skillet and cook for 4-5 minutes per side, or until browned and crispy.

Remove the pork chops from the skillet and set aside on a plate.

Reduce heat to medium add the sliced onion to the skillet and cook for 2-3 minutes, or until softened.

Sprinkle about 2 tbs seasoned flour over the onions and stir to combine.

Add chicken broth, Worcestershire sauce, thyme, and oregano to the skillet and whisk to combine.

Bring the mixture to a boil and reduce heat to low. Return the pork chops to the skillet, spooning some of the onion gravy over each one.

Reduce the heat to low, cover the skillet, and simmer for 30-40 minutes, or until the pork chops are tender and cooked through.

Serve the pork chops hot, garnished with chopped fresh parsley.
Notes
For some extra southern inspiration, you could try the following variations:
Instead of using chicken broth, try using beef broth for a richer, heartier flavor.
Add a splash of apple cider vinegar to the gravy for some tanginess.
Use a cast-iron skillet for a deeper, more intense flavor.
Top the pork chops with some sautéed mushrooms or caramelized onions for extra flavor and texture.
For a crispy and crunchy finish, try adding some breadcrumbs to the flour mixture before dredging the pork chops.
Remember, southern cooking is all about experimenting with different flavors and techniques to create delicious, comforting meals. So feel free to put your own spin on this classic recipe and make it your own!