Sweet Potato Cinnamon Rolls
I am definitely all about anything involving sweet potato. This recipe combines the wholesome goodness of sweet potatoes with the overall classic cinnamon roll, resulting in the perfect fall dessert. With the perfect balance of sweetness and warmth, these rolls are about to be your next obsession. I know a lot of people are intimidated by baking but trust me, this recipe for the most delicious sweet potato cinnamon rolls, you can't mess up!
In the mood for something sweet? You're in the right place! Check out Strawberry Pancakes with Ice Cream, Sweet Potato Pie, and Best Southern Blueberry Cobbler.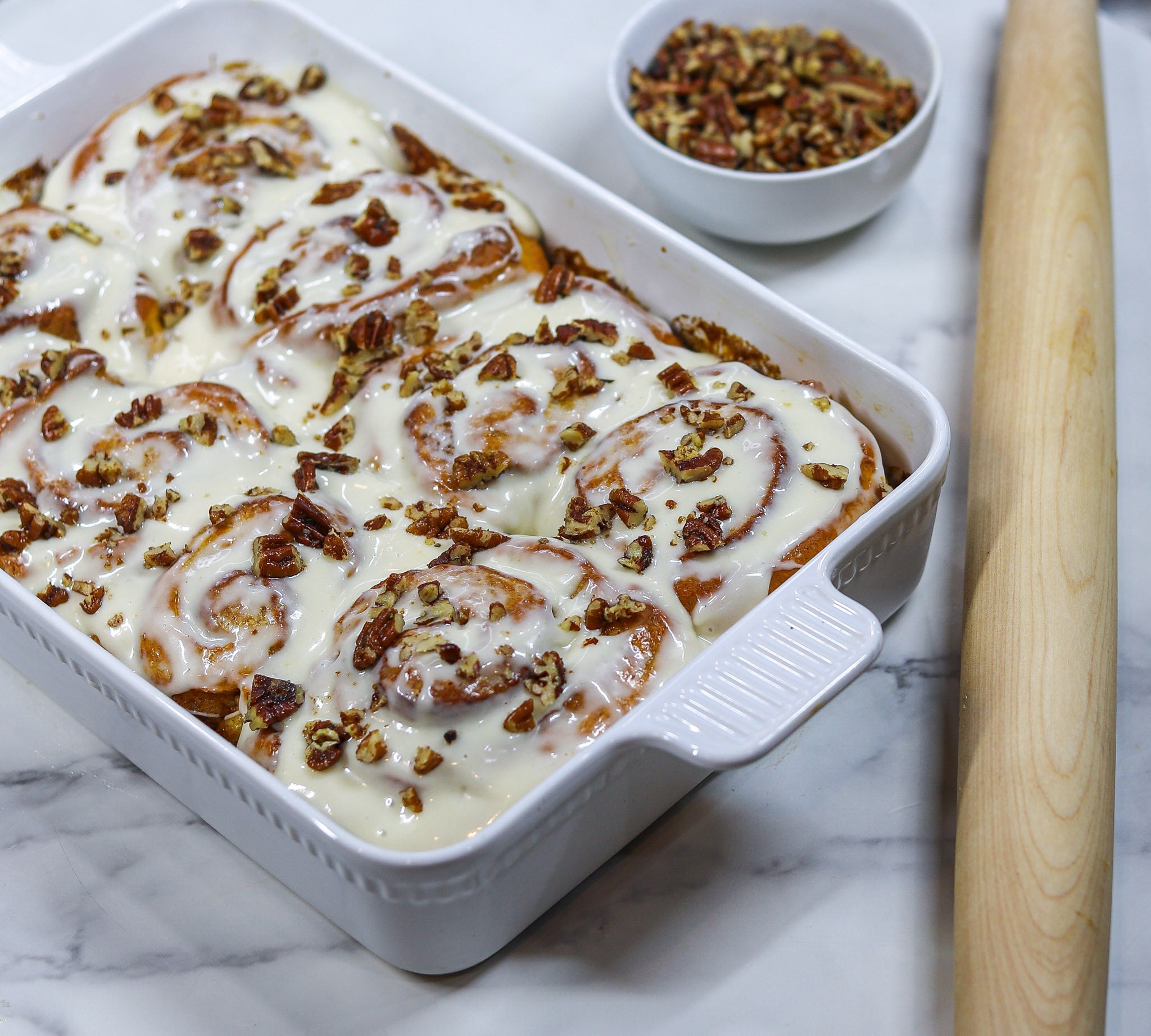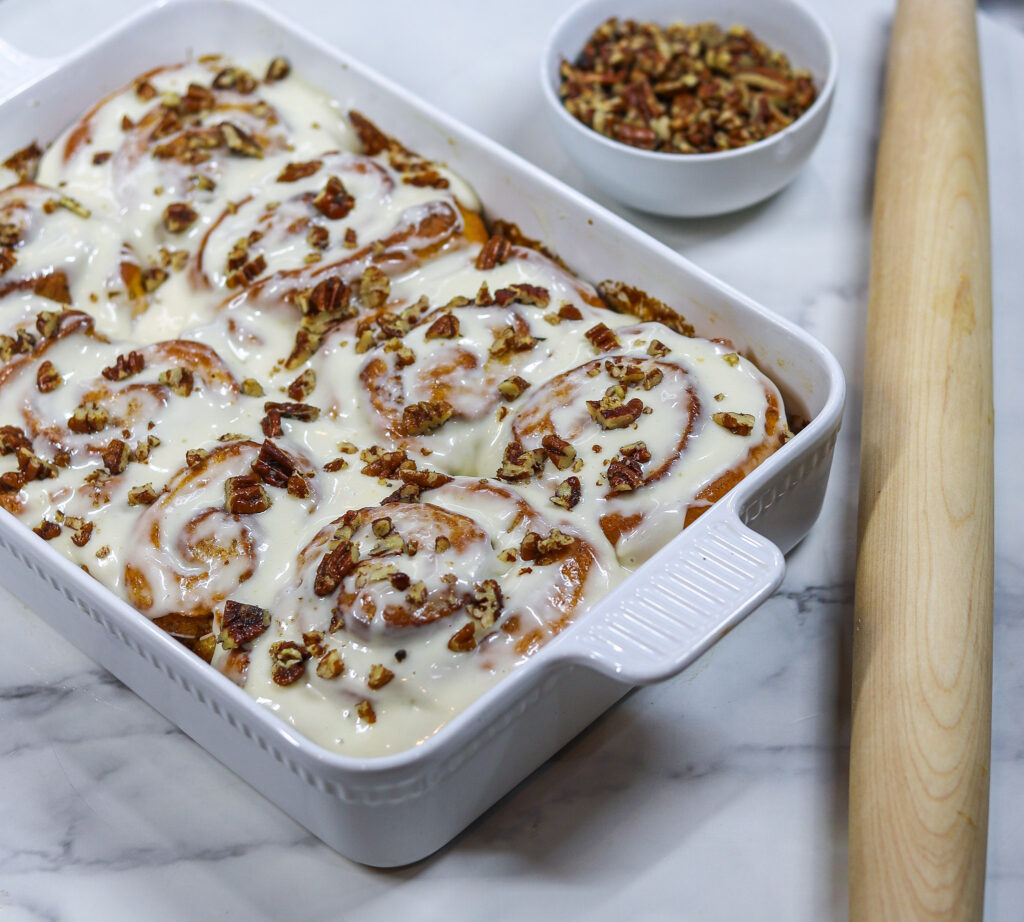 Why You'll Love This Recipe:
Gently pulling apart a sweet potato cinnamon roll reveals the hidden treasure within. The first bite presents a delicate balance of sweetness, with the natural earthiness of sweet potato seamlessly woven into the soft, yielding dough. As your teeth sink into the supple layers, the fragrant warmth of cinnamon dances on your taste buds, weaving a symphony of comforting flavors.
With these Sweet Potato Cinnamon Rolls, you'll savor a delightful combination of flavors and textures, creating a breakfast treat that's simply unforgettable. Enjoy the heartwarming goodness of sweet potatoes and the comforting aroma of cinnamon in every bite. Get ready to elevate your breakfast experience with this irresistible recipe!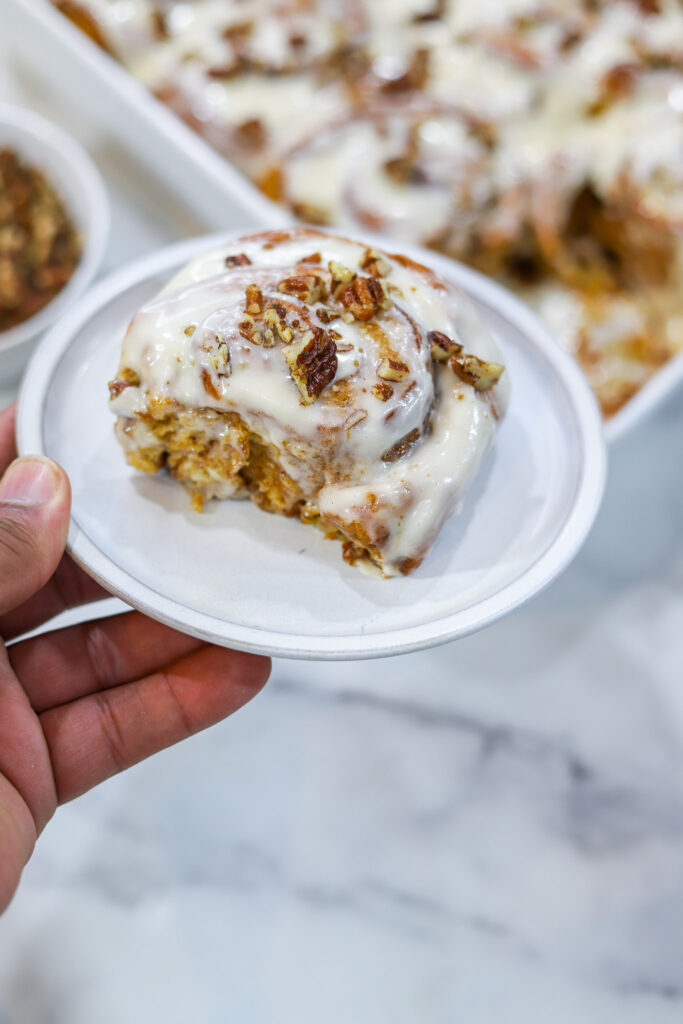 Ingredients You'll Need:
Mashed Sweet Potatoes: Provides natural sweetness, moisture, and a delightful earthy flavor.
Active Dry Yeast: Essential for leavening and achieving that perfect soft, fluffy texture.
Cinnamon and Brown Sugar: Infuses the rolls with that classic, comforting cinnamon flavor, creating the signature swirl and aroma.
Unsalted Butter: Adds richness and a buttery undertone, making the rolls even more indulgent.
Eggs: Contributes to the structure and richness of the dough, resulting in a tender, flavorful roll.
All-Purpose Flour: Forms the base of the dough, providing structure and stability.
Milk: Adds moisture and tenderness to the dough, ensuring the rolls remain soft and pillowy.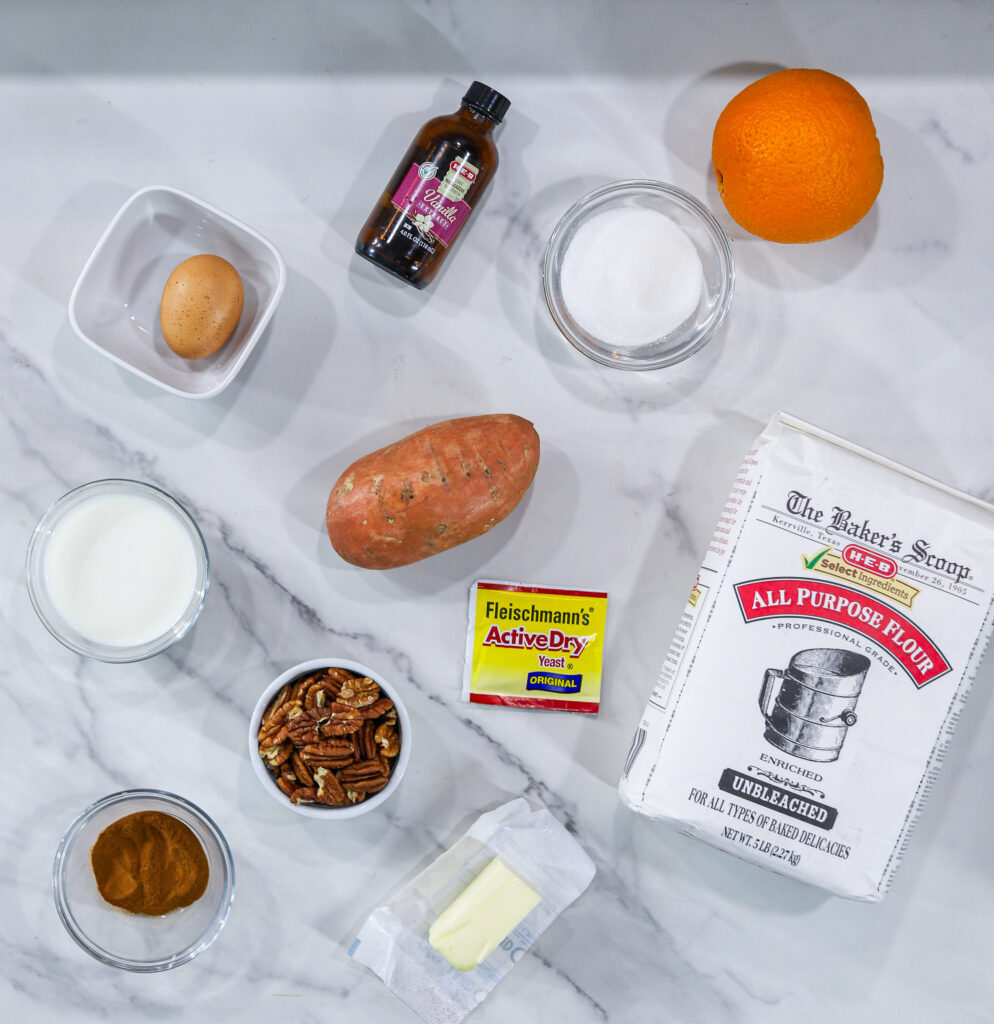 How to Activate Yeast:
To activate yeast, combine it with warm milk butter and sugar. I usually put my milk in a microwave safe bowl and microwave for 30 seconds then pour in melted butter, sugar and yeast.
Let it sit for 5-10 minutes until it becomes frothy and doubles in volume. This indicates that the yeast is active and ready to be incorporated into the dough.
Tips for Perfect Sweet Potato Cinnamon Rolls:
Yeast Activation: Ensure the water or milk used to activate the yeast is at the right temperature, typically between 110-115°F, to encourage proper fermentation.
Proper Kneading: Knead the dough until it's smooth and elastic to ensure the rolls have the perfect texture.
Ideal Rising Conditions: Allow the dough to rise in a warm, draft-free area to facilitate optimal fermentation.
Even Filling Distribution: Spread the cinnamon filling evenly to ensure every bite is bursting with that irresistible cinnamon flavor.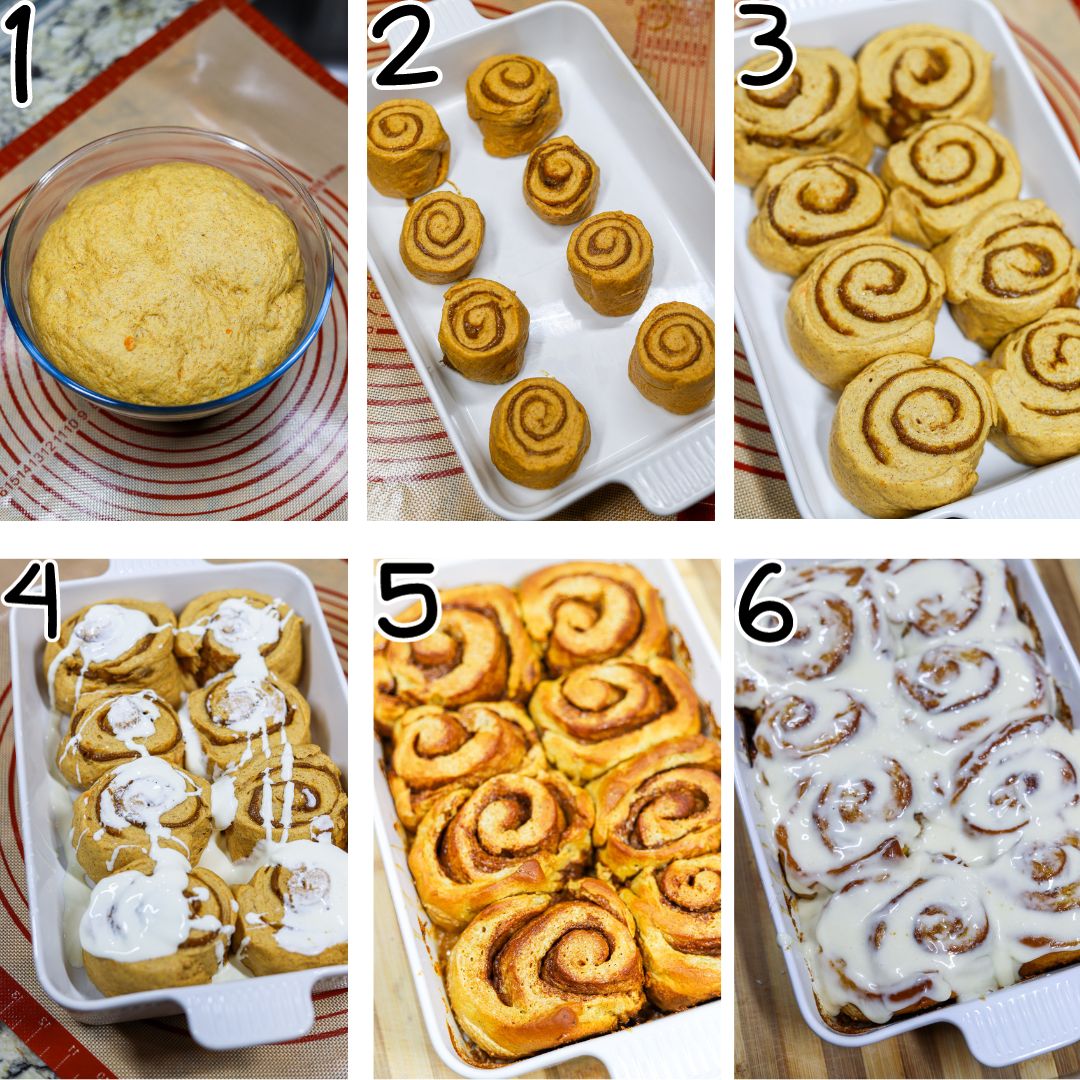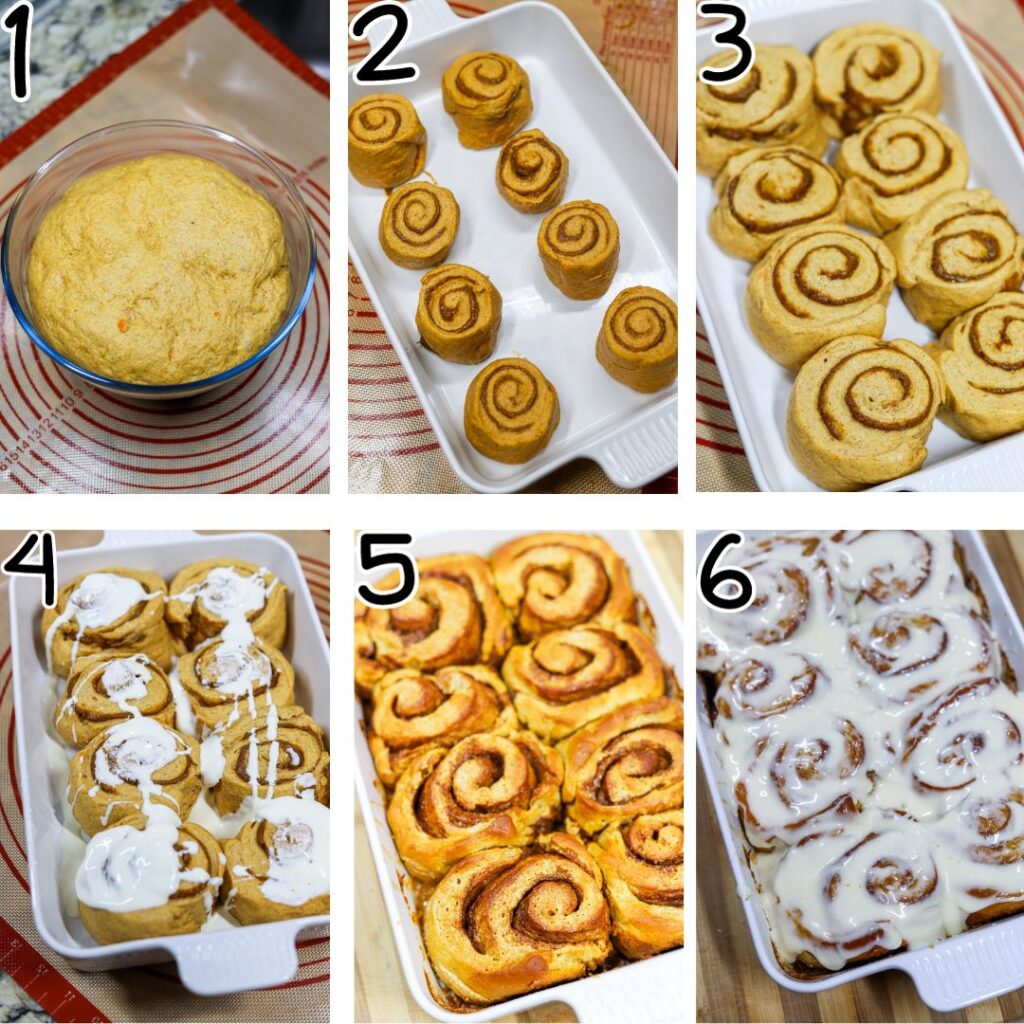 The Perfect Cinnamon Roll Icing:
For the ultimate finishing touch, try a luscious Brown Butter Cream Cheese Glaze. This heavenly blend of brown butter, cream cheese, powdered sugar, and vanilla extract adds a nutty richness that perfectly complements the sweet potato and cinnamon flavors.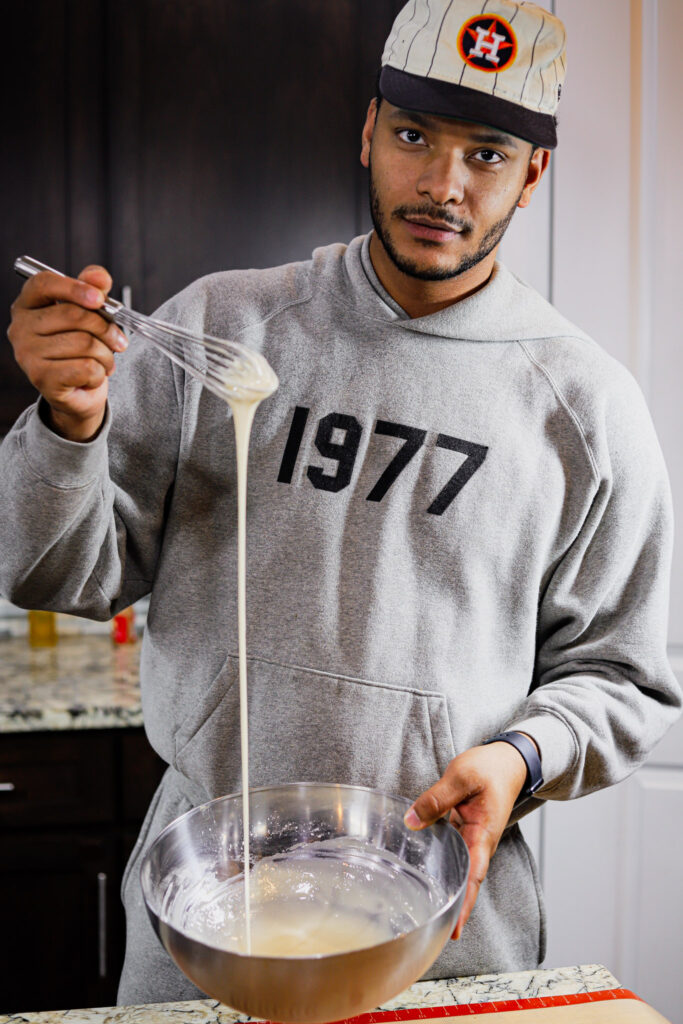 Garnishing Your Sweet Potato Cinnamon Rolls:
Now that your Sweet Potato Cinnamon Rolls are a masterpiece, here are some creative ways to garnish it:
Dust with powdered sugar or nutmeg for a simple, classic look.
a sprinkle of chopped toasted pecans,I toasted mine with rosemary its a nice touch.
Decorate with a few edible flowers for a touch of elegance.
For a seasonal twist, top with cinnamon-dusted whipped cream or a dollop of spiced whipped cream.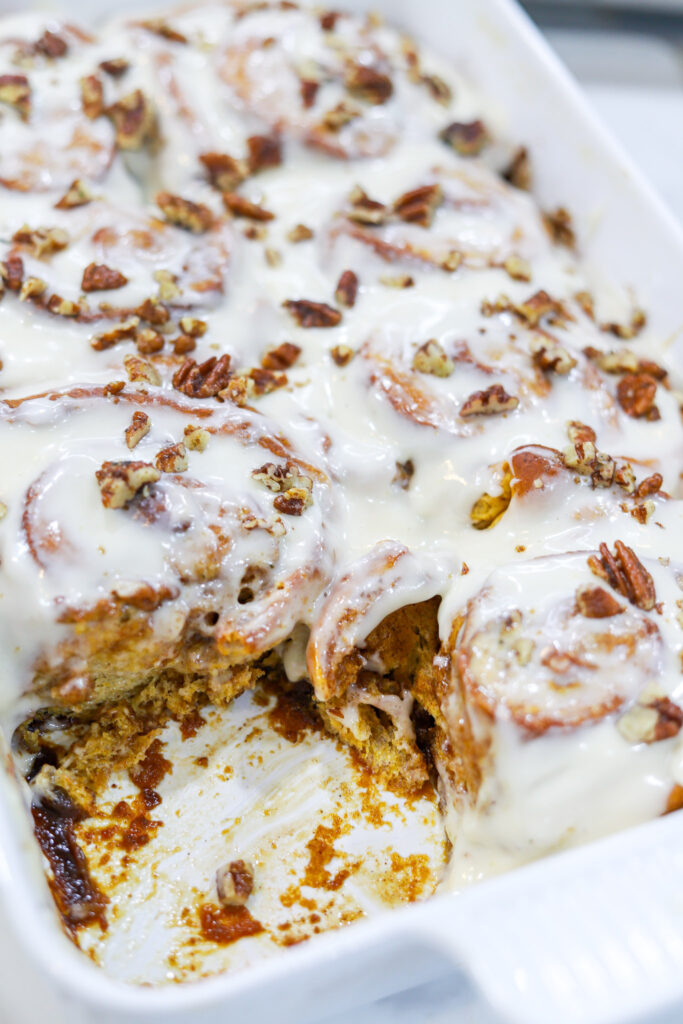 How to Store Leftover Cinnamon Rolls:
Store any leftover cinnamon rolls in an airtight container at room temperature for up to two days. For longer storage, place them in the refrigerator for up to a week, or in the freezer for up to a month. Reheat in the microwave for a quick, delicious treat.
FAQ
Q: Can I use canned sweet potatoes instead of fresh ones? A: Yes, canned sweet potatoes can be a convenient substitute. Make sure to drain them well before mashing.
Q: Can I make the dough ahead of time? A: Absolutely! Prepare the dough, let it rise once, then refrigerate it overnight. The next day, proceed with rolling, filling, and baking as directed.
More dessert recipes:
If you loved this Strawberry Bundt cake, let me know in the comments. Follow me on TikTok and Instagram for more delicious recipes!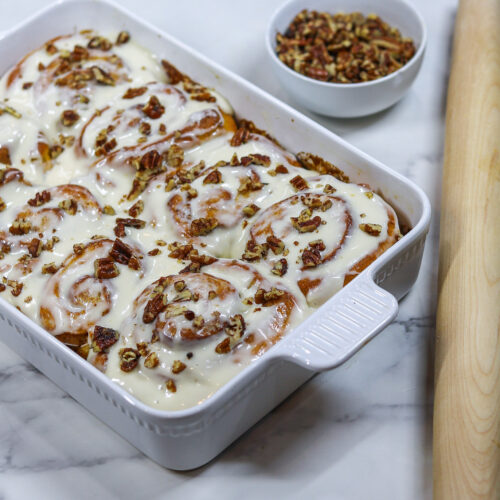 Sweet Potato Cinnamon Rolls
Sweet Potato infused dough, brown sugar-orange zest filling, nutty brown butter icing, and topped with candied rosemary pecans
Ingredients
Dough
1

pack

dry yeast

Fleischmann's Original ActiveDry Yeast

1/2

cup

Milk

1/4

cup

Sugar

50g

2

tbsp

Orange Zest

1

cup

Sweet potato Puree

1/4

cup

Unsalted Butter

melted

1

egg

1

tsp

Salt

2

tsp

Cinnamon

3 1/2

cup

AP Flour

420g
Filling
1/4

cup

Butter

softened

3/4

cup

Dark Brown Sugar

150g

1

tbs

cinnamon

Pinch

Salt
Icing
1/2

cup

Unsalted Butter

1/2

cup

Cream Cheese

softened

2

cups

Powdered Sugar

240g

1

tsp

Vanilla Paste

or vanilla extract

Pinch

Salt

3

tbsp

Milk
Garnish
1

Lb

Pecans

fresh rosemary

chopped

1/4

cup

heavy cream
Instructions
Preheat your oven to 350°F (175°C).

add milk and butter to a microwave safe dish and microwave for about 45 seconds or until the mixture is warm.

dissolve sugar and yeast in the warm milk mixture and let it sit for about 5 minutes, or until foamy.

in a bowl, or stand mixer combine the yeast mixture, sweet potato puree, egg, cinnamon, salt, and the freshly grated orange zest. Mix well until combined

Gradually add the flour, 1 cup at a time, stirring until a soft, shaggy dough forms. Turn the dough out onto a floured surface and knead for 5-7 minutes, or until smooth and elastic.

Place the dough in a greased bowl, cover it with a clean kitchen towel, and let it rise in a warm place for about 1 hour, or until doubled in size.

Once the dough has risen, punch it down and roll it out on a floured surface into a large rectangle, about 1/4 inch thick.

For the filling, mix together the softened butter, cream cheese, brown sugar, salt, and cinnamon.

Spread the softened butter evenly over the dough, leaving a 1-inch border around the edges.

Starting from one of the longer sides, tightly roll up the dough into a log. Use a sharp knife to cut the log into about 6 equal slices.

Place the slices in a greased baking dish, leaving a little space between each roll. Cover the dish with a clean kitchen towel and let the rolls rise for another 30 minutes.

after proofing, pour heavy cream on top of the cinnamon rolls.

Bake the rolls for 25-30 minutes, or until they are golden brown.
Brown Sugar Glaze
In a small saucepan, melt the butter over medium heat. Allow the butter to cook until it turns a light golden brown color and develops a nutty aroma, about 3-5 minutes. Once browned, remove from heat and let it cool for a few minutes.

In a mixing bowl, combine the softened cream cheese and powdered sugar. Mix until smooth and creamy.

Gradually pour the slightly cooled browned butter into the cream cheese mixture, making sure to whisk continuously to incorporate it evenly.

Add the vanilla paste and 2 tablespoons of milk or cream. Stir well to combine. If you prefer a thinner consistency, you can add an additional tablespoon of milk or cream.

Once your sweet potato cinnamon rolls are baked and slightly cooled, drizzle this brown butter cream cheese glaze generously over the rolls.

Top with toasted pecans and rosemary
Notes
Sweet Potatoes: Ensure the sweet potatoes are thoroughly cooked and mashed smoothly to guarantee a soft and uniform texture in the rolls.
Yeast Activation: Check the temperature of the milk before adding the yeast. Too high a temperature can kill the yeast, while too low might not activate it properly.
Toppings and Variations: Experiment with different toppings like toasted nuts, shredded coconut, or even a drizzle of caramel for added texture and flavor complexity.