Seafood Gumbo was always something I looked forward to at family gatherings. My Grandma, we called her Tutu, was born and raised in Breaux Bridge, La and made the BEST gumbo. All of my creole recipes come from her, and my grandpa's, influence. So I'm excited to share with you my recipe for seafood gumbo, trust me it's top tier!
If you love creole recipes as much as I do, then you'll definitely want to check out my Shrimp Creole or Cajun Shrimp Pasta next!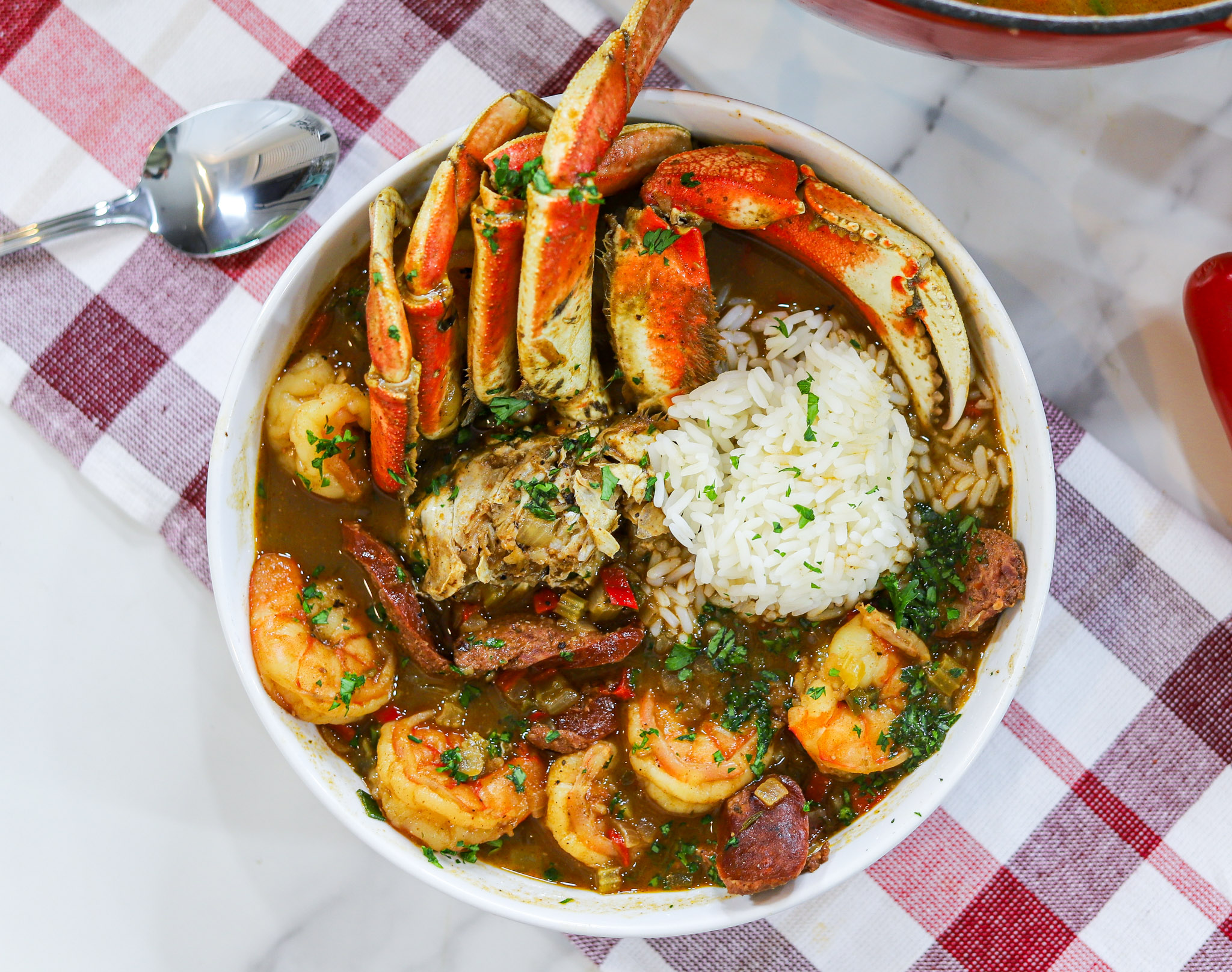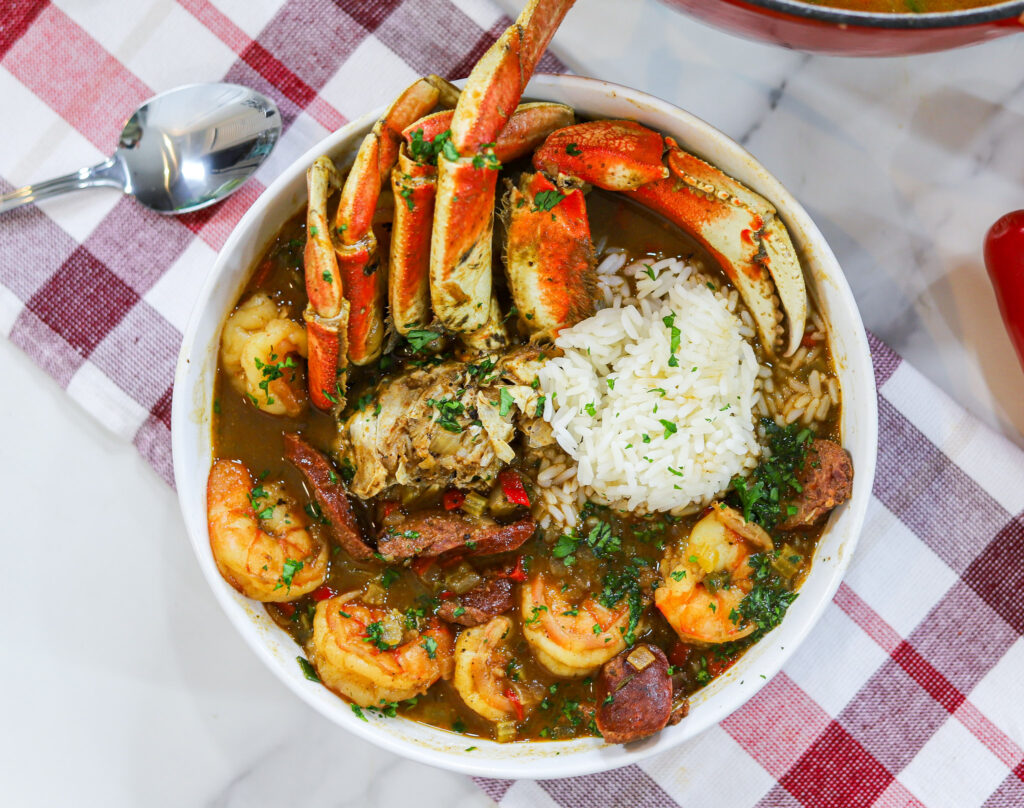 Seafood Gumbo is the quintessential creole comfort food. I call it the grandpa of Creole food.So, if you've been searching for a dish that combines the rich, robust flavors of the South with the freshness of succulent seafood, then look no further.
Really love my creole recipes? You will truly enjoy this Creole Crawfish Boudin Balls and this my Easy Jambalaya Recipe !
What Is Gumbo?
Seafood gumbo is a classic Creole dish originating from Louisiana, known for its deep flavor, spicy undertones, that typically features a combination of various seafood such as shrimp, crab, and sometimes oysters, cooked with a mixture of vegetables, spices, and a thickener like roux or okra. Gumbo often has a rich and robust broth, thanks to the slow-cooking process that allows the flavors to meld together.
Seafood Gumbo is typically served over a bed of fluffy white rice, offering a delightful contrast to the savory and spiced seafood medley. In my family, gumbo is a staple during family gatherings, as it is a labor of love it symbolizes warm hospitality and lots of love!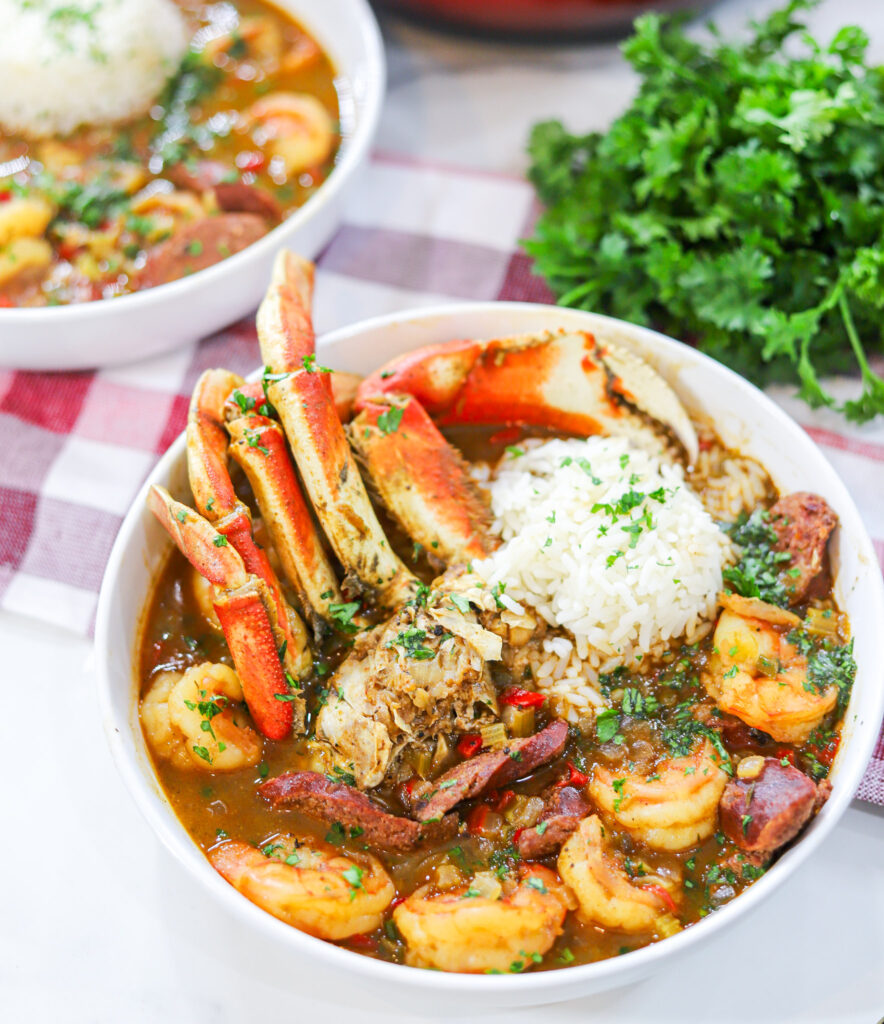 You will LOVE this Creole classic
With its medley of succulent shrimp, tender crabmeat, and robust andouille sausage, our Seafood Gumbo promises a symphony of flavors, elevating your dining experience. The perfect balance of spices and the richness of the roux create a comforting, soul-warming dish that captures the spirit of Louisiana's vibrant food culture.
Key characteristics of any gumbo lies in the roux. For this recipe, we are using drippings from andouille sausage, vegetable oil, and flour to make a deep, full-flavored roux.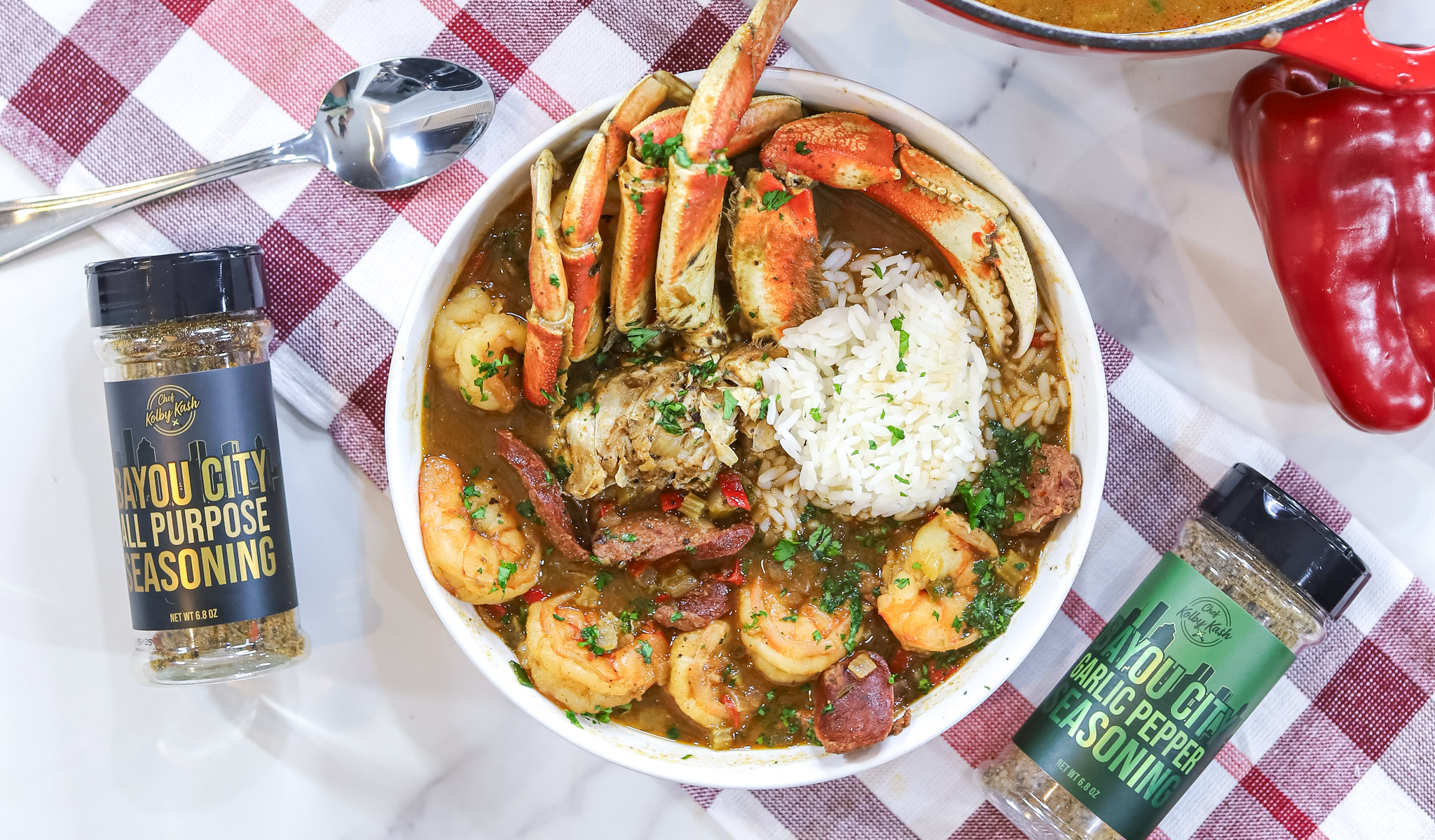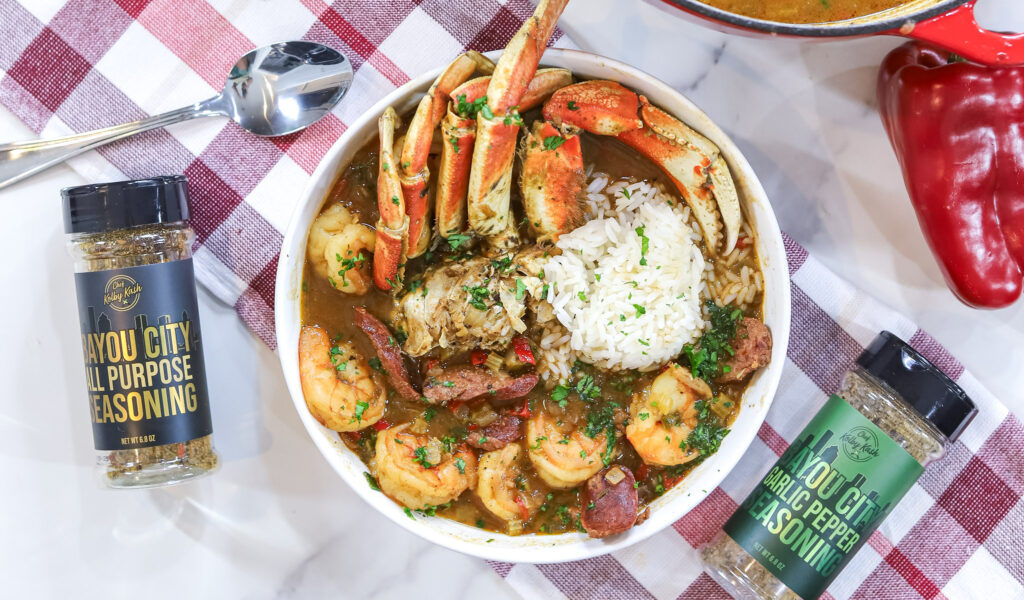 Ingredients You'll Need
First, and most importantly, to create this delectable dish, gather the following ingredients:
Fresh shrimp and crab: Infusing the gumbo with a delightful seafood essence.
Andouille sausage: Adding a smoky, savory depth to the dish.
Aromatic vegetables and spices: Onions, bell peppers, celery, garlic, thyme, and bay leaf, infusing layers of rich flavor.
Roux: Providing a luscious, thick base for the gumbo.
Seafood stock: Elevating the overall depth and complexity of the broth.
Cajun Seasoning : A signature blend of spices, typically including paprika, cayenne pepper, garlic powder, and onion powder, imparts the iconic kick and depth of flavor. Try my Bayou City Seasonings to really turn the flavor up anotch.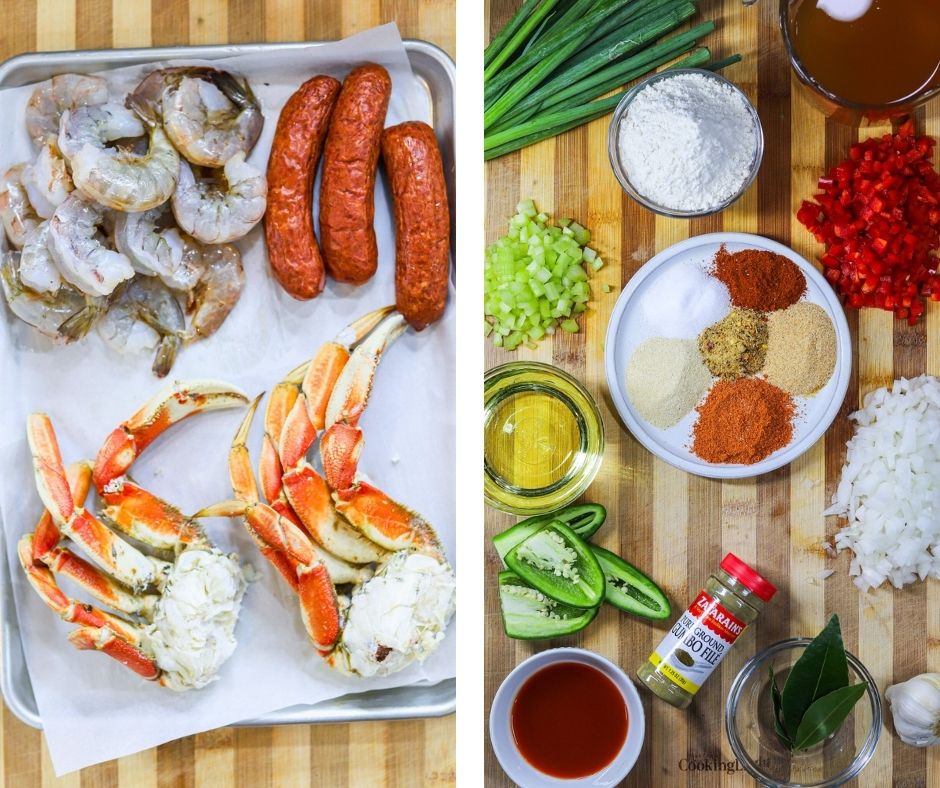 Prepare Seafood Gumbo
Prepare the roux: Heat oil in a pot, add flour, and stir continuously until it turns dark brown.
Add the "Holy Trinity": Sauté chopped onions, bell peppers, and celery until softened.
Incorporate the base flavors: Stir in garlic and spices for a rich aroma.
Introduce the key ingredients: Add sliced andouille sausage
Pour in the stock: Add seafood stock and let it simmer for about 45 minutes, allowing the flavors to meld.
Add the seafood: Toss in peeled shrimp and crab, cooking until the shrimp turns pink and opaque.
Season and serve: Adjust the seasoning with salt and pepper, and serve the gumbo over cooked white rice.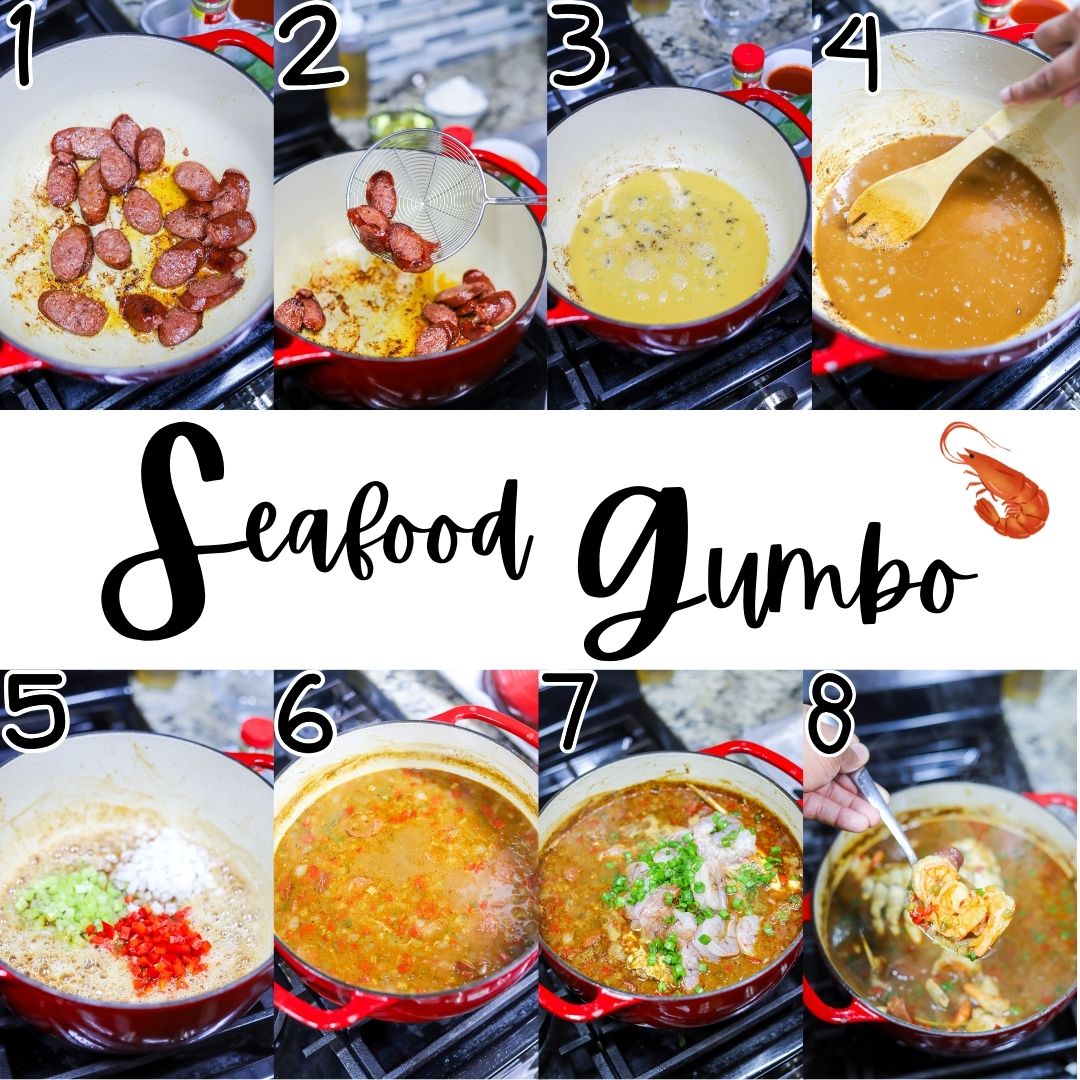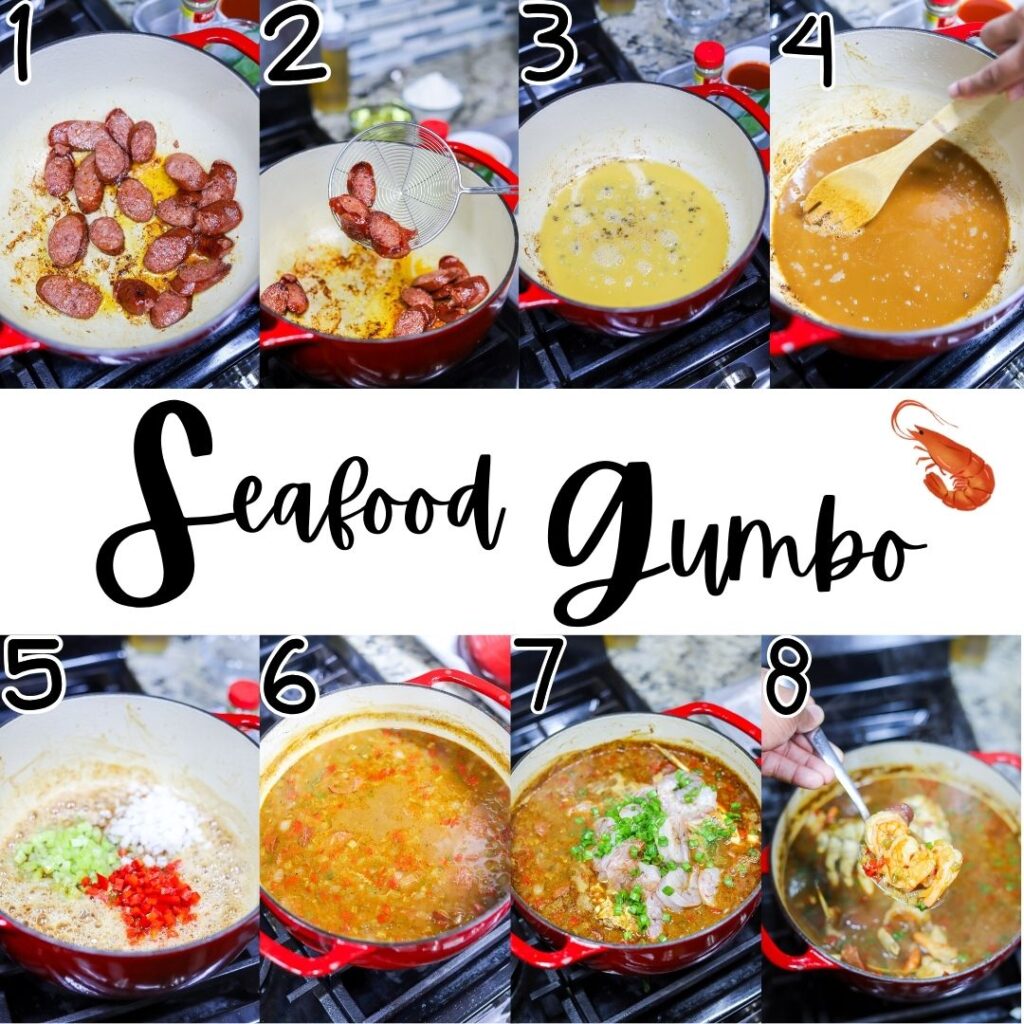 Gumbo vs. Étouffée
While both are Louisiana classics, Gumbo is a hearty stew with a rich, flavorful broth, while Étouffée is a thick and smooth shellfish or fish stew typically served over rice. Moreover, Gumbo boasts a more robust and complex flavor profile, while Étouffée leans towards a smoother, more concentrated taste.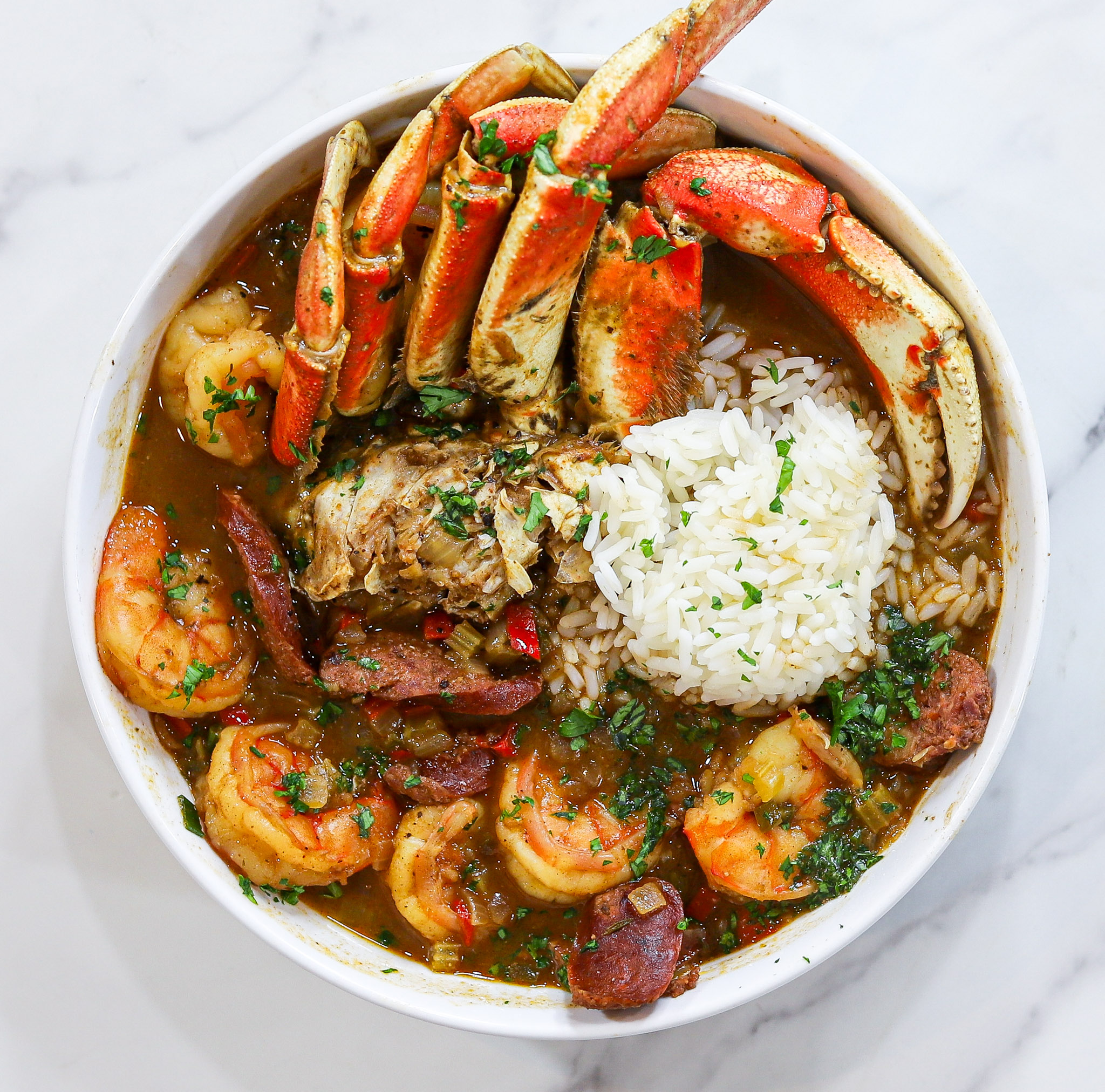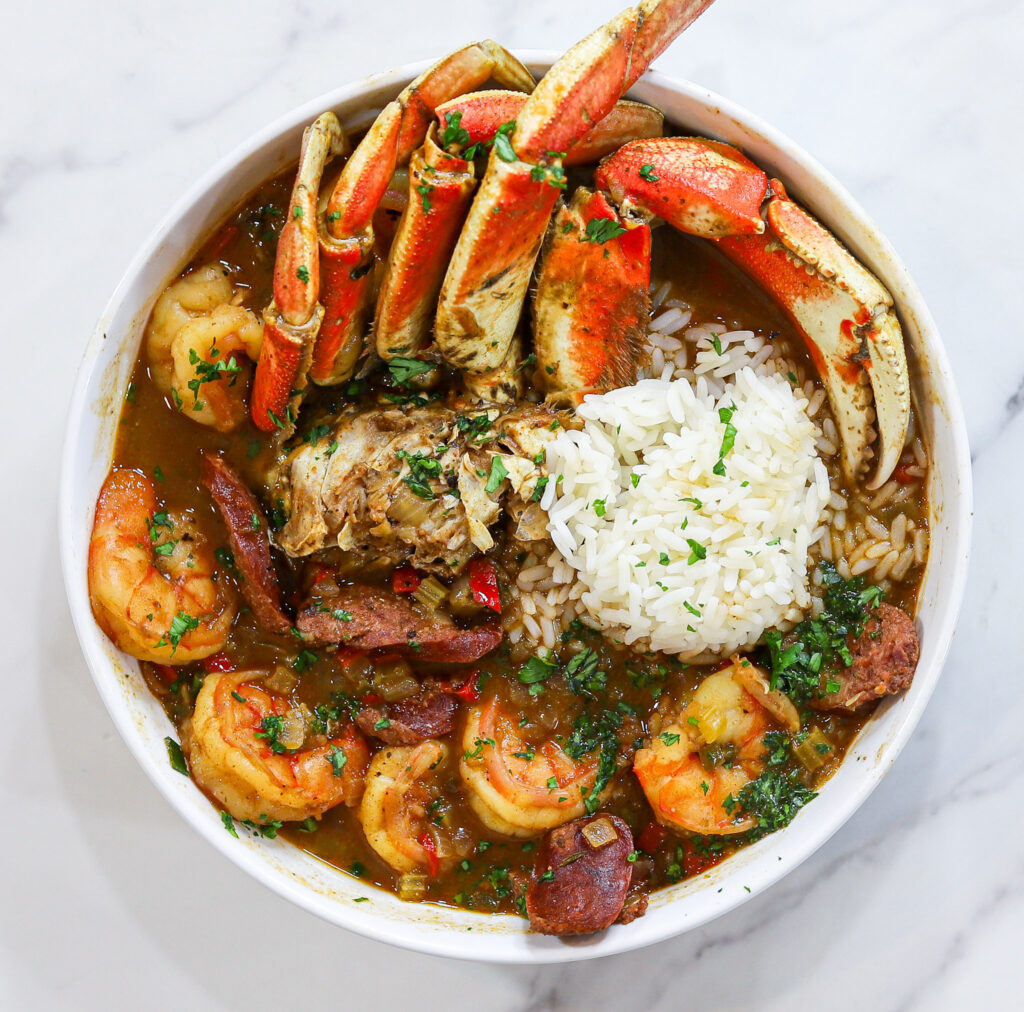 Best sides to serve with Seafood Gumbo
to complete your dinner, consider pairing it with these four delectable sides:
Fluffy White Rice: Classic and timeless, rice is the perfect partner to soak up the delicious sauce.
Buttery Cornbread: A Southern staple that complements the flavors and adds a delightful contrast.
Sautéed Greens: Collard greens or spinach provide a refreshing balance to the dish.
Potato Salad: Creamy potato salad adds a nice, cool contrast to the warm gumbo. A popular accompaniment to seafood gumbo in the south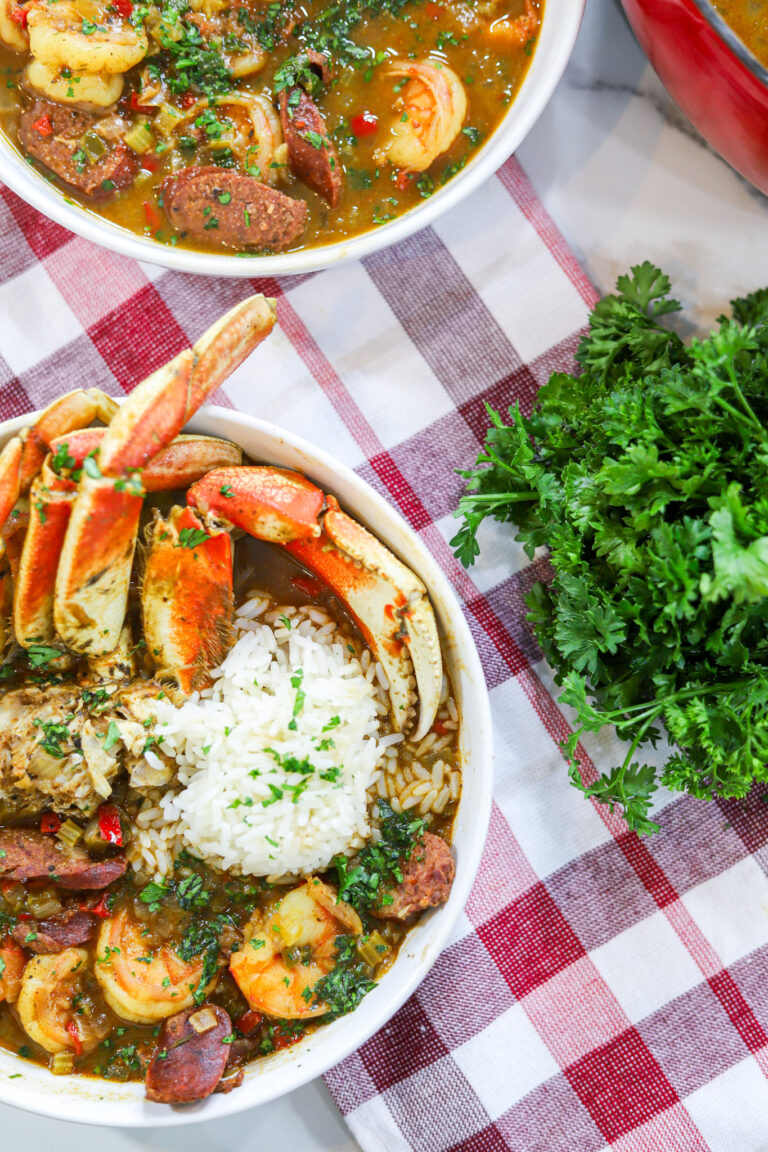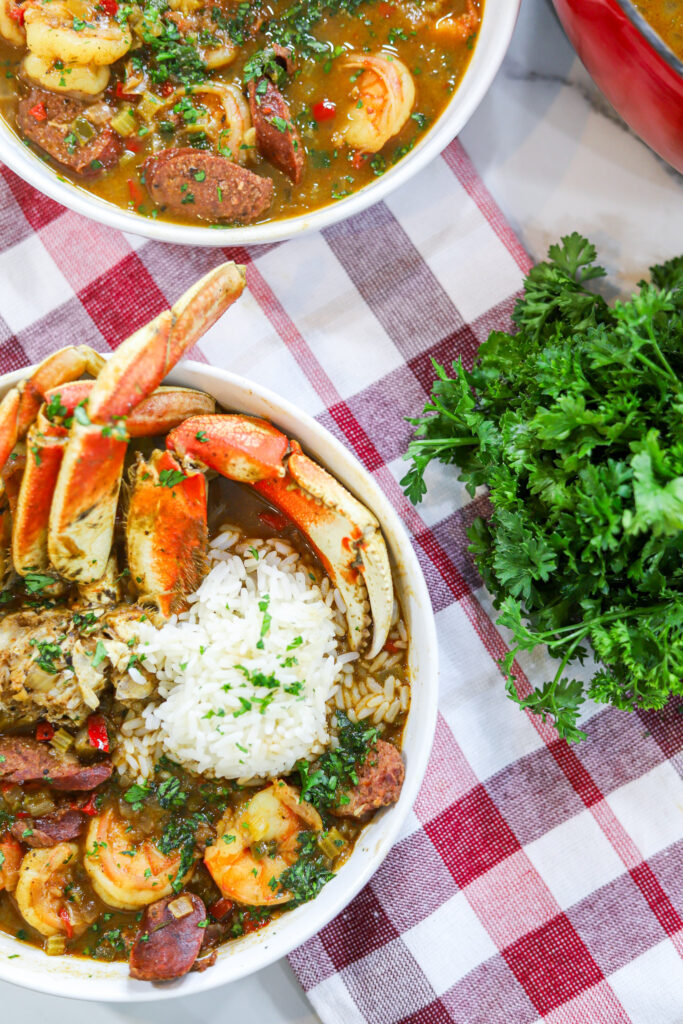 How to Store Leftovers:
To store your leftover seafood gumbo, allow it to cool completely before transferring it to an airtight container. Refrigerate for up to 3 days. When reheating, gently warm on the stovetop over low heat to preserve the flavors and textures.
FAQ:
Can I use frozen shrimp?
Yes, you can. Ensure they are properly thawed and drained before cooking.
Can I adjust the spice level?
Absolutely! Adjust the hot sauce quantity or omit it altogether based on your spice preference.
Can I make this dish in advance for a party?
Definitely! Seafood gumbo's flavors deepen over time. Prepare it a day ahead, and reheat gently before serving.
I hope you enjoy this super flavorful, easy seafood gumbo recipe! Make sure to tag me on Instagram, TikTok, or Facebook when you make this recipe! I want to see your creation and give you a shoutout!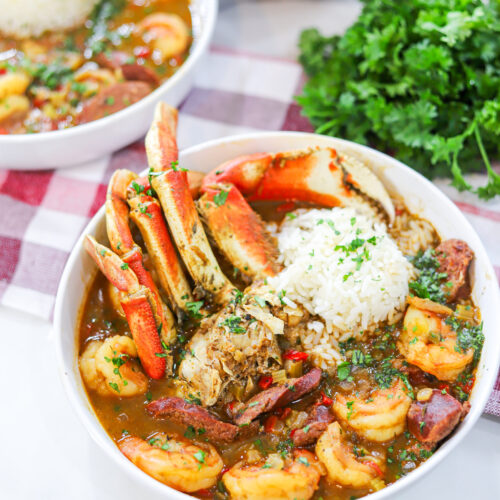 Seafood Gumbo
Experience the rich flavors of Louisiana with this Seafood Gumbo, blending succulent shrimp and crab with savory andouille sausage in a robust, spiced broth.
Ingredients
1-2

lbs

andouille sausage

3/4

cup

vegetable oil

or butter

1

cup

all-purpose flour

1 1/2

cup

onion

chopped

3/4

cup

red bell pepper

chopped

3/4

cup

celery

chopped

4

cloves

garlic

minced

8

cups

seafood stock

2

tsp

hot sauce

2

bay leaves

1/4

tsp

dried thyme

2

tsp

salt

1

tsp

cayenne

1

tbsp

Bayou City All Purpose Seasoning

1

tbsp

Bayou City Garlic Pepper

1

tbs

gumbo file

1

lb

dungeness crab legs

1

lb

shrimp

peeled and deveined

1

cup

green onion

divided

fresh parsley

for garnish

white rice

for serving
Instructions
In a large 8 qt, heavy-bottomed pot, brown andouille sausage. Once browned on both sides remove sausage and set aside.

Add vegetable oil to the pot, over medium heat. Add the flour and stir continuously to make a roux. Cook the roux, stirring frequently with a wooden spoon, until it reaches a dark brown color, like milk chocolate, about 20-30 minutes.

Add the onions, bell peppers, and celery to the roux and stir. Cook the vegetables for 5 minutes, then add the garlic and cook for another 30 seconds.

Add the andouille sausage back to the pot. Cook for an additional 5 minutes, stirring occasionally.

Pour in seafood stock and bring to a boil. Lower the heat to medium low and add bay leaf, thyme, salt, cayenne, and Bayou City Seasonings.

Continue to simmer the gumbo for 45 mins, skimming the foam and any oil that rises to the surface.

stir in gumbo file and continue to simmer for 15 more minutes

Add the green onion, crab legs, and shrimp to the pot. Cook for 5-7 minutes, or until the shrimp are pink and opaque.

Taste the gumbo and season if necessary.

Garnish with the parsley and green onions and serve in shallow bowls over white rice.
Notes
Roux: Achieving the right color for the roux is crucial. Be patient and stir continuously to prevent burning.
Seafood: Use fresh seafood for the best flavor. Adjust cooking time based on the size of the shrimp to avoid overcooking.
Garnish: Fresh chopped green onions add a pop of color and a refreshing finish to the dish.