Dutch Oven Pot Roast: A Flavorful and Tender Delight
I love a comforting meal and there is nothing more southern comfort than a slow cooked dutch oven pot roast, just like the ones mom used to make! This dutch oven pot roast recipe is worth every minute of slow cooking.
if you love this pot roast recipe, you will truly enjoy this Easy Jambalaya Recipe and these Southern Smothered Pork Chops !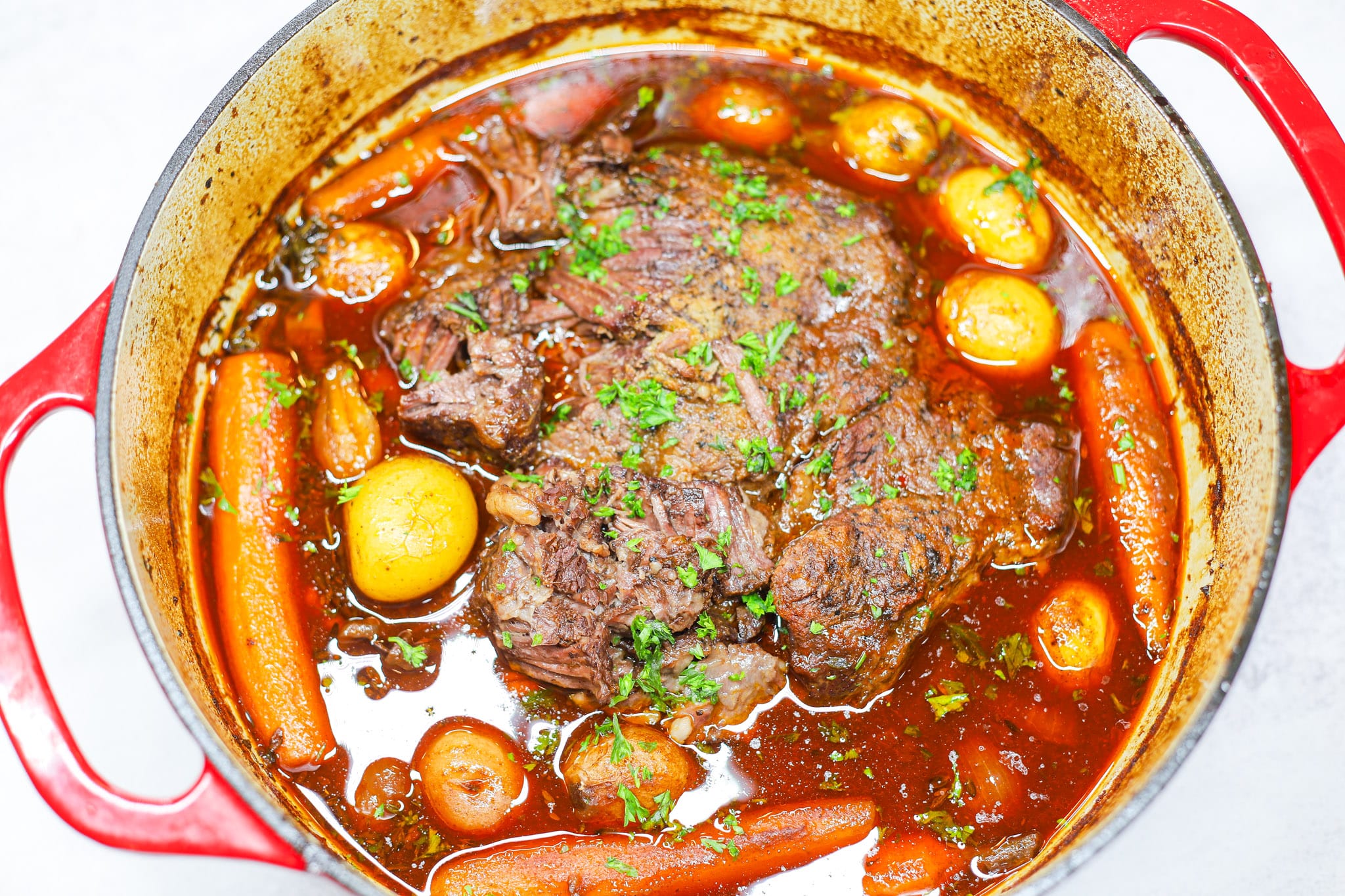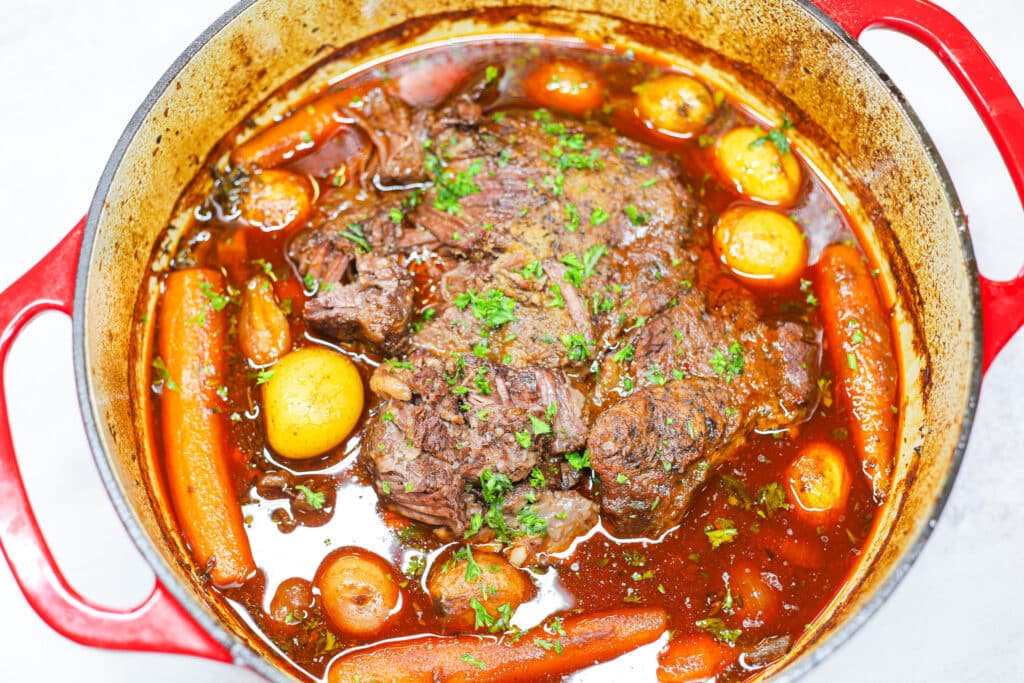 There's something magical about slow-cooked meals that warm the heart and tantalize the taste buds. This dutch oven pot roast has succulent chunks of meat, mingling with aromatic veggies and a splash of red wine, all slow-cooked to tender perfection. It's the kind of dish that warms your heart and fills your home with an aroma that will make your mouth water.
Ingredients You Need for the best Pot Roast
Before we get into the nitty-gritty of cooking, let's take a look at the star-studded cast of ingredients that make this dutch oven pot roast a culinary masterpiece:
Chuck Roast: The hero of our dish, the chuck roast, boasts rich marbling that melts during the cooking process, infusing the meat with unparalleled flavor and tenderness.
Root Vegetables: Carrots, potatoes, and onions join the roast, absorbing the savory juices and adding their distinct earthy sweetness to the mix.
Aromatics: Garlic and thyme lend their aromatic magic, elevating the dish's complexity.
Beef Broth: A savory elixir that keeps the roast moist while imparting depth to the overall flavor.
Red Wine: This key ingredient adds a luxurious touch, enhancing the taste with its nuanced richness.
Tomato Paste: A touch of umami-packed tomato paste amplifies the savory notes of the dish.
Seasonings and spices: you have to use some Bayou City Garlic Pepper for this recipe! In addition you can add salt, pepper, onion powder, and a touch of paprika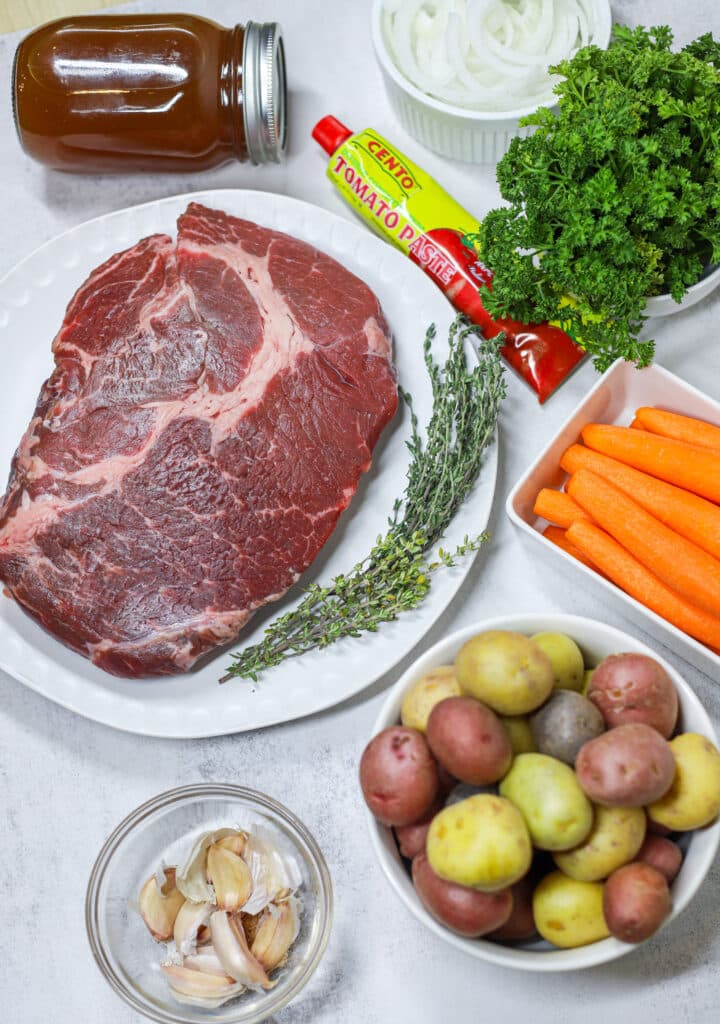 Crafting Your Dutch Oven Pot Roast
Sear the Roast: Heat a drizzle of oil in your Dutch oven and sear the chuck roast on all sides until it forms a beautiful crust. Set the roast aside.
Aromatics in Action: In the same pot, sauté the onions and garlic until fragrant. Add tomato paste and cook briefly to enhance its flavors.
Deglaze and Add Layers: Pour in the red wine to deglaze, scraping up those flavorful brown bits. Nestle the seared roast back into the pot, and surround it with the root vegetables and thyme.
Liquids and Seasonings: Pour in the beef broth until it partially covers the roast. Season with salt, pepper, and paprika for a symphony of flavors.
Slow Cooking Magic: Cover the Dutch oven and place it in a preheated oven. Let the roast bask in its slow-cooked glory for hours, allowing the flavors to meld and the meat to become melt-in-your-mouth tender.
Tips for Success
To ensure your Dutch Oven Pot Roast emerges as a culinary triumph, keep these tips in mind:
Choose a well-marbled chuck roast for maximum flavor and tenderness.
Pat the roast dry before searing to achieve a beautiful crust.
Don't rush the slow-cooking process – low and slow is the key to tenderness.
Allow the roast to rest before slicing for juicy results.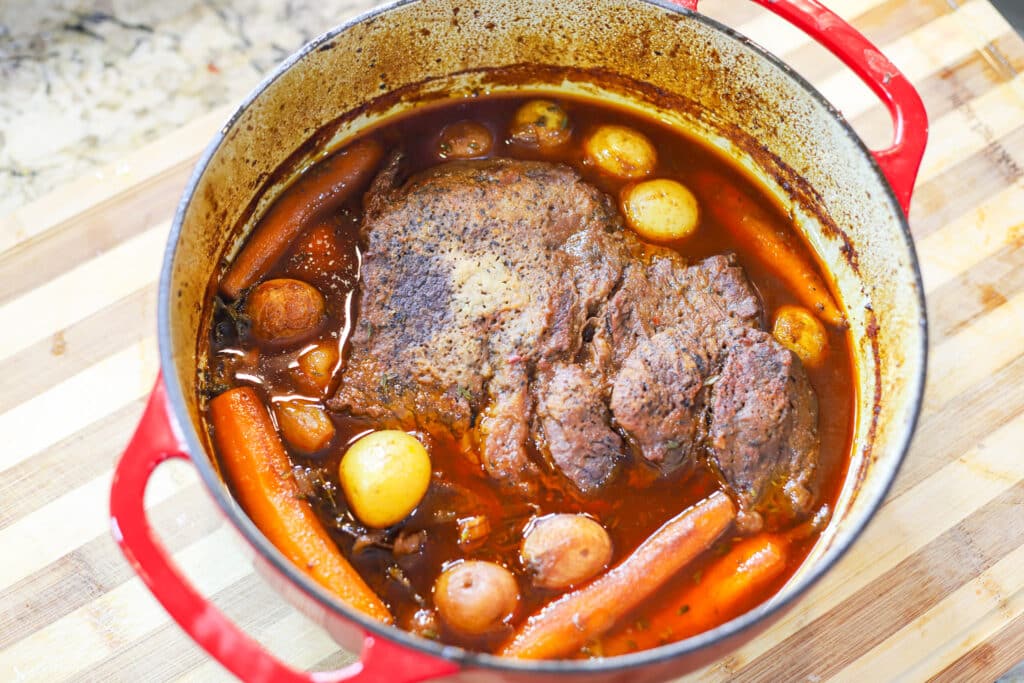 Perfect Pairings and Additions
Wondering what to serve with your luscious dutch oven pot roast?
Mashed potatoes, rice, or crusty bread are excellent choices. As for vegetables, consider adding celery, parsnips, or even Brussels sprouts to the mix for added variety and nutrition..
Frequently Asked Questions
Can I use a different meat?
A: While chuck roast is ideal, other cuts like brisket or bottom round can work well too.
Q: Can I make this on the stovetop?
A: Absolutely! Keep the heat low and use a diffuser if needed to prevent burning.
Q: What do I do with the leftovers?
A: Leftover pot roast makes fantastic sandwiches, tacos, ramen or can be repurposed into a hearty stew.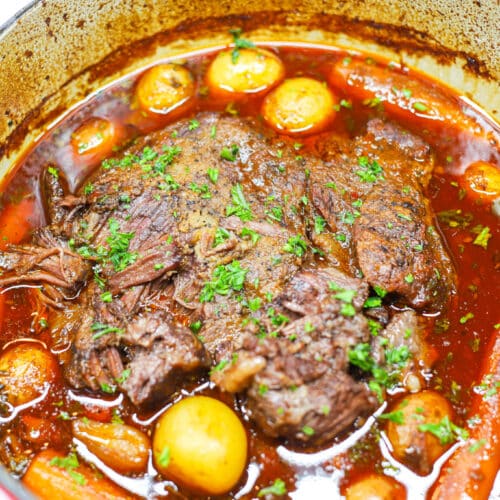 Dutch Oven Pot Roast
The most delicious dutch oven pot roast recipe, slow-cooked to tender perfection with aromatic vegetables, and a touch of red wine.
Ingredients
3-4

lb

chuck roast

2

tsp

salt

2

tsp

Bayou City Garlic Pepper

plus more for seasoning to taste

2

tbsp

grapeseed oil

1

large

sweet yellow onion

3

stalks

celery

6

cloves

garlic

3

tbsp

tomato paste

1

cup

red wine

can be substituted with beef stock

3

cups

beef broth

use more if needed

2

tsp

worcestershire sauce

optional

4

sprigs

fresh thyme

3

bay leaves

2

sprigs

rosemary

1/2

lb

baby carrots

about 6-8

1

lb

baby potatoes

a variety of colors

1

tbsp

onion powder

chopped parsley

for garnish
Instructions
Preheat oven to 325 degrees F.

Heat the cooking oil in a Dutch oven over medium-high heat.

Pat the chuck roast dry with paper towels and season generously with salt and garlic pepper.

Sear the roast in the hot oil until it develops a beautiful brown crust on all sides. Once done, remove the roast and set it aside.

In the same Dutch oven, add the sliced onions, celery, and minced garlic. Sauté until fragrant and golden.

Stir in the tomato paste and worcestershire sauce (optional) and cook for a minute to enhance its flavor.

Pour in the red wine, using a wooden spoon to scrape up the flavorful brown bits from the bottom of the pot. Let wine reduce for about 5 minutes

Return the seared roast to the Dutch oven, nestling it among the onions and garlic.

Add the carrots, potatoes, bay leaves, rosemary, and thyme sprigs around the roast.

Pour in the beef broth until it reaches about halfway up the sides of the roast.

Sprinkle a pinch of paprika. onion powder, and garlic powder over the roast and vegetables for an extra layer of flavor.

Cover the Dutch oven with its lid and transfer it to the preheated oven.

Allow the pot roast to cook for 3 to 3.5 hours, until the meat is fork-tender and practically falls apart.

Once done, carefully remove the Dutch oven from the oven and let it rest for a few minutes before serving.

Serve the pot roast alongside the vegetables, drizzled with the delectable cooking juices on top or rice or mashed potatoes.
Notes
Pro Tips for Success:
Choose a well-marbled chuck roast for the juiciest results.
Pat the roast dry before searing to achieve that irresistible crust.
Don't rush the slow-cooking process – it's the secret to tender perfection.
Let the roast rest before slicing to retain its juices.
Perfect Pairings:
Serve your Dutch Oven Pot Roast with creamy mashed potatoes, buttered noodles, or a chunk of crusty bread. The roasted vegetables and luscious juices are perfect for ladling over your chosen side.
Get Creative:
Feel free to add other veggies like celery, parsnips, or Brussels sprouts for an extra burst of flavor and nutrition.