My Grandma, we called her Tutu, was born and raised in Breaux Bridge, La where she couldn't help but learn all about creole food. All of my creole recipes come from her, and my grandpa's, influence. So I'm excited to share with you my recipe for shrimp creole, trust me it's top tier!
If you love shrimp recipes as much as I do, then you'll definitely want to check out my Lemon Pepper Shrimp or Cajun Shrimp Pasta next!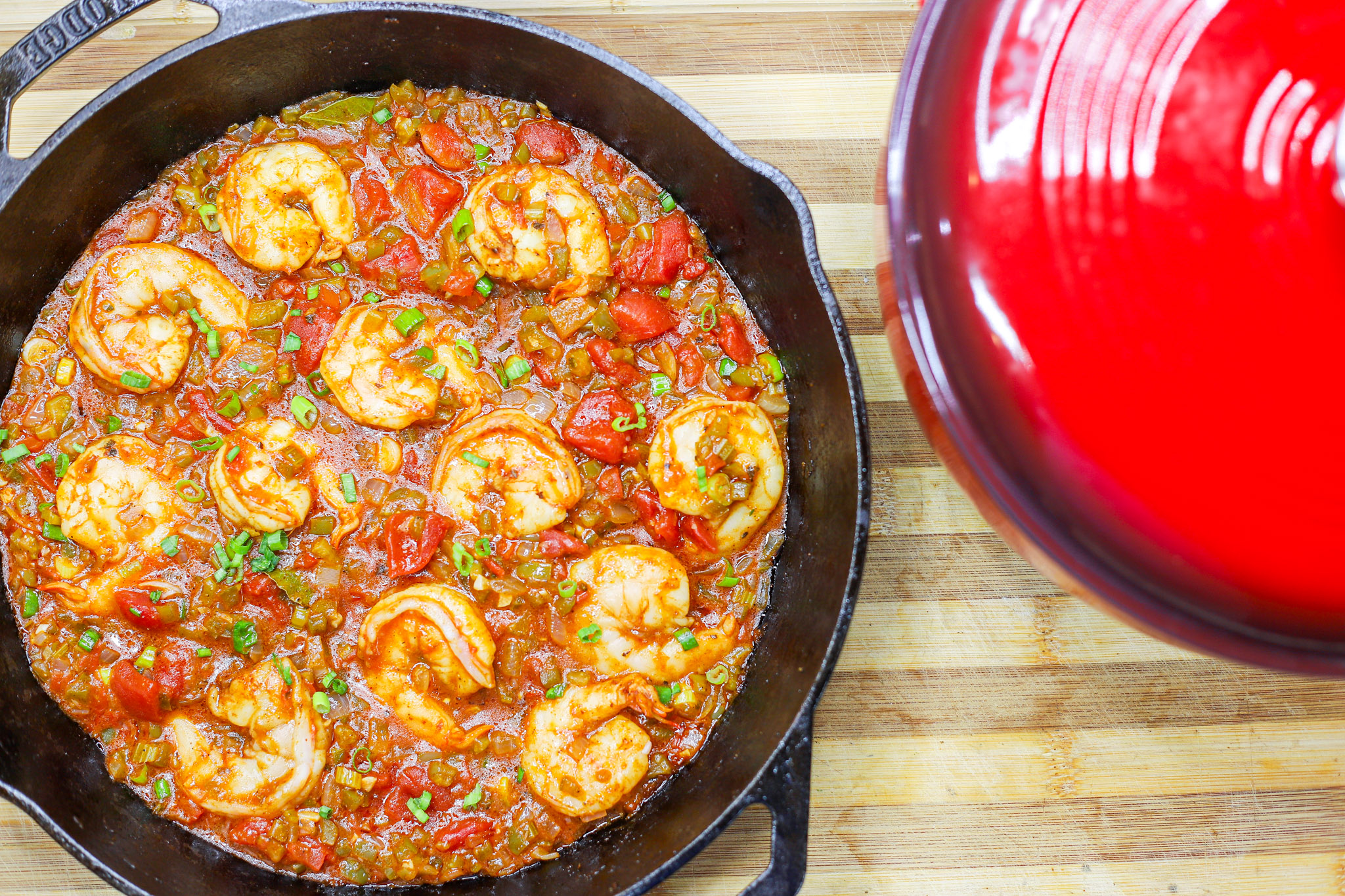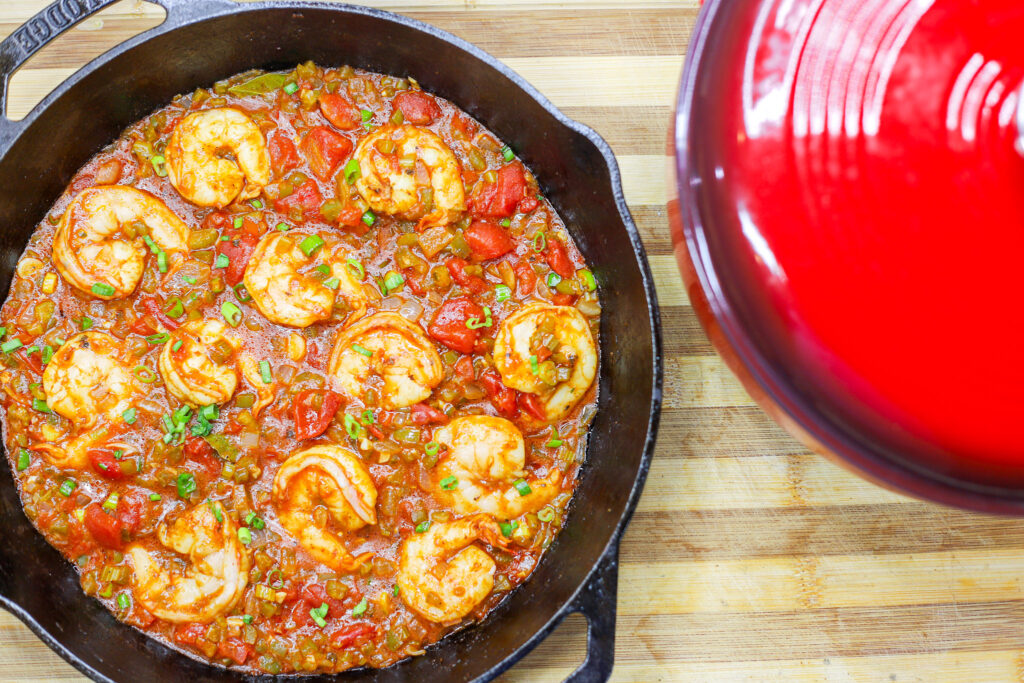 Shrimp creole is such an underappreciated creole dish. I call it the little brother, or sister, to etoufee. If you've been searching for a dish that combines the rich, robust flavors of the South with the freshness of succulent shrimp, then look no further.
Since you love my creole recipes, you will truly enjoy this Creole Crawfish Boudin Balls and this my Easy Jambalaya Recipe !
What Is Shrimp Creole?
Shrimp Creole is a classic Creole dish originating from Louisiana, known for its deep flavor, spicy undertones, and spicy tomato-based sauce. It typically includes large shrimp or prawns cooked in a sauce made from tomatoes, onions, bell peppers, celery, and a blend of Creole seasonings, which can include ingredients like garlic, cayenne pepper, paprika, and bay leaves.
Shrimp creole is generally served over rice, and the sauce is simmered until it thickens and the flavors meld together, creating a savory and slightly spicy seafood dish. Shrimp Creole is a popular and beloved dish in Creole and Cajun cuisine, offering a combination of bold flavors and a hint of Southern comfort.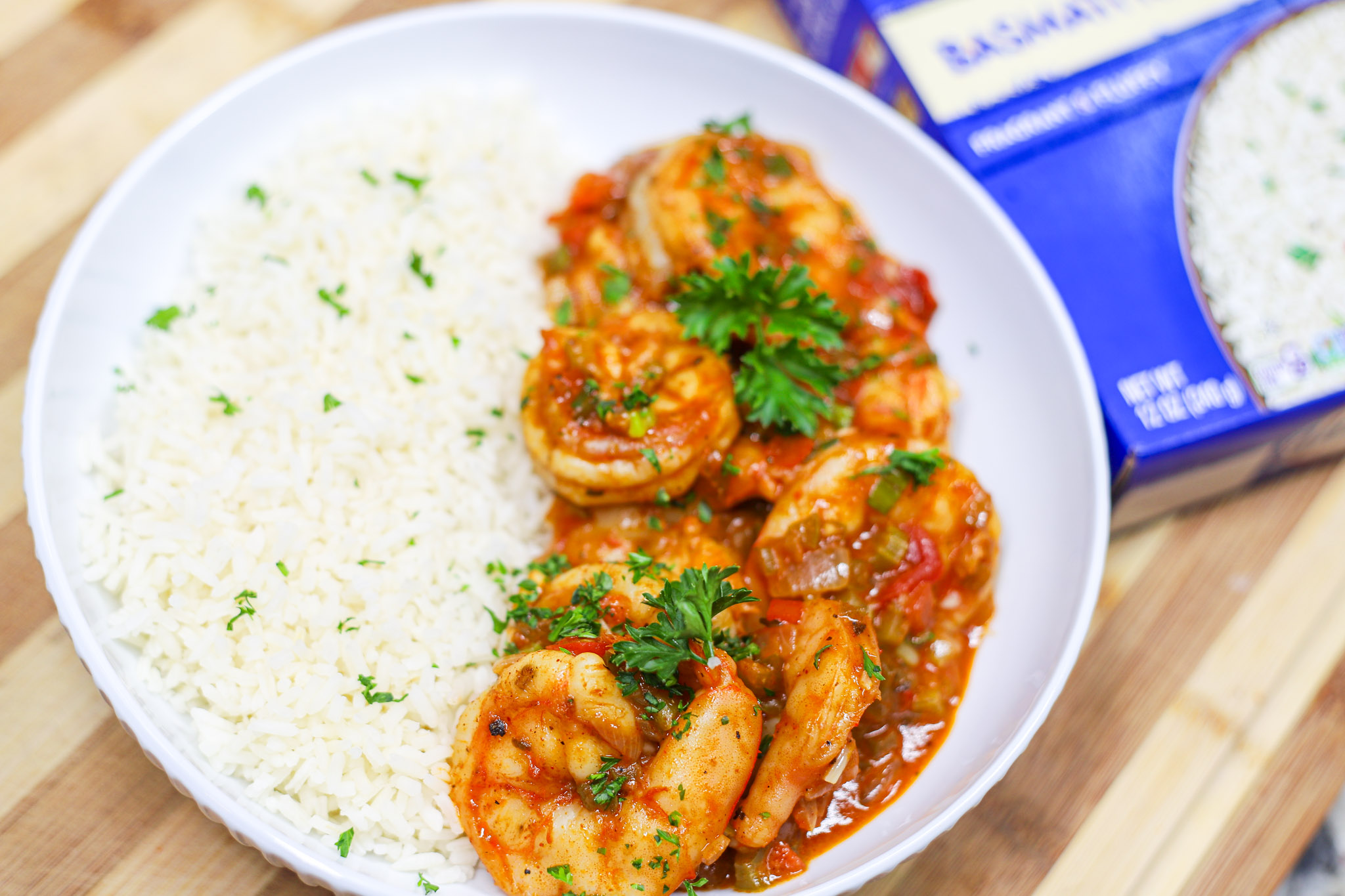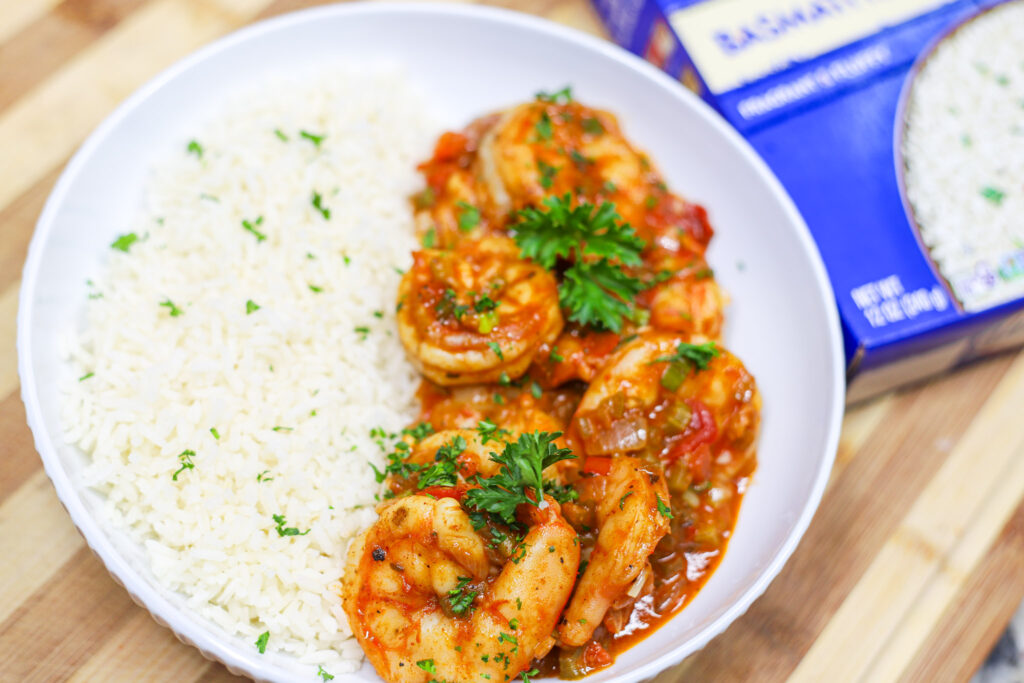 You will LOVE this Creole classic
Plump, juicy shrimp nestled in a vibrant tomato base, infused with the harmonious blend of Creole spices. This dish captures the essence of Creole cooking – a fusion of French, Spanish, African, and Native American influences. Every bite bursts with complexity, leaving your taste buds craving more. My Shrimp Creole is not just a recipe; it's an experience that will satisfy both your cravings and your culinary curiosity.
Key characteristics of shrimp creole lie in the tomato base. For this recipe, we are using fresh diced tomato as well as canned which infuses the rice with a delicious blend of zesty sweet flavors and warm colors.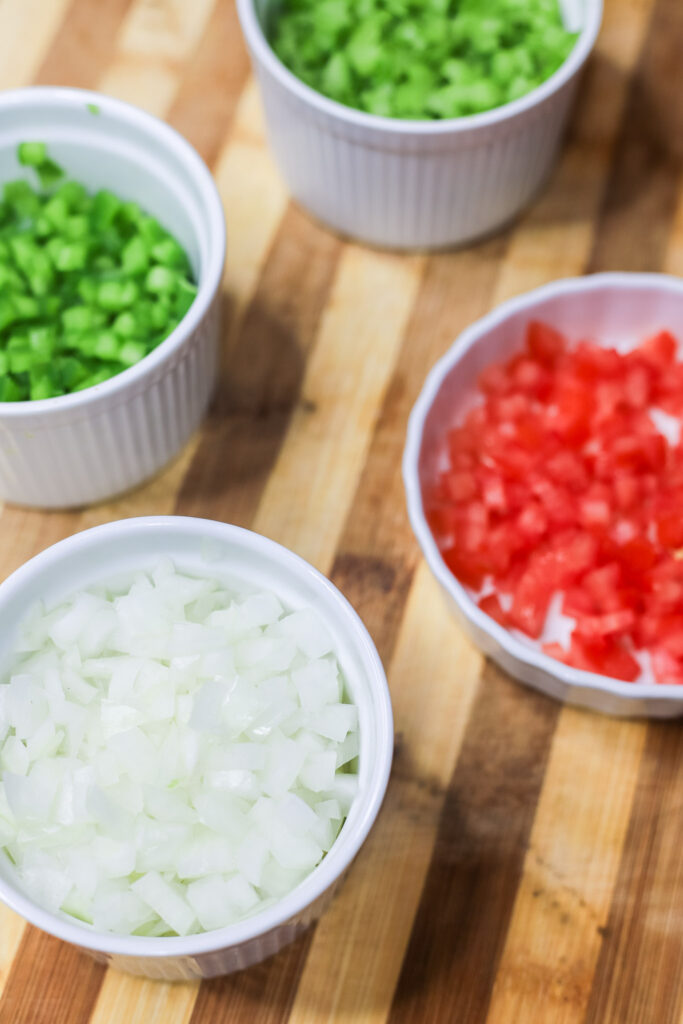 Ingredients You'll Need
most importantly, to create this delectable dish, gather the following ingredients:
Fresh large shrimp (peeled and deveined): Provides the succulent seafood element that's the star of the show.
Onion, bell pepper, and celery (the "holy trinity" of Creole cuisine): Adds depth and aromatic sweetness.
Garlic: Offers a rich, pungent undertone to the sauce.
Diced tomatoes: Forms the flavorful base of the sauce.
Worcestershire sauce: Brings a tangy, umami kick.
Hot sauce: Adds a touch of heat and complexity.
Bay leaves: Elevates the herbal notes.
Slurry (water & flour): Adds thickness to the tomato base
Cajun Seasoning : A signature blend of spices, typically including paprika, cayenne pepper, garlic powder, and onion powder, imparts the iconic kick and depth of flavor. Try my Bayou City Seasonings to really turn the flavor up anotch.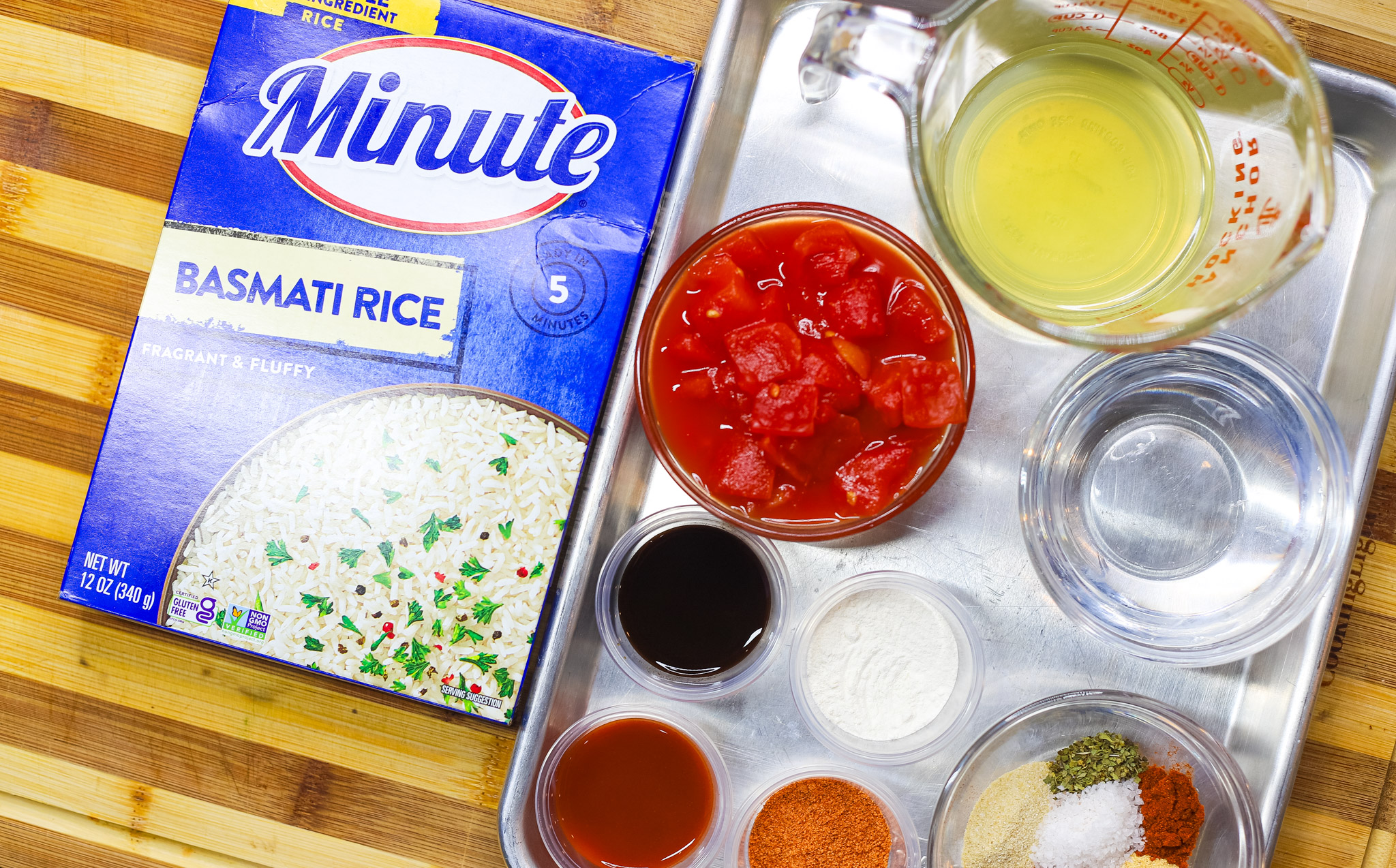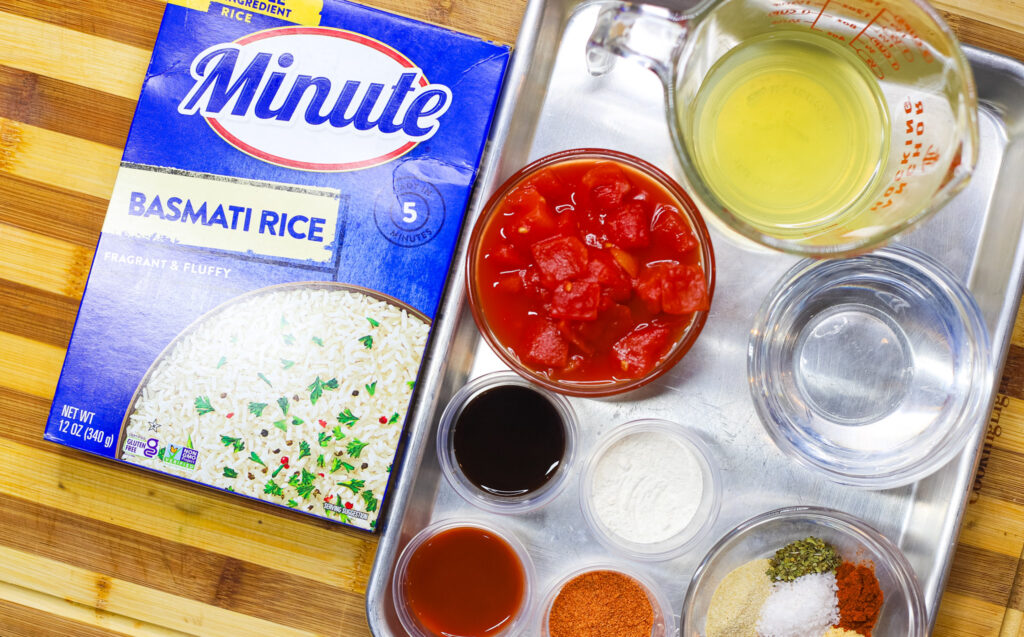 Prepare the Shrimp Creole
Sauté Aromatics: In a large skillet, heat oil over medium heat. Add chopped onions, bell peppers, and celery. Sauté until softened and slightly caramelized, about 5-7 minutes.
Add Garlic and Spices: Stir in minced garlic and Creole seasoning. Cook for an additional 1-2 minutes until fragrant.
Create Base: Pour in the crushed tomatoes and chicken or seafood broth. Mix well to combine.
Season and Simmer: Add Worcestershire sauce, hot sauce, thyme, bay leaves, salt, and pepper. Adjust the hot sauce according to your spice preference. Allow the sauce to simmer for about 15-20 minutes, allowing the flavors to meld.
Add Shrimp: Gently place the fresh shrimp into the simmering sauce. Cook until the shrimp turn pink and opaque, which should take around 3-5 minutes. Be careful not to overcook the shrimp.
Serve: Remove the bay leaves and thyme stems. Taste and adjust seasoning if needed. Serve your Shrimp Creole over a bed of fluffy white rice or with your preferred accompaniment.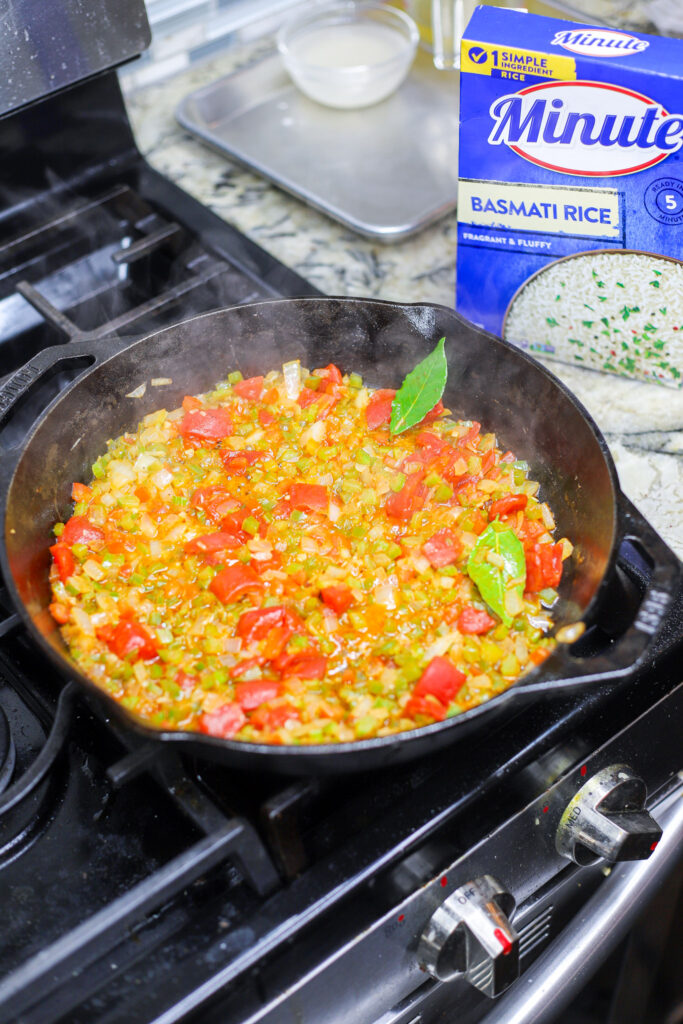 Shrimp Creole vs. Étouffée
Both iconic Louisiana dishes, each with its own distinct characteristics. but they differ in their preparation and texture. Shrimp Creole features a tomato-based sauce with a slightly thinner consistency, while Étouffée boasts a thicker, roux-based sauce. The choice depends on your preference for a brighter, tangier flavor (Creole) or a rich, velvety texture (étouffée)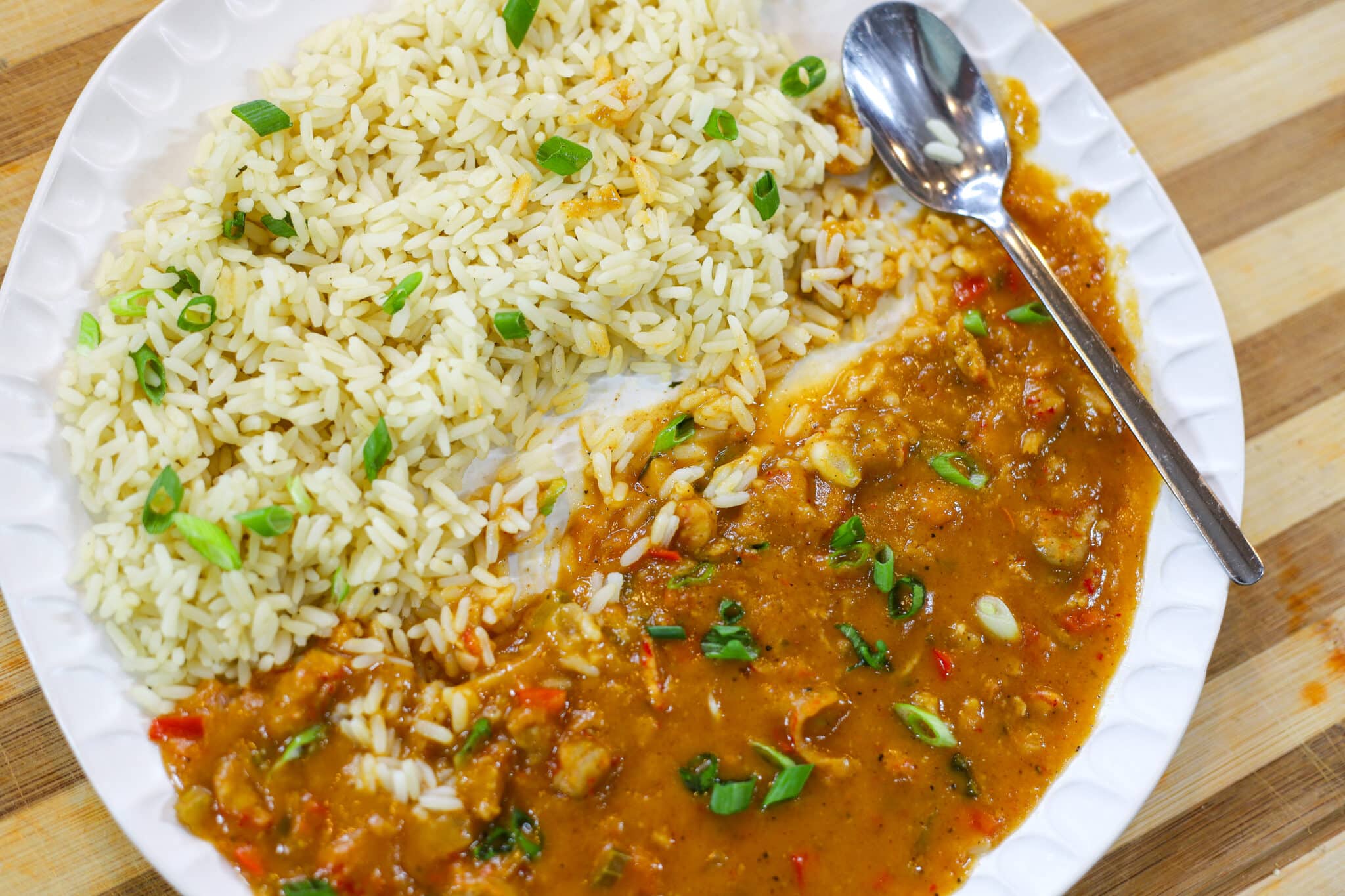 Best sides to serve with Shrimp Creole
to complete your dinner, consider pairing it with these four delectable sides:
Fluffy White Rice: Classic and timeless, rice is the perfect partner to soak up the delicious sauce. I used Minute Instant Basmati rice. Its is super easy to make and elevates your dish
Buttery Cornbread: A Southern staple that complements the flavors and adds a delightful contrast.
Sautéed Greens: Collard greens or spinach provide a refreshing balance to the dish.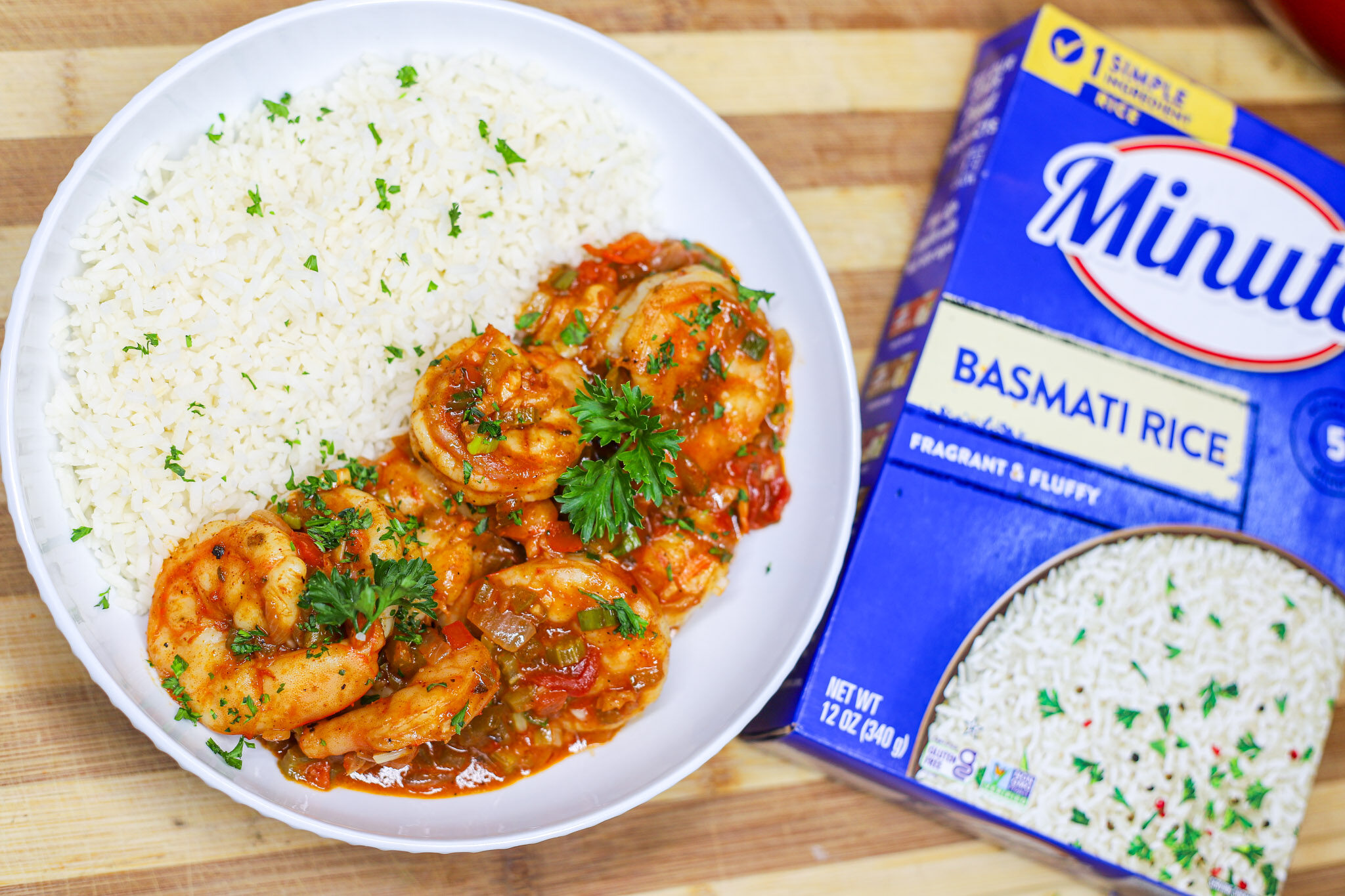 How to Store Leftovers:
To store your leftover Shrimp Creole, allow it to cool completely before transferring it to an airtight container. Refrigerate for up to 3 days. When reheating, gently warm on the stovetop over low heat to preserve the flavors and textures.
FAQ:
Can I use frozen shrimp?
Yes, you can. Ensure they are properly thawed and drained before cooking.
Can I adjust the spice level?
Absolutely! Adjust the hot sauce quantity or omit it altogether based on your spice preference.
Can I make this dish in advance for a party?
Definitely! Shrimp Creole's flavors deepen over time. Prepare it a day ahead, and reheat gently before serving.
I hope you enjoy this super flavorful, easy shrimp creole recipe! Make sure to tag me on Instagram, TikTok, or Facebook when you make this recipe! I want to see your creation and give you a shoutout!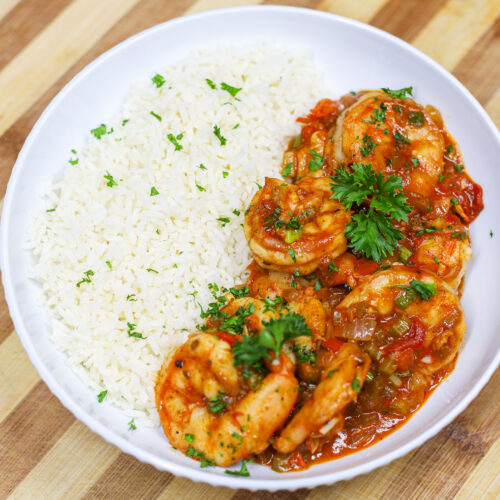 Shrimp Creole
Discover the flavors of Louisiana with this shrimp creole recipe. This is a one-pot wonder that will transport your taste buds to Louisiana.
Ingredients
4

tbsp

unsalted butter

1

cup

onion

diced

1/2

cup

green bell pepper

diced

1/2

cup

celery

diced

1/2

cup

tomato

diced

1 1/2

tsp

creole seasoning

2

bay leaves

8

oz

canned diced tomato

4

cloves

garlic

minced

1

tsp

worcestershire sauce

1

tsp

hot sauce

or to taste

1

tbsp

all purpose flour

1/2

cup

water

1/2

cup

seafood stock

or chicken stock

1 1/2

lb

shrimp

1/2

tbsp

Bayou City Garlic Pepper

1/2

tbsp

Bayou City All Purpose Seasoning

1/2

cup

green onion

parsley

for garnish

Minute Instant Basmati Rice

for serving
Instructions
In a large sauce pan, over medium heat, melt the butter.

 Add the onions, peppers, and celery to the pan.

Season the vegetables with salt and cayenne. Saute the vegetables until they are wilted, about 6 to 8 minutes. 

Stir in the bay leaves, tomatoes, and garlic. Bring the mixture to a boil and reduce to a simmer; continue to cook for 15 minutes.

In a small bowl whisk the flour and water together and add the mixture to the tomatoes. Cook for 4 to 5 minutes.

Add the shrimp stock, Worcestershire and hot sauce and continue to cook for 10 minutes longer.

Season the shrimp with Bayou City Seasonings and add them to the pot. Cook the shrimp until they are pink and cooked through,about 6 to 7 minutes. 

Remove from heat and stir in the green onions and parsley.

Serve with Minute Basmati rice