Cajun Turkey is my little spin on a classic roasted turkey. My recipe infuses my creole roots with bold flavors like citrus for a flavorful, zesty turkey. Every year I make this turkey for thanksgiving and Christmas, you can guarantee it is a crowd pleaser. This turkey is super moist and makes for the perfect holiday protein.
If you need another delicious recipe for the holidays, try my Mac and Cheese and Cornbread Dressing next!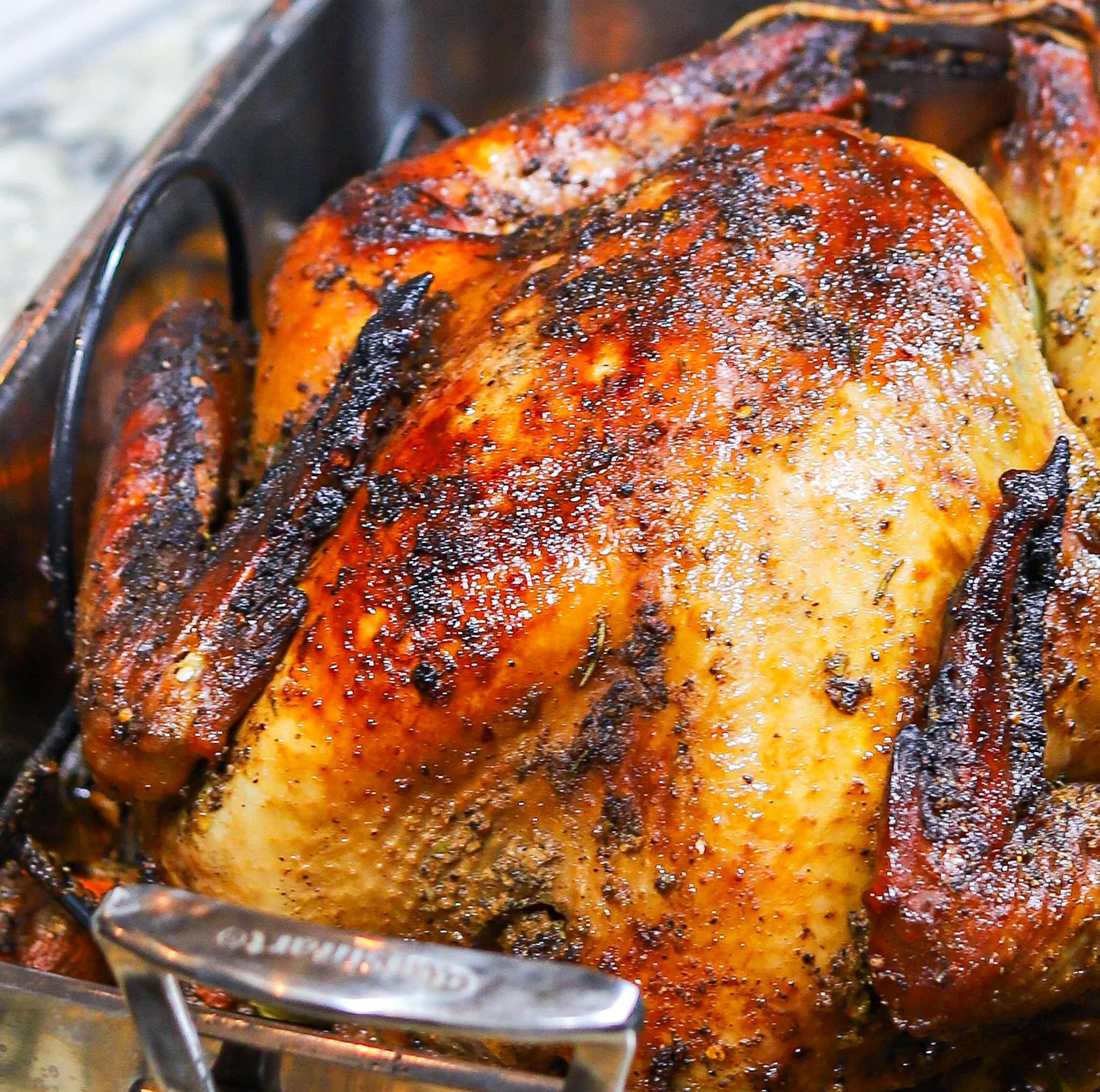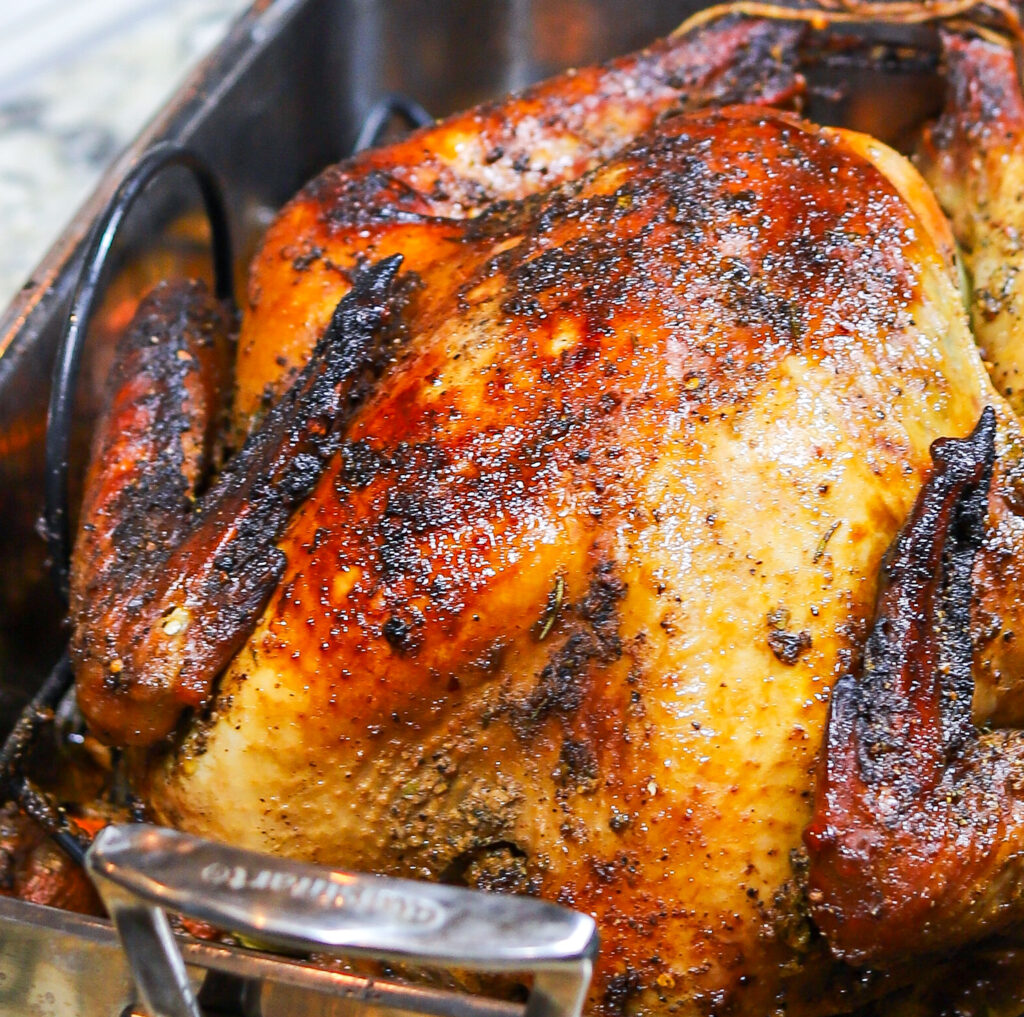 Moreover, Cajun Turkey is a classic holiday dish in Southern cuisine, renowned for its zesty, smoky flavor and tender texture. This turkey recipe is moist and full of flavor, we are no longer tolerating dry turkey and relying on the gravy. In the South, cajun spiced turkeys are a staple holiday dish, enjoyed alongside Southern classics like cornbread dressing, Mac and cheese, and cranberry sauce.
So, whether served on a holiday table or even in a leftover sandwich , Roasted turkey is a beloved part of Southern culture.
WHY YOU'LL LOVE THIS JUICY CAJUN TURKEY RECIPE
Additionally, the Cajun spices in this cajun turkey creates a mouthwatering blend of heat and savory richness, elevating your holiday meal to a whole new level. This recipe promises a succulent, juicy turkey with a crispy, golden skin that will have your holidays jumping.
Tradition: Turkey has become synonymous with holiday feasts, especially Thanksgiving and Christmas, in many cultures. Its presence on the table is a longstanding tradition that brings a sense of continuity and nostalgia.
Feeds a Crowd: A whole roasted turkey is a large centerpiece that can feed a gathering of family and friends, making it ideal for festive occasions when people come together to celebrate.
Versatility: Turkey is a versatile protein that pairs well with a variety of flavors and accompaniments. It can be seasoned and prepared in various ways to suit different culinary preferences.
Leftovers: The leftovers from a roasted turkey provide the foundation for delicious post-holiday meals, from sandwiches and soups to casseroles, extending the enjoyment beyond the main event.
Culinary Creativity: Roasting a turkey allows for culinary creativity. Whether experimenting with different seasonings, brining techniques, or innovative cooking methods, chefs and home cooks alike can showcase their skills in preparing this holiday staple.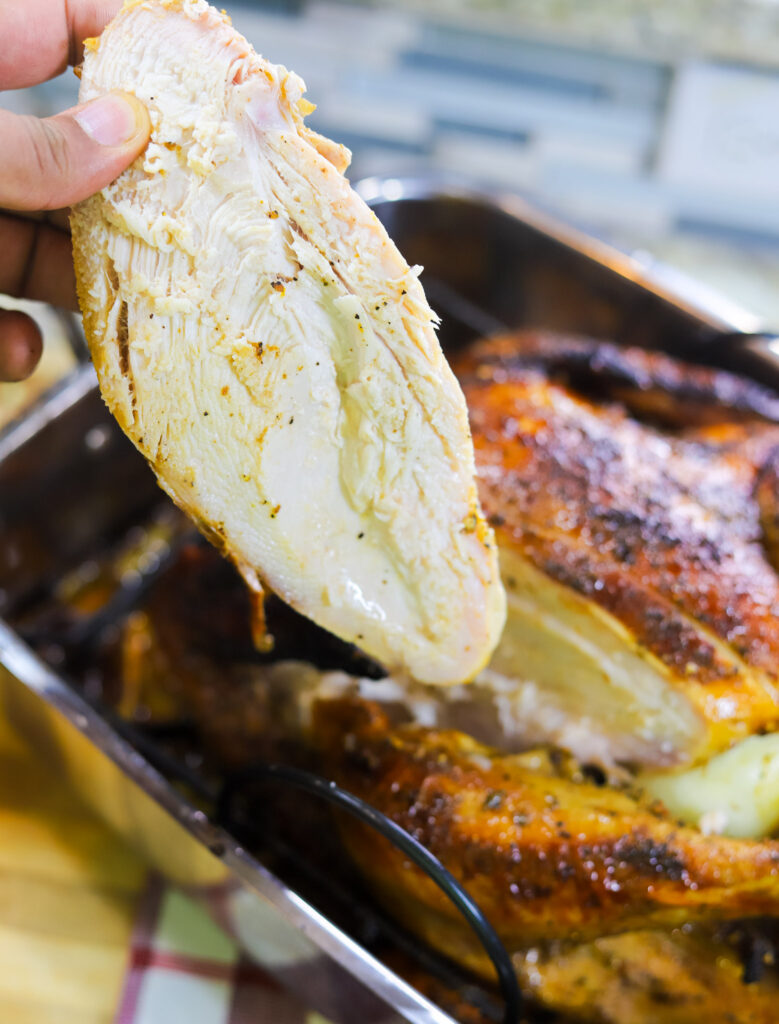 Cajun Turkey Ingredients
Whole Turkey: cajun turkey is the star of the show.
Orange and lemon zest: Infuses the turkey with that distinctive kick.
Cajun Compound Butter: Adds moisture and aids in crisping the skin.
Dry Brine: Layers of aromatic flavor.
: Intensify the Cajun heat.
Fresh Herbs (Thyme, Rosemary, Oregano): Fragrant elements for depth.
Cheese Cloth(optional): Used for the Cheese Cloth Method – a unique approach for optimal moisture retention.
Seasoning: Bayou City All Purpose Seasoning, Bayou City Garlic Pepper, Bayou City Lemon Pepper, onion powder, garlic pepper, salt, smoked paprika.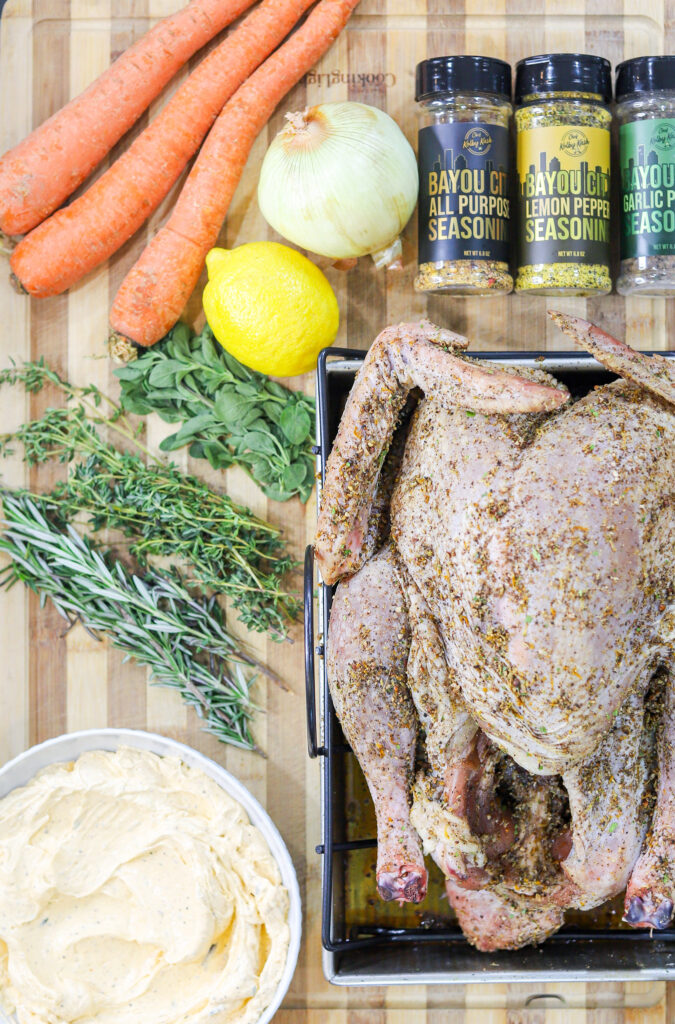 Cajun Compound Butter
Soften the Butter: Allow the butter to come to room temperature for easy mixing.
Mix in the Cajun Flare: In a bowl, combine the softened butter with Cajun spice blend, lemon juice, honey, fresh rosemary, garlic powder, onion powder, cayenne pepper, and lemon zest.
Blend Thoroughly: Using a fork or a hand mixer, blend the ingredients together until well combined. Ensure the spices are evenly distributed throughout the butter.
Adjust to Taste: Taste the compound butter and add salt if desired. Keep in mind that Cajun spice blends often contain salt, so adjust accordingly.
Cover the turkey: completely cover your turkey in the compound butter making sure to get under the skin.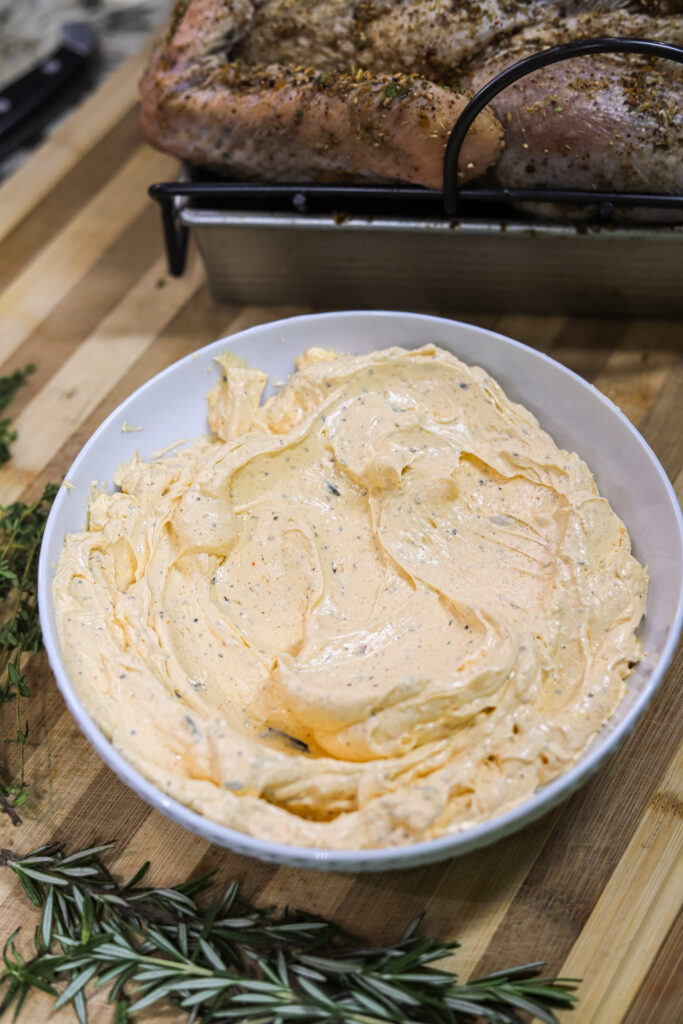 How To Prepare Citrus Cajun Turkey
First, Preheat oven.
Rub turkey with dry brine and place in the refridgerator for at least 6 hours and up to 2 days .
bring turkey to room temperature and completely cover with cajun compound butter.
Insert fresh herbs and aromatics in the cavity of the turkey.
Roast for 1 hour at 375F. remove from oven and inject with more cajun butter
optional: soak cheesecloth in remaining cajun butter and cover the turkey
lastly, Roast, periodically basting for a golden finish.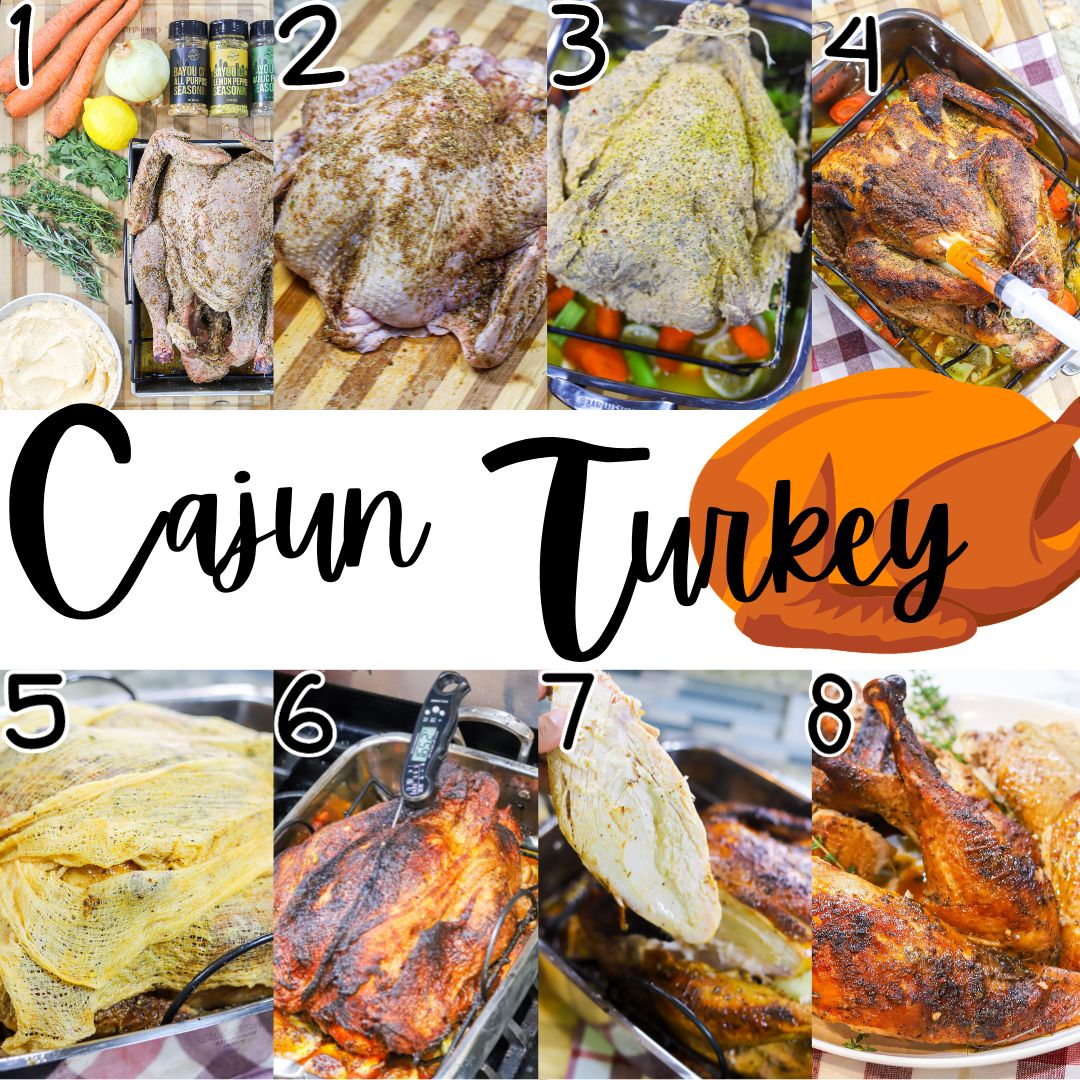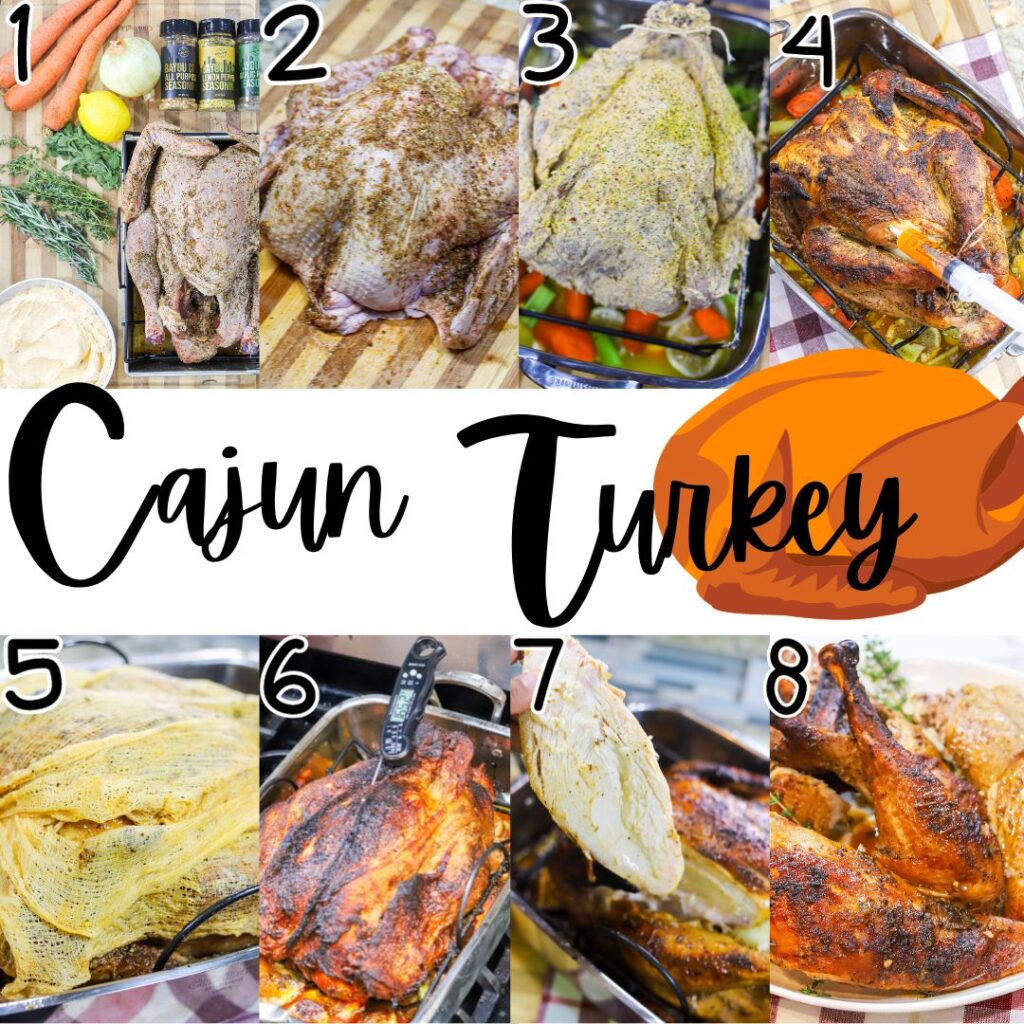 Cheese Cloth Technique (optional)
The cheesecloth method is a technique used in roasting poultry, including this cajun turkey, to help achieve a moist and flavorful result while still allowing the skin to crisp up nicely.
Benefits of the Cheesecloth Method for this cajun turkey:
Moisture Retention: The soaked cheesecloth helps keep the turkey moist by preventing the skin from drying out during the initial stages of roasting.
Flavor Infusion: The butter or oil in the cheesecloth adds flavor to the turkey as it melts and drips onto the skin.
Crispy Skin: Removing the cheesecloth towards the end of roasting allows the skin to crisp up and achieve that desirable golden-brown color.
Prepare the Cheesecloth:

Cut a piece of cheesecloth large enough to cover the entire turkey.
Soak the cheesecloth in melted unsalted butter or oil. This can be done by placing the cheesecloth in a bowl and generously brushing or pouring the melted butter or oil over it.

Apply the Cheesecloth:

Lay the soaked cheesecloth over the turkey, covering it completely. If the cheesecloth is too big, you can fold or trim it to fit.
Make sure the cheesecloth is in direct contact with the skin but doesn't cover the wings or drumsticks completely.

Roasting cajun turkey:

Place the turkey in the preheated oven and roast according to your recipe's instructions.
Baste the turkey periodically with pan juices or additional butter/oil.

Cheesecloth Removal:

About 30-45 minutes before the turkey is done, carefully remove the cheesecloth. This allows the skin to brown and crisp up for an appealing presentation.
Tips for making the best Roasted Cajun Turkey
firstly, Patience is Key: Allow the turkey to come to room temperature before roasting.
Perfect Timing: Use a meat thermometer to ensure the turkey is cooked to perfection.
Spice Customization: Adjust Cajun spices to your preferred heat level.
Wet Vs. Dry Brine
In comparison, both wet and dry brining are methods used to enhance the flavor and juiciness of poultry, such as turkey. Each method has its advantages and considerations. Let's explore the differences between wet and dry brining:
Wet Brine:
Pros:
Deep Flavor Penetration: The liquid brine penetrates the meat, imparting flavor throughout.
Moisture Retention: The turkey absorbs additional moisture, resulting in a juicier bird.
Cons:
Space and Time: Requires a large container for submersion and an extended period in the refrigerator.
Dilution of Flavor: Some argue that wet brining may slightly dilute the natural flavors of the meat.
Dry Brine:
Pros:
Convenience: Requires less space and preparation time compared to wet brining.
Crispier Skin: Dry brining can contribute to a crisper skin as the surface is drier.
Cons:
Less Penetration: While the flavor penetrates the outer layers, it may not reach as deeply into the meat as with a wet brine.
Requires Refrigeration: Like wet brining, it still requires refrigeration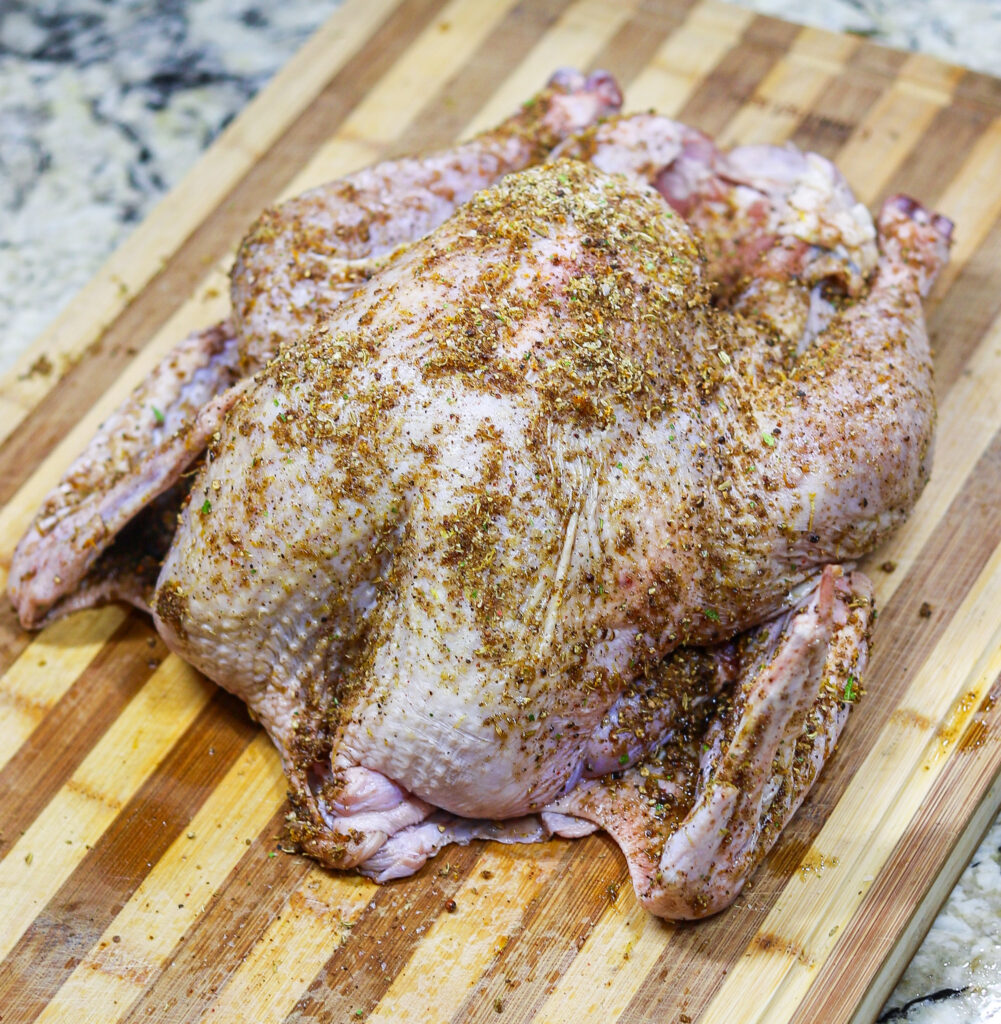 Cajun Turkey: Frequently Asked Questions
Q: Can I adjust the spice level?
A: Absolutely! Customize the Cajun spice blend to suit your taste.
Q: Can I skip brining?
A: While brining enhances flavor, it's optional. Adjust salt content accordingly.
Q: How do I store leftovers?
A: Store in an airtight container in the refrigerator for up to three days or freeze for longer shelf life.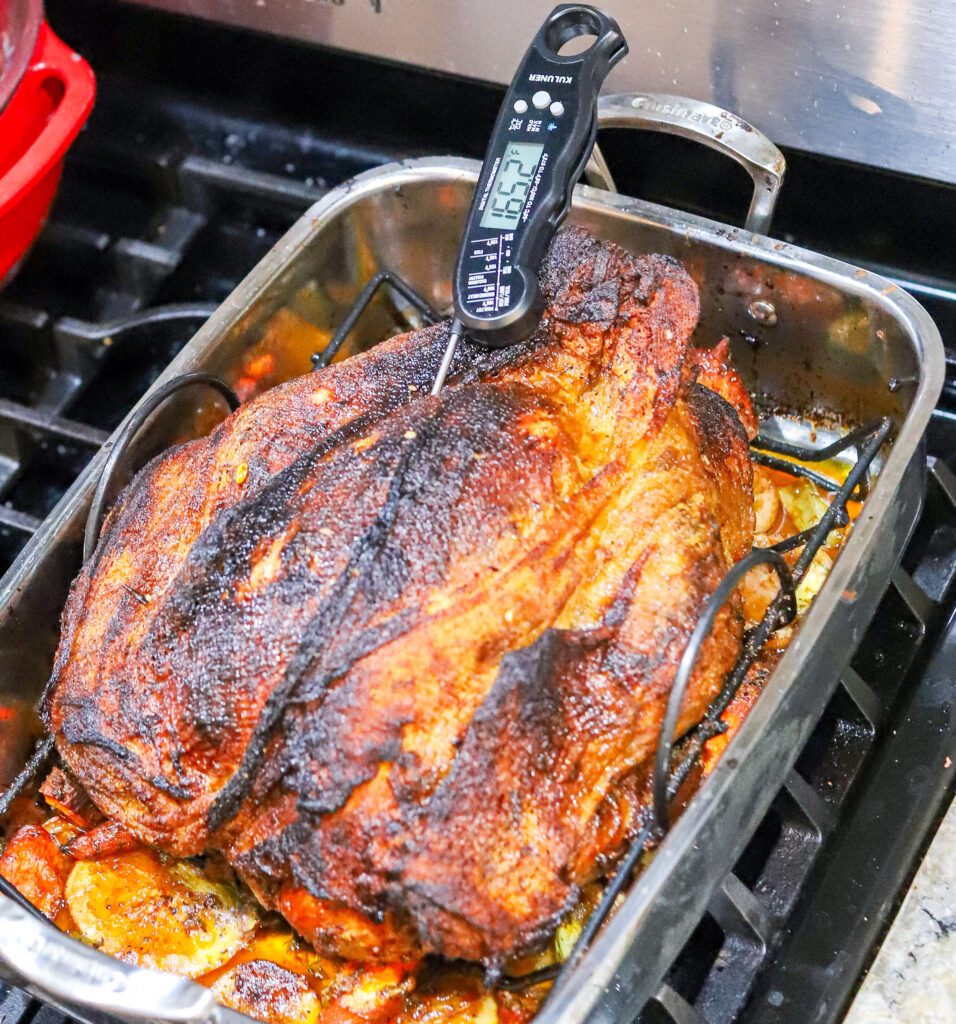 If you loved this cajun turkey recipe, let me know in the comments. For more delicious recipes, follow me on TikTok and Instagram!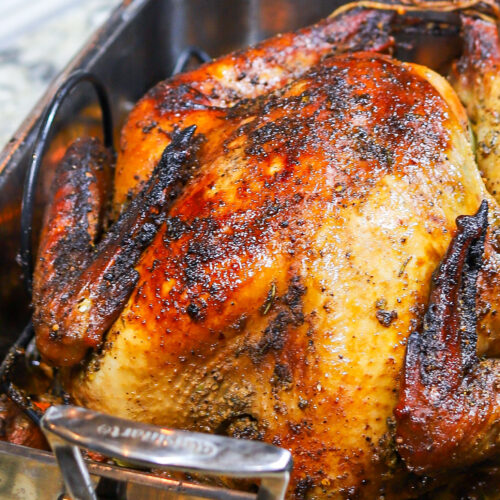 Cajun Turkey
This Cajun turkey is flavorful twist on the traditional roast turkey introduces a tantalizing blend of Cajun spices, infusing each succulent bite with a perfect balance of heat and richness. Elevate your holiday gathering with this mouthwatering masterpiece, a savory celebration that will leave your guests craving more.
Equipment
1 roasting pan

1 marinade injector

1 turkey baster
Ingredients
Dry Brine
1/2

cup

kosher salt

2

tbsp

black peppercorns

2

tbsp

white peppercorns

1

tbsp

pink peppercorns

2

tsp

fennel seeds

4

bay leaves

2

tbsp

brown sugar

2

tbsp

lemon zest

2

tbsp

orange zest
Roast Turkey
12-14

lb

turkey (fresh or frozen)

fully thawed

1

cup

unsalted butter

softened

1

tbsp

Bayou City Garlic Pepper

1

tbsp

Bayou City All Purpose Seasoning

2

tbsp

lemon juice

1

tbsp

honey

1

tbsp

rosemary

chopped fine

2

sprigs

oregano

2

sprigs

thyme

6

garlic cloves

2

sweet onions

cult in half

3

carrots

roughly chopped

2

garlic bulbs

cut in half

4

celery stalks

roughly chopped

1

cup

white wine

1/2

cup

orange juice
Instructions
Ensure the turkey is completely thawed, if frozen. Remove giblets and neck from the turkey cavity. Pat the turkey dry with paper towels.

Toast black, pink, and white peppercorns and bay leaves in a skillet until fragrant. Let cool, then crush in a pestle and mortar, spice blender or in a bag using a rolling pin or heavy skillet. Mix with salt, sugar, lemon zest, and orange zest.

Place the turkey on a rimmed baking sheet or in a large roasting pan.

Rub the dry brine mixture all over the turkey, including inside the cavity.Place the turkey, uncovered, in the refrigerator for 12 to 24 hours. This allows the salt to penetrate the meat and enhance flavor.

Remove the turkey from the refrigerator and let it sit at room temperature for about 1 hour.Pat the turkey dry with paper towels to remove any excess moisture.

stuff the turkey cavity with fresh herbs, half an onion, and lemon

mix the softened butter with lemon juice, bayou city seasonings, honey, garlic cloves, oregano, thyme, and rosemary in a food processor.

Brush the entire turkey with half the butter mixture to help achieve a golden brown and crispy skin. Make sure to get under the skin as well.

in a large roasting pan add carrots, remaining onion, celery and garlic as well as white whine and orange juice. Place the turkey on a roasting rack in the same large roasting pan and place in the oven to cook for 1 hour.

Remove turkey and lower the temperature to 325F.

At this point, inject your turkey. For this you can buy the pre made stuff, or melt the rest of your butter and inject into the breast, thighs, wings, and drums.

OPTIONAL: soak cheese cloth in melted compound butter. cover your turkey in soaked cheese cloth before placing back in the oven.

Place your turkey back into the oven and Roast until the internal temperature reaches 165°F (74°C), about 15 minutes per pound, making sure to baste your turkey every 30 minutes.

Once done, tent the turkey with foil and let it rest for at least 20-30 minutes before carving. This allows the juices to redistribute throughout the meat.

Carve up your turkey and serve with your favorite side dishes and my turkey gravy. (see note for my gravy recipe!)
Notes
Adding Roasted Garlic to your cajun butter adds a nice subtle flavor to you compound butter
OPTIONAL: soak cheese cloth in melted compound butter. cover your turkey in soaked cheese cloth before placing back in the oven.