Cajun Shrimp Pasta Recipe
Indulge your taste buds with a flavorful and creamy Cajun Shrimp Pasta recipe that's easy to make and even easier to love. This dish is inspired by the bold and spicy flavors of Cajun cuisine, with sautéed shrimp seasoned to perfection and tossed in a creamy sauce that will leave you wanting more. In this post, you'll learn how to make the best Cajun Pasta Recipe and get some tips on choosing the best proteins and pasta for this dish.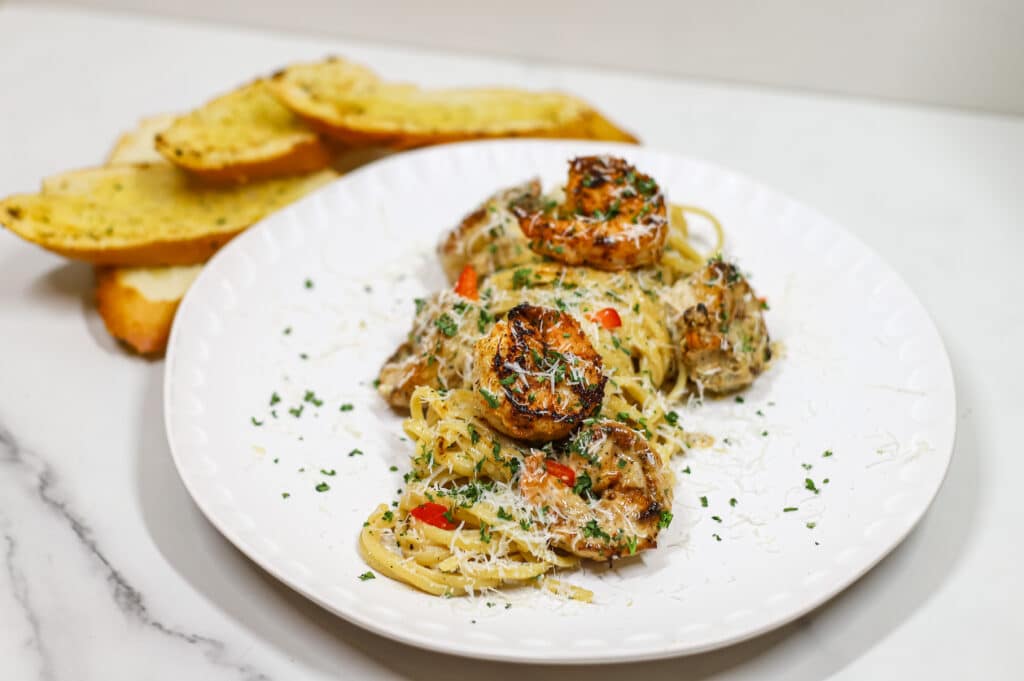 If you love this Cajun Shrimp Pasta, check out my other delicious seafood recipes!
Why you'll love this Cajun Shrimp Pasta recipe:
Spicy and flavorful! Cajun pasta is known for its bold and spicy flavors. The cajun seasoning adds a smoky and spicy taste to the dish that is sure to please anyone who loves bold flavors.
Easy to Make! This recipe is relatively easy to make and you can be prepare it in under an hour. Most of the ingredients are pantry staples, and the steps are simple, making it a great option for busy weeknights.
Customizable! Cajun pasta is a versatile dish that you can customize to your liking. You can adjust the level of spiciness to your taste, add more vegetables to make it more nutritious, or switch up the protein to sausage, chicken, or your favorite seafood.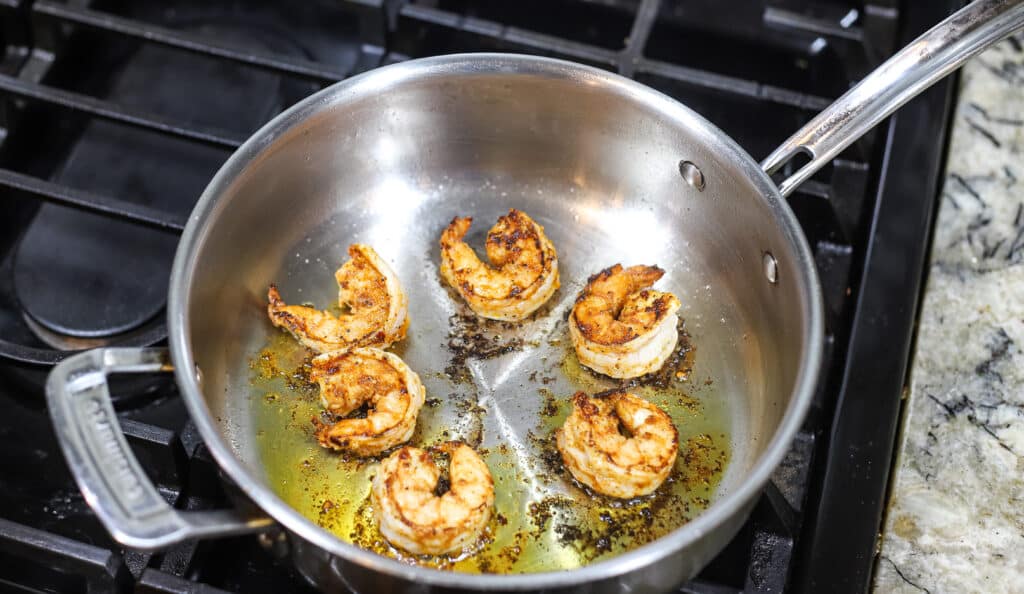 Ingredient Breakdown:
Olive Oil: Used to sauté the shrimp and vegetables and adds a subtle depth of flavor.
Shrimp: The star of the dish, the shrimp is sautéed in Cajun spices, which gives it a bold
and smoky flavor that balances well with the creamy sauce.
Cajun Seasoning: A blend of spices that includes Bayou City Garlic Powder & All Purpose. paprika, cayenne pepper, onion powder, and more. This seasoning gives the dish its signature bold and spicy flavor.
Garlic: Adds a subtle flavor that complements the shrimp and the cream sauce.
Onion: Adds a sweet crunch to the dish and a pop of color.
Red Bell Pepper: Diced and sautéed to provide a sweet and savory flavor to the dish, with a fresh pop of color.
Celery Stalks: Diced and sautéed to provide a savory flavor and texture to the dish.
Tomato Paste: Creates a rich and flavorful sauce. Too much tomato paste can overpower the other flavors in the dish, so start with a small amount and add more as needed.
Heavy Cream: The creaminess of the sauce comes from heavy cream, which provides a
rich and decadent flavor.
Chicken Stock: Simmering the chicken stock creates the perfect base for the sauce. Chicken stock adds depth of flavor to the dish, making it taste rich and savory.
Parmesan Cheese: Parmesan cheese adds a nutty and salty flavor to the dish, which
complements the spicy shrimp and the creamy sauce.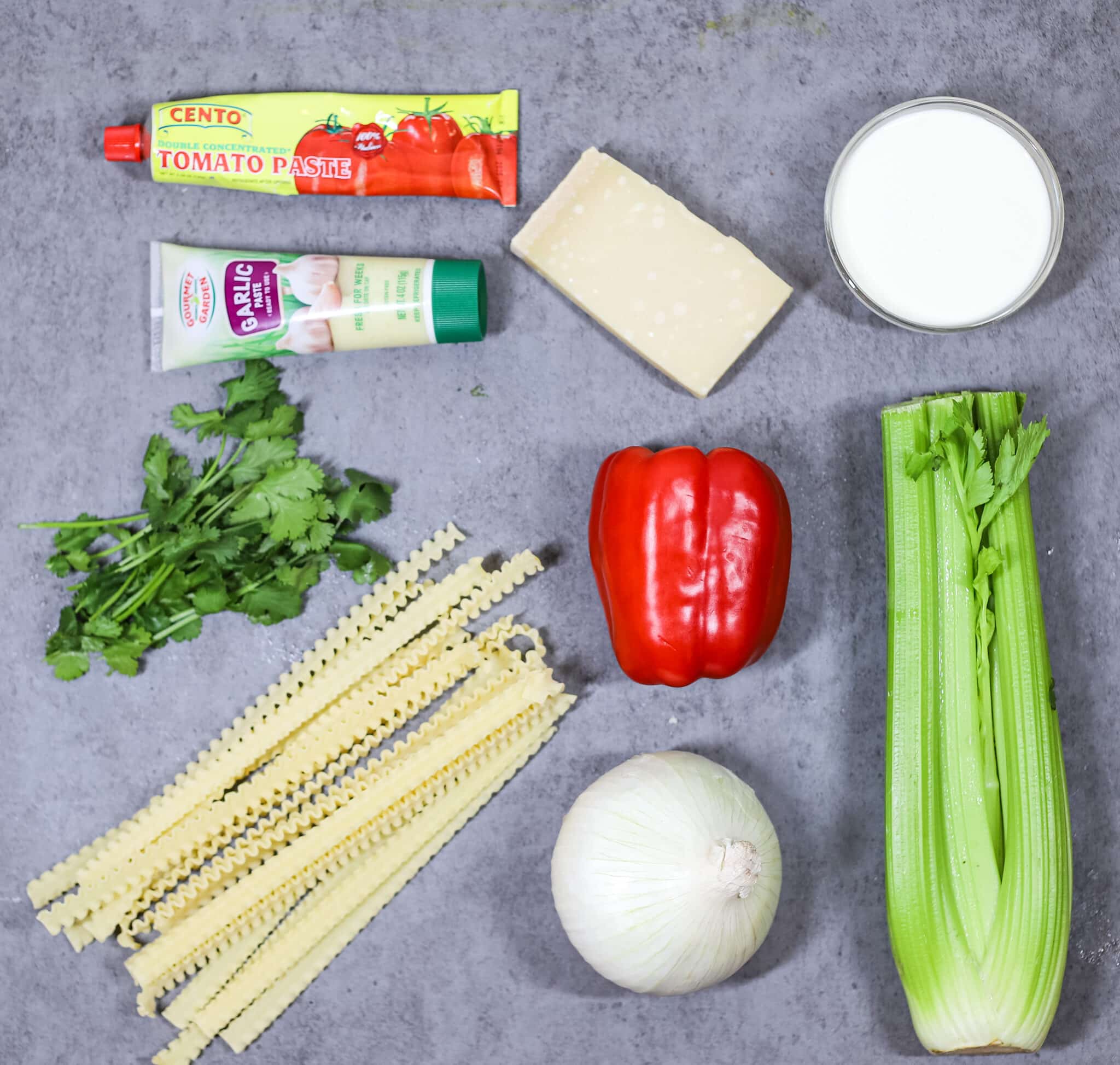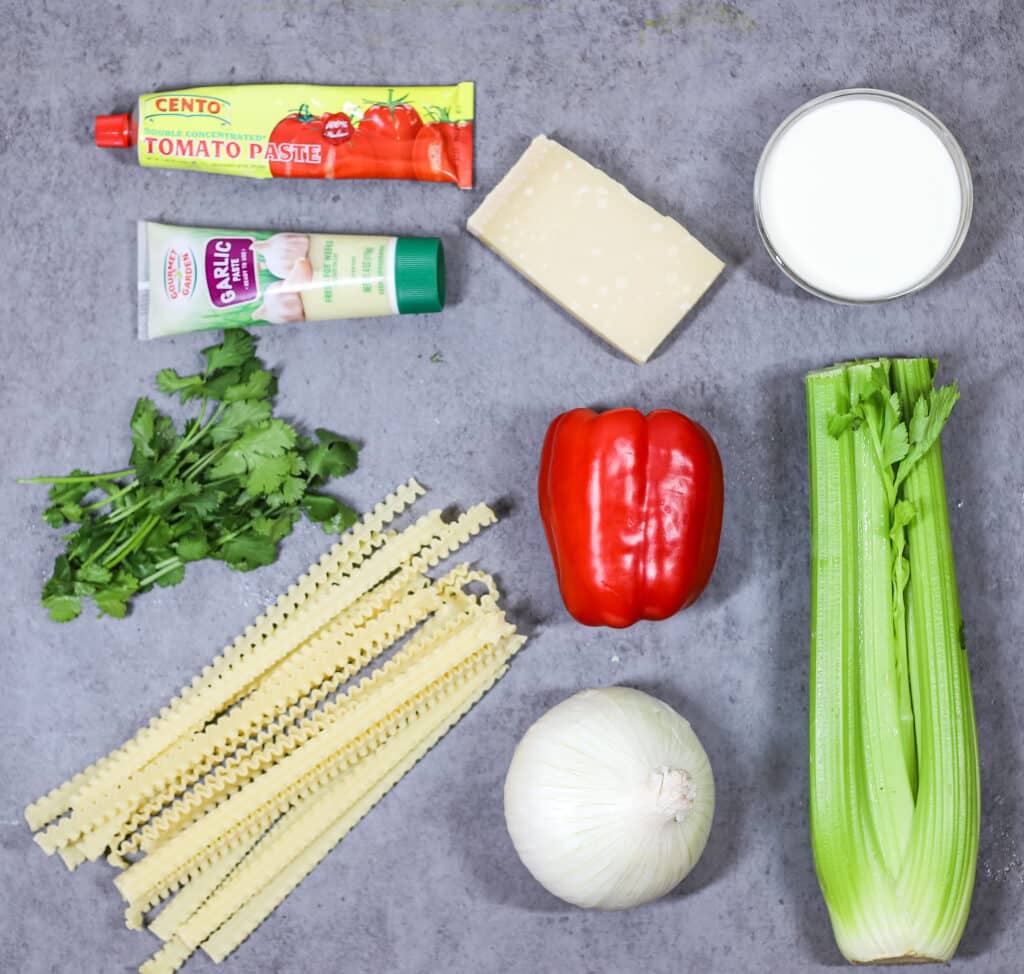 Pro-Tip:
When making Cajun Shrimp Pasta, a helpful pro tip is to make a small incision on the back of the shrimp using a sharp knife or kitchen shears. This helps easily remove the digestive tract without having to completely remove the tail. First, gently pull out the vein using the tip of the knife, and then rinse the shrimp thoroughly under cold running water. This will keep the aesthetic appeal of the shrimp with their tails intact and preserves the delicious flavor and texture of the shrimp in your Cajun pasta dish!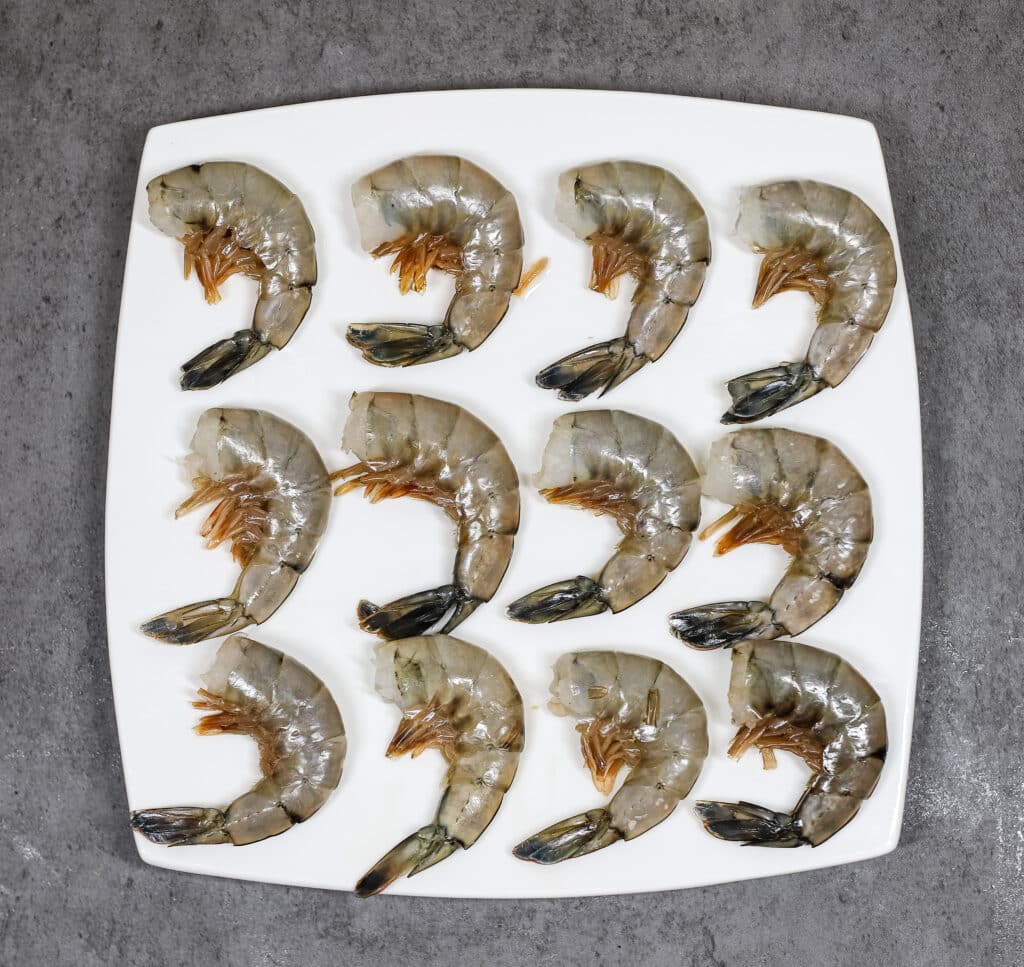 4 Best Types of Pasta to Use with Cajun Pasta:
The perfect pasta for this dish is one that can hold onto the sauce and provide a complementary texture to the shrimp. Here are four types of pasta that work best with this recipe:
Linguine: Linguine is a long, thin pasta that is perfect for this dish because it provides a delicate texture.
Mafaldine: Mafaldine is a ribbon-shaped pasta that holds onto the sauce, making it an excellent choice for this recipe.
Penne: Penne pasta has a ridged texture that holds onto the sauce and complements
the shrimp's texture.
Farfalle: Farfalle, also known as bow-tie pasta, is a fun and playful shape that adds a whimsical element to the dish while also holding onto the sauce.
Alternate Proteins:
If you're not a fan of shrimp or want to mix it up, try out any of these proteins to make the perfect Cajun Pasta recipe:
Chicken: Sliced chicken breasts can be seasoned with Cajun spices and sautéed in place
of the shrimp for a hearty and delicious alternative.
Sausage: Andouille sausage or any other spicy sausage can be used in place of shrimp,
providing a smoky flavor that pairs well with the Cajun seasoning.
Crawfish: Crawfish is a traditional ingredient in Cajun cuisine and can be used as a
substitute for shrimp to provide a unique and flavorful twist to the dish.
Scallops: Scallops provide a sweet and delicate flavor that pairs well with the spicy Cajun
seasoning, making it a great alternative to shrimp.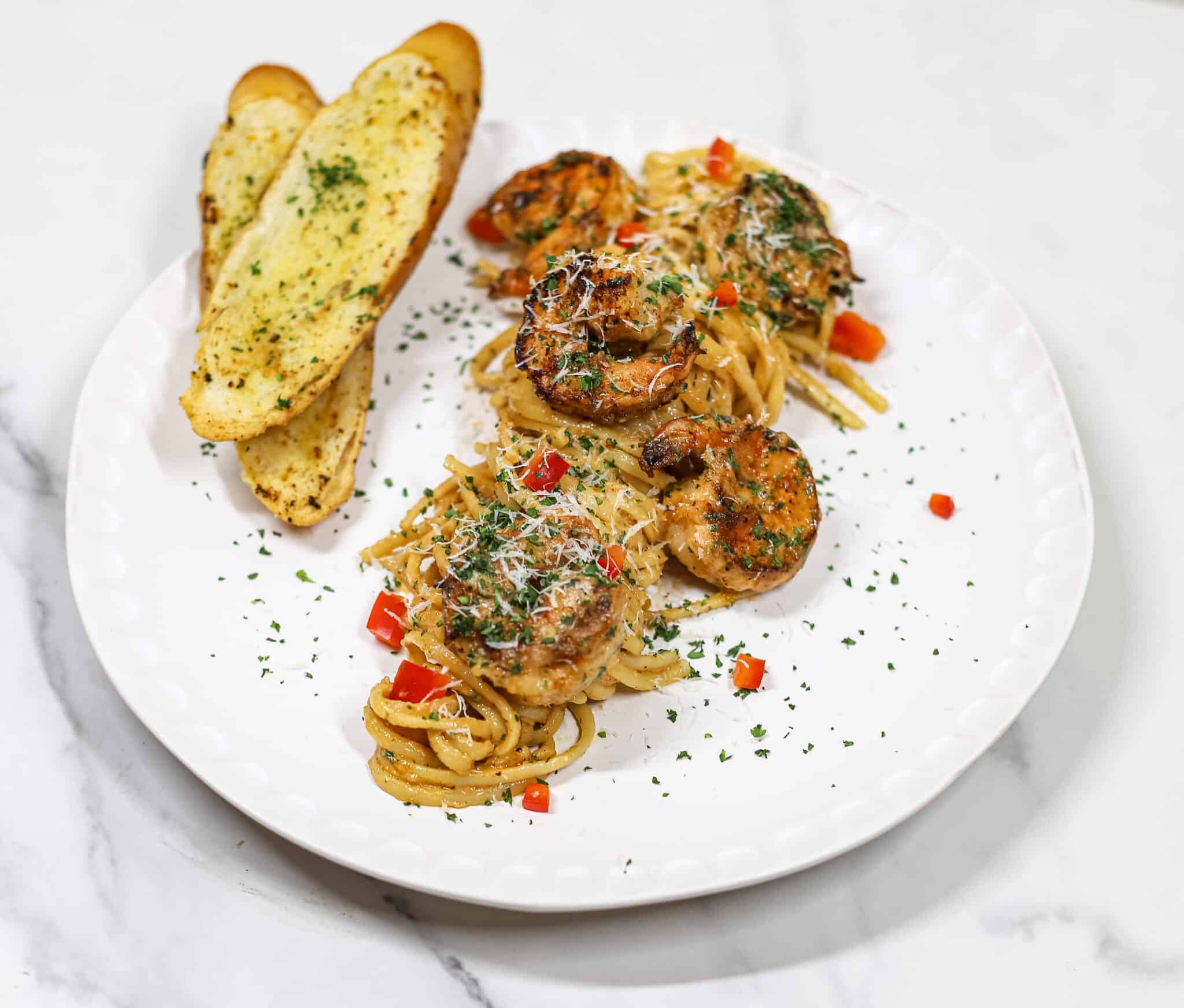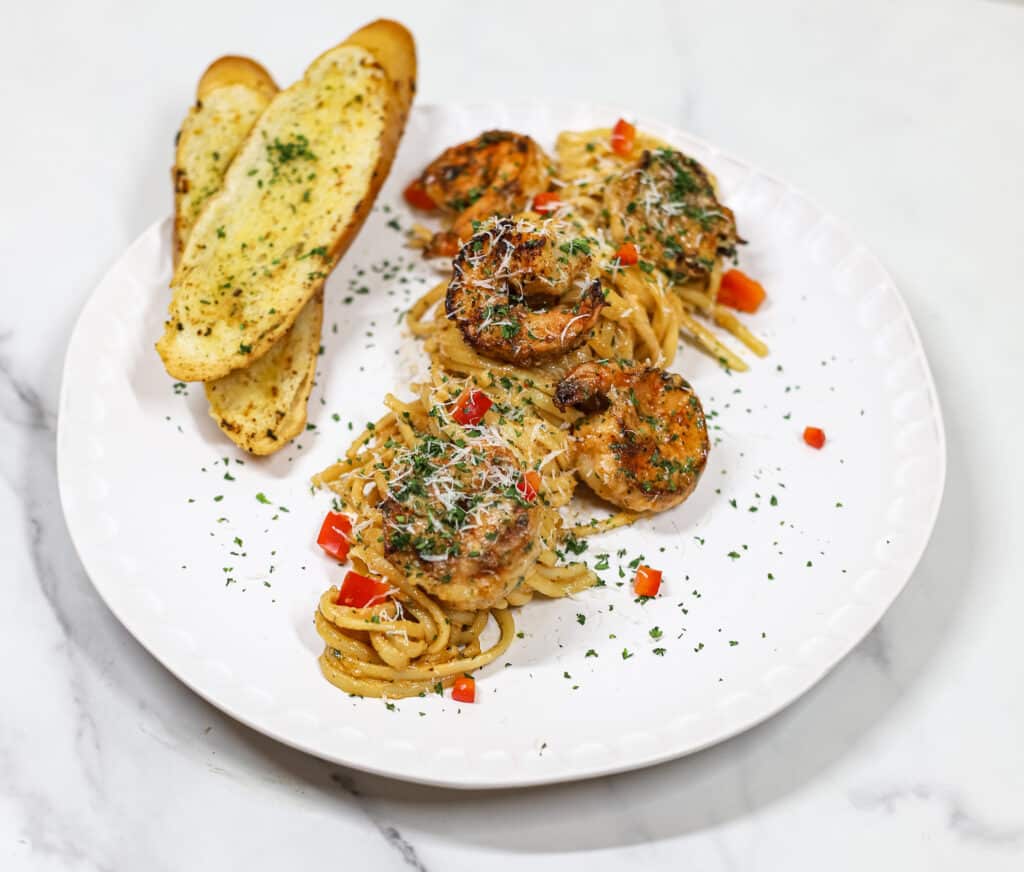 Make sure to tag me on Instagram, TikTok, or Facebook when you make this recipe! I want to see your creation and give you a shoutout!
Cajun Shrimp Pasta Recipe
A flavorful and creamy Cajun shrimp pasta recipe with sautéed shrimp seasoned to perfection, tossed in a creamy sauce.
Ingredients
1

lb

pasta

(penne, farfalle, linguine, or fusilli)

1

lb

shrimp

peeled and deveined

1

tbs

olive oil

1

onion

chopped

1

red bell pepper

2

celery stalks

1

tbs

Tomato paste

4

Garlic cloves

minced

2

tbs

Bayou City All Purpose

1/2

tsp

cayenne

1

cup

heavy cream

1/2

cup

chicken stock

1/2

cup

parmesan

grated

Salt and Pepper

to taste

fresh parsley

garnish
Instructions
Cook the pasta according to package instructions until al dente. Reserve 1 cup of pasta water before draining.

In a bowl season shrimp with Bayou City Seasoning

In a large skillet over medium-high heat, add the olive oil and sauté the shrimp until pink and cooked through. Remove from the skillet and set aside.

in the same skillet, sauté the onion, red bell pepper, and celery until softened.

Add tomato paste, garlic, and Bayou City Seasonings to the skillet and stir to combine with the vegetables.

Pour in the chicken stock and heavy cream and stir until combined. Bring the sauce to a simmer and let it thicken for 2-3 minutes.

Add the cooked shrimp to the skillet and stir to coat with the sauce. Let it cook for 1-2 minutes to warm up the shrimp.

Add the cooked pasta to the skillet and toss with the shrimp and sauce. If the sauce is too thick, add a splash of pasta water to thin it out.

Add the grated parmesan cheese to the skillet and toss to combine with the pasta and sauce.

Season with salt and pepper to taste.

Serve the cajun shrimp pasta hot with a sprinkle of fresh parsley for garnish.