Taco Meat Recipe : Ground Beef Tacos
I'm bringing y'all a killer homemade taco meat recipe that's about to become your new kitchen hero. No more settling for store-bought stuff – we're talking about crafting your own taco meat masterpiece that's bursting with flavor and made with a whole lot of love. So, if you're all about those savory, mouthwatering tacos, stick around and let's whip up some culinary magic together!
Since you love my taco recipes, you will truly enjoy this Carnitas Recipe and this Chicken Tinga !
Tacos are some of the most popular Mexican food around. Being born and raised in Texas has allowed me to be privy to some of the BEST Mexican food, and one thing I have learned is that homemade is a lot better! So this homemade taco meat recipe is tried and true, and super popular amongst friends and family.
Homemade is always better!
When you craft your own taco meat, you take control of the quality and flavor. Moreover, no more mystery additives or preservatives – just pure, wholesome ingredients bursting with taste. Don't get me wrong, I have definitely used pre mixed taco seasoning and store bought taco meat. Time is not always on our side, and store bout gets the job done. However, making taco meat yourself is pretty quick and painless, you probably have everything you need right at home.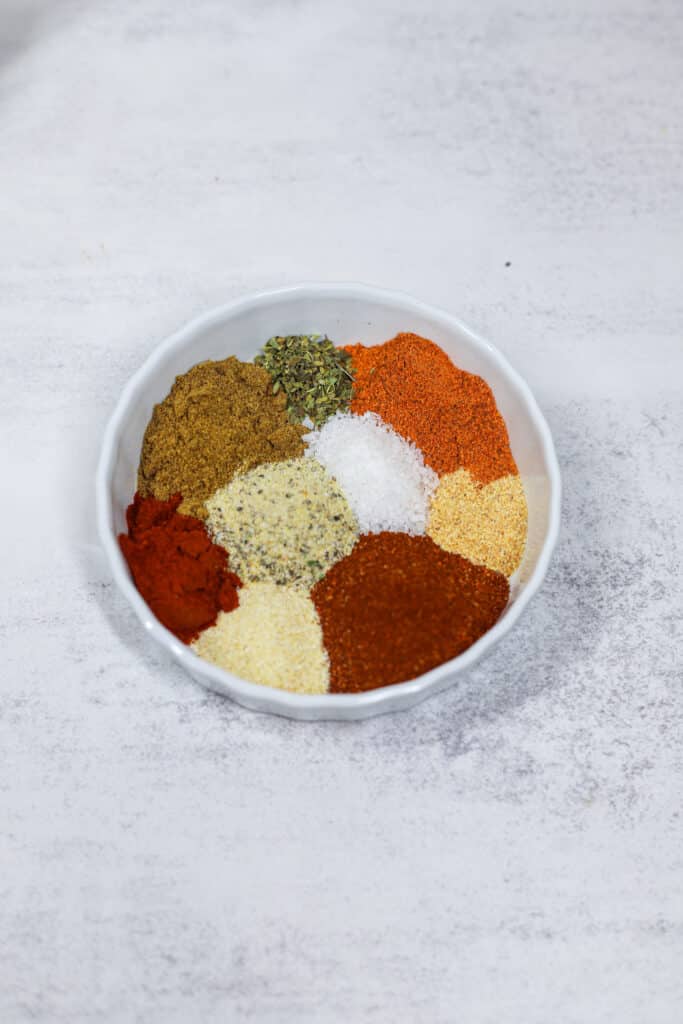 Ingredients You Need for the best taco meat
Ground beef: The heart of our taco meat, ground beef delivers a rich and hearty base.
Chipotle Peppers in Adobo Sauce: These fiery wonders infuse the dish with smokiness and a touch of heat that's just right.
White Onion and Garlic: The foundation of flavor, providing a savory base to the tinga sauce.
Tomato Sauce: Keeps the meat moist while simmering and enhances the overall taste.
Seasonings and spices: you have to use some Bayou City All Purpose Seasoning and Bayou City Garlic Pepper for this recipe! In addition, you will need chili powder, garlic powder, onion powder, cayenne, paprika, ground cumin and dried oregano. Traditional Mexican spices that elevate the authentic taste.
Tortillas: for this taco meat recipe we used white corn tortillas. Nevertheless, You can definitely substitute flour tortillas instead, and follow the same exact instructions.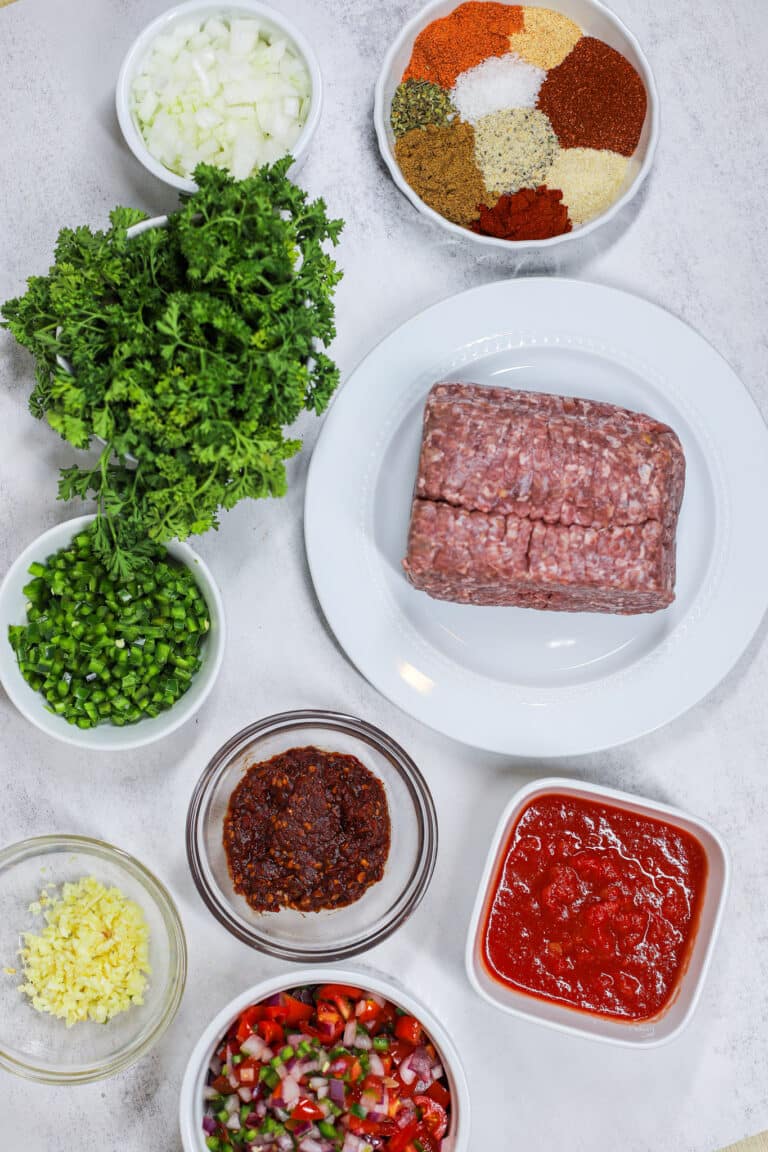 Crafting Your Taco Meat
Now, sauté onion and jalapeño (optional) until translucent, then add minced garlic.
Brown ground beef, breaking it apart with a spatula.
Sprinkle taco seasoning, mix well, and add tomato sauce. Simmer for a few minutes.
Adjust seasoning, and your taco meat is ready to delight!
How to Make Tacos
Warm the Tortillas: If you're using store-bought tortillas, you can heat them up on a dry skillet or griddle over medium heat. First, cook each tortilla for about 30 seconds on each side until they become pliable and slightly toasted. Alternatively, you can wrap the tortillas in a damp paper towel and microwave them for about 30 seconds until warm and soft.
Next, Prepare the Taco Meat:as mentioned earlier, follow the taco meat recipe until the ground beef is fully cooked.
Assemble the Tacos: Take a warmed tortilla and spoon a generous amount of the prepared ground beef taco meat onto the center of the tortilla.
Add Toppings: Now, it's time to add your favorite toppings to enhance the flavor and texture of the tacos. You can choose from the optional toppings mentioned earlier or get creative with your own preferences.
Ways to Savor Your Homemade Taco Meat
Classic Tacos: Load up soft or hard taco shells, layering with your favorite toppings.
Taco Salad: Create a vibrant salad with lettuce, tomatoes, cheese, and taco meat.
Burrito Bliss: Wrap in a tortilla with rice, beans, and toppings for a satisfying burrito.
Nachos Extravaganza: Pile on tortilla chips, cheese, jalapenos, and taco meat for epic nachos.
The Best Toppings for Tacos
Some of our favorite toppings for these tacos are:
Diced onions: white onions or red onions are great
Fresh Cilantro
Pico de gallo
Sour cream
Cheese
Sliced radish
Top them with your favorite salsa verde or salsa roja for an extra kick! Add a side of guacamole or sliced avocados for more delicious flavor.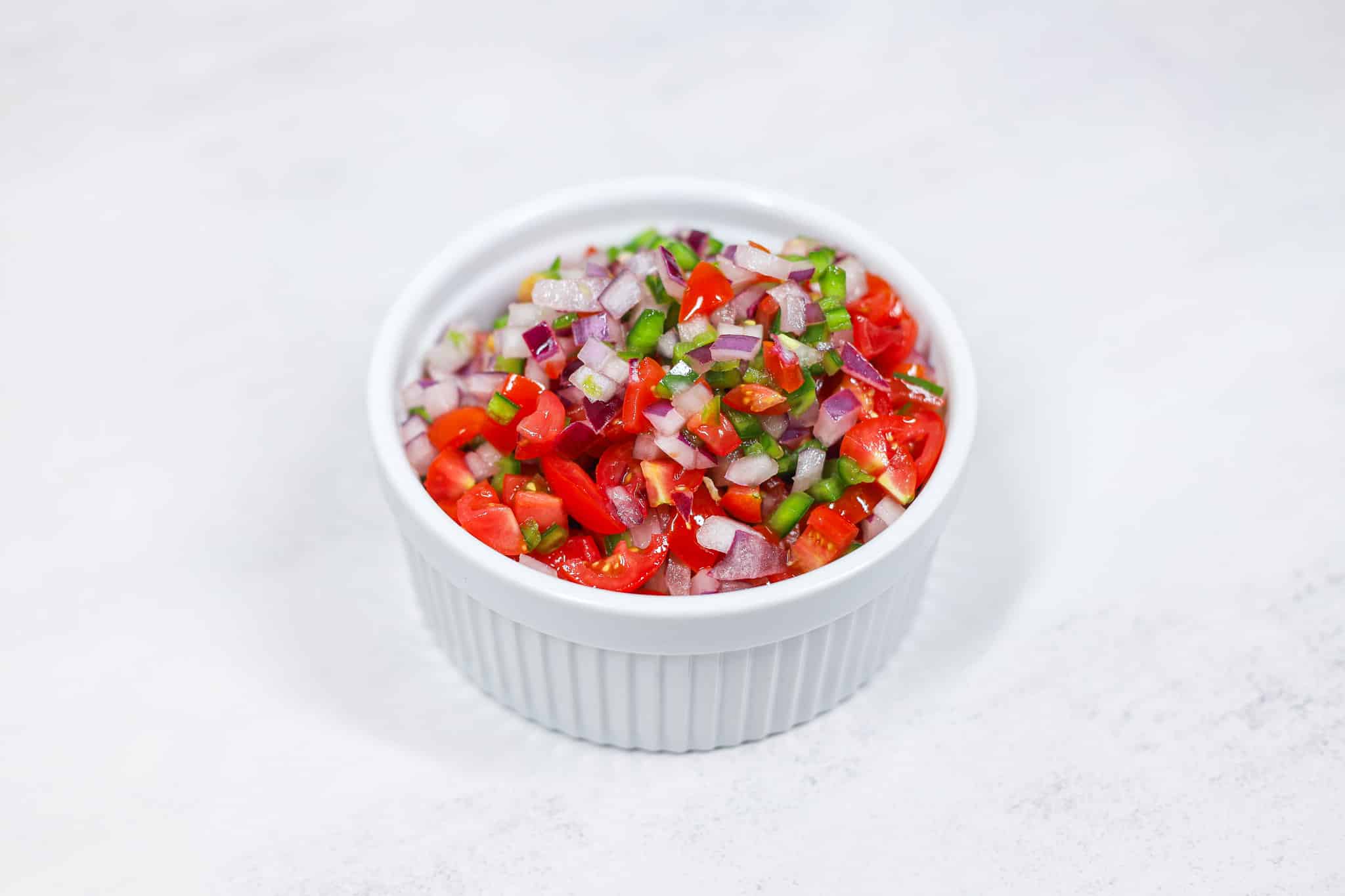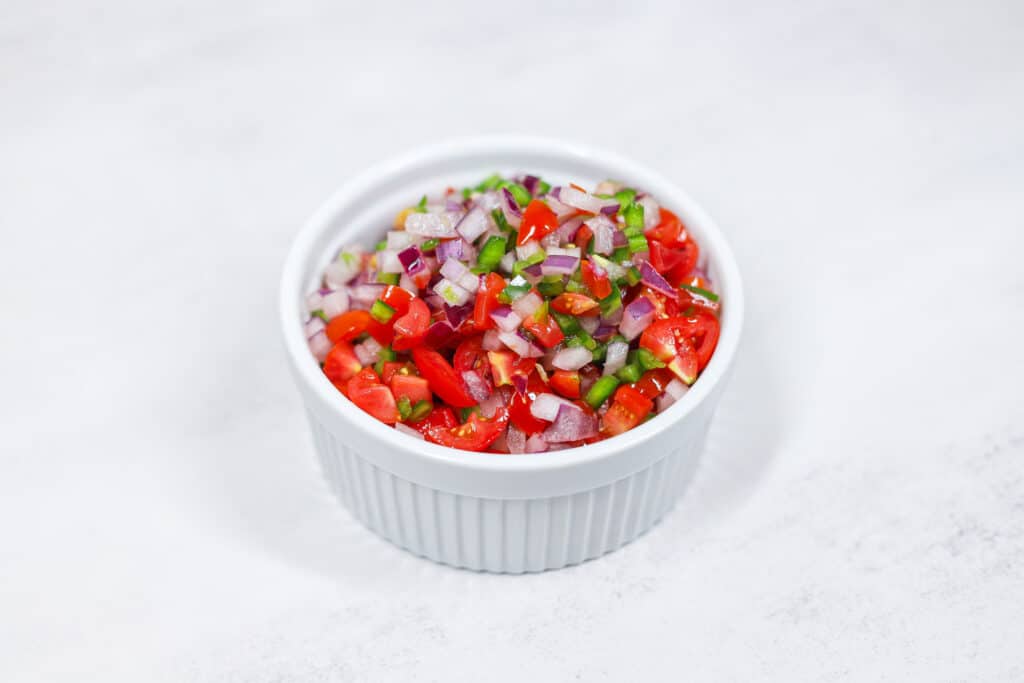 Frequently Asked Questions
Can I use a different meat?
Absolutely, experiment with ground turkey, chicken, or plant-based alternatives.
How can I make it spicier?
Increase cayenne or add more jalapeños.
Is homemade seasoning better?
this is a matter of preference , but crafting your own taco blend lets you tailor flavors to your liking.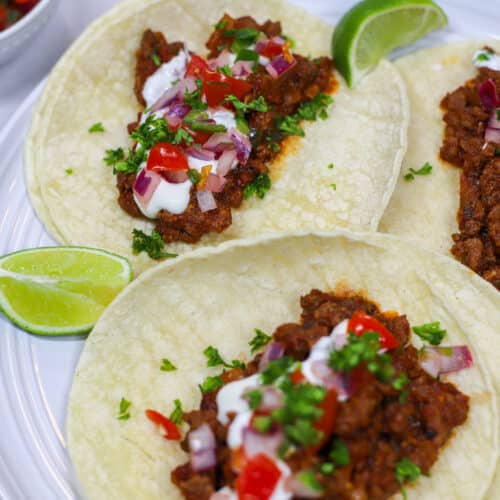 Tasty Homemade Taco Meat Recipe
The best taco meat recipe with savory ground beef seasoned to perfection with a blend of spices, ready in just 30 minutes.
Ingredients
1

lb

ground beef

(or ground turkey, chicken, or plant-based meat substitute)

1

small onion, finely chopped

finely chopped

2

garlic cloves

minced

2-3

chipotle peppers in adobo

minced into a paste

2-3

jalapeños

optional

1

packet

taco seasoning mix (1.25 oz)

or use homemade seasoning (recipe below)

1/2

cup

tomato sauce

Bayou City Seasonings

to taste

1

tbs

oil (if using lean meat)

optional
Taco seasoning
1

tbs

chili powder

1/4

tsp

garlic powder

1/4

tsp

onion powder

1/4

tsp

cayenne

1/4

tsp

dried oregano

1/2

tsp

paprika

1 1/2

tsp

ground cumin

1

tsp

course salt

1

tsp

black pepper
Instructions
In a large skillet or pan, heat oil over medium-high heat (if using lean meat). Add chopped onions and jalapeños (optional) and sauté until translucent, about 2-3 minutes.

Add the ground meat to the skillet. Break the meat apart with a spatula and cook until browned and cooked through, about 5-7 minutes. Drain meat if necessary.

add mince garlic and chipotle and cook for another 5 minutes

If using pre-packaged taco seasoning, sprinkle it over the cooked meat. If making homemade seasoning, mix all the seasoning ingredients in a bowl and add to the meat. Stir well to evenly coat the meat with the seasoning.

Pour in the tomato sauce and stir to combine. Allow the mixture to simmer for another 3-4 minutes, allowing the flavors to meld and the liquid to reduce. If the mixture becomes too dry, you can add a little more tomato sauce.

Taste and adjust the seasoning with Bayou City Seasonings, salt, and pepper if needed

Once the taco meat is cooked and seasoned to your liking, remove the skillet from heat.

Serve the taco meat in taco shells, tortillas of your choice, or nachos. Top with your favorite toppings such as shredded lettuce, diced tomatoes, shredded cheese, sour cream, salsa, jalapenos, cilantro, and avocado slices.

Enjoy your homemade tacos HOT!