Franks Buffalo Chicken Dip Recipe
I am about to elevate your game day and party spread with the irresistible and bold flavors of my Franks Buffalo Chicken Dip recipe! This recipe will for sure get the party jumping.
Try these other appetizers at your next party : Creole Crawfish Boudin Balls & Fried Lobster Tail Corn Dog
This dip is a mouthwatering masterpiece that brings together the creamy richness of cheese, the zesty kick of Frank's RedHot Sauce, and the savory goodness of shredded chicken. Whether you're a die-hard sports fan or just looking to impress your guests, this dip is the ultimate crowd-pleaser that's sure to become a staple at your gatherings.
Why this is the Buffalo chicken dip recipe:
First, Flavorful Harmony: This Frank's Buffalo Chicken Dip has the perfect balance between creamy and zesty, with the tangy punch of Frank's RedHot Sauce beautifully complementing the richness of cream cheese and shredded cheddar.
Creamy Dreaminess: The combination of cream cheese and sour cream creates a lusciously smooth texture that envelops your taste buds with every mouthful, making it a true comfort food delight.
Dip Versatility: Whether you're scooping it up with crispy tortilla chips, dunking celery and carrot sticks, or spreading it on toasted baguette slices, this dip is the ultimate dipper's dream, offering a canvas for an array of flavor combinations.
Most important, Party Prep Convenience: Quick and simple to prepare, our recipe lets you spend more time enjoying the festivities and less time in the kitchen, especially with its make-ahead potential.
Customizable Heat: You're in control of the spice level! Adjust the amount of Frank's RedHot Sauce to suit your taste preferences, ensuring everyone can enjoy the perfect level of kick.
Impressive Toppings: Elevate your dip game with toppings like freshly chopped cilantro, diced tomatoes, sliced jalapeños, or crumbled blue cheese, adding extra layers of taste and texture.
Guaranteed Crowd Pleaser: this recipe is an old faithful that has earned its spot as a fan-favorite at parties, gatherings, and game day celebrations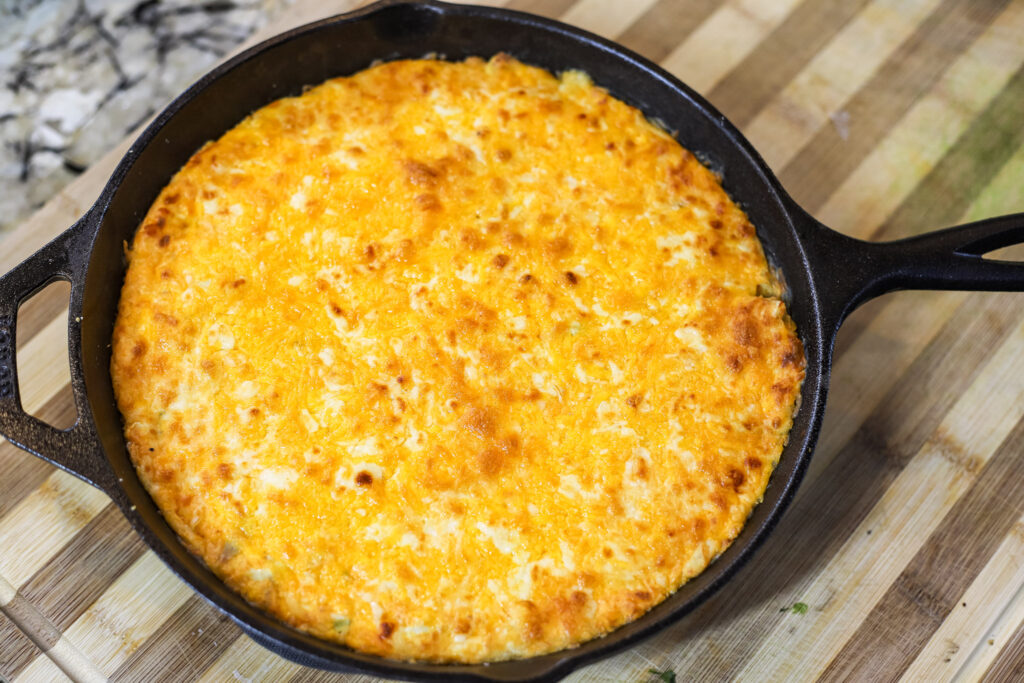 What you need for this dip recipe
Shredded Cooked Chicken: This protein-packed ingredient forms the base of our dip, adding a hearty and satisfying element.
Cream Cheese: Creamy and smooth, cream cheese balances out the spice while enhancing the overall richness of the dip.
Frank's RedHot Sauce: The star of the show, this iconic hot sauce infuses the dip with its signature tangy heat.
Sour Cream: Adding a cooling contrast, sour cream melds flavors and contributes to the dip's irresistible creaminess.
Shredded Cheese: The ooey-gooey cheese not only binds everything together but also delivers that classic cheesy goodness.
Green Onions: These fresh and vibrant onions provide a delightful crunch and a hint of mild onion flavor.
Bayou City Seasoning: Bayou City Garlic pepper add the perfect flavor that turns this recipe up another notch
Making the buffalo chicken dip
Preheat your oven to 350°F (175°C).
In a mixing bowl, combine shredded cooked chicken, cream cheese, Frank's RedHot Sauce, ranch dressing, half of the shredded cheddar cheese, and chopped green onions.
Mix thoroughly until all ingredients are well incorporated.
Transfer the mixture into a baking dish and spread it evenly.
Sprinkle the remaining shredded cheddar cheese on top.
Bake for about 20-25 minutes, or until the dip is bubbly and the cheese is melted and golden brown.
(optional) broil on high for the last 3 minutes to get a nice brown color on top.
Once out of the oven, let the dip cool slightly before serving.
Tips for success making this Franks buffalo chicken dip recipe
Use rotisserie or leftover cooked chicken to save time.
Adjust the amount of Frank's RedHot Sauce based on your spice preference.
For an extra layer of flavor, sprinkle a dash of crumbled blue cheese on top before baking.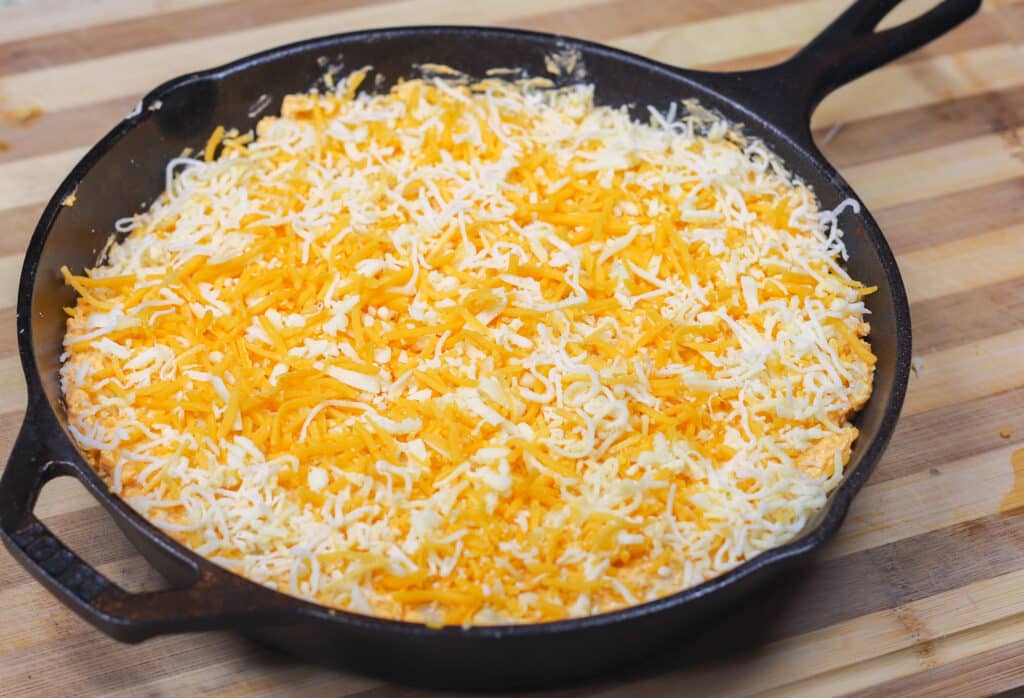 What to dip?
Tortilla chips
Celery sticks
Carrot sticks
Toasted baguette slices
Pita chips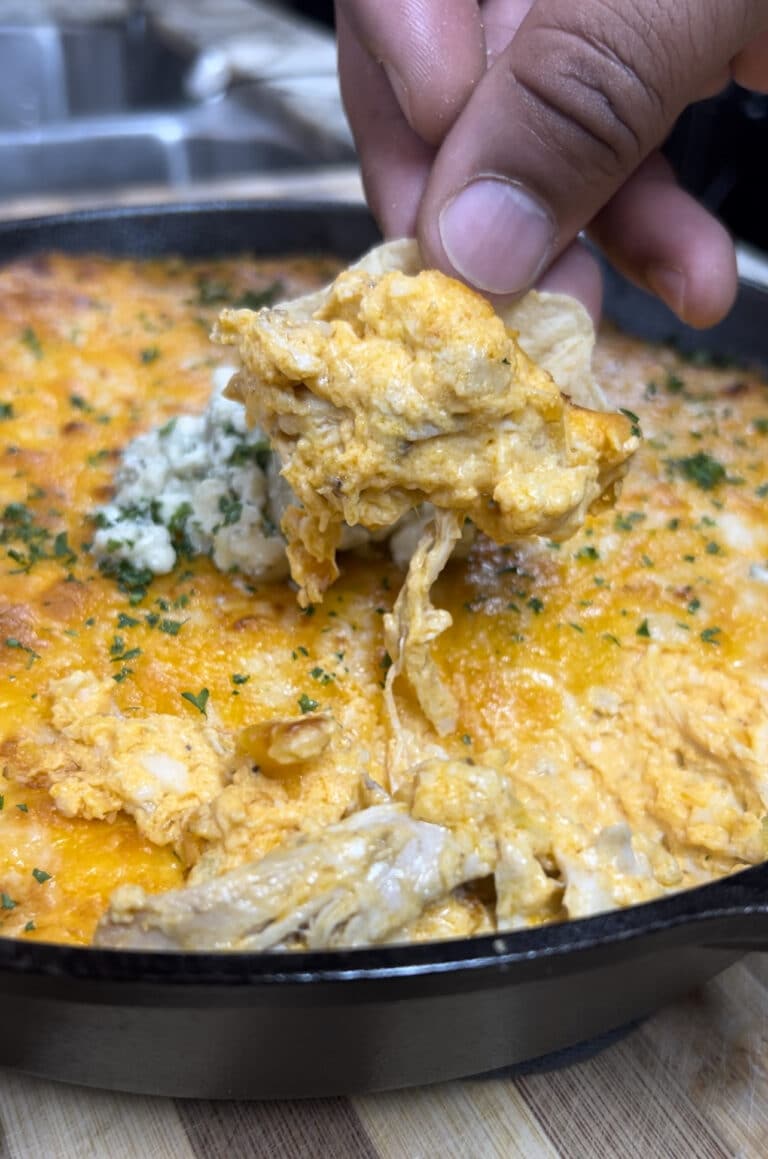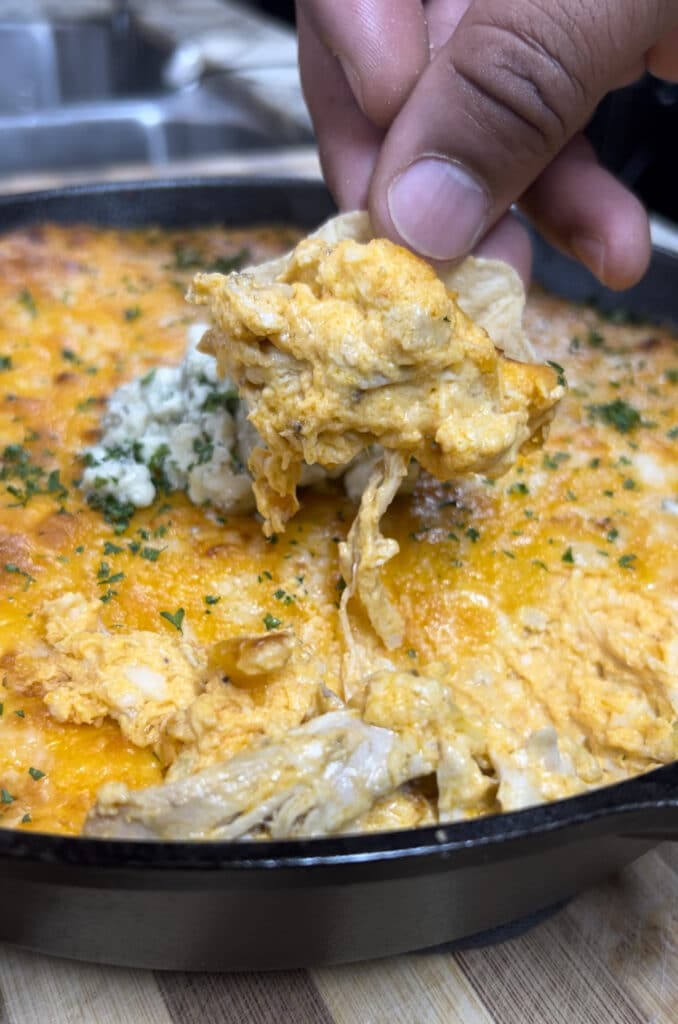 Four Toppings for This Dip:
Freshly chopped cilantro: Adds a burst of freshness and color.
Diced tomatoes: Offers a juicy and tangy contrast to the creamy dip.
Sliced jalapeños: For those who crave an extra kick of heat.
Crumbled blue cheese: Elevates the dip's richness with its distinct tanginess.
Frequently Asked Questions about this dip Recipe
Q: Can I make this dip ahead of time?
A: Absolutely! Prepare the dip up to the baking step, cover with plastic wrap or foil, and refrigerate. When ready to serve, bake as directed.
Q: Can I make a vegetarian version?
A: Yes, simply omit the shredded chicken and replace it with diced vegetables like bell peppers, corn, or black beans.
If you loved this Buffalo chicken dip recipe, let me know in the comments. Follow me on TikTok and Instagram for more delicious recipes!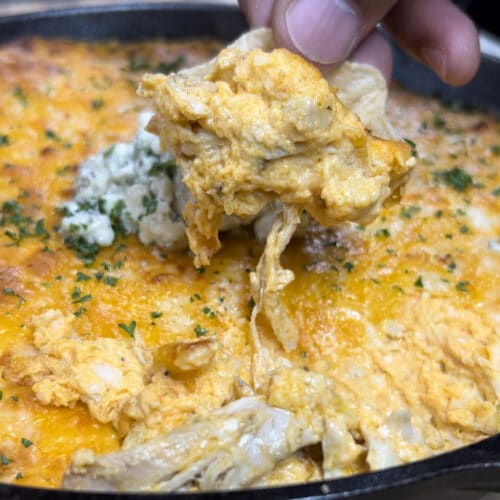 Frank's Buffalo Chicken Dip Recipe
Franks buffalo chicken dip is creamy, zesty, and delicious combination of shredded chicken, Frank's RedHot Sauce, and cheesy goodness.
Ingredients
8

oz

cream cheese

softened

2/3

cup

sour cream

2/3

cup

franks redhot wing sauce

1

tsp

bayou city garlic pepper

2

cups

shredded chicken

1

cup

cheddar cheese

shredded

1

cup

mozarella cheese

shredded

2

green onions

chopped
Instructions
Preheat the oven to 350°F.

In a medium mixing bowl, blend the cream cheese, sour cream, buffalo sauce, and garlic pepper together using a whisk or hand mixer until the mixture becomes fluffy.

Stir in the shredded chicken, half of the cheddar cheese, half of the mozzarella cheese, and sliced green onions.

Transfer the mixture to a small baking dish or cast iron.

Sprinkle the remaining cheddar cheese and mozzarella cheese on top. Bake for 20 minutes or until the cheese is melted and bubbly.

Top with blue cheese crumbles, parsley, and more green onion.

Cool for at least 5 minutes before serving.
Notes
Quickly soften cream cheese by microwaving it for 15 seconds on high.
Prepare the dip ahead of time and bake when your guests arrive. 
Crockpot style: Add all ingredients to a 2qt slow cooker. Cook on low for 3 hours, stirring occasionally, and turn to warm once melted.