Classic Chicken Alfredo- 30 minute recipe!
When it comes to satisfying your cravings for rich and comforting dishes, few recipes can rival this classic Chicken Alfredo Recipe! This mouthwatering combination of tender chicken, velvety Alfredo sauce, and perfectly cooked pasta is a staple in Italian-American cuisine. Whether you're planning a cozy dinner for two or a quick family meal, this timeless dish is sure to impress.
Since you love pasta, you will truly enjoy this Cajun Shrimp Pasta and this Roasted Garlic that is PERFECT for this chicken alfredo!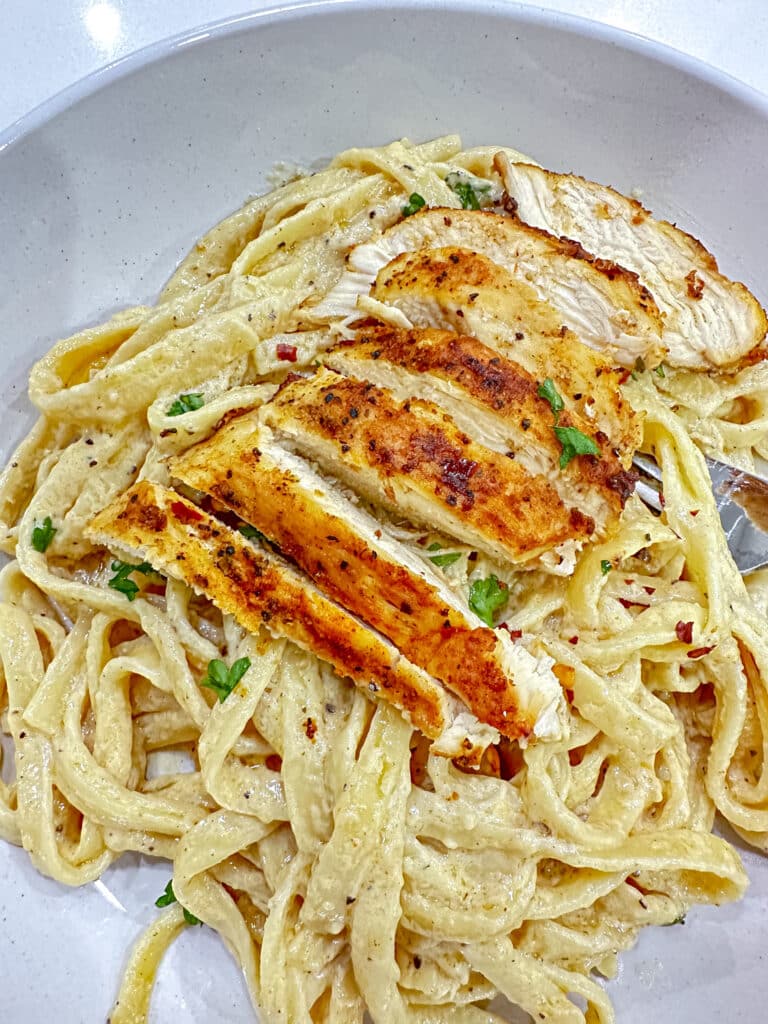 You will LOVE this chicken alfredo
Chicken alfredo is already a classic dish. This one is even better because it is made with ingredients you already have in your pantry!
Even more, you can have this entire meal on the table in 30 minutes or less. Another great thing about this alfredo recipe is that you can change the chicken out for any of your favorite proteins.
Ingredients
Chicken Breasts: Boneless, skinless chicken breasts are commonly used in Chicken Alfredo. They provide the protein element and add substance to the dish.
Fettuccine Pasta: Fettuccine is a flat, ribbon-like pasta that pairs wonderfully with the creamy alfredo sauce. Its broad shape allows it to hold the sauce well.
Butter: Unsalted butter is used to create the base of the alfredo sauce. It adds richness and a velvety texture to the dish.
Garlic: Fresh garlic cloves are minced and sautéed in butter to infuse the sauce with aromatic flavor.
Heavy Cream: Heavy cream is the main component of the creamy alfredo sauce. It provides a luscious texture and enhances the overall richness of the dish.
Parmesan Cheese: Grated Parmesan cheese is a crucial ingredient in Chicken Alfredo. It adds a distinct nutty flavor and helps thicken the sauce. Using high-quality Parmesan cheese is recommended for the best results.
Seasoning: Bayou City All Purpose, Bayou City Garlic pepper, Salt & Pepper are used to enhance the flavors of the dish. They are added to taste, allowing you to adjust the saltiness and spiciness according to your preference.
Fresh Parsley: Fresh parsley is used as a garnish to add a touch of freshness and color to the final presentation.
Prepare the chicken
Begin by pounding the chicken breasts to make them thinner. This helps seasonings penetrate the meat, helps the meat cook more evenly, and lowers the risk of the meat drying out before it cooks all the way through.
Oil & season both sides of the chicken breasts with Bayou City All Purpose, Bayou City Garlic Pepper, salt & pepper, and paprika.
Cook the chicken
Heat a large skillet over medium-high heat and add oil.
Cook the chicken for about 6-8 minutes per side, or until the internal temperature reaches 165°F (74°C) and the chicken is golden brown on the outside.
Remove the chicken from the skillet and allow it to rest for a few minutes before slicing it into thin strips.
Cook the pasta
In a large pot, bring water to a boil and season generously with salt.
Add the fettuccine pasta to the boiling water and cook according to the package instructions until al dente.
Pro Tip: Once cooked, drain the pasta, reserving a small amount of the pasta water for later use. Set the pasta aside.
How to create the perfect Alfredo sauce:
Proper Cheese Selection: Use freshly grated Parmesan cheese for your Alfredo sauce. Avoid pre-packaged grated cheese as it may contain additives that affect the texture and flavor. Freshly grated Parmesan will melt smoothly into the sauce, providing a rich and nutty flavor.
Melt the Cheese Gradually: Add the grated Parmesan cheese to the hot cream mixture gradually, stirring continuously. This slow and steady process allows the cheese to melt evenly, resulting in a smooth and creamy sauce. Avoid adding all the cheese at once, as it can clump and create a lumpy sauce.
Low Heat and Patience: When making Alfredo sauce, use low heat throughout the process. This gentle heat prevents the sauce from curdling or separating. Patience is key, as rushing the process on high heat can lead to a grainy or broken sauce.
Constant Stirring: Stir the sauce continuously while adding the cheese and as it thickens. This helps distribute the heat evenly and prevents the sauce from sticking to the pan or developing lumps. A whisk or wooden spoon works well for stirring.
Consistency Adjustment: The consistency of the Alfredo sauce is a matter of personal preference. If the sauce is too thick, add a small amount of pasta water or warmed cream to thin it out. If it's too thin, simmer it gently until it reduces to the desired thickness.
Serve Immediately: Alfredo sauce is at its best when served fresh and hot. Once the sauce is ready, combine it with cooked pasta or use it as a topping for chicken or vegetables. Delayed serving can cause the sauce to thicken further and lose its creamy texture.
Combining the ingredients
Add the cooked fettuccine pasta to the skillet with the alfredo sauce.
Gently toss the pasta in the sauce until it is well-coated. If the sauce seems too thick, you can add a small amount of the reserved pasta water to achieve your desired consistency.
Add the sliced chicken to the skillet and carefully toss it with the pasta and sauce, ensuring an even distribution.
Allow the pasta, sauce, and chicken to cook together for a few minutes over low heat, allowing the flavors to meld. Add seasoning to taste and garnish with fresh parsley.
What to use instead of chicken in alfredo
If you do not want to use chicken with your alfredo, you can eat it all by itself with your fettuccine noodles, or you can interchange the chicken with these proteins instead: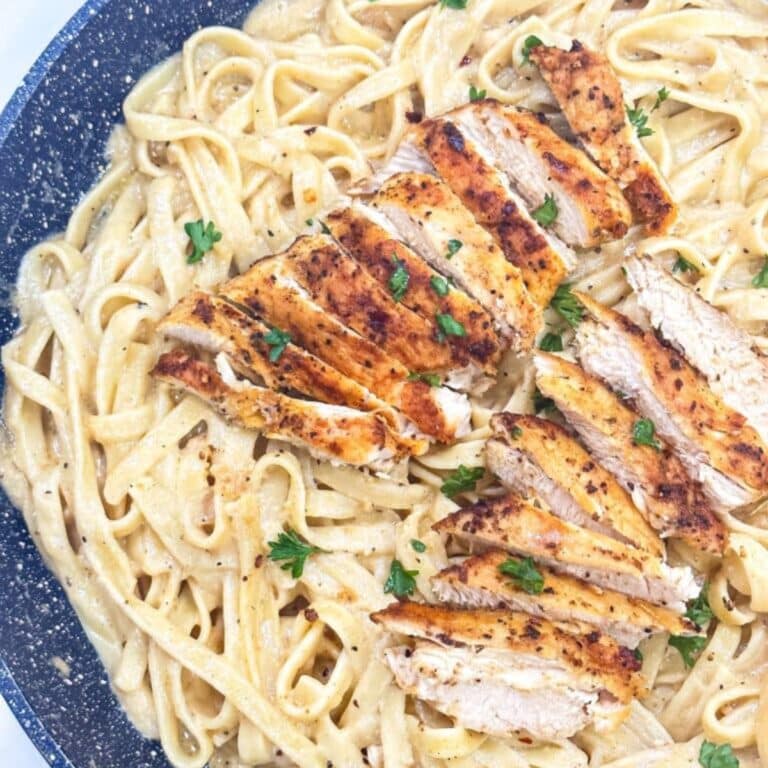 Chicken Alfredo Recipe
When it comes to satisfying your cravings for rich and comforting dishes, few recipes can rival this classic Chicken Alfredo Recipe! This mouthwatering combination of tender chicken, velvety Alfredo sauce, and perfectly cooked pasta is a staple in Italian-American cuisine.
Ingredients
2

tbsp

extra-virgin olive oil

2

boneless skinless chicken breasts

2

tsp

Bayou City All Purpose Seasoning

to taste

2

tsp

Bayou City Garlic Pepper Seasoning

to taste

2

garlic cloves-minced

2

tbsp

butter

1/3

cup

white wine

2

cup

heavy cream

8

oz

fettuccini

or your favorite pasta

1

cup

freshly grated parmesan

freshly chopped parsley

for garnish
Instructions
Bring some water to a boil for pasta and add salt

Add chicken to a bowl or shallow dish and season with Bayou City Seasonings to taste

In a large skillet over medium-high heat, heat oil

Add seasoned chicken and cook until golden and cooked through, about 8 minutes per side

Let rest for 10 minutes, then slice

Add butter and minced garlic to skillet and cook until fragrant, about 30 seconds. Deglaze with white wine and reduced for about 2 minutes

Pour in heavy cream. Season again and bring to a simmer

Add in freshly grated parmesan and mix until combined. Simmer until sauce thickens

Cook pasta according to package instructions. Make sure to reserve some pasta water.

Add cooked pasta to the sauce and toss to coat pasta evenly. Add a couple splashes of pasta water

Remove from heat and stir in sliced chicken. Garnish with fresh parsley and enjoy
Notes
Tips:
-Add more cream for a thinner sauce and more parmesan for a thicker sauce. 
-Add pasta water to your sauce to help the sauce bind to the pasta.
Make sure to tag me on Instagram, TikTok, or Facebook when you make this recipe! I want to see your creation and give you a shoutout!