The ULTIMATE Carne Asada recipe
This is the best carne asada recipe out. So good that I made this dish for Gordon Ramsay! The Challenge, elevate state fair food! Imagine walking in to Masterchef kitchen, the magic doors open, and BOOM Gordon Ramsay, Aaron Sanchez, and Joe Bastianich are standing there. "We want you to elevate state fair food", are the last words I hear before I start putting together my dish in my head. I immediately think Houston Rodeo, Tex-Mex, deep fried.. something along those lines, but I keep hearing "Elevate".
Being from Houston, Tex Mex is a staple, so naturally I went this route making an elevated version of Carne Asada "Fries". The star of this recipe is the carne asada. Succulent marinated NY strip steak, perfectly charred and bursting with flavor. Combined with vibrant pico de gallo, creamy avocado crema, and fresh cilantro micro greens this Carne Asada is absolutley Masterchef worthy. Now I know what you're thinking, elevated carne asada fries with no fries? Well in an effort to elevate I made a potato puree to replace the fry component. Get ready to savor the bold, smoky, and tangy flavors that make Carne Asada an absolute crowd-pleaser.
Since you love Tex Mex, you will truly enjoy this The Best Carnitas Tacos Around and this Creamy Mashed Potato Recipe that is PERFECT to make elevated carne asada "Fries"!
You will LOVE this elevated Carne Asada
Carne Asada is a traditional Mexican dish that typically consists of grilled or pan-seared marinated beef. Most commonly used are cuts like skirt steak, flank steak, or thinly sliced beef. The term "carne asada" translates to "grilled meat" in Spanish, highlighting the cooking method that gives this dish its distinctive flavor.
The key characteristic of Carne Asada lies in the marinade, which infuses the beef with a delicious blend of citrus flavors and warm spices.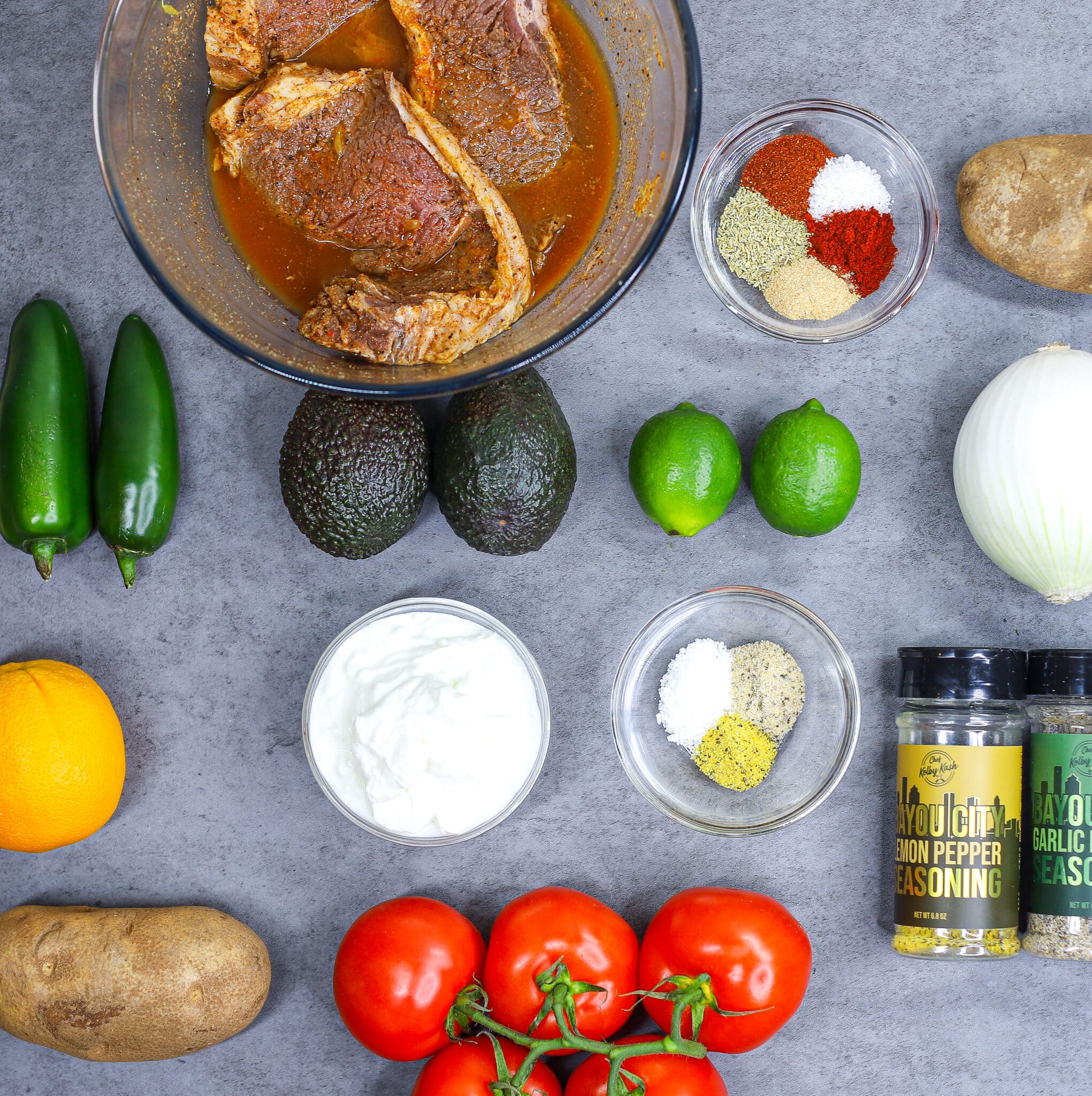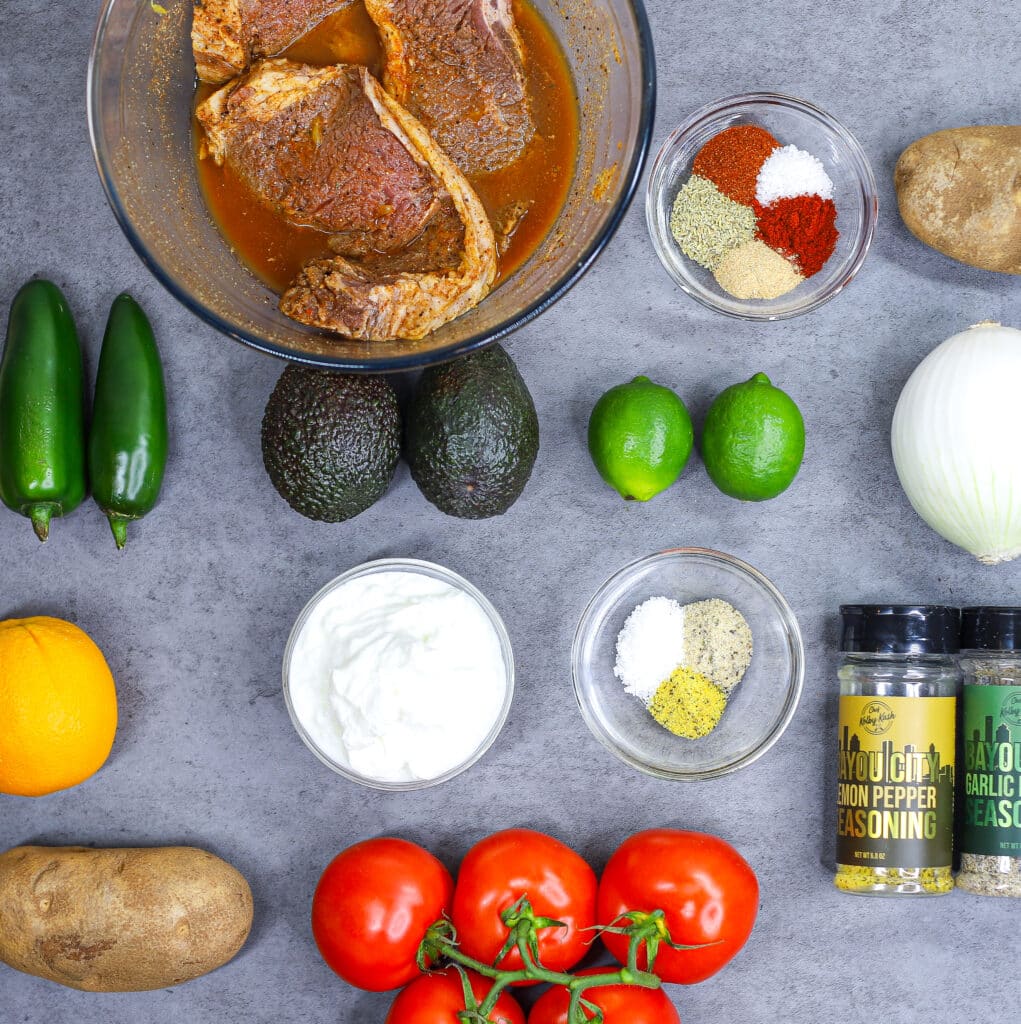 Ingredients
Beef Steaks (skirt or flank): These cuts are ideal for Carne Asada as they are tender and absorb marinades well. However, in this recipe we will be using NY strip steak. Ny strip is the cut of beef we are using for the carne asada recipe, but skirt or flank are the traditional cuts.
Lime Juice: Adds a tangy, citrusy kick that enhances the marinade and tenderizes the meat.
Orange Juice: Balances the acidity of lime juice and lends a hint of natural sweetness
Garlic: infuses the meat with aromatic flavors
Cumin: provides earthy and warm notes, complimenting the grilled steak
Chili Powder: Adds a touch of smoky heat that characterizes carne Asada
Seasoning: Bayou City Lemon Pepper, Bayou City Garlic pepper, Salt & Pepper are used to enhance the flavors of the dish.
Fresh Cilantro: used as a garnish to add a touch of freshness and color to the final presentation.
Prepare the steak
High-quality beef cuts: Look for fresh, well-marbled skirt or flank steaks. Tthey offer excellent texture and flavor for Carne Asada.
Score the steaks: Allows the marinade to penetrate the meat more effectively.
Be patient: Aim to marinate the steaks for at least 4 hours, or overnight if possible, to ensure maximum flavor infusion.
Lastly, reserve marinade for basting: this can be used later for basting during grilling.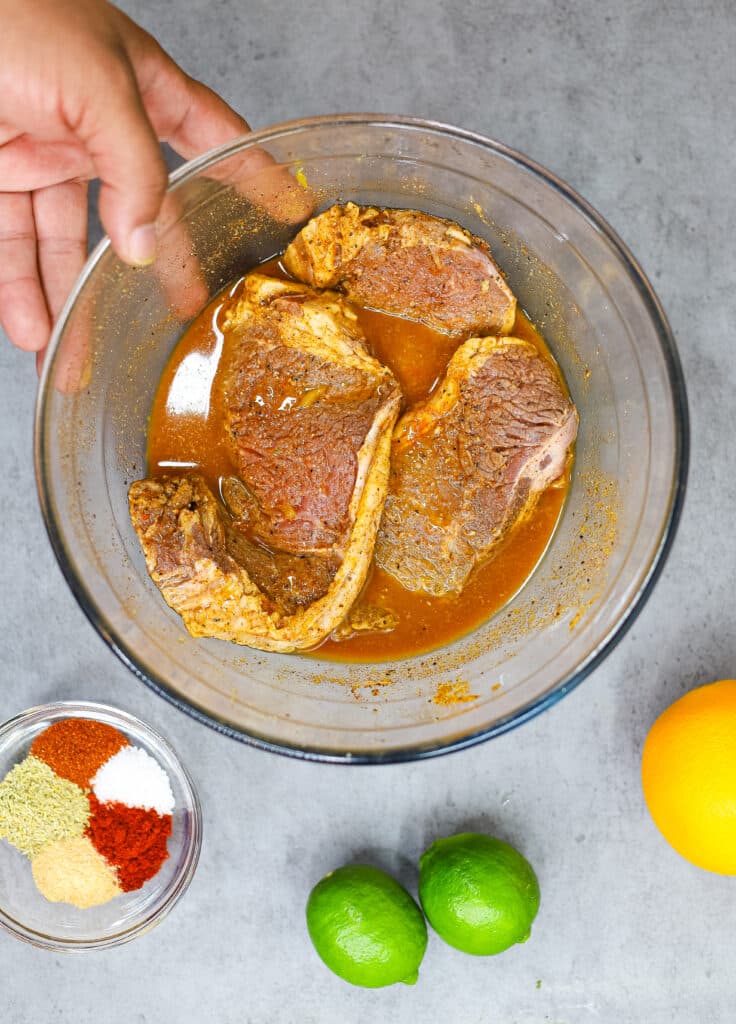 Cook the carne asada
First, preheat the grill: Ensure the grill is preheated to medium-high heat before adding the beef.
Oil the grates: Prevent sticking by oiling the grill grates or brushing the steaks with oil.
Don't overcook: Cook the steaks for approximately 4-6 minutes per side for medium-rare. Avoid overcooking to maintain the tenderness and juiciness of the meat
Lastly, rest before slicing: Allow the juices to redistribute throughout the meat. This step ensures maximum flavor and tenderness.
prepare the perfect pico de gallo
Prepare the ingredients: dice the tomatoes, onion, and jalapeño into small, uniform pieces. Chop the fresh cilantro.
Combine the ingredients: In a bowl, add the diced tomatoes, chopped onion, jalapeño pepper, and fresh cilantro.
Add lime juice: Squeeze the juice of one lime over the mixture. Lime juice adds a refreshing tang to the Pico de Gallo.
Season: Sprinkle with salt, starting with a pinch and adding more to taste. The salt helps bring out the flavors of the ingredients.
Pro Tip: Allow the seasoned Pico de Gallo to sit at room temperature for about 15-20 minutes. This resting time allows the flavors to meld together, resulting in a more vibrant and well-balanced salsa.
Note: For added variation, you can customize your Pico de Gallo by adding diced avocado, minced garlic, or a splash of hot sauce.
Avocado Crema
Blend ripe avocados with sour cream, lime juice, garlic, and salt to create a creamy, tangy sauce that adds a cool contrast to the Carne asada. Recipe below
What to use instead of NY Strip
If you do not want to use Ny Strip for your carne asada, you can use the traditional skirt steak! Finally, any cut of beef will work. Below are a few good options to take your carne asada to the next level.
Flank steak
Skirt Steak
Ribeye
Also, Make sure to tag me on Instagram, TikTok, or Facebook when you make this recipe! I want to see your creation and give you a shoutout!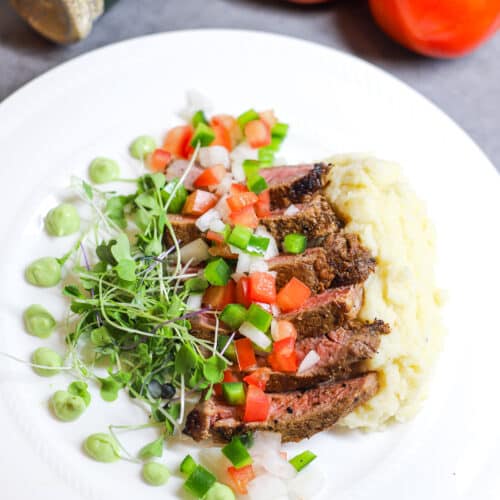 Carne Asada
This Carne Asada recipe features succulent New York Strip steak marinated in a flavorful blend of citrus juices, soy sauce, garlic, and spices.
Ingredients
2

lbs

New York strip steak

about 4 strips

2

limes

juice

1

orange

juice

4

cloves

garlic

crushed

1/4

cup

soy sauce

1

tsp

Bayou City Garlic Pepper

1

tsp

Bayou City Lemon Pepper

1

tsp

cumin

1

tsp

chili powder

salt and pepper

to paste

pico de gallo

recipe above

avocado crema

recipe provided below (optional)

Cilantro

optional garnish
Avocado Crema
1

ripe avocado

1/4

cup

sour cream

1

lime

juice

1

garlic

minced

salt

to taste
Instructions
In a bowl, combine the lime juice, orange juice, minced garlic, soy sauce, cumin, chili powder, salt, and pepper. Stir well to create the marinade.

Place the New York Strip steaks in a shallow dish or a resealable plastic bag. Pour the marinade over the steaks, making sure they are evenly coated. If using a plastic bag, seal it tightly, removing as much air as possible. Marinate in the refrigerator for at least 4 hours, or overnight for maximum flavor.

Preheat your grill to medium-high heat. Remove the steaks from the marinade, allowing any excess marinade to drip off (Set aside the remaining marinade for basting.). Pat steaks dry and season with salt and pepper.

Grill the steaks for approximately 4-6 minutes per side for medium-rare, or adjust the cooking time based on your preferred level of doneness. Baste the steaks with the reserved marinade during the last few minutes of grilling.

Once cooked to your liking, remove the steaks from the grill and let them rest for a few minutes. This allows the juices to redistribute throughout the meat and ensures optimal tenderness.

Slice the New York Strip steak against the grain into thin strips. Arrange the slices on a serving platter.

Serve the Carne Asada with Pico de Gallo, a dollop of avocado crema (if desired), and a sprinkle of fresh cilantro. The vibrant Pico de Gallo and creamy avocado crema perfectly complement the smoky flavors of the grilled steak.
Avocado Crema
In a blender or food processor, combine the ripe avocado, sour cream, lime juice, minced garlic, and salt.

Blend until smooth and creamy, adjusting the consistency by adding more lime juice or sour cream if needed.

Taste and season with additional salt if desired.

Use immediately or refrigerate until ready to serve.
Notes
Enjoy the delicious and flavorful Carne Asada alongside your favorite side dishes or wrapped in warm tortillas for a fantastic meal that captures the essence of Mexican cuisine!