Honey Garlic Pork Chops- The best Recipe
First things first, swine is fine over here, especially when there is a delicious honey garlic glaze involved! If you're looking for a dish that is as easy to make as it is tasty , these Honey Garlic Pork Chops are for you. This recipe will for sure get you some cool points and take your cooking game to a professional level.
If you like quick and easy recipes, try these 30 minute meals : Southern Smothered Pork Chops & Classic Chicken Alfredo
Bursting with a perfect balance of sweet and savory flavors, these pork chops are a perfect for a quick weeknight meal that will elevate your culinary game to a whole new level.
Why this is the best pork chop recipe:
First, Unparalleled Flavor Balance: Our honey garlic glaze is a fusion of natural sweetness from honey and the savory depth of soy sauce. This symphony of flavors is further elevated by the aromatic notes of fresh garlic and ginger, creating a profile that's both harmonious and irresistible.
Simplicity Meets Elegance: While some recipes may require an army of utensils and pots, our Honey Garlic Pork Chops achieve culinary excellence with a single pan. This not only simplifies the cooking process but also allows the pork chops to fully absorb the glaze's delectable flavors.
Optimal Searing Technique: The art of achieving the perfect sear is a science in itself. Our recipe meticulously guides you through the searing process, ensuring that your pork chops develop a tantalizing crust while retaining their juiciness and tenderness.
Customizable Sweetness: We understand that personal preferences vary. Our recipe empowers you to tailor the honey-to-soy sauce ratio, granting you the liberty to strike the ideal balance between sweetness and saltiness, making it truly your own.
Lastly, Efficiency and Time-Saving: In a world where time is of the essence, our one-pan approach champions efficiency without compromising on taste. By utilizing a single skillet, you'll create an elevated dish without the burden of excessive cleanup.
What you need for this Honey Garlic Pork Chop recipe
Here's what you'll need for this exquisite Honey Garlic Pork Chop recipe:
Thick-Cut Pork Chops: The star of the show, these juicy chops provide a hearty base for our dish.
Honey: Adds natural sweetness and helps create a beautiful glaze when cooked.
Chicken Stock: Provides a rich umami flavor that complements the sweetness of honey.
Garlic: Infuses the dish with a wonderful aromatic depth and savory undertones.
Ginger: Adds a subtle warmth and complexity to the marinade.
Vinegar: Elevates the overall flavor profile with a pop of flavor I like to use rice wine or apple cider.
Black Pepper: Provides a hint of spice that balances the sweetness.
Bayou City Seasoning: Bayou City Garlic pepper add the perfect flavor that turns this recipe up another notch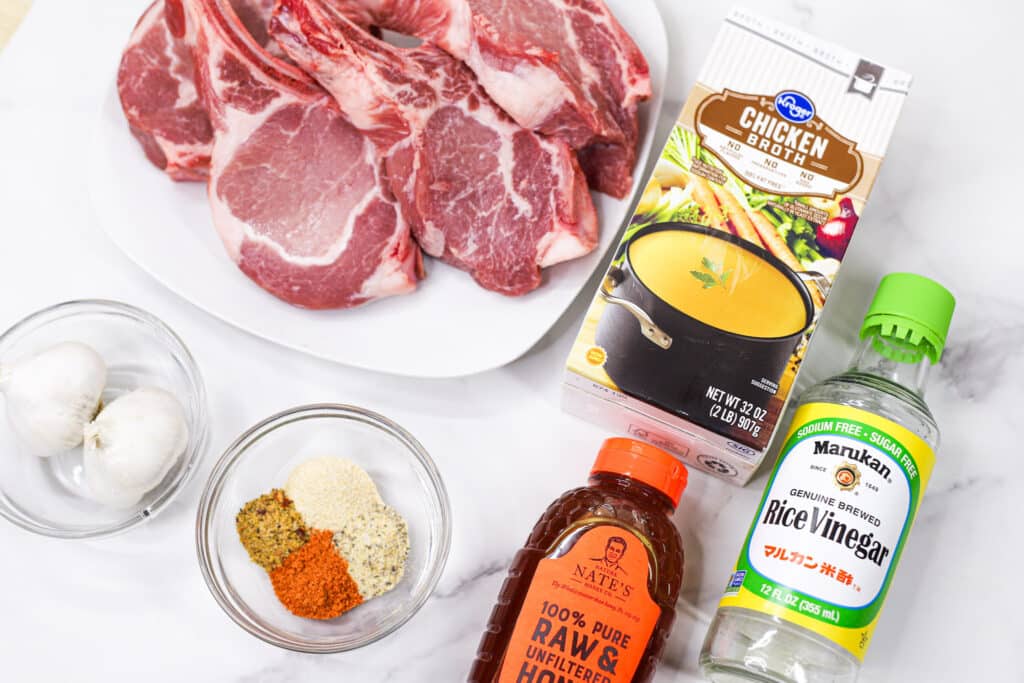 Making the perfect pork chop
To start, Seasoning: Pat the pork chops dry and generously season both sides with salt and black pepper. Add optional herbs or spices if desired.
Preheat: Heat a skillet over medium-high heat. Add a drizzle of olive oil or a knob of butter, swirling to coat the pan.
Searing: Once the pan is hot, place the pork chops in the skillet. Sear for 3-4 minutes on each side, or until a golden-brown crust forms.
Check Doneness: Use an instant-read thermometer to ensure the internal temperature reaches 145°F (63°C). Juices should run clear when pierced.
Resting: Remove the pork chops from the skillet and let them rest for a few minutes. This helps retain juices and ensures optimal tenderness.
Serve: finally, plate your perfectly cooked pork chop and enjoy a mouthwatering masterpiece
Tips for success: Making Honey Garlic Pork Chops
Use bone-in pork chops for maximum flavor and juiciness.
Adjust the grilling time based on the thickness of the pork chops to ensure they're cooked perfectly.
Let the pork chops rest after grilling to allow the juices to redistribute and keep them tender.
Feel free to customize the glaze by adjusting the honey ratio to your desired sweetness level.
Perfect Pairings:
Serve these Honey Garlic Pork Chops with steamed jasmine rice and a vibrant stir-fried vegetable medley. The mild flavors of the rice and vegetables beautifully complement the robust taste of the pork chops, creating a harmonious and satisfying meal.
Frequently Asked Questions about this pork chop recipe
Q: Can I use a different type of honey?
A: Absolutely! Experiment with different honey varieties to discover unique flavor nuances.
Q: Can I grill the pork chops instead?
A: Of course! Grilling adds a delightful smokiness to the dish. Cook the marinated chops over medium-high heat for approximately 4-5 minutes per side.
So Boom…a conclusion
The Ultimate Honey Garlic Pork Chop recipe! With its enticing blend of sweet and savory, this dish is a testament to the magic that happens in the kitchen. In Conclusion, whether it's a cozy family dinner or a gathering of friends, these pork chops are guaranteed to impress and delight. So, gather your ingredients, unleash your inner chef, and let the aroma of honey and garlic infuse your kitchen with pure delight.
If you loved this Honey Garlic Pork Chop recipe, let me know in the comments. Follow me on TikTok and Instagram for more delicious recipes!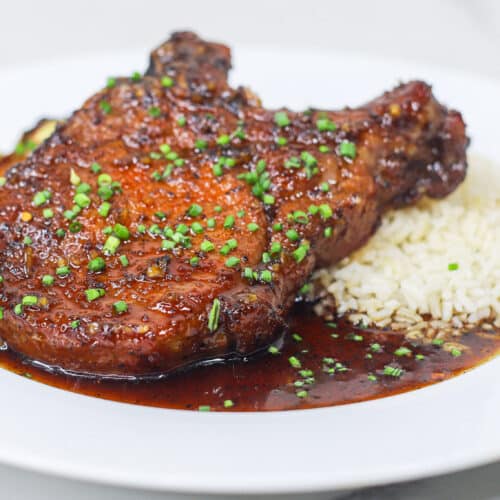 Honey Garlic Pork Chops
The ultimate Honey Garlic Pork Chops recipe – succulent, flavorful, and made in just one pan. The best of sweet and savory!
Ingredients
4

pork chops

bone in or out

2

tsp

Bayou City Garlic Pepper

2

tsp

onion powder

2

tsp

chili powder

1

tsp

paprika

1

tsp

salt

2

tbsp

unsalted butter
Honey Garlic Glaze
6-8

cloves garlic

mince

1

tsp

ginger

grated

1/2

cup

honey

1/2

cup

chicken stock

3

tbs

apple cider vinegar
Instructions
Start by seasoning the pork chops generously on both sides ( you can always season them however you like this is just my way) with Bayou city seasonings, onion powder, chili powder, paprika, and salt.

In a small bowl, whisk together honey, vinegar, chicken broth, minced garlic, and grated ginger to create the honey garlic glaze. set aside

Heat a large skillet over medium-high heat. Once hot, add a drizzle of oil and swirl to coat the pan then add butter.

Carefully place the seasoned pork chops in the skillet. Cook for about 4-5 minutes on each side, or until they develop a beautiful golden-brown sear and reach an internal temperature of 145°F (63°C). Be sure to adjust heat as necessary (see note). Remove the pork chops from the skillet and set them aside.

In the same skillet, add the reserved honey garlic glaze. Cook over medium heat, stirring occasionally, until the glaze begins to bubble.

Continue cooking the glaze, stirring constantly, until it thickens into a glossy sauce. This should take about 4-5 minutes.

Return the seared pork chops to the skillet, turning them to coat evenly in the honey garlic glaze.

Allow the pork chops to simmer in the glaze for an additional 2 minutes, ensuring they are fully coated and heated through.

Plate the Honey Garlic Pork Chops, drizzle any remaining glaze over the top, and garnish with chopped fresh parsley or chives for some color and freshness.
Notes
Low and slow after the sear :You will need to adjust the heat based on the thickness of the pork chop. A good tip is to start with Med-high heat to get a good sear and then flip the chop to sear again. Turn the temp down to med low once you get a sear on both sides and cook until internal temp read 145 F. Mix glaze before hand: You can mix all of your glaze ingredients together before hand store in the fridge until its ready to use in the recipe.