I am definitely all about pumpkin spice season. From the pumpkin spice latte to the pumpkin loaf I pretty much can't get enough! My obsession led me to making this Pumpkin Bundt Cake recipe. Many people are intimidated by the precision of baking but trust me, with this recipe for the most delicious Pumpkin Bundt cake, you can't mess up! Bursting with the vibrant, warm essence of fresh pumpkin, this cake is a celebration of the season's finest flavors.
In the mood for something sweet? You're in the right place! Check out Strawberry Pancakes with Ice Cream and Best Southern Blueberry Cobbler.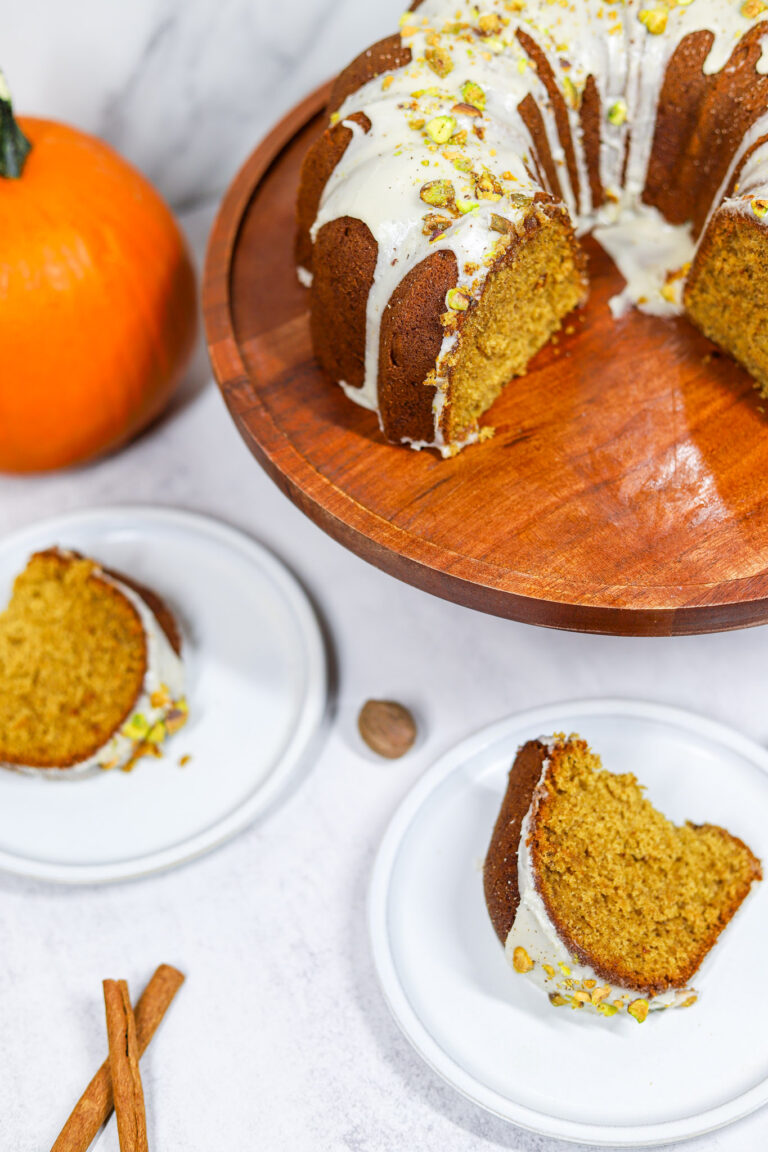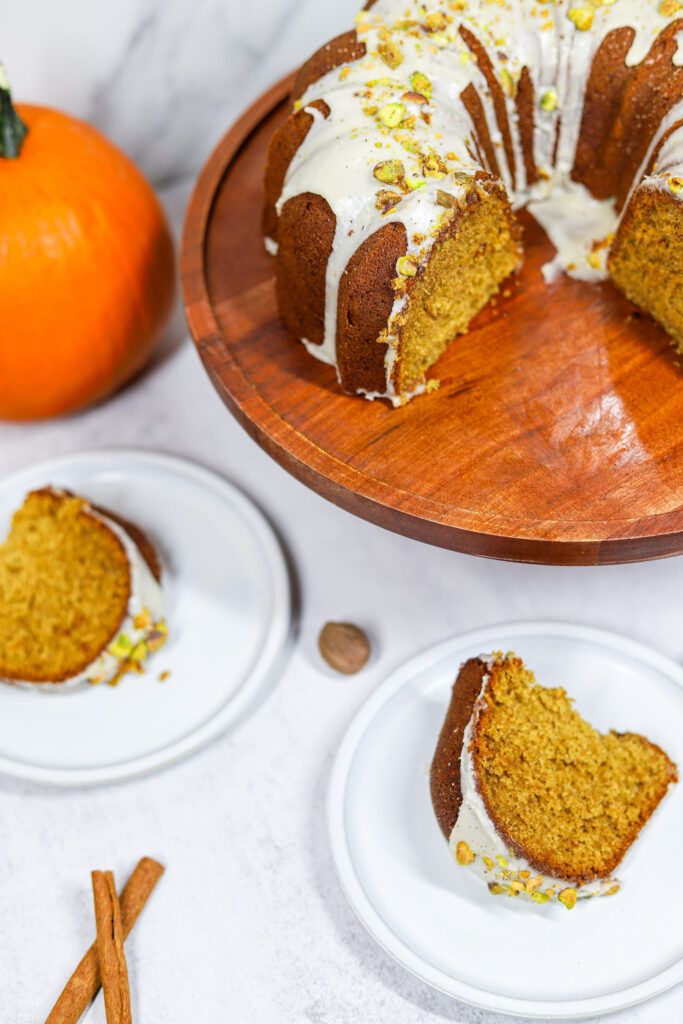 Why You'll Love This Recipe:
My Pumpkin Bundt Cake stands out for its incredible moistness, rich pumpkin flavor, and delightful blend of spices. Plus, it's easy to make! Whether you're an experienced baker or a beginner in the kitchen, this recipe is approachable and guaranteed to impress. The cake's texture is perfection, and the vanilla glaze adds a sweet, silky finish that complements the pumpkin spice beautifully.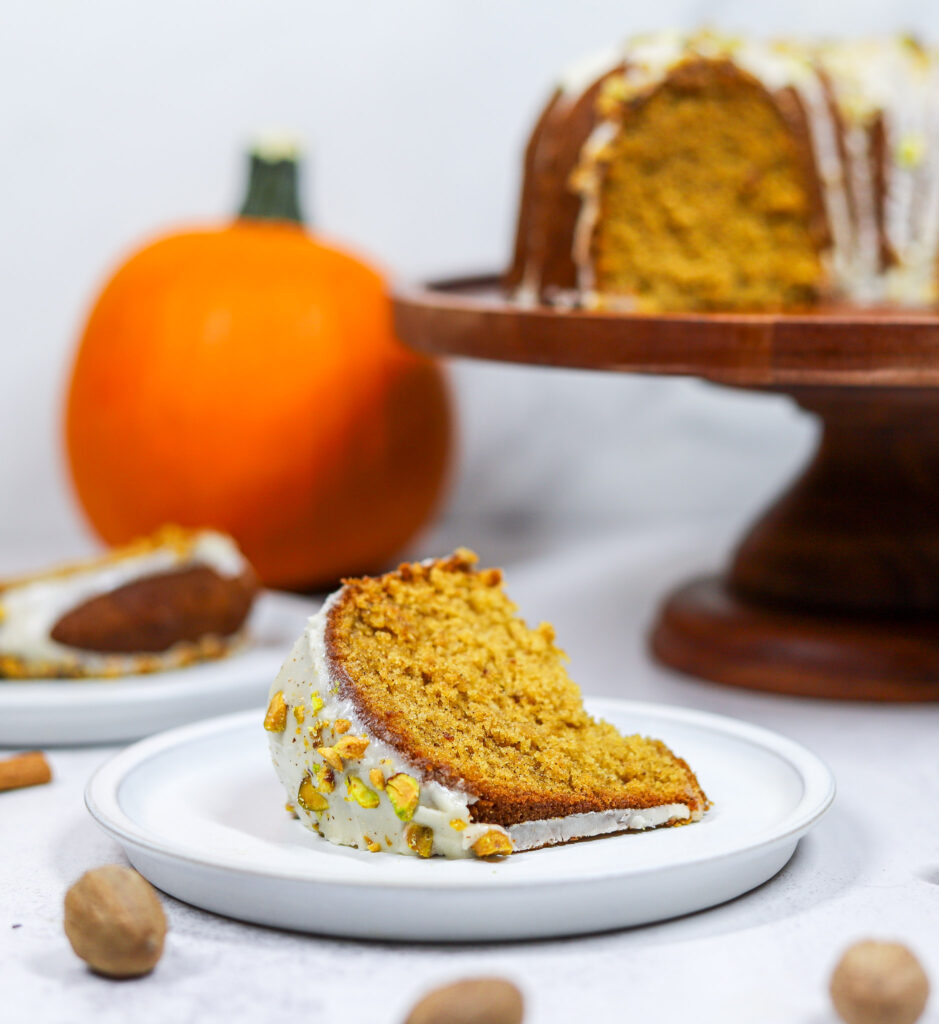 How to Ensure a Perfect Release:
Thoroughly Grease the Pan: Start by greasing your Bundt pan generously with butter or
non-stick cooking spray, ensuring that every nook and cranny is covered.
Use Flour or Cocoa Powder: After greasing the pan, lightly dust it with flour or cocoa
powder. This creates a barrier between the batter and the pan, further preventing
sticking.
Cooling and Inverting: Allow the cake to cool in the pan for 10-15 minutes after baking.
Then, place a wire rack or a flat plate on top of the pan and invert it, gently tapping the
bottom to release the cake. The Pumpkin Bundt cake should slide out effortlessly onto
the rack or plate.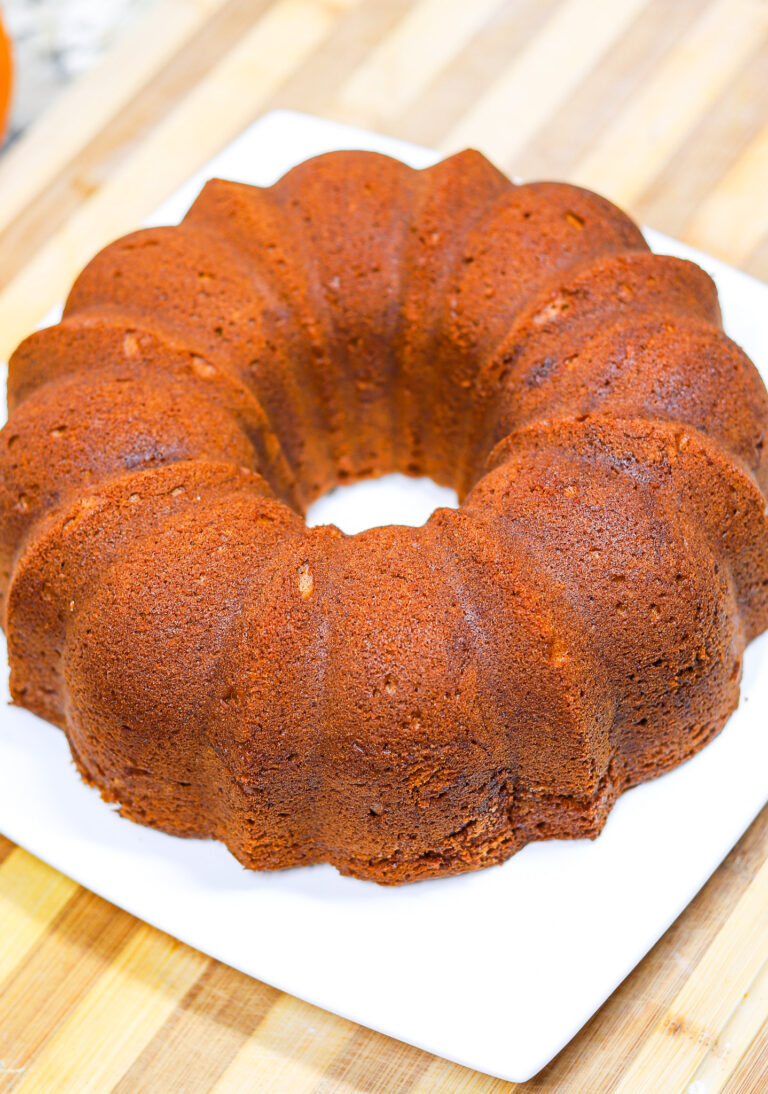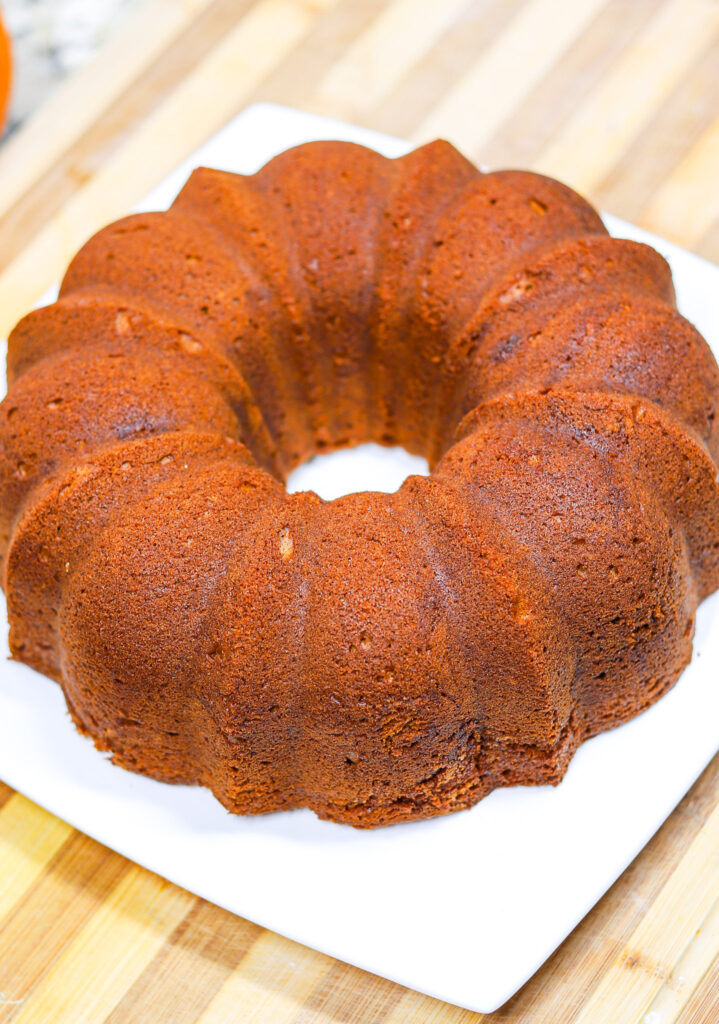 Ingredients You'll Need:
Pumpkin Puree: The star of the show, providing moisture and that unmistakable pumpkin flavor.
All-Purpose Flour: Flour serves as the structural base of the cake. It provides stability
and helps to bind the ingredients together. All-purpose flour gives the cake a tender
crumb while allowing the pumpkin flavors to shine.
Baking Powder and Baking Soda: Leavening agents that help the cake rise.
Salt: Salt enhances the overall flavor profile of the cake, balancing the sweetness of the
pumpkin and other ingredients. It also helps to activate the baking powder and soda,
ensuring proper leavening.
Spices (Cinnamon, Nutmeg, All spice, Ginger): Infuse the cake with warm, aromatic flavors.
Unsalted Butter: Butter adds richness and a luxurious mouthfeel to the cake. It
contributes to its tender texture while imparting a subtle, creamy flavor. Unsalted
butter allows better control over the cake's overall saltiness.
Brown Sugar: Brown sugar sweetens the cake and enhances the flavors of the
pumpkin. It also contributes to the cake's moisture and tender crumb.
Eggs: Eggs provide structure, moisture, and richness to the cake. They act as binding
agents, helping to hold the batter together and providing stability during baking.
Oil: oil brings moisture, lightness, a neutral flavor, and ease of mixing
to a cake. It helps create a moist and tender texture, allows for a lighter and softer cake,
allows other flavors to shine, and blends easily with other ingredients in the batter.
Sour Cream: Adds creaminess and moisture to the batter.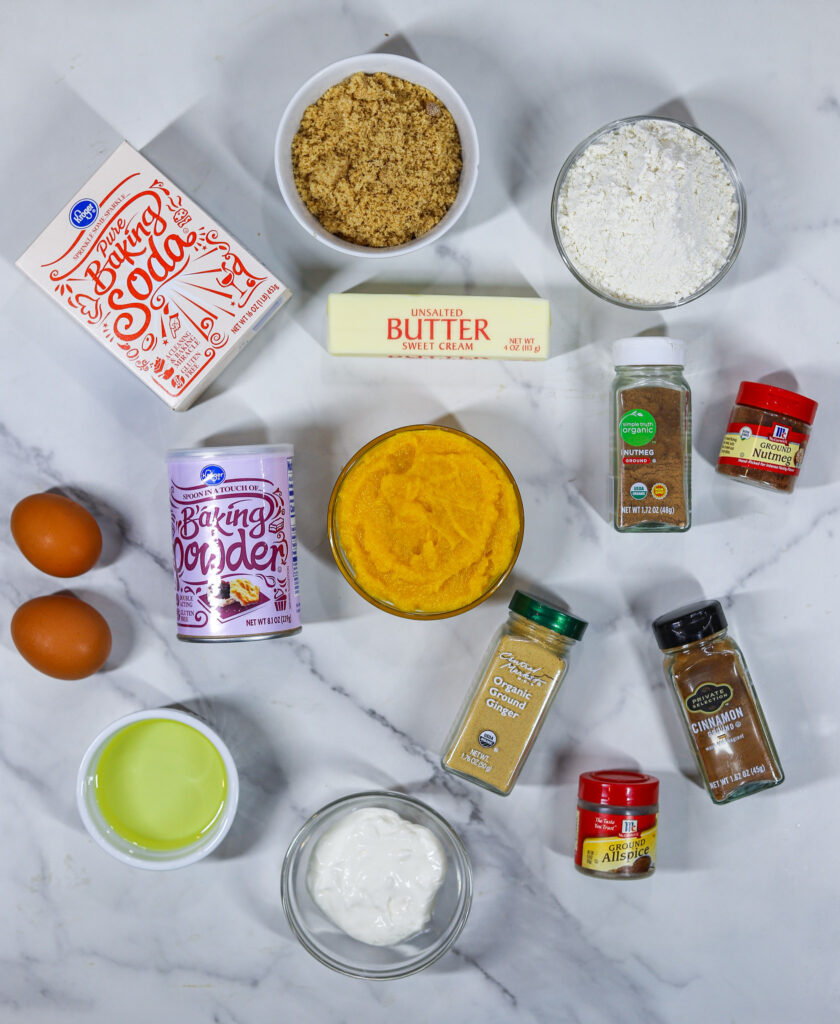 Creating the Perfect Pumpkin Puree:
For the best results, consider making your own pumpkin puree. Try my recipe for the best Pumpkin Puree. Simply roast or steam pumpkin pieces until they're soft, then blend them into a smooth puree. This fresh puree intensifies the cake's flavor and moisture.
Tips for the Perfect Textured Bundt Cake:
Room Temperature Ingredients: Allow all your ingredients, such as eggs, butter, and
milk, to come to room temperature before beginning. This promotes even mixing and
creates a smoother batter.
Proper Mixing Technique: Mix the batter just until the ingredients are incorporated.
Over-mixing can result in a denser cake.
Sifting the Dry Ingredients: Sift the dry ingredients, such as flour and baking powder,
before adding them to the batter. This step helps to eliminate any lumps and creates a
lighter texture.
Creating the Vanilla Glaze:
This Pumpkin Bundt Cake is adorned with a luscious vanilla glaze that adds a touch of sweetness and elegance. To make it, mix powdered sugar, vanilla extract, and a splash of milk until smooth. Drizzle generously over the cooled cake.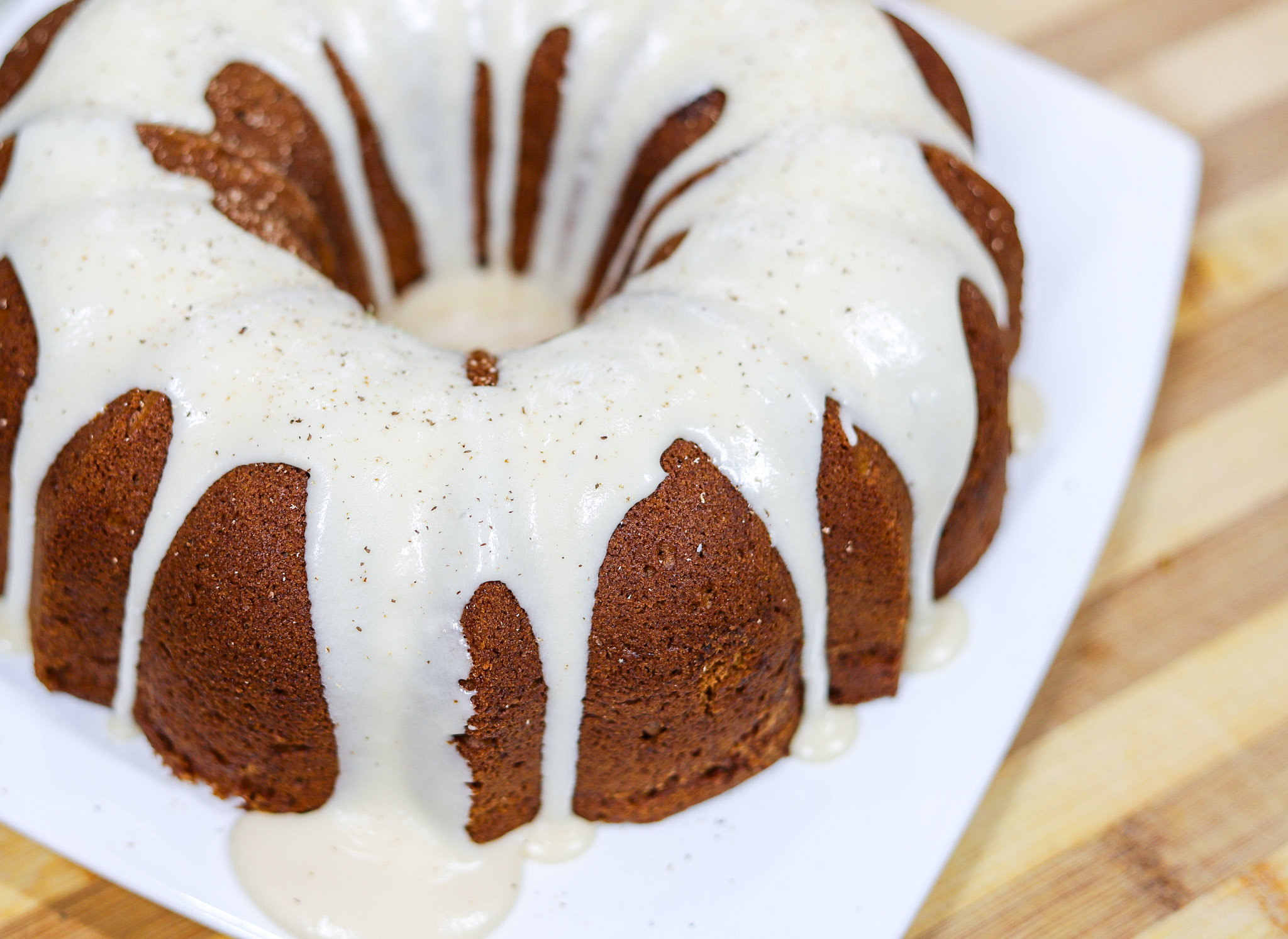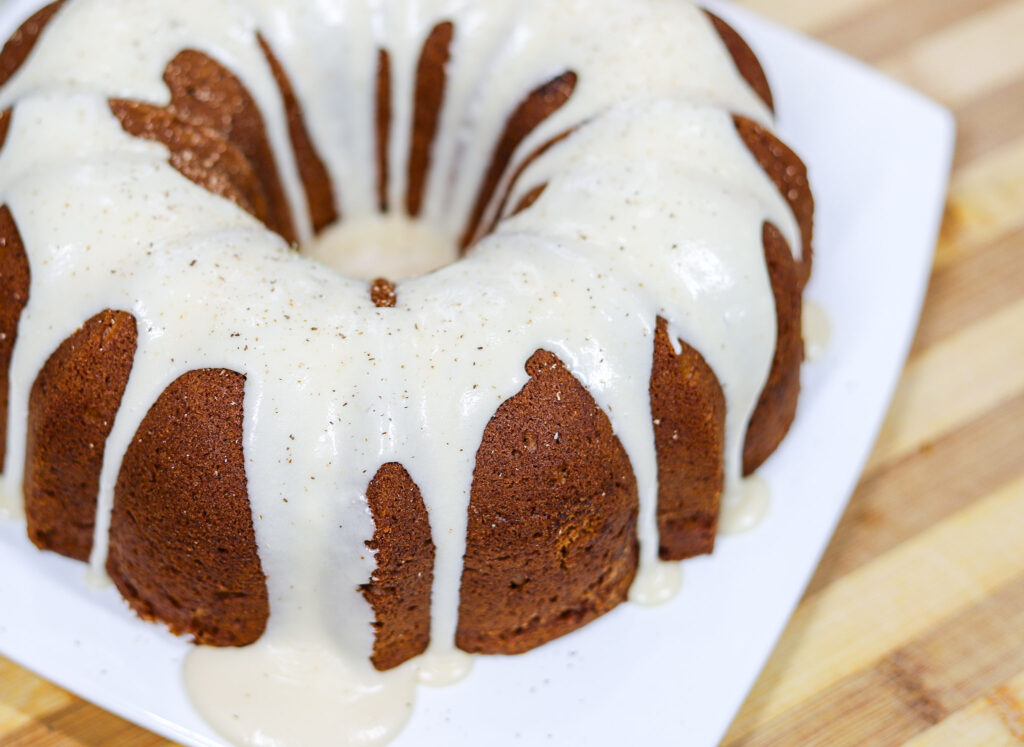 Garnishing Your Pumpkin Bundt Cake:
Now that your Pumpkin Bundt Cake is a masterpiece, here are some creative ways to garnish it:
Dust with powdered sugar or nutmeg for a simple, classic look.
dd a sprinkle of chopped nuts, like pecans or walnuts, for crunch and flavor.
Decorate with a few edible flowers for a touch of elegance.
For a seasonal twist, top with cinnamon-dusted whipped cream or a dollop of spiced whipped cream.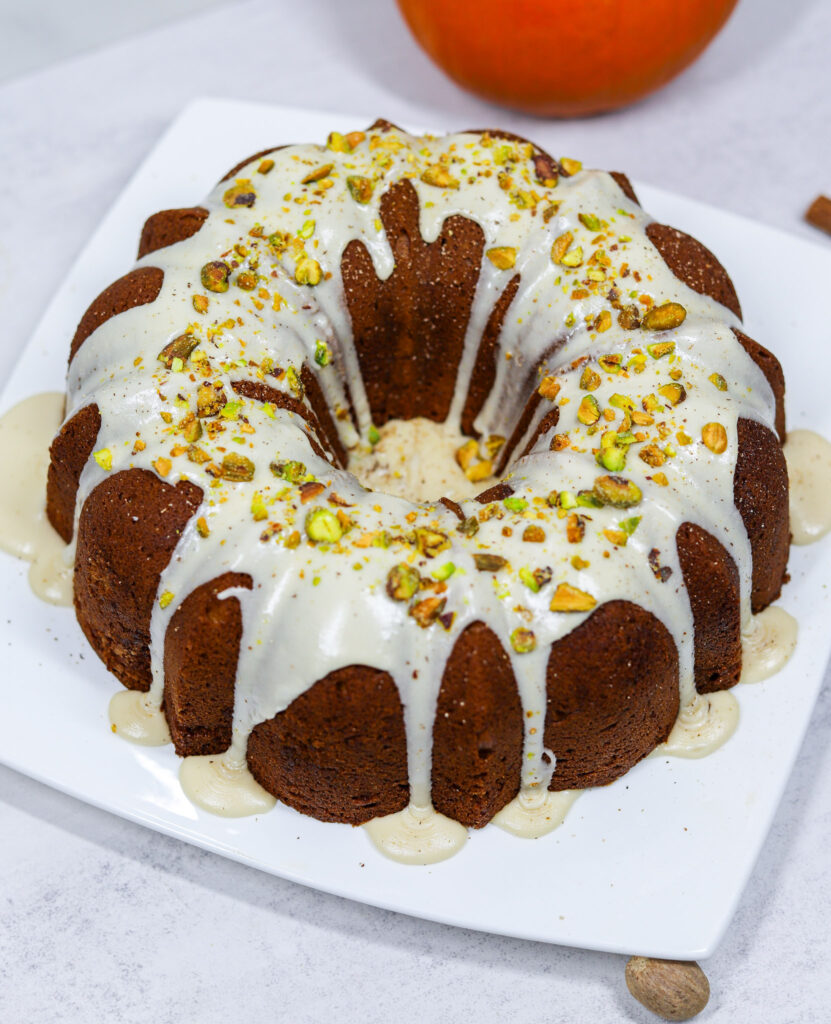 More dessert recipes:
If you loved this Strawberry Bundt cake, let me know in the comments. Follow me on TikTok and Instagram for more delicious recipes!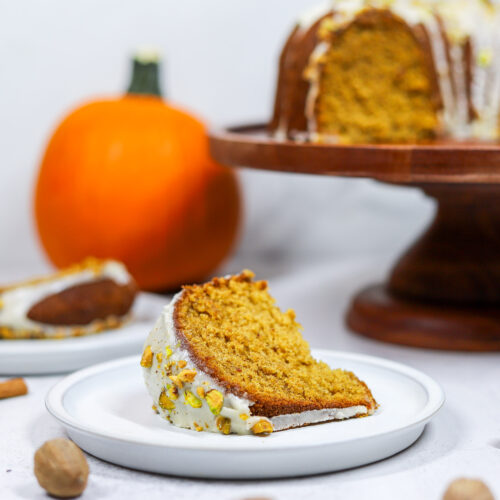 Pumpkin Bundt Cake
Indulge in the flavors of fall with this moist and spiced Pumpkin Bundt Cake recipe. Discover baking tips, homemade pumpkin puree, and a delightful vanilla glaze. Perfect for Fall gatherings!
Equipment
1 bundt pan

1 Stand mixer

or hand mixer
Ingredients
Pumpkin Bundt cake
3

cup

all purpose flour

384g

2

tsp

baking powder

1

tsp

baking soda

1

tsp

kosher salt

2

tsp

cinnamon

1 1/2

tsp

nutmeg

1/4

tsp

all spice

1/4

tsp

ground ginger

2

cups

light brown sugar (packed)

440g

1/2

cup

unsalted butter

softened

1/2

cup

extra virgin olive oil

2

large

eggs

room temperature

425

g

pumpkin puree

or 1 – 15oz can

1/2

cup

sour cream

120g
Glaze
2

cups

powdered sugar

224g sifted

4

tbsp

milk

2

tsp

vanilla extract
Garnish
toasted pistachios or pepitas
Instructions
Pre Heat oven to 350 degrees, and butter and flour a 12-cup (or larger) capacity bundt pan.

In a medium bowl, whisk the flour, baking powder, baking soda, salt, cinnamon, nutmeg, allspice and ground ginger until well combined.

In the bowl of a stand mixer fitted with the paddle attachment, combine brown sugar, butter and olive oil. Beat on medium-high until light and fluffy, about 3 minutes. Add the eggs one at a time, mixing for about 20 seconds in between each egg. Add the pumpkin purée and sour cream, and mix until well combined, scraping the bottom and sides of the bowl as necessary.

Remove the bowl from the mixer, and use a rubber spatula to fold in the dry ingredients until well combined. Make sure to scrape the bottom and sides of the bowl to ensure an evenly mixed batter.

Pour the batter into the prepared bundt pan, smoothing out the top and tap the pan on the countertop a few times to release any large air bubbles.

place cake in the oven and bake the cake until golden and puffed, and a tooth pick inserted into the center comes out clean, 55 to 65 minutes. The baking time may vary depending on your oven, so keep an eye on it.

Allow the cake to cool in the pan for about 10-15 minutes. Then, carefully invert it onto a wire rack to cool completely.

once the cake is cooled begin working on the glaze by combining all the ingredients in a small bowl and mix until combined.

note: if glaze is too thick add more milk

drizzle glaze over cake and top with freshly grated nutmeg and toasted pistachios or pepitas (pumpkin seeds), if desired.