Fall is here, and that means it's time to embrace the cozy flavors of the season. Among the many Fall flavors, there's one ingredient that stands out: pumpkin puree. I love to make everything from scratch so when it come to pumpkin puree, while there is nothing wrong with store bought, homemade is top tier! Whether you're a seasoned home cook or just beginning, this versatile ingredient can elevate your dishes to a whole new level…and who doesn't love little pumpkin spice.
In the mood for some Fall flavors? You're in the right place! Check out Pumpkin Bundt Cake and Roasted Butternut Squash Soup.
Why You'll Love This Recipe:
If you're wondering why you should make your own pumpkin puree, the answer is simple: flavor and control. Homemade pumpkin puree captures the essence of fresh, seasonal pumpkins, resulting in a richer, more authentic taste. Plus, it allows you to customize the texture and consistency to suit your specific recipes. Whether you're crafting savory soups or decadent desserts, this recipe ensures your dishes will have that unmistakable pumpkin goodness.
Are Canned Pumpkin and Pumpkin Puree the Same Thing?
No, they're not quite the same. Canned pumpkin is typically made from pureed, cooked pumpkin flesh, but it can sometimes contain other winter squash varieties. On the other hand, homemade pumpkin puree is crafted from fresh pumpkins, giving it a more vibrant flavor. You can certainly use canned pumpkin in many recipes, but making your own puree offers an unparalleled taste.
How to make Pumpkin Puree
Wash, cut, and scoop out the seeds
Place the pumpkin halves, cut side down, on a baking sheet.
Roast for 45 minutes to 1 hour until the flesh is tender.
Let it cool, then scrape the flesh from the skin.
Blend the flesh until smooth, adding water if needed.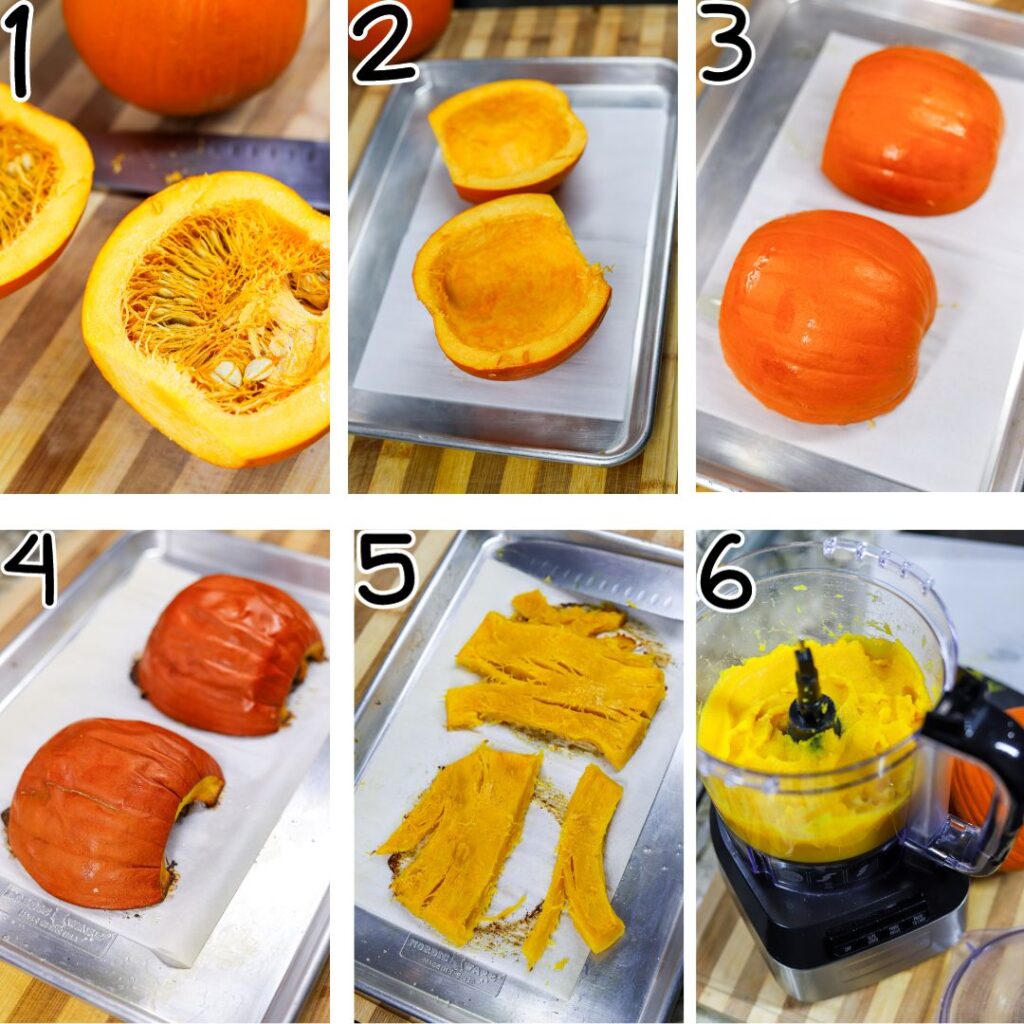 Tips for Perfect Textured Pumpkin Puree:
Achieving the ideal pumpkin puree texture is essential for your recipes. Here are some tips:
Use sugar or pie pumpkins for sweeter and smoother puree.
Roast the pumpkin until it's fork-tender for the best consistency.
Blend with a food processor or blender, adding water as needed.
Strain the puree for an ultra-smooth texture.
What Can You Do with Pumpkin Seeds?
Don't let those pumpkin seeds go to waste! After you've scooped them from your pumpkin, consider roasting them for a crunchy, nutritious snack. Simply rinse, season, and bake until golden brown. Pumpkin seeds are not only delicious but also packed with protein, fiber, and essential nutrients.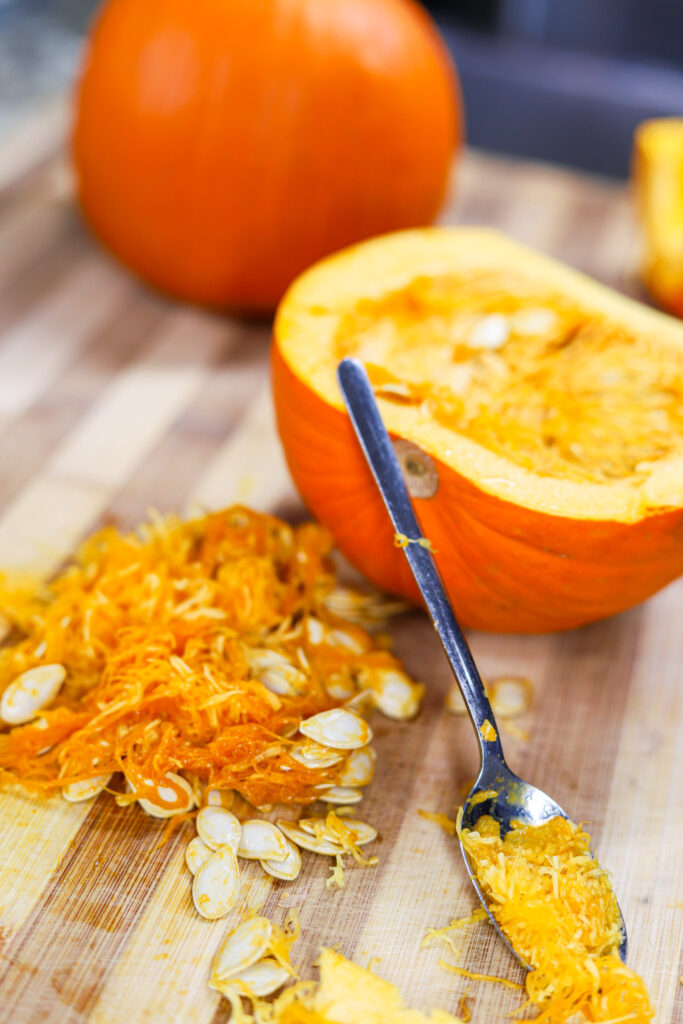 How to Use Pumpkin Puree:
Pumpkin Bundt Cake: a warm and delicious cake topped with vanilla glaze.
Pumpkin Pie: A classic autumn dessert.
Pumpkin Soup: Warm, comforting, and perfect for chilly days.
Pumpkin Pancakes: Fluffy and full of fall flavor.
Pumpkin Pasta Sauce: A unique twist on traditional pasta dishes.
Pumpkin Smoothies: Add a seasonal twist to your morning routine.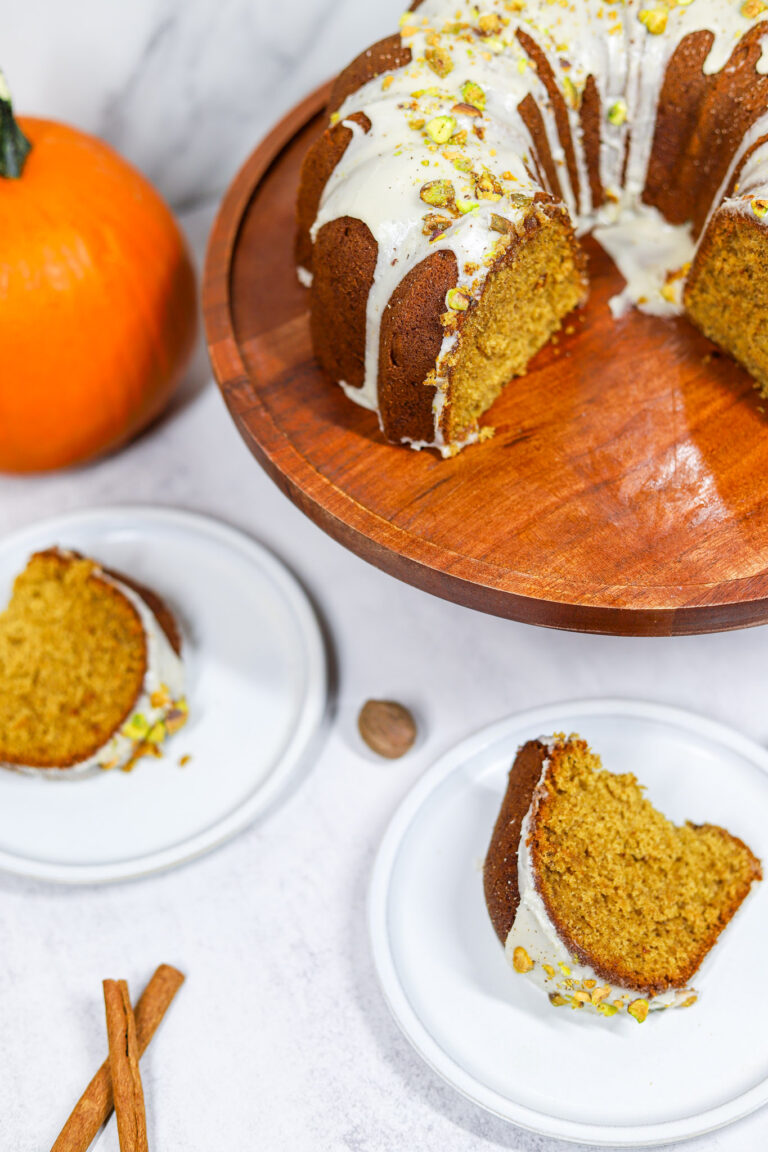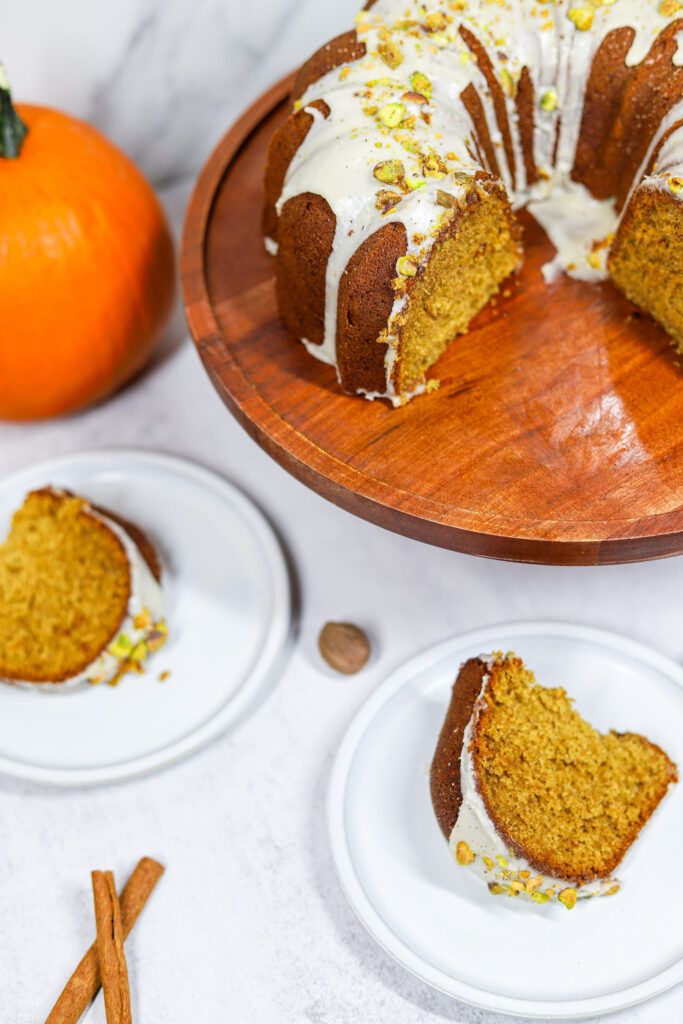 More Fall recipes:
If you loved this Strawberry Bundt cake, let me know in the comments. Follow me on TikTok and Instagram for more delicious recipes!
Pumpkin Puree
Make delicious homemade pumpkin puree with this easy recipe. Roast and blend fresh sugar or pie pumpkin for perfect, creamy puree, ready for your favorite fall recipes!
Equipment
food processor

or blender
Ingredients
1

medium

pumpkin (sugar pumpkins or pie pumpkins work best)

or 2 small pumpkins
Instructions
1. Choose the Right Pumpkin: Look for sugar pumpkins or pie pumpkins at your local grocery store or farmer's market. These pumpkins are smaller and sweeter, making them ideal for puree.

Preheat your oven to 375°F (190°C) to begin the roasting process.

Wash the pumpkin thoroughly under running water to remove any dirt or debris.

Using a sharp knife, carefully cut off the top stem and then cut the pumpkin in half vertically.

Use a spoon to scoop out all the seeds and stringy bits from the pumpkin's cavity. You can save the seeds for roasting later if desired.

Place the pumpkin halves, cut side down, on a baking sheet lined with parchment paper or a silicone baking mat. Drizzle a little olive oil over the skin to prevent sticking.

Put the baking sheet in the preheated oven and roast for about 45 minutes to 1 hour, or until the pumpkin flesh is tender and easily pierced with a fork.

Remove the roasted pumpkin from the oven and let it cool for a bit. Once it's cool enough to handle, use a spoon to carefully scrape the soft flesh away from the skin. It should come away easily.

Place the scraped pumpkin flesh into a food processor or blender. You may need to do this in batches depending on the size of your appliance.

Pulse or blend the pumpkin until it becomes a smooth puree. If it's too thick, you can add a little water, 1-2 tablespoons at a time, to achieve your desired consistency.

You can use the fresh pumpkin puree immediately in your favorite recipes or store it for later use.
Notes
Homemade pumpkin puree can be used in a variety of recipes, including pumpkin pies, soups, muffins, pancakes, and more. Enjoy your homemade pumpkin puree in your favorite dishes!
To store, transfer the puree to an airtight container and refrigerate for up to 5 days or freeze it in portions for up to 3-6 months.