Are you tired of ordering the same old Chinese takeout every weekend? Why settle for mediocre when you can make restaurant-quality Beef Lo Mein right in your kitchen? My recipe, will guide you through crafting the most delicious Beef Lo Mein you've ever tasted. Not only will this recipe satisfy your Chinese food cravings, but it will be an easy recipe that your family will love. Let's ride!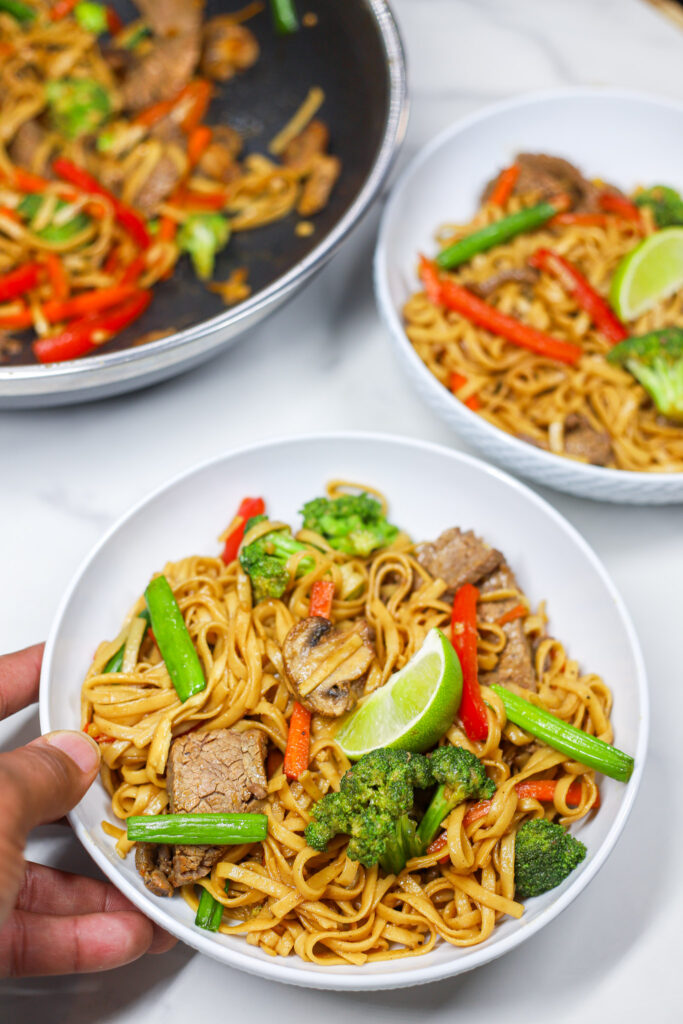 Beef Lo Mein is a beloved Chinese-American dish that combines tender slices of marinated beef with sautéed vegetables and egg noodles, all coated in a savory and slightly sweet sauce. This dish offers a delightful contrast of flavors and textures, making it a favorite among many.
Since you love my "takeout" recipes, you will truly enjoy this Beef and Broccoli recipe and these Chicken Tinga Tacos !
You will LOVE this takeout classic
What sets this beef lo mein apart is the careful balance of flavors and textures, achieved through marinating the beef to perfection, sautéing a colorful fresh vegetables, and tossing it all together with a full flavor sauce that's both savory and subtly sweet. The secret lies in the details, ensuring every ingredient is thoughtfully chosen and prepared, and that the cooking process is swift and precise. Whether you're seeking the rich umami of marinated beef, the satisfying chew of al dente noodles, or the vibrant medley of vegetables, this recipe has it all.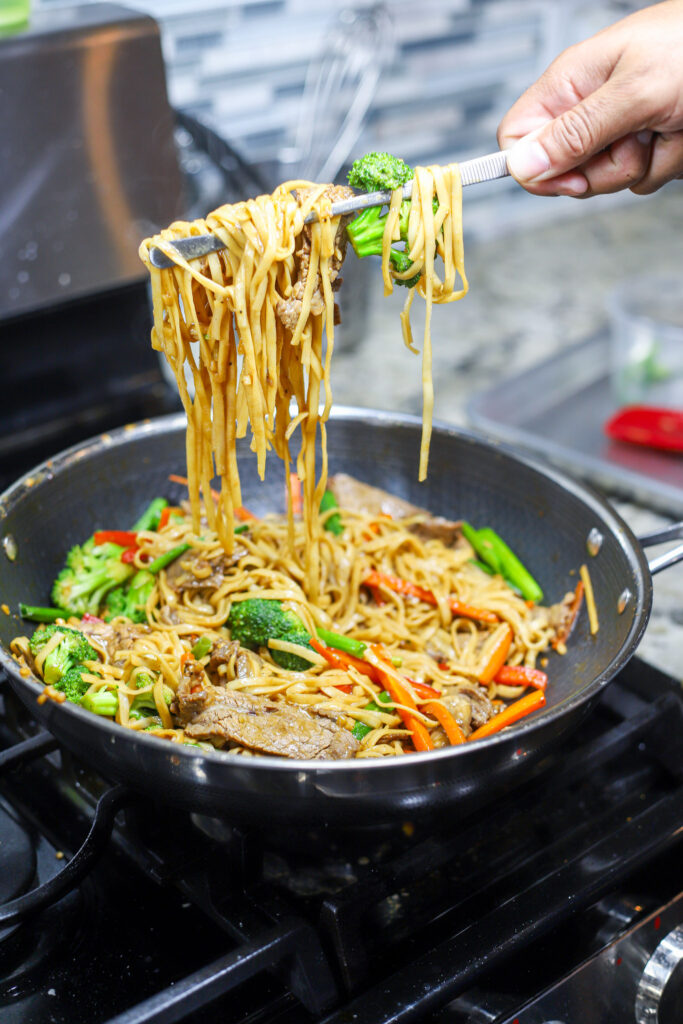 Ingredients
most importantly, to create this delectable dish, gather the following ingredients:
Beef Marinade:
Flank Steak or Sirloin: These cuts bring tenderness and beefy flavor to your dish.
Soy Sauce: Provides the signature salty umami taste.
Chinese Rice Wine or Sherry: Adds depth and complexity to the marinade.
Cornstarch: Helps to thicken the sauce and tenderize the beef.
Sugar: Balances the flavors with a touch of sweetness.
Sesame Oil: Imparts a nutty aroma and flavor.
Seasoning : Try my Bayou City Seasonings to really turn the flavor up a notch.
For the Lo Mein:
Soy Sauce: The base for the sauce, providing saltiness.
Oyster Sauce: Contributes a rich, umami flavor.
Hoisin Sauce: Offers sweetness and complexity.
Brown Sugar: Provides a touch of sweetness.
Sesame Oil: Enhances the dish's nutty aroma.
Fresh Ginger and Garlic: Infuses a burst of aromatic freshness.
Lo Mein Sauce:
Lo Mein Noodles or Egg Noodles: These thick, chewy noodles are traditional, but feel free to use alternatives like udon or linguine.
Vegetable Oil: Used for stir-frying the beef and vegetables.
Mixed Vegetables: Bell peppers, broccoli, carrots, and snap peas are ideal, but you can customize with your favorites.
Mushrooms: Add earthy richness to the dish.
Scallions (Green Onions): Provide a mild onion flavor and vibrant color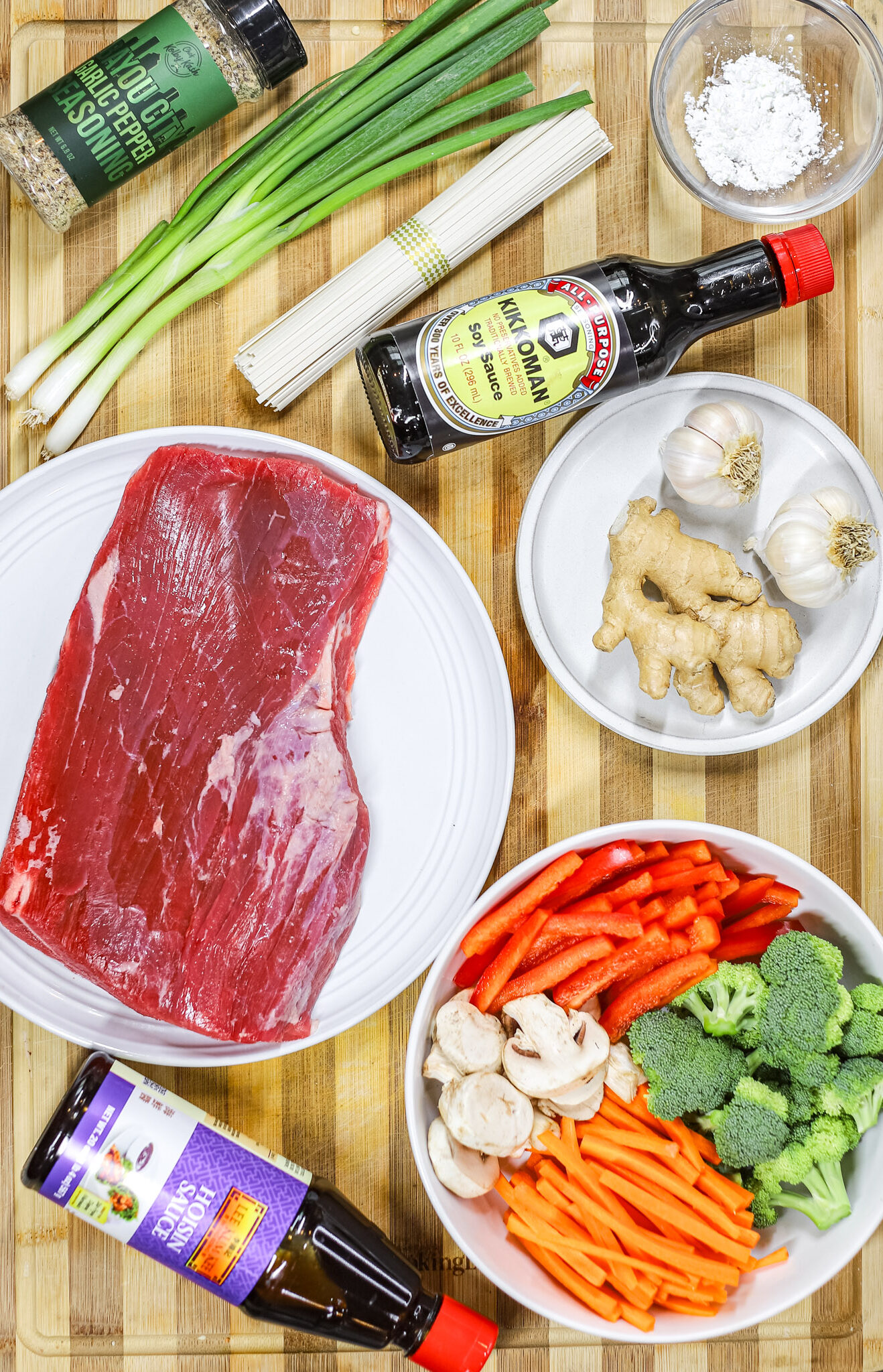 Best Noodles for Beef Lo Mein:
Traditional lo mein noodles are fantastic and what I use, but you can get creative with alternatives like udon, soba, or even spaghetti. The key is to ensure they are cooked to perfection, slightly chewy and not overcooked.
Noodles provide a substantial and satisfying texture to the dish. The chewiness of the noodles creates a pleasant contrast with the tender beef and crunchy vegetables, making each bite a delightful sensory experience.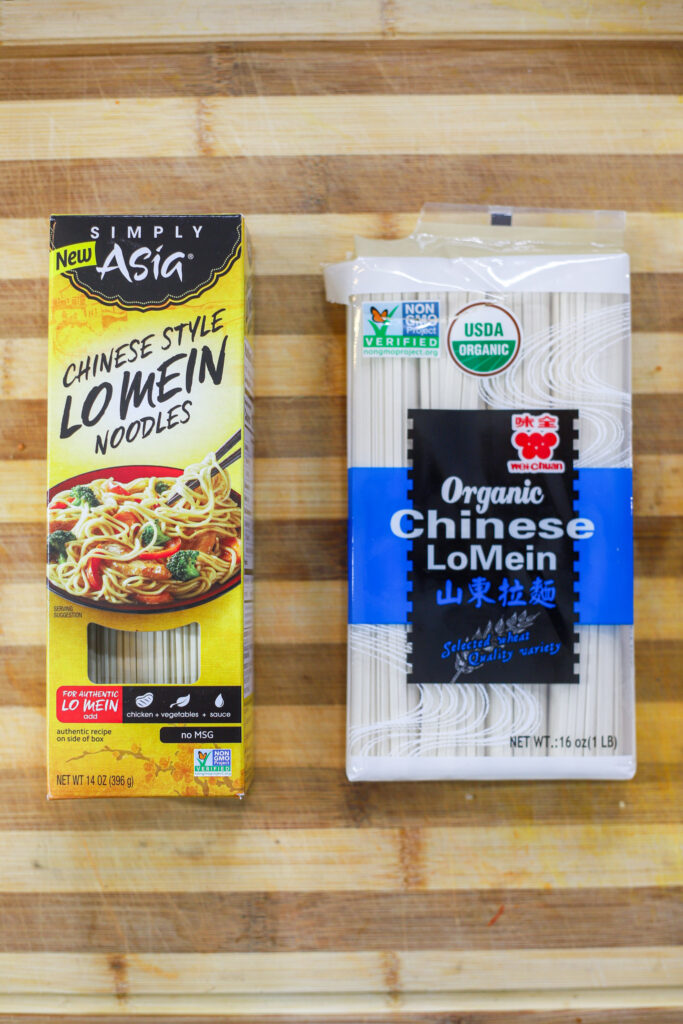 Best Vegetables for Beef Lo Mein:
A medley of colorful vegetables not only adds flavor but also a visual appeal to your Beef Lo Mein. Bell peppers, broccoli florets, carrots, and snap peas are excellent choices. Feel free to swap in your preferred veggies.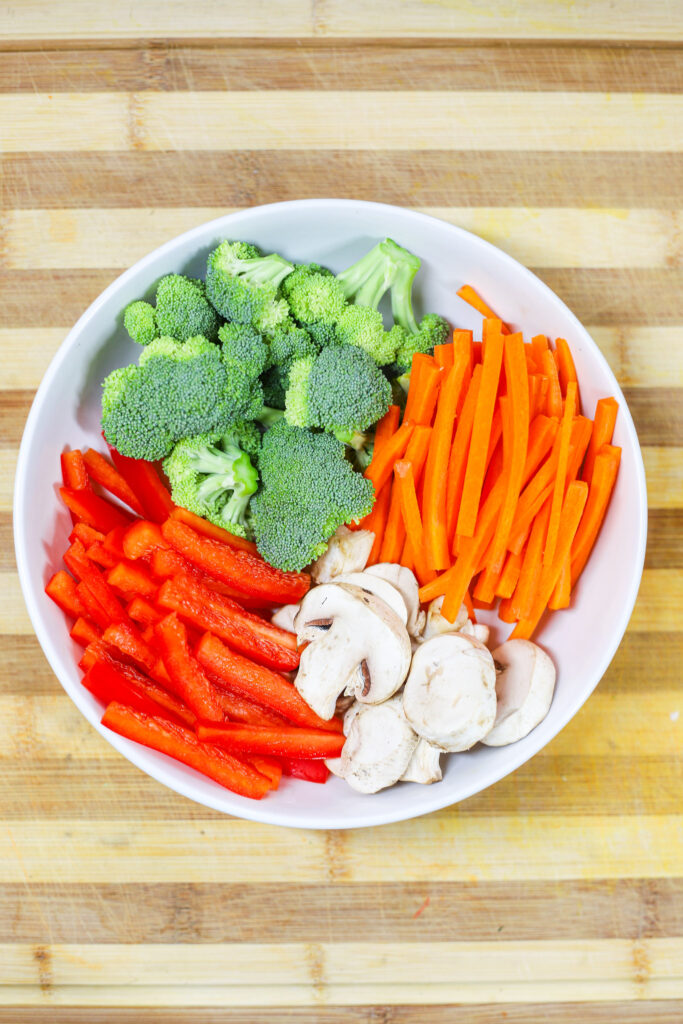 Quick Steps to Make the Best Beef Lo Mein:
Marinate the Beef: Combine the beef with the marinade ingredients and set it aside for at least 15 minutes.
Cook the Noodles: Boil your choice of noodles until they are al dente. Drain and rinse them under cold water, then toss with a bit of oil to prevent sticking.
Prepare the Sauce: Whisk together the sauce ingredients and set aside.
Cook the Beef: Stir-fry the marinated beef in a hot wok or skillet until it's cooked through, then transfer it to a plate.
Stir-Fry the Vegetables: In the same pan, sauté the mushrooms and mixed vegetables until they're tender-crisp.
Combine and Finish: Return the cooked beef to the pan, add the cooked noodles, and pour the sauce over everything. Toss it all together until well-coated and heated through.
Serve: Divide the Beef Lo Mein into plates, garnish with sliced scallions and optional sesame seeds, and enjoy your homemade masterpiece!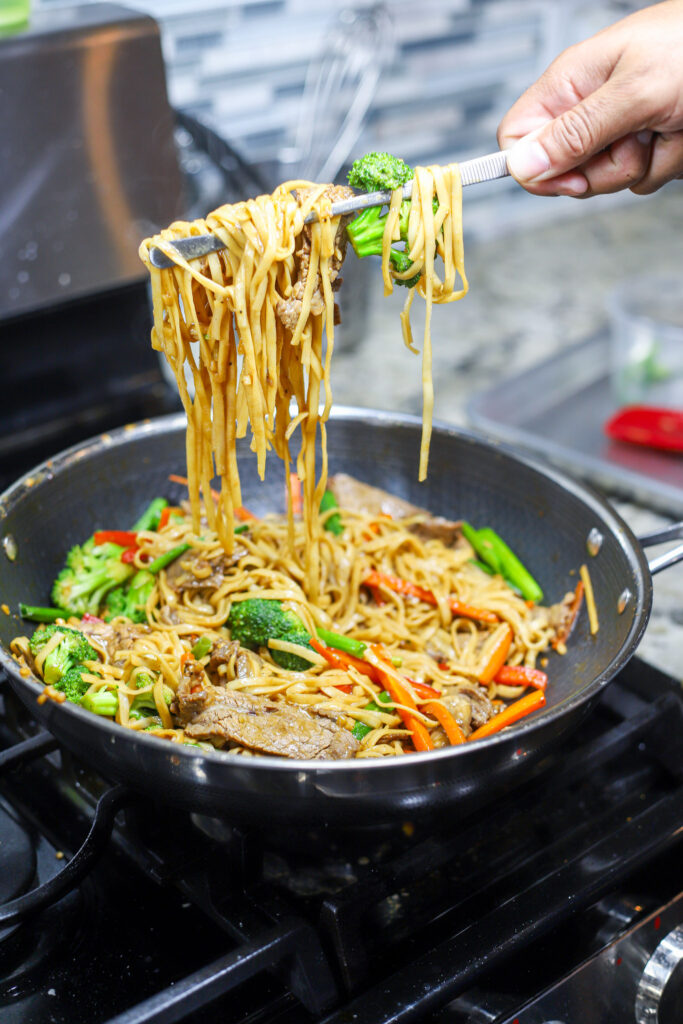 FAQ:
Q1: Can I use chicken or shrimp instead of beef? A1: Absolutely! You can easily swap the protein to suit your preferences or dietary restrictions.
Q2: Is there a vegetarian version of Lo Mein? A2: Certainly! You can omit the meat and use tofu or simply load up on more veggies for a vegetarian option.
Q3: Can I prepare Beef Lo Mein in advance? A3: While it's best enjoyed fresh, you can prepare the ingredients in advance and stir-fry them just before serving for a quick meal.
Make sure to tag me on Instagram, TikTok, or Facebook when you make this recipe! I want to see your creation and give you a shoutout!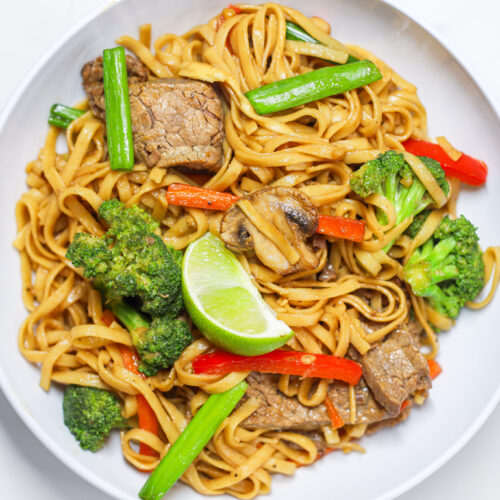 Beef Lo Mein
Exceptional Beef Lo Mein that delivers a delightful balance of texture and flavor, creating a homemade dish that outshines takeout.
Ingredients
Beef Marinade
1

lb

flank steak or sirloin

thinly sliced

2

tbsp

soy sauce

1

tbsp

rice wine

1

tsp

corn starch

1/2

tsp

sugar

1/2

tsp

sesame oil

1/4

tsp

Bayou City Garlic Pepper
Lo Mein
1/4

cup

soy sauce

2

tbsp

oyster sauce

1

tbsp

hoisin sauce

1

tbsp

brown sugar

1

tsp

sesame oil

1/2

tsp

fresh ginger

grated

2

cloves

garlic

grated

8

oz

lo mein noodles

can also use spaghetti noodles

2

tbsp

vegetable oil

divided

2

medium

carrots

julienned

1

head

broccoli

cut into small florets, or snap peas

1

red bell pepper

thinly sliced

1

cup

mushrooms

sliced

1/2

cup

scallions

green onions
Instructions
Beef Marinade
In a bowl, combine the soy sauce, Chinese rice wine or sherry, cornstarch, sugar, sesame oil, and black pepper.

Add the thinly sliced beef to the marinade and toss to coat. Let it marinate for at least 15 minutes while you prepare the other ingredients.
Lo Mein
Bring a large pot of water to a boil.

Cook the lo mein noodles according to the package instructions until they are al dente. Drain and rinse with cold water to stop the cooking process. Toss them with a little oil to prevent sticking and set aside.

In a small bowl, whisk together the soy sauce, oyster sauce, hoisin sauce, brown sugar, sesame oil, grated ginger, and garlic. Set the sauce aside.

Heat a wok or a large skillet over high heat.

Add 1 tablespoon of vegetable oil and swirl it around to coat the pan.

Add the marinated beef slices and stir-fry for 2-3 minutes or until the beef is cooked through. Transfer the beef to a plate and set aside.

In the same pan, add the remaining 1 tablespoon of vegetable oil.

Add the sliced mushrooms and stir-fry for about 2 minutes until they begin to soften.

Add the mixed vegetables (carrots, broccoli, and bell pepper) and continue to stir-fry for another 2-3 minutes until they are tender-crisp.

Return the cooked beef to the pan with the vegetables.

Add the cooked and drained lo mein noodles to the pan.

Pour the prepared lo mein sauce over the noodles and toss everything together until well coated and heated through. This should take 2-3 minutes.

Garnish with sliced scallions and sesame seeds if desired.

Serve hot and enjoy your authentic beef lo mein!
Notes
Feel free to customize this recipe by adding your favorite vegetables or adjusting the level of spiciness with some chili sauce or red pepper flakes.
Cook the noodles al dente to maintain their ideal chewy texture.
You can substitute beef with chicken, shrimp, or tofu based on your preferences.