Homemade Pie Crust Recipe
It's to elevate your pie game with this homemade pie crust recipe! There's something pretty satisfying about creating a homemade pie crust from scratch. It's one of those things you announce when you bring the pie to the cookout. "I made the crust from scratch". I've been making my own pie crust for a while now and it truly does make all the difference.
This homemade pie crust recipe will go perfectly with my recipe for The Best Souther Pecan Pie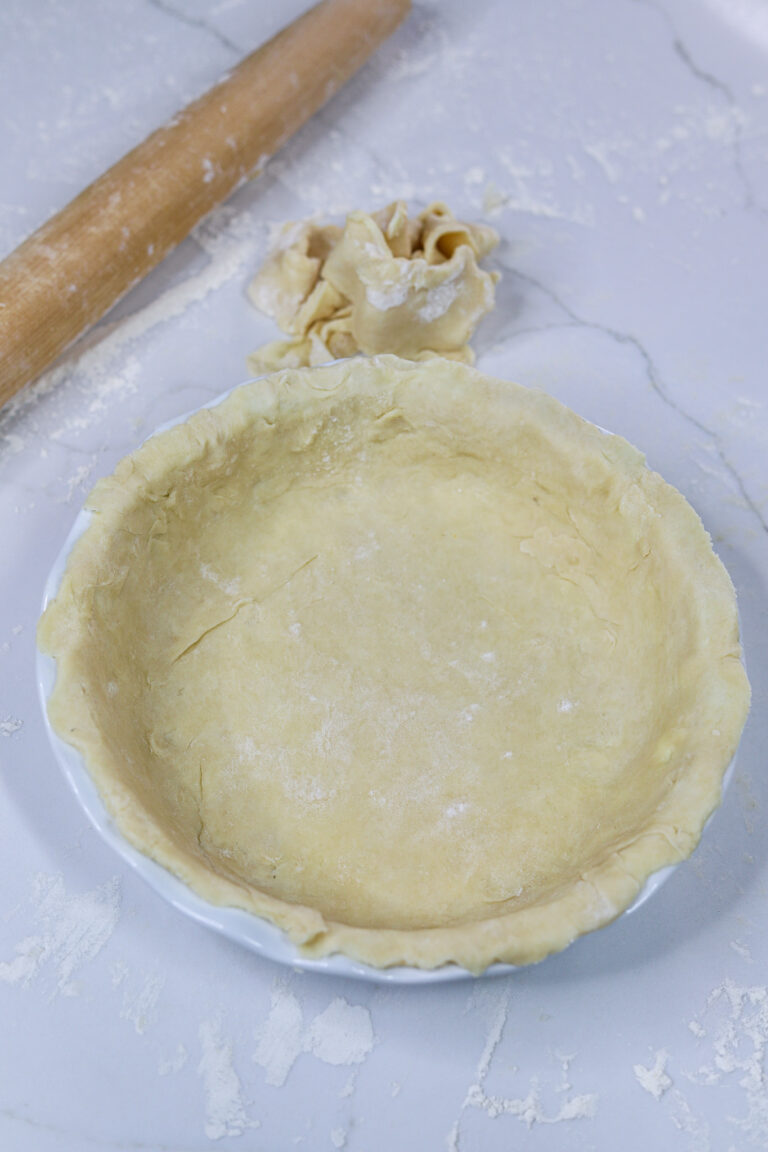 With just a few simple ingredients and a foolproof method for my homemade pie crust recipe, you can achieve a tender, flaky crust that will keep your pies on the top tier level!
WHY YOU'LL LOVE THIS EASY PIE CRUST
There are many reasons to love my homemade pie crust recipe! I have tried quite a few recipes and this is my most consistent recipe. Many people say to use vodka or half and half instead of water to add a little extra flavor and texture to the pie crust. I prefer water over vodka, but I haven't tried half and half. I can say though, I have made this recipe quite a few times and it comes out great every time.
Simple and Foolproof: The recipe is straightforward and easy to follow, making it accessible to both seasoned bakers and beginners. With clear instructions and minimal ingredients, anyone can achieve excellent results.
Balanced and Flavorful: The combination of all-purpose flour, unsalted butter, and a hint of salt creates a balanced, buttery flavor that pairs well with a variety of sweet or savory fillings, enhancing the overall taste experience of any pie.
Texture Perfection: The precise blend of ingredients and the careful handling of the dough result in a tender, flaky texture that melts in your mouth, providing the ultimate satisfaction with every bite.
Pie crust Ingredients
Each ingredient in this easy homemade pie crust recipe plays an important role in developing the texture and flavor that makes this perfect for any occasion.
All-Purpose Flour: Forms the base structure of the homemade pie crust recipe, providing the necessary foundation for a sturdy yet flaky texture.
Unsalted Butter: Contributes to the rich flavor and flakiness of the crust, ensuring a melt-in-your-mouth experience with every bite.
Sugar: Adds a sweetness to help balance the salt and inhale the flavor of any pie
Salt: Enhances the overall taste profile, balancing the sweetness of dessert pies or complementing the flavors of savory fillings.
Ice Water: Helps bind the ingredients together and create the desired consistency for rolling out the dough, leading to a perfectly formed crust.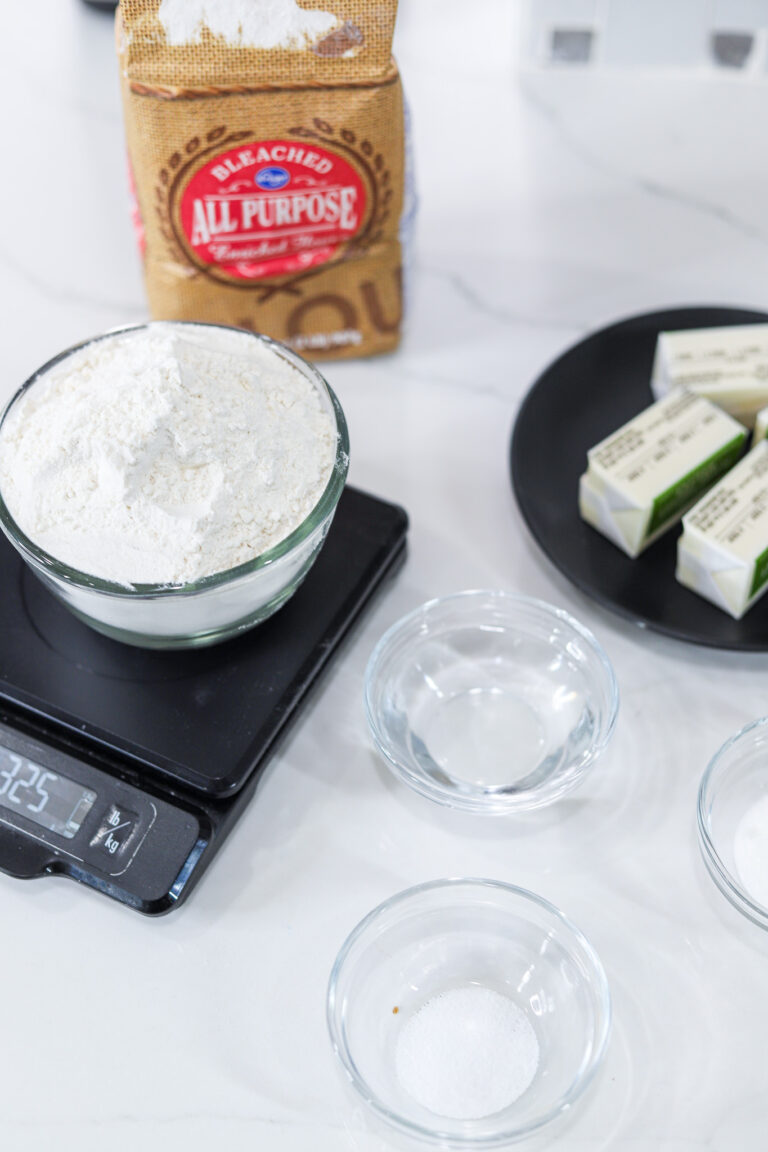 How To Make Homemade Pie Crust
Combine the all-purpose flour and salt in a food processor.
Add the cold, cubed unsalted butter and pulse until the mixture resembles coarse crumbs.
Gradually add the ice water and continue pulsing until the dough forms into a ball.
Shape the dough into a disk, wrap it in plastic, and refrigerate for at least 30 minutes-1 hour.
Roll out the chilled dough on a floured surface, then transfer it to a pie pan.
Fill with your desired pie filling and bake according to your recipe's instructions.
Tips for perfecting your pie crust:
Use chilled ingredients for a flakier texture. I even slightly FREEZE my butter
Handle the dough gently to avoid toughness.
Let the dough chill adequately for easier rolling and shaping.
Roll out the dough evenly for consistent baking.
Ventilate the top crust to release steam during baking.
Consider an egg wash for a golden, glossy finish.
Frequently Asked Questions: Homemade Pie Crust
While the recipe calls for unsalted butter, you can experiment with shortening or lard for unique flavors and textures.
How do I prevent the crust from becoming too tough?
Avoid overworking the dough and handle it gently throughout the process to maintain a tender crust.
Can I prepare the dough in advance for this homemade pie crust recipe?
Absolutely! The dough can be made ahead and refrigerated for up to a few days or frozen for longer storage.
If you loved this homemade pie crust recipe, let me know in the comments. For more delicious recipes, follow me on TikTok and Instagram!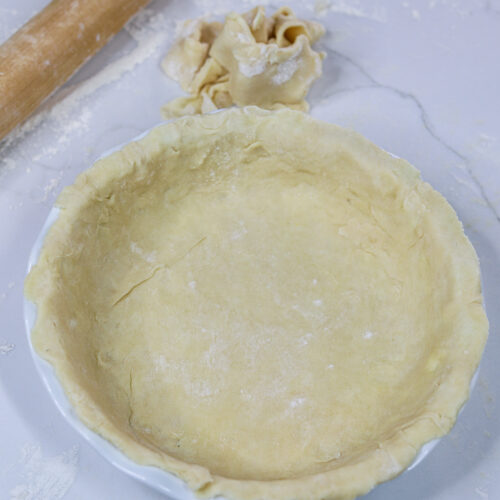 Homemade Pie Crust
This homemade pie crust recipe promises a delicate, flaky texture and rich, buttery flavor that perfectly complements any pie filling.
Ingredients
2 1/2

cups

all purpose flour

325g

1/2

tsp

sea salt

2

tbsp

sugar

1

cup

cold butter

cut into 1/2-inch cubes

1/2

cup

ice water

add more by the tbsp if needed
Instructions
Start by placing the flour, sugar, and salt in the bowl of a food processor. Pulse a few times to combine the dry ingredients.

Add the cold, cubed butter to the food processor. Pulse the mixture until it resembles coarse crumbs, about 10-15 seconds.

Gradually add the ice water, 1 tablespoon at a time, and continue to pulse until the dough starts to come together. Be careful not to add too much water; you want the dough to be just moist enough to form a ball.

Once the dough has started to come together, remove it from the food processor and shape it into a ball with your hands. Flatten the ball into a disk and wrap it in plastic wrap. Refrigerate for at least 30 minutes but I recommend an hour before using.

When you're ready to use the pie crust, remove it from the refrigerator and let it sit at room temperature for a few minutes to make it easier to roll out.

On a lightly floured surface, roll out the dough into a circle that's about 12 inches in diameter, depending on the size of your pie pan.

Carefully transfer the rolled-out dough to a pie pan, gently pressing it into the bottom and sides. Trim any excess dough hanging over the edges.

Fill the pie crust with your desired filling and bake according to the recipe for your chosen pie.
Notes
While the recipe calls for unsalted butter, you can also try using shortening or lard for a different texture and flavor profile.
If the dough appears too dry and doesn't come together, add a bit more ice water, one teaspoon at a time, until the dough reaches the desired consistency.
Choose the appropriate pie dish for your recipe. A glass or metal pie pan can affect baking times and results, so be mindful of the type of dish you're using and adjust accordingly.